Product Summary
Cells use CoQ10 to support their energy and growth. Cells with the fastest turnover – like heart cells, mouth tissue cells, intestinal mucosal cells, and immune system cells – demand high levels of CoQ10.
Certain conditions can affect your pet's ability to get enough ubiquinol, or active CoQ10, such as:
Increased stress load on his body
Not enough CoQ10 in his diet
Greater metabolic demand from cells and tissues
A shortage of factors to convert CoQ10 into its active form, ubiquinol
Even if your pet were to consume a diet with sources high in CoQ10 every day, she would still be faced with her body's decreased ability to convert CoQ10 into the active form she needs – ubiquinol – as she ages.
That's why I recommend Ubiquinol (the reduced form of CoQ10) for dogs and cats.
When you give your pet the gift of ubiquinol, you may:
Help optimize energy production for cells and bodily functions
Help support optimal heart health
Help protect cells against free radical damage
Help reduce the signs of normal aging that are caused by oxidative stress
Help support optimal immune function
Help support optimal brain and nervous system function
Even better, since my Ubiquinol comes in an airless pump, all you have to do is press the pump to deliver the correct dosage.
That's right. There are NO messy, oily pills to cut open. Our Ubiquinol for Cats & Dogs uses a revolutionary airless pump technology.
A cinch to use, this airless pump technology:
Helps preserve the ubiquinol from oxygen intrusion – One of the biggest factors that may cause ubiquinol to go 'bad' is the air itself. Because it uses an airless technology, this helps the ubiquinol stay fresh until the last drop.
No-fuss application – No tablets to crush or divide. Just press the pre-measured pump. Best of all, there is no taste!
Why take a chance when it is so easy to give the added assurance of Ubiquinol for Cats & Dogs? It is a small price to pay for a better chance at optimal health and vitality.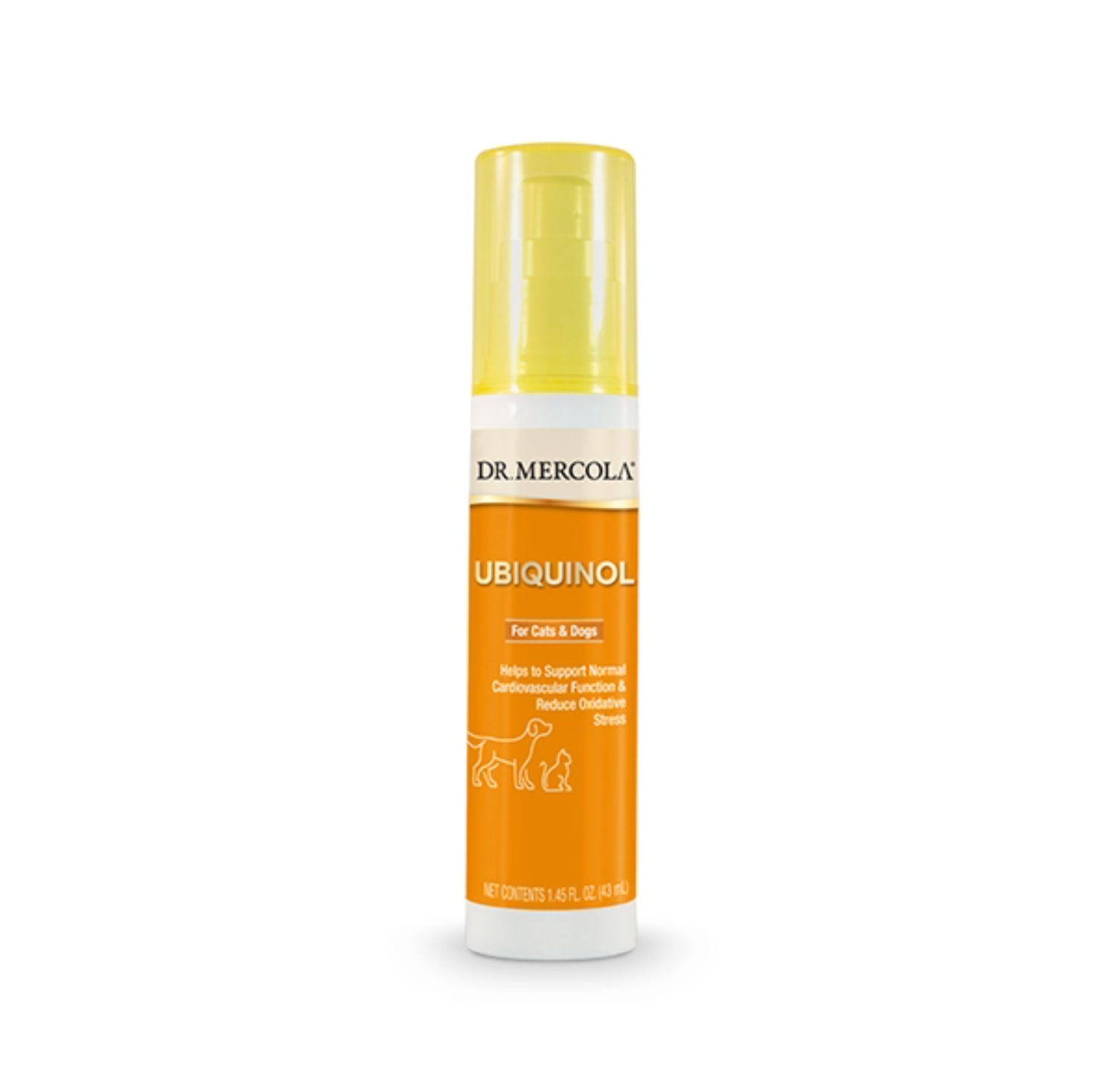 Product Video
Product Complete Label with Usage Directions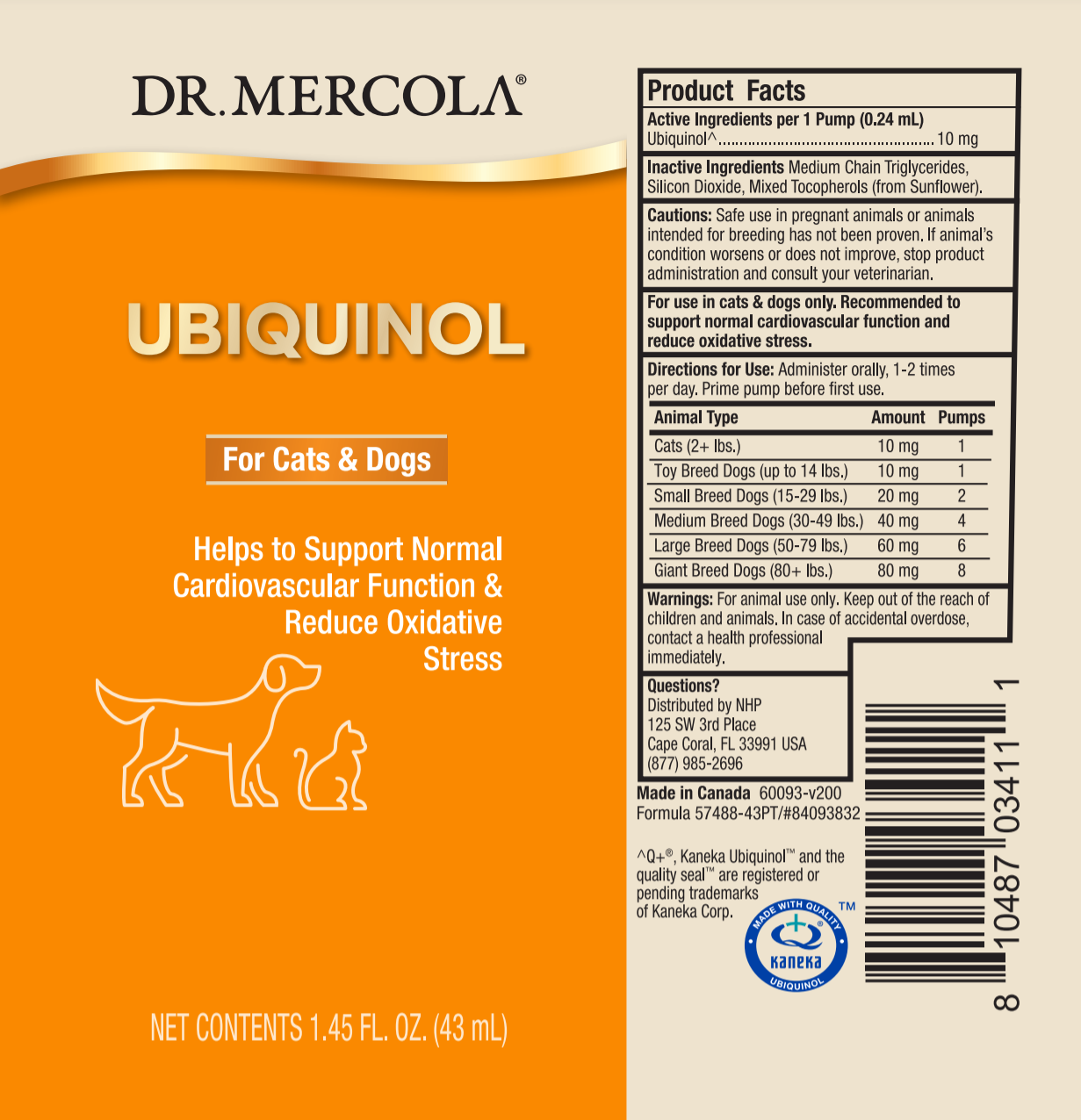 Product FAQ
Q : How much Ubiquinol for Cats & Dogs do I give my pet?
A : The recommended dosage varies according to your pet's weight.
Q : I notice other CoQ10 products sometimes contain hidden ingredients. Is there anything else in Ubiquinol for Cats & Dogs?
A : You're right – some products do. And one ingredient found in some CoQ10 supplements is a citrus extract that some sources say should not be used for cats.
My formulation doesn't contain citrus extract or any synthetic fillers or carriers. We've added just a touch of silica, natural tocopherols to help maintain freshness, and natural-sourced medium-chain triglycerides, a non–irritating, healthy fat derived from coconut oil.
JJ E-Homez Holistic Pet Return Policy
Generally, all our products are strictly non-refundable nor exchangeable.
However, in the event you received an incorrect or defective item, or any other valid reason that you can't enjoy your purchase, we will provide a refund or an exchange, case by case basis.
All we ask is that when the item is returned, it should meet the following requirements:
Reach out to us to arrange an appointment to drop off your item at 216A Boon Lay Ave.
Item returned should be in their original & sealed packaging. Broken seals will not be accepted, unless there's a valid reason, based on case by case basis.
Please ensure at least 6 months of shelf life if it's a perishable item.
Send us your order confirmation email for refund verification.
Items not eligible for returns:
Food related, wearables, beds and carriers due to food safety & hygiene reasons.
Items that are purchased from promotional pricing from all of our sales channels.
Customers who had a history of returning more than 3 items.
When we receive the refunded/exchange item, we will review the condition of the item, and reach out to you to confirm and issue a refund/exchange within 7 working days. We regret that customers who decline to respect our policy will be ineligible for exchange, returns and refunds.
Do also note that if we find that a product has been intentionally damaged or tampered with, refunds will not be offered.
As generally, returns are not allowed otherwise, please check your order (e.g. type, size, colour, quantity, etc) before checking out. If you need help with any product, chat with us or please send us an email to jjehomez@gmail.com
Pre-order Items T&C
Please note of the following terms & conditions on all our Pre-order items :
Full payment is required for all Pre-order items.
Expect Pre-order items to be delivered between 3 to 15 working days (depending on which item) starting from your order date.
We will connect via WhatsApp or Email should there be any updates or concerns regarding your order.
Promotions
Website promotion for year 2023
Free Delivery for : orders above $38
*Terms & Conditions:
Website promotion is only applicable for orders/payments made via our website.
Promotions at other shopping platforms (Carousell, Lazada, Shopee, Amazon) is only applicable for orders/payments made via our shops within those shopping platforms.