Product Details
Made from 100% pure lean kangaroo meat which are sustainably sourced. Roo Chew promotes healthier gums and improved oral hygiene by preventing tartar build up, gingivitis and bad breath. The unique texture of Roo Chew will help remove the plaque residues and prevent the build-up of tartar on teeth. These delicious and natural dental chews also help prevent destructive chewing behaviour for dogs which like to chew out of curiosity, stress, or boredom.
In addition, Chewy Roo will toughen the gums and the teeth of the dog. Dogs that eat Chewy Roo will benefit from whiter teeth. By chewing on Chewy Roo it will help prevent the formation of plaque and will give a brighter smile. Chewy Roo can offer a stimulating workout both for the body and the mind of your pet.
Roo Chew is especially beneficial for teething puppies. Growing teeth cause pressure on the puppy's gums and they will experience pain. Chewing helps relieve the pain and stimulate growing of the teeth from the gums.
Great for all dogs of all ages puppies to the seniors, if you have a cat that loves a good chew they will love this product.
70g Pack
Suitable for Cats & Dogs
Single ingredient only. No salt, sugar, colour, preservatives or fillers added
Unique exclusive advanced dehydration technology Nutrieseal® system
Human food grade pet treats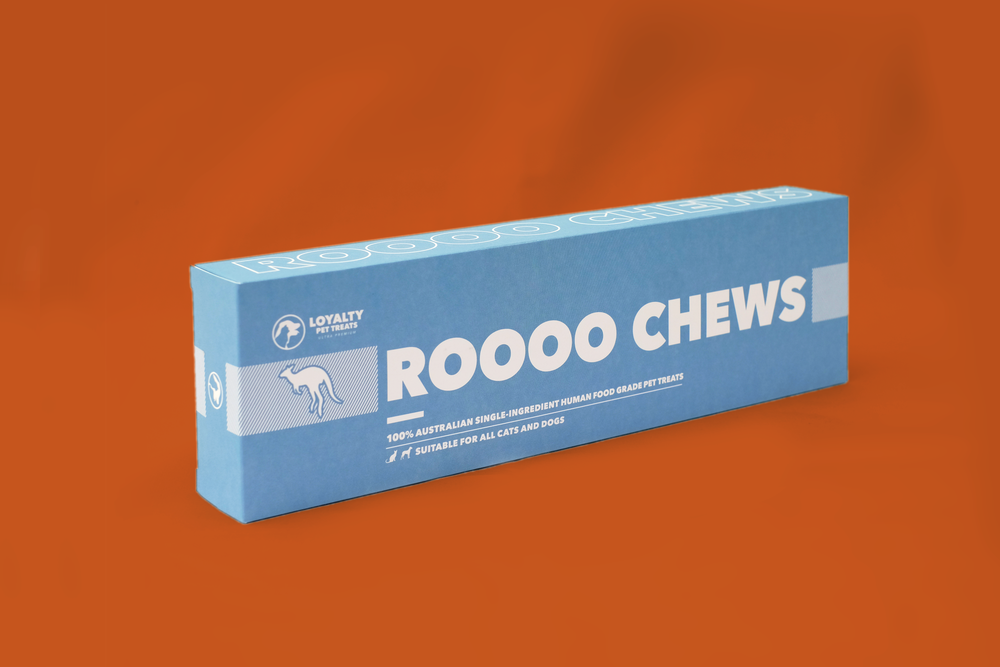 Nutritional Analysis
At Loyalty Pet Treats, we choose NOT to Google a generalised nutritional analysis on any of our products. This analysis is done individually on LPT products at NATA registered laboratories. Our analysis validates the effectiveness of our Nutrieseal® process. This analysis does not apply to any other form of drying of these products.

Guaranteed Analysis :
Protein 86.6%
Fat 2.4%
Fibre <0.1%
Moisture 11.3%
Recommended to refrigerate upon opening as it is 100% pure with no preservatives.
Not recommended leaving under room temperature for too long after opening.
Loyalty Pet Treats Declaration of Integrity
All Loyalty Pet Treats products are Australian sourced, operated and manufactured in compliance with HACCP principles and Safe Food Queensland standards. HACCP is audited & registered by SCI QUAL International; Safe Food Queensland is audited & registered by the Queensland Government. Our commitment ensures your pet will be rewarded with the purest of taste & healthy goodness.
All Loyalty Pet Treats are:
Ultra-Premium functional treats that support the health and vitality of your pets
Single ingredient only. No salt, sugar, colour, preservatives or fillers added
Made from 100% human grade meat
Created using our patented process in our Safe Food accredited facility in Queensland
Nutrient dense, fully digestible and irresistibly aromatic
Free of any impurities and contaminants
Tested by independent NATA laboratories for accurate nutritional analyses. (No we don't simply use Google)
Apart from being extremely nutritious and tasty, our functional treats also support the health and vitality of your pets in various ways.
SMILE range supports teeth and gum health, prevents tartar build up, gingivitis and bad breath.
SHINE range is rich in Vitamin A, iron, and selenium to help boost immunity and vitality.
BOOST range is high-quality protein dense treats which aid muscle growth and repair, with minimum 75% protein and maximum 10% fat.
ZEN range have proven anti-inflammatory effects, which help regulate the immune system, aid in the natural healing of the body, slow the aging process and reduce swelling and pain.
JJ E-Homez Holistic Pet Return Policy
Generally, all our products are strictly non-refundable nor exchangeable.
However, in the event you received an incorrect or defective item, or any other valid reason that you can't enjoy your purchase, we will provide a refund or an exchange, case by case basis.
All we ask is that when the item is returned, it should meet the following requirements:
Reach out to us to arrange an appointment to drop off your item at 216A Boon Lay Ave.
Item returned should be in their original & sealed packaging. Broken seals will not be accepted, unless there's a valid reason, based on case by case basis.
Please ensure at least 6 months of shelf life if it's a perishable item.
Send us your order confirmation email for refund verification.
Items not eligible for returns:
Food related, wearables, beds and carriers due to food safety & hygiene reasons.
Items that are purchased from promotional pricing from all of our sales channels.
Customers who had a history of returning more than 3 items.
When we receive the refunded/exchange item, we will review the condition of the item, and reach out to you to confirm and issue a refund/exchange within 7 working days. We regret that customers who decline to respect our policy will be ineligible for exchange, returns and refunds.
Do also note that if we find that a product has been intentionally damaged or tampered with, refunds will not be offered.
As generally, returns are not allowed otherwise, please check your order (e.g. type, size, colour, quantity, etc) before checking out. If you need help with any product, chat with us or please send us an email to jjehomez@gmail.com
Pre-order Items T&C
Please note of the following terms & conditions on all our Pre-order items :
Full payment is required for all Pre-order items.
Expect Pre-order items to be delivered between 3 to 15 working days (depending on which item) starting from your order date.
We will connect via WhatsApp or Email should there be any updates or concerns regarding your order.
Promotions
Website promotion for year 2023
Free Delivery for : orders above $38
*Terms & Conditions:
Website promotion is only applicable for orders/payments made via our website.
Promotions at other shopping platforms (Carousell, Lazada, Shopee, Amazon) is only applicable for orders/payments made via our shops within those shopping platforms.