Product Summary
GPH formulation of high potency digestive enzymes! Paw-Gest Digestive Enzymes for Dogs & Cats is specially formulated to address the specific needs of our furry friends. Enzymes aid in digestion, assimilation, and absorption, while unlocking potential energy from food by properly putting them into a form easily recognizable by the body. This typically reduces digestive distress symptoms such as diarrhea, gas, vomiting, & hairballs as well as discouraging the over-growth of intestinal yeast infections in dogs and cats.
Digestive enzymes are beneficial when feeding kibble or foods with starchy root vegetables due to the absence of the digestive enzyme amylase in the carnivore diet. Amylase is needed to break down starches, particularly beneficial for dogs and cats on a kibble diet. The lack of Amylase can set the stage for yeast overgrowth in the intestinal system causing chronic ear and skin issues.
Paw-Gest is designed to retain its potency for up to 2 years when the jar is kept tightly closed and stored in a cool, dry, dark place.
Amylase is a key factor in proper digestion, a supplement is only as good as the body's ability to assimilate it.
The absence of these enzymes in the carnivore diet, which is needed to break down starches, sets the stage for yeast overgrowth in the intestinal system causing chronic ear and skin issues.
Essential when feeding kibb;es or any foods with starchy root vegetables.
Unlocks the potential energy from the food we give by properly putting them into a form easily recognizable by the body.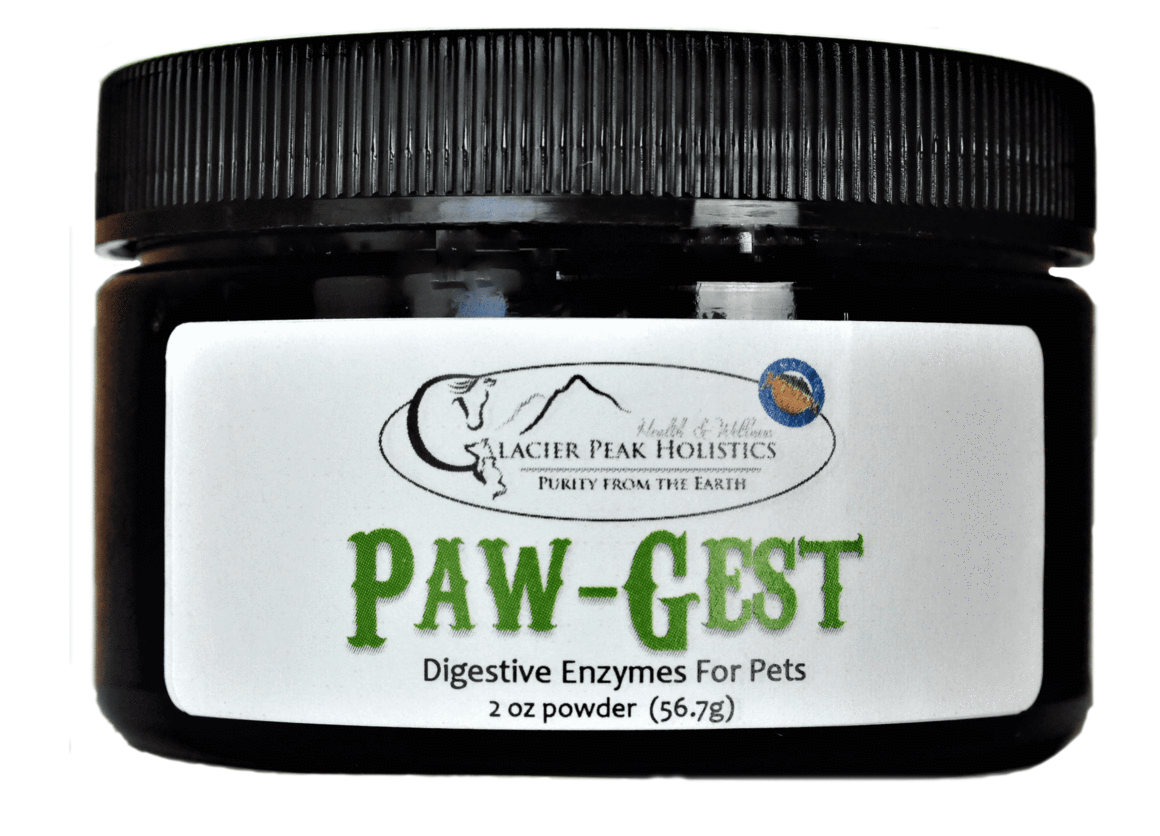 Product Ingredients
Paw-Gest contains a proprietary blend of the following in a base of organic maltodextrin:
Acid Protease
Alpha-Galactosidase
Amylase
Cellulase
Glucoamylase
Hemicellulase
Invertase
Lactase
Lipase
Maltase
Protease
Product Usage Directions
If you feed kibble, moisten it with a bit of water or broth, add the powdered enzymes, and stir, DO NOT FEED DRY.
If you feed raw or canned, just add the powder to wet food and stir.
If the dog or cat is finicky or has a sensitive digestive system, start out with ¼ to ½ of the directed amount for a few days, gradually increasing to the full amount as the pet accepts the taste and until you are certain your pet is able to tolerate the formula well.
Suggested Dosage with each meal :
Cats or Small Dogs over 2 pounds = 1/16 teaspoon
Dogs up to 20 pounds = 1/8 teaspoon
Dogs 20 to 50 pounds = 1/4 teaspoon
Dogs over 50 pounds = 1/2 teaspoon
Large dogs over 75 pounds = 3/4 teaspoon
Note
STORE IN A COOL, DARK PLACE
THIS PRODUCT IS NOT INTENDED TO CURE OR TREAT MAJOR DISEASES, ILLNESSES, OR INJURIES.
PLEASE KEEP OUT OF REACH OF CHILDREN AND PETS
JJ E-Homez Return Policy
Generally, all our products are strictly non-refundable nor exchangeable.
However, in the event you received an incorrect or defective item, or any other valid reason that you can't enjoy your purchase, we will provide a refund or an exchange, case by case basis.
All we ask is that when the item is returned, it should meet the following requirements:
Reach out to us to arrange an appointment to drop off your item at 216A Boon Lay Ave.
Item returned should be in their original & sealed packaging. Broken seals will not be accepted, unless there's a valid reason, based on case by case basis.
Please ensure at least 6 months of shelf life if it's a perishable item.
Send us your order confirmation email for refund verification.
Items not eligible for returns:
Food related, wearables, beds and carriers due to food safety & hygiene reasons.
Items that are purchased from promotional pricing from all of our sales channels.
Customers who had a history of returning more than 3 items.
When we receive the refunded/exchange item, we will review the condition of the item, and reach out to you to confirm and issue a refund/exchange within 7 working days. We regret that customers who decline to respect our policy will be ineligible for exchange, returns and refunds.
Do also note that if we find that a product has been intentionally damaged or tampered with, refunds will not be offered.
As generally, returns are not allowed otherwise, please check your order (e.g. type, size, colour, quantity, etc) before checking out. If you need help with any product, chat with us or please send us an email to jjehomez@gmail.com
Pre-order Items T&C
Please note of the following terms & conditions on all our Pre-order items :
Full payment is required for all Pre-order items.
Expect Pre-order items to be delivered between 3 to 15 working days (depending on which item) starting from your order date.
We will connect via WhatsApp or Email should there be any updates or concerns regarding your order.
Promotions
Website promotion for year 2021
Free Delivery for : orders above $38
*Terms & Conditions:
Website promotion is only applicable for orders/payments made via our website.
Promotions at other shopping platforms (Carousell, Lazada, Shopee, Amazon or Qoo10) is only applicable for orders/payments made via our shops within those shopping platforms.