Product Summary
Is your dog itching and scratching? Are they allergic to Fleas or have other bug bites?
Restore is an itch remedy for dogs only. This all natural itch relief salve stops itching on contact to keep dogs from biting, scratching and licking their paws and skin.
Restore addresses the following dog skin problems.
Bug Bites
Chews and Licks Paws
Hot Spots
Flea Dermatitis
Itchy Incisions
Rashes
Punctures
Smelly Itchy Ears
Scratches and Scrapes
Restore can be used everyday to quickly heal dog hot spots, bug bites and as an effective flea dermatitis remedy. An excellent addition to your holistic medicine kit to help heal cuts, scrapes, punctures, and open wounds.
Benefits of Restore Itch Relief & Wound Care Salve:
Stops itching on contact and keeps your dog from acquiring a secondary infection
Powerful herbal formula heals hot spots, bug bites, and flea dermatitis
Restore helps heal wounds, cuts and scrapes from the inside out
Can be used in your dog's ear to help heal minor infections and ear itching
Restore is an all natural herbal remedy for itching, licking, hot spots and open wounds.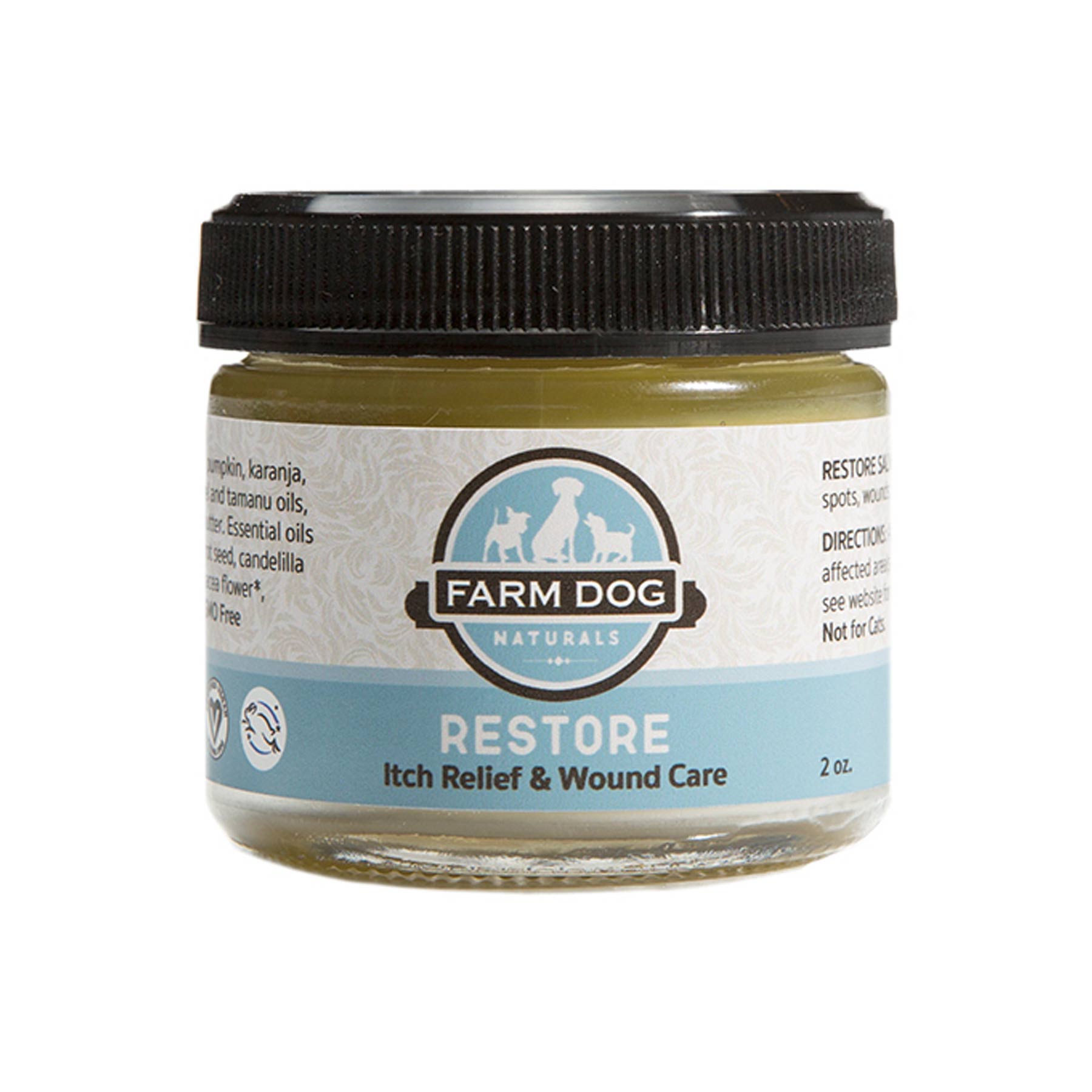 Before and After Of Using Restore to Heal The Wound and Salvation to grow the hair back the same color.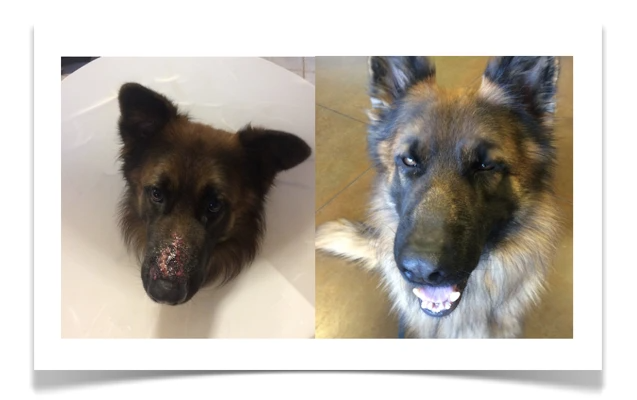 Product Video
Product Ingredients
All Of Our Ingredients Are GMO-FREE, Cruelty-Free And Vegan-Friendly.
Natural Product Alert! Farm Dog infuses herbs into our formulas. You may occasionally see a small piece of herb in our salves.
Restore's Simple Herbal Ingredients:
Cherry kernel
Organic rose hips oil
Organic hemp
Almond
Apricot kernel
Organic pumpkin
Karanja and Organic neem oils.
Unrefined Shea Butter.
Echinacea
Yellow dock and Catnip herb.
Essential oils of carrot seed, frankincense and Geranium.
Organic vitamin E.
Product Application
Apply Restore twice daily to affected area or as needed for itching and scratching.
For General Wound Care:
Apply ample amounts of Restore to the wound and let it sit for 6-8 hours
Clean the wound out with sterile gauze and antiseptic then reapply.
Let the wound heal naturally.
Use our Salvation Salve to quickly grow your dog's hair back.
For Bacterial Ear Infections:
Asking yourself "what can I do about my dog's bacterial ear infection?" Use Restore.
Apply a small amount of Restore to the inside of your dog's ear and let it melt into their ear canal.
Wait 24 hours, gently clean the outer ear and reapply.
Continue until symptoms disappear.
If symptoms persist, consult your veterinarian.
For Abscess or Excessive Wound Scabbing:
Does your dog have an abscess with a scab on top? Do they have a puncture or a wound that needs to stay open and clean so that it can heal? Use Restore.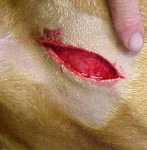 Apply an ample amount of Restore to the scabbed area and leave on overnight.
In the morning, take a warm dampened clean cloth and gently wipe the scab away.
Clean the wound out with sterile gauze and antiseptic then reapply Restore.
Cover for a couple of hours if needed.
In the case of an abscess, gently remove the pus out of the wound before cleaning it.
Repeat the process daily until the open wound (and abscess) have closed up on their own without scabbing.
After this happens, follow instructions under General Wound Care.
If you see any excessive swelling of the area, consult your veterinarian.
JJ E-Homez Return Policy
Generally, all our products are strictly non-refundable nor exchangeable.
However, in the event you received an incorrect or defective item, or any other valid reason that you can't enjoy your purchase, we will provide a refund or an exchange, case by case basis.
All we ask is that when the item is returned, it should meet the following requirements:
Reach out to us to arrange an appointment to drop off your item at 216A Boon Lay Ave.
Item returned should be in their original & sealed packaging. Broken seals will not be accepted, unless there's a valid reason, based on case by case basis.
Please ensure at least 6 months of shelf life if it's a perishable item.
Send us your order confirmation email for refund verification.
Items not eligible for returns:
Food related, wearables, beds and carriers due to food safety & hygiene reasons.
Items that are purchased from promotional pricing from all of our sales channels.
Customers who had a history of returning more than 3 items.
When we receive the refunded/exchange item, we will review the condition of the item, and reach out to you to confirm and issue a refund/exchange within 7 working days. We regret that customers who decline to respect our policy will be ineligible for exchange, returns and refunds.
Do also note that if we find that a product has been intentionally damaged or tampered with, refunds will not be offered.
As generally, returns are not allowed otherwise, please check your order (e.g. type, size, colour, quantity, etc) before checking out. If you need help with any product, chat with us or please send us an email to jjehomez@gmail.com
Pre-order Items T&C
Please note of the following terms & conditions on all our Pre-order items :
Full payment is required for all Pre-order items.
Expect Pre-order items to be delivered between 3 to 15 working days (depending on which item) starting from your order date.
We will connect via WhatsApp or Email should there be any updates or concerns regarding your order.
Promotions
Website promotion for year 2021
Free Delivery for : orders above $38
*Terms & Conditions:
Website promotion is only applicable for orders/payments made via our website.
Promotions at other shopping platforms (Carousell, Lazada, Shopee, Amazon or Qoo10) is only applicable for orders/payments made via our shops within those shopping platforms.