Product Summary
Accidents Will Happen. Put An End To Your Worries with Relief All Natural Pet Cleanup and Odor Remover, Stain, and Urine Cleaner For Your Dog.
Looking For A Natural Pet Urine Cleaner? Relief effectively eliminates urine, odors, and stains while cleaning multiple surfaces around your home. Use it everyday to permanently remove dirt, gross germs, and grime and find just what you are looking for in a cleaner; Relief.
Benefits of using Relief Pet Cleanup and Odor Remover:
Effectively eliminates urine, odors and stains caused by pet accidents
Spray onto your dog's coat for a deodorizing waterless bath
Naturally effective, non-toxic and biodegradable
Safe, multipurpose cleaner for all the surfaces of your dog friendly home
Can be easily refilled using our Relief Concentrates
Skunk odor remover. Removes skunk odor within 30 minutes
Relief Concentrates are 1 ounce bottles of concentrated all natural pet urine remover. So powerful, that one small bottle makes 24 ounces of our Relief Pet Cleanup and Odor Remover. No Mess. No Measuring. No Problem.
Relief Concentrates are easy to use. They also make you feel good knowing that you are saving finite resources and reducing the amount of plastic bottles being added to landfills and our planet's oceans. Just say no to shipping water if you don't have to.
Benefits of using Relief Concentrates:
Easy to use, just pour the concentrate into a 24 oz bottle and fill with water
Relief eliminates urine and associated odors permanently
Safe to use around children and pets
Diluted Relief concentrate can be used as a waterless bath for your dog
Relief Concentrates are an easy way to save time, money and resources.
Relief is an all natural Pet Urine, Stain, and Odor Remover.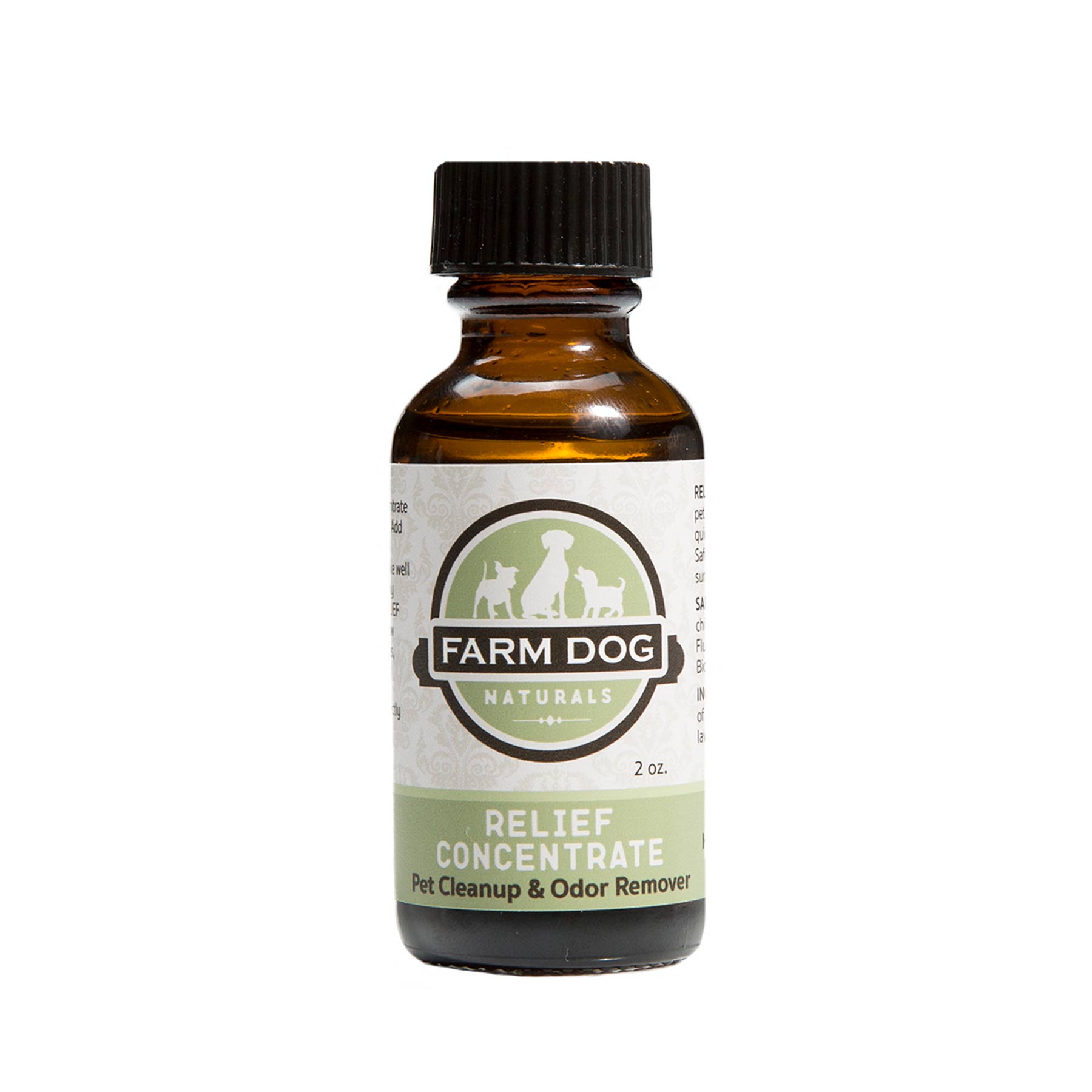 Product Ingredients
All Of Our Ingredients Are GMO-FREE, Cruelty-Free And Vegan-Friendly.
Relief Concentrate's Simple Herbal Ingredients:
Aqueous extracts of organic mineral salts
Organic lavender essential oils.
Lavender Essential Oils
Lavender essential oil is able to act as a deterrent for insects and pests, keeping away fleas, ticks and mosquitoes. It also aids with soothing itchy skin, and inflammation caused conditions like burns and joint pain since lavender is a natural anti inflammatory, antibacterial antihistamine and pain reliever.
It has a soothing effect that could help with calming anxiety and stress reduction. The same component also makes it an excellent sleep aid. Lavender oil is also a great way to deodorize and refresh bad smells.
Product Application
Preparing Relief:
Pour a Relief Concentrate into 24 ounce sprayer and fill with water.
Shake well and start cleaning.
For everyday cleaning:
Just spray and wipe surfaces.
Pet Urine:
Spray with Relief and wipe up urine
Lightly mist and let dry.
For Carpets:
Saturate the area and blot up any stains with a clean cloth.
Repeat until stain is removed.
Spray area and let dry.
Do not rub.
Pet Urine and Stains on Hard Surfaces:
Saturate stain, let sit for 10 minutes
Then wipe the area clean.
Mist the area with Relief and let dry.
Fabrics: Is your dog's bed stinky? Relief cleans fabrics and leaves them smelling fresh.
Saturate the area or stain.
Let sit for 10 minutes, then blot up any urine.
When the stain is removed, saturate the area again and let air dry.
Dog Deodorizer and Water-less Bath:
Spray directly on your dog's coat, avoiding their eyes. (Relief will not harm your dog's eyes but it will irritate them)
For best results, after application, brush through their coat and let dry
JJ E-Homez Holistic Pet Return Policy
Generally, all our products are strictly non-refundable nor exchangeable.
However, in the event you received an incorrect or defective item, or any other valid reason that you can't enjoy your purchase, we will provide a refund or an exchange, case by case basis.
All we ask is that when the item is returned, it should meet the following requirements:
Reach out to us to arrange an appointment to drop off your item at 216A Boon Lay Ave.
Item returned should be in their original & sealed packaging. Broken seals will not be accepted, unless there's a valid reason, based on case by case basis.
Please ensure at least 6 months of shelf life if it's a perishable item.
Send us your order confirmation email for refund verification.
Items not eligible for returns:
Food related, wearables, beds and carriers due to food safety & hygiene reasons.
Items that are purchased from promotional pricing from all of our sales channels.
Customers who had a history of returning more than 3 items.
When we receive the refunded/exchange item, we will review the condition of the item, and reach out to you to confirm and issue a refund/exchange within 7 working days. We regret that customers who decline to respect our policy will be ineligible for exchange, returns and refunds.
Do also note that if we find that a product has been intentionally damaged or tampered with, refunds will not be offered.
As generally, returns are not allowed otherwise, please check your order (e.g. type, size, colour, quantity, etc) before checking out. If you need help with any product, chat with us or please send us an email to jjehomez@gmail.com
Pre-order Items T&C
Please note of the following terms & conditions on all our Pre-order items :
Full payment is required for all Pre-order items.
Expect Pre-order items to be delivered between 3 to 15 working days (depending on which item) starting from your order date.
We will connect via WhatsApp or Email should there be any updates or concerns regarding your order.
Promotions
Website promotion for year 2023
Free Delivery for : orders above $38
*Terms & Conditions:
Website promotion is only applicable for orders/payments made via our website.
Promotions at other shopping platforms (Carousell, Lazada, Shopee, Amazon) is only applicable for orders/payments made via our shops within those shopping platforms.