Product Summary
CocoTherapy Coco-Carnivore Meatballs - Raising the bar beyond the common meat treat! This is a Organic Coconut MEAT Treats for Dogs and Cats, made with organic CocoTherapy Coconut Chips.
The ultimate freeze-dried, RAW meat treat, Coco-Carnivore Meatballs™ is for the meat lover connoisseur. We wanted to make freeze-dried meat treats that were not only delicious, but super healthy for our pets. This meant that we only use meats that are antibiotic-free, hormone-free, and Non-GMO.
We also wanted to make sure the meats were humanely raised and ethically produced, sourced from USA farmers and producers. Then we added the extra health benefits of super-foods from fruits, vegetables, herbs, plus our CocoTherapy Coconut Chips!
Coco-Carnivore Meatballs are:
Antibiotic-free
Hormone-free
Grain & gluten free
Raw & freeze-dried
No preservatives, colors, or flavors
Humanely raised and ethically produced
Made with the finest ingredients:
100% Human-grade ingredients
Made with organic CocoTherapy Coconut Chips
No by-products
Non-GMO
Sourced from USA farmers and producers
Available in :
Beef + Orange + Coconut
Chicken + Basil + Coconut
Turkey + Spinach + Coconut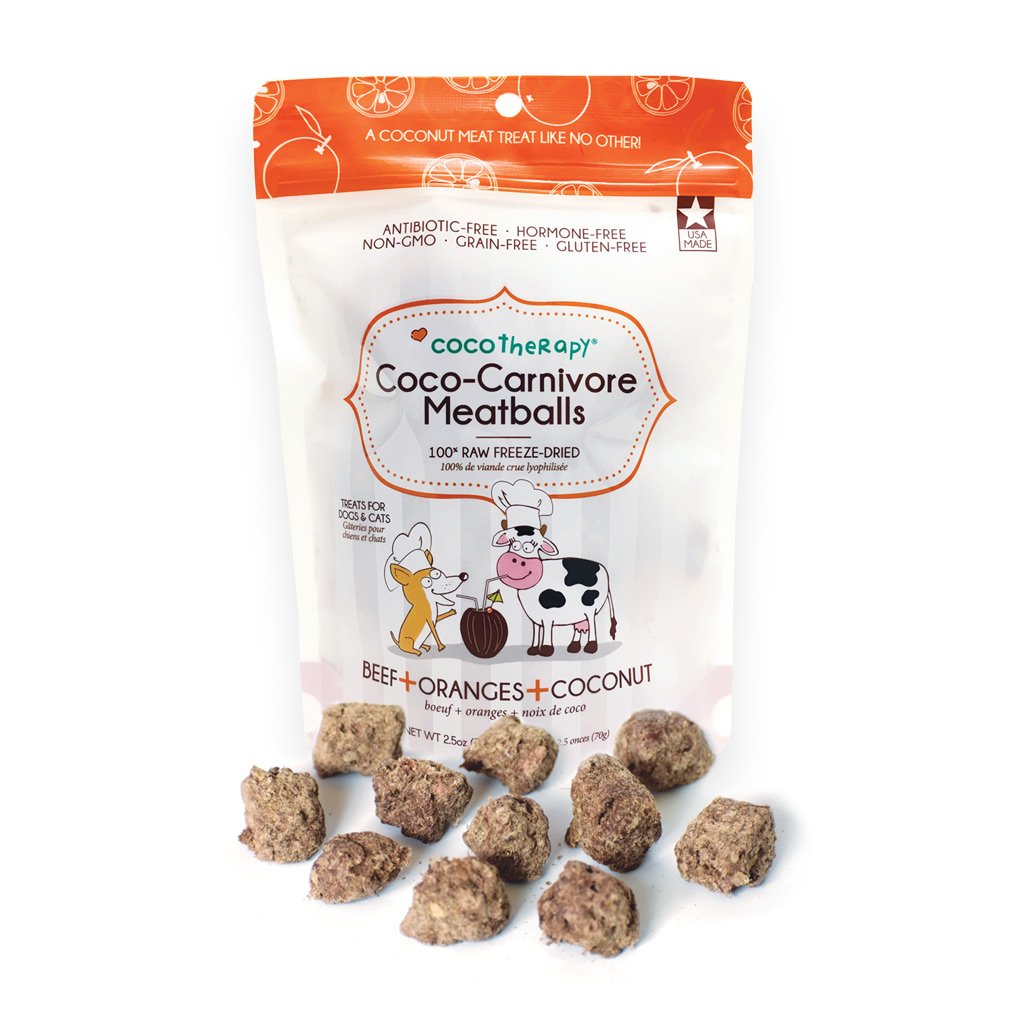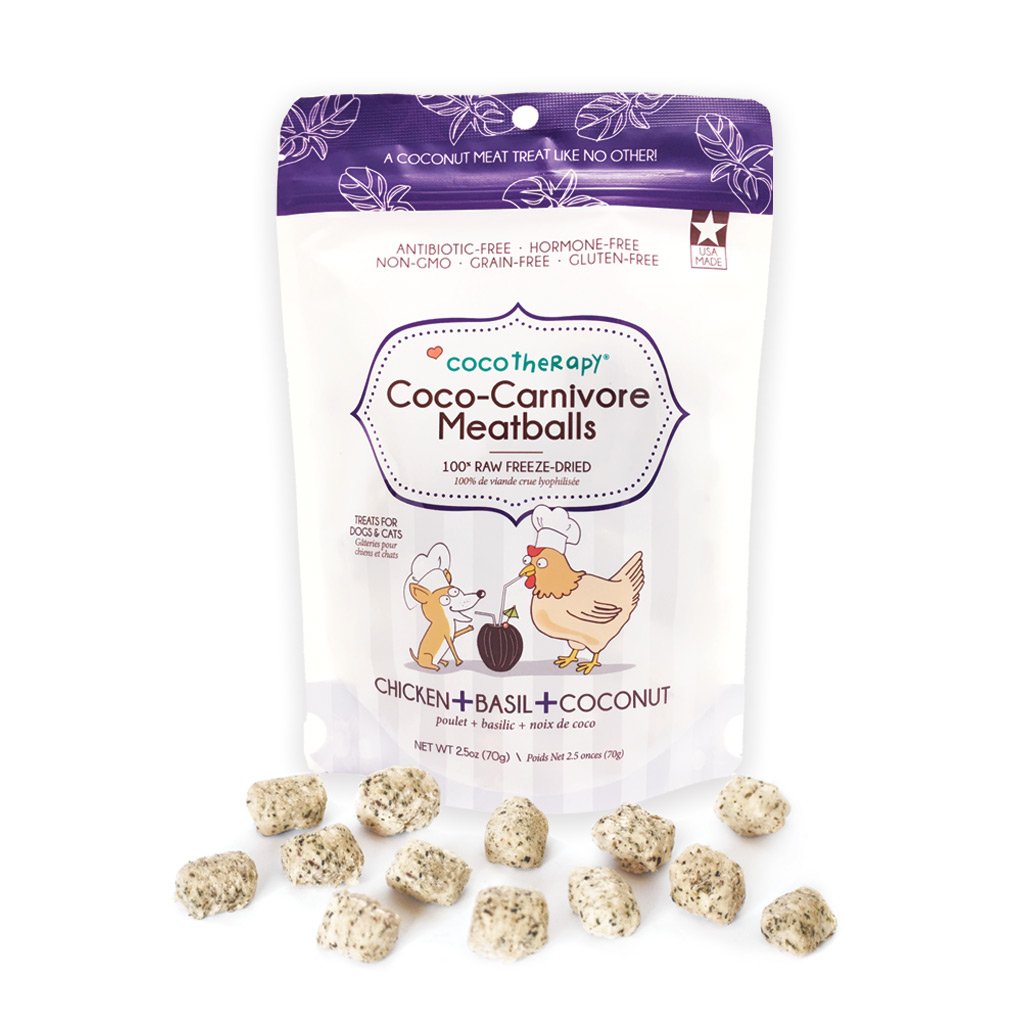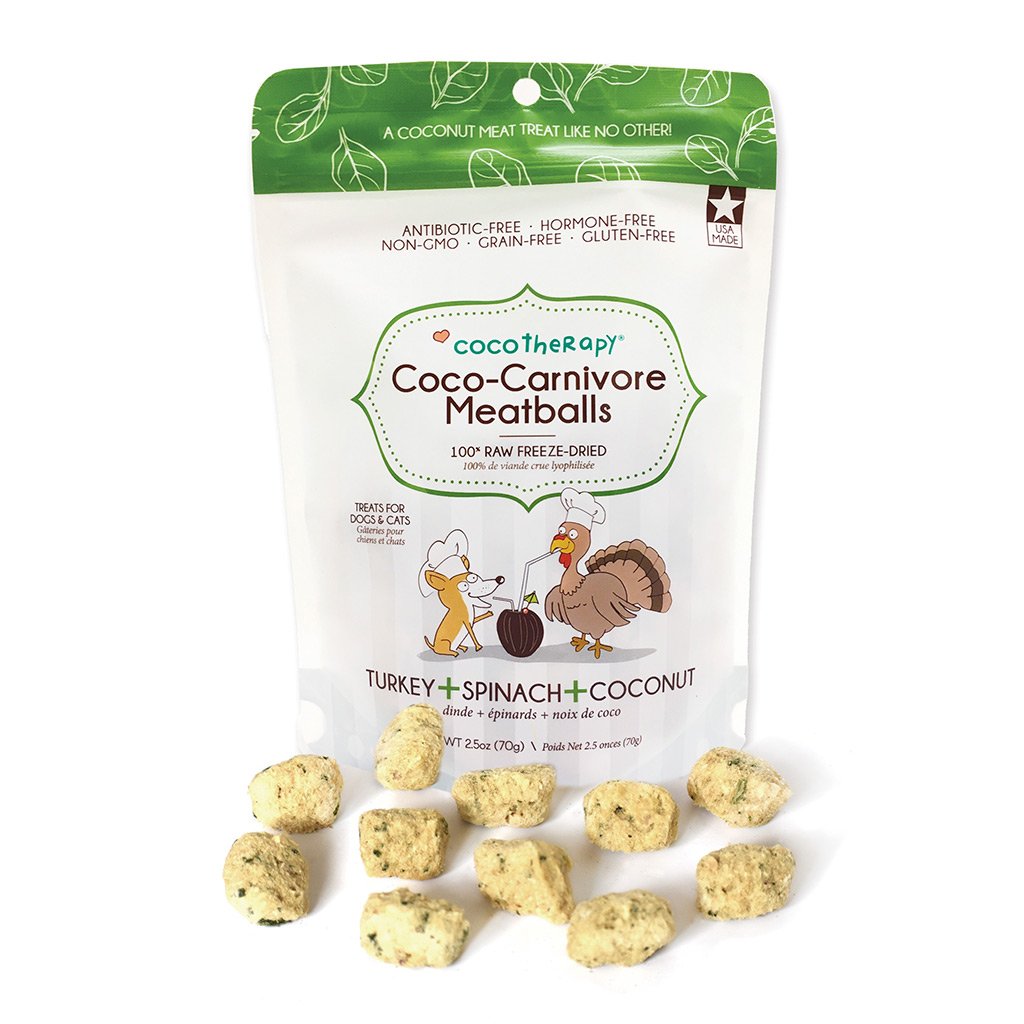 Product Ingredients
Beef + Orange + Coconut ingredients:
Beef heart
Beef kidney
Beef liver
Oranges
Organic coconut chips
Calorie Content (calculated):
Metabolize Energy: 3,360 kcal/kg
Average treat: 16 kcal
Chicken + Basil + Coconut ingredients:
Chicken breast
Basil
Organic coconut chips
Calorie Content (calculated):
Metabolize Energy: 2,520 kcal/kg
Average treat: 12 kcal
Turkey + Spinach + Coconut ingredients:
Turkey breast
Spinach
Organic coconut chips
Calorie Content (calculated):
Metabolize Energy: 2,730 kcal/kg
Average treat: 13 kcal
Basil
Basil contains a high level of antioxidants and has anti inflammatory, antimicrobial and antiviral benefits which helps with several illnesses. It also helps prevent cellular damage, calms anxiety and eases joint pain.
As an antioxidant, basil destroys cell damaging free radicals. Not only does it prevent cell damage, it is also capable of healing cellular damage, which slows aging. This also effects anticancer benefits. Basil's anti inflammatory properties staves away illnesses like arthritis. Its beta caryophyllene is able to reduce inflammatory bowel disease risks.
Basil is able to act as a calming agent as it decreases stress hormones like corticosterone, which is known to cause anxiety.
Beef Hearts
Beef hearts are rich in B vitamins, coenzyme Q10, and many other bioavailable nutrients. Beef heart nutrition entails robust levels of zinc, iron, selenium. It is also a great source of vitamin B2, vitamin B6, and vitamin B12. The B vitamins provide energy, have a cardioprotective effect, boost the mood, and have an antiviral immunoprotective property.
Beef heart is a complete protein: it contains all 9 essential amino acids. 3 ounces of beef heart contains 24.2 grams of protein, which is more than enough to ensure muscle synthesis and brain health, containing only trace amount of carbohydrates.
Beef heart is also lower in fat in comparision, of which it is comprised of saturated fatty acids, mono- and polyunsaturated fatty acids, and naturally occurring trans fats.
Beef Kidneys
Beef kidney is an organ meat that is the most nutrient dense, making it a good source of protein without a trace of carbohydrates, and is filled with vitamin C, zinc, vitamin A, thiamin, riboflavin, niacin, vitamin B6, folate, vitamin B12, pantothenic acid, iron, phosphorus, copper and selenium.
Beef kidney is low in saturated fat but it is high in cholesterol. Most of the cholesterol in the blood is produced by the liver, so much so when eating high levels of cholesterol, the liver produces less. Therefore, cholesterol in the diet has little effect on cholesterol in the blood.
Beef Livers
Beef livers are rich in nutrients and a good source of B vitamins, copper, essential fatty acids, iron, phosphorus, vitamin A, and zinc. It also benefits the liver and gives a boost of energy with its load of vitamin b12. As a great source of omega 3 and 6 fatty acids, it promotes a fully functioning immune system, while keeping the skin and coat healthy and shiny.
Chicken Breast
Chicken is a lean meat that provides many benefits. A main protein and energy source, chicken provides that boost without a big calorie count. It helps build lean muscle mass and delivers Omega 6 fatty acids that help sustain healthy skin and shiny coats. The excess protein that surpasses the need for muscle tissue maintenance is used for energy.
Chicken is also a great source of amino acids, the building blocks for protein. Dietary sources of essential amino acids are found within proteins, with the highest concentrations generally found in animal protein like chicken.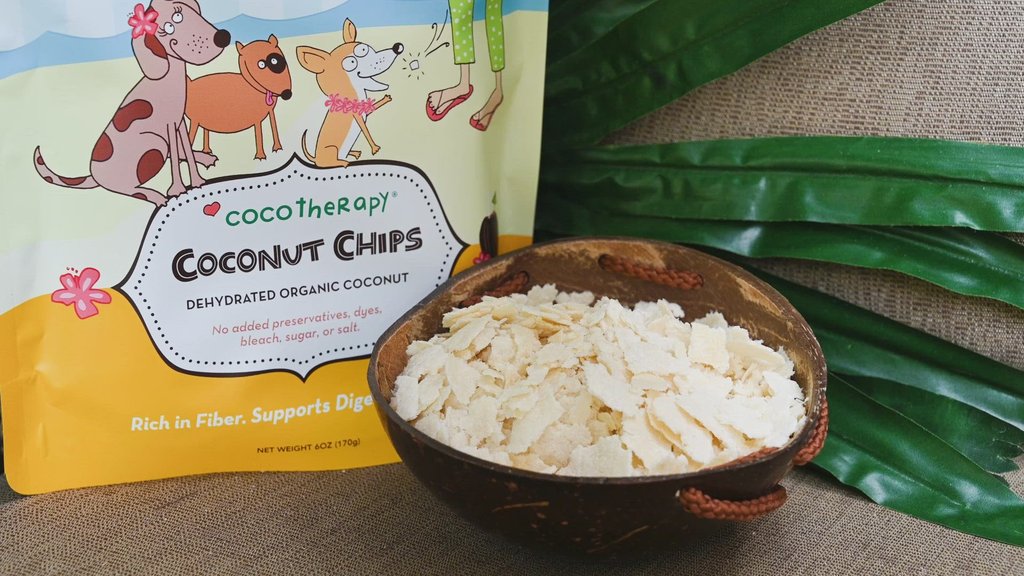 Coconut Chips
Coconut is highly nutritious. While it provides mostly fat, medium chain triglycerides, it also contains protein, several important minerals, and small amounts of B vitamins. The minerals in coconut are involved in body functions; like manganese, which is essential for bone health and the metabolism of carbohydrates, proteins, and cholesterol. Coconut is also rich in copper and iron, which help form red blood cells, as well as selenium, an important antioxidant that protects the cell. The fats promote body fat loss, which decreases the risk of heart disease and diabetes.
Coconut has antidiabetic effects, possibly due to its arginine content, which relates to blood sugar level regulation. The meat also contains phenolic compounds, which are antioxidants that may help protect cells from oxidative damage: gallic acid, caffeic acid, salicylic acid and p-coumaric acid.
Oranges
Oranges are an excellent source of vitamin C,dietary fibre, potassium, thiamine and folate, while being low in sodium. Vitamin c gives the immune system a boost to keep diseases at bay, an also helps to cleanse the stomach if there have been toxic foods in the system.
Spinach
Spinach benefits eye health, reduces oxidative stress, helps prevent cancer, and reduces blood pressure levels. Most of the carbohydrates in spinach consist of fibre, though spinach also contains small amounts of sugar in the forms of glucose and fructose. High in insoluble fibre, it helps prevent constipation.
Spinach is an excellent source of many vitamins and minerals, which include calcium, folic acid, iron, magnesium, potassium, vitamins a, b6, b9, c, e and k1. it also contains several important plant compounds like outrun, kaemoferol, nitrates, quercetin and zeaxanthin that helps improve oxidative stress, eye health and blood pressure.
Turkey Breast
Turkey is considered a key ingredient. Turkey is lean. Its white meat helps dogs to build muscle and is a highly digestible protein source. Turkey-based pet food Is great as an alternative triggered by beef or chicken-based recipes.
Turkey is a great source of protein and nutrients. It is rich in protein but fairly low in fat, and contains riboflavin and phosphorus. Riboflavin is responsible for fats and carbohydrates being metabolized into energy. In addition, riboflavin plays a big part in producing the red blood cells that transport oxygen and nutrients around.
Phosphorus supports healthy kidney function, helping to flush out any toxins through urination, enabling the possible maintenance of your pet's best shape. In addition, phosphorus also aids muscle contractions, which in turn help in motor functions, and helping in the maintenance normal heart rate.
JJ E-Homez Holistic Pet Return Policy
Generally, all our products are strictly non-refundable nor exchangeable.
However, in the event you received an incorrect or defective item, or any other valid reason that you can't enjoy your purchase, we will provide a refund or an exchange, case by case basis.
All we ask is that when the item is returned, it should meet the following requirements:
Reach out to us to arrange an appointment to drop off your item at 216A Boon Lay Ave.
Item returned should be in their original & sealed packaging. Broken seals will not be accepted, unless there's a valid reason, based on case by case basis.
Please ensure at least 6 months of shelf life if it's a perishable item.
Send us your order confirmation email for refund verification.
Items not eligible for returns:
Food related, wearables, beds and carriers due to food safety & hygiene reasons.
Items that are purchased from promotional pricing from all of our sales channels.
Customers who had a history of returning more than 3 items.
When we receive the refunded/exchange item, we will review the condition of the item, and reach out to you to confirm and issue a refund/exchange within 7 working days. We regret that customers who decline to respect our policy will be ineligible for exchange, returns and refunds.
Do also note that if we find that a product has been intentionally damaged or tampered with, refunds will not be offered.
As generally, returns are not allowed otherwise, please check your order (e.g. type, size, colour, quantity, etc) before checking out. If you need help with any product, chat with us or please send us an email to jjehomez@gmail.com
Pre-order Items T&C
Please note of the following terms & conditions on all our Pre-order items :
Full payment is required for all Pre-order items.
Expect Pre-order items to be delivered between 3 to 15 working days (depending on which item) starting from your order date.
We will connect via WhatsApp or Email should there be any updates or concerns regarding your order.
Promotions
Website promotion for year 2023
Free Delivery for : orders above $38
*Terms & Conditions:
Website promotion is only applicable for orders/payments made via our website.
Promotions at other shopping platforms (Carousell, Lazada, Shopee, Amazon) is only applicable for orders/payments made via our shops within those shopping platforms.