Product Details
Our SH Original No-Pull Harness is your perfect everyday training accessory! Walking your dog has never been so easy! Imagine walking your dog without an arm wrestling match...Now you can!
Since our first version of our Original harness was gobbled up so quickly, we've made a few new improvements on our SH Original No-Pull Harness 3.0! Enjoy a heftier strap, sturdier hardware and a perfect non-slip adjuster for an even better walkies!
The front chest attachment discourages pulling.
Adjustable chest strap for a perfect fit.
Adjustable belly strap for a perfect fit and to prevent harness slip.
Padded neoprene handle for when you need to get a hold of your dog quickly.
Optional back leash attachment for the car or 'good days'.
Auto-lock black buckle.
Sturdy and thick hardware.
Webbed silky thick strap (1.8mm).
Gel Silicone Lightning Print
Some Black metal hardware coated in thin layer of recycled plastic to prevent black colour being scratched off - the inner core is 100% recycled metal.
Available Designs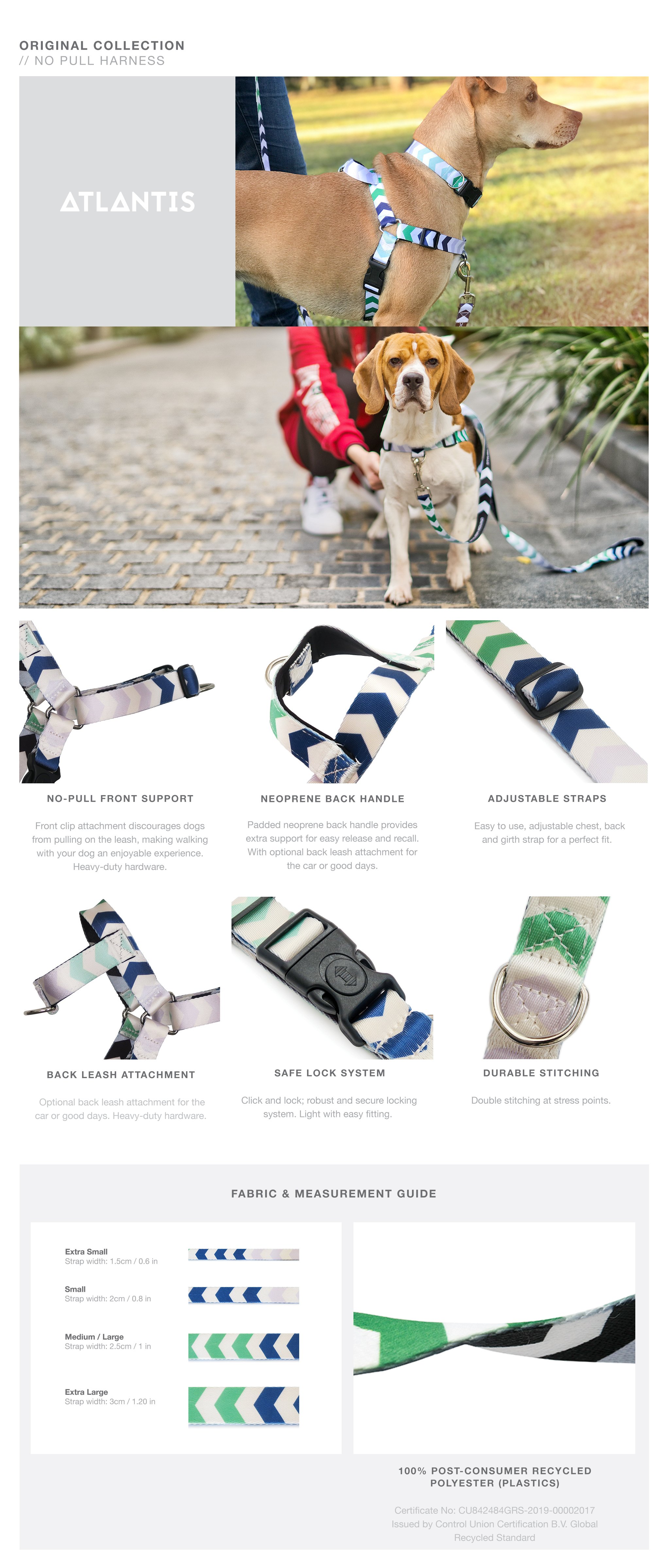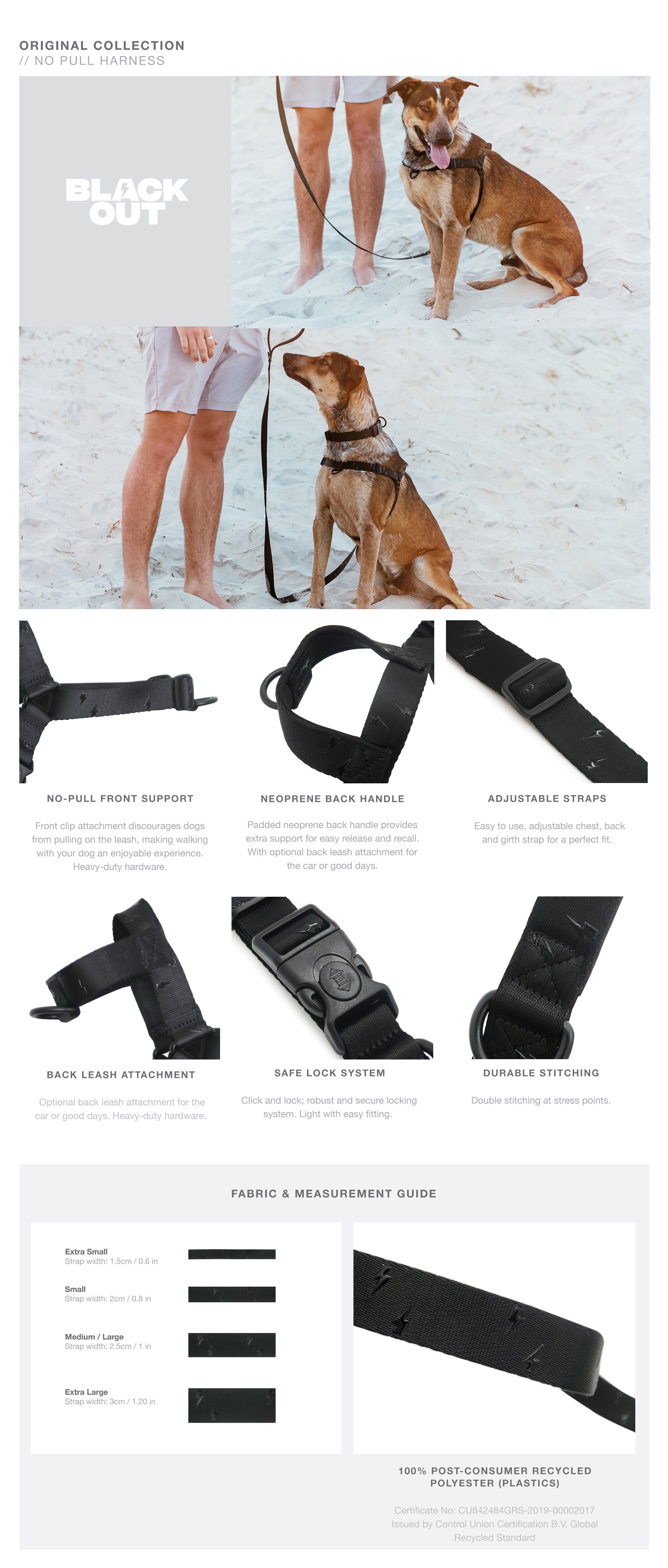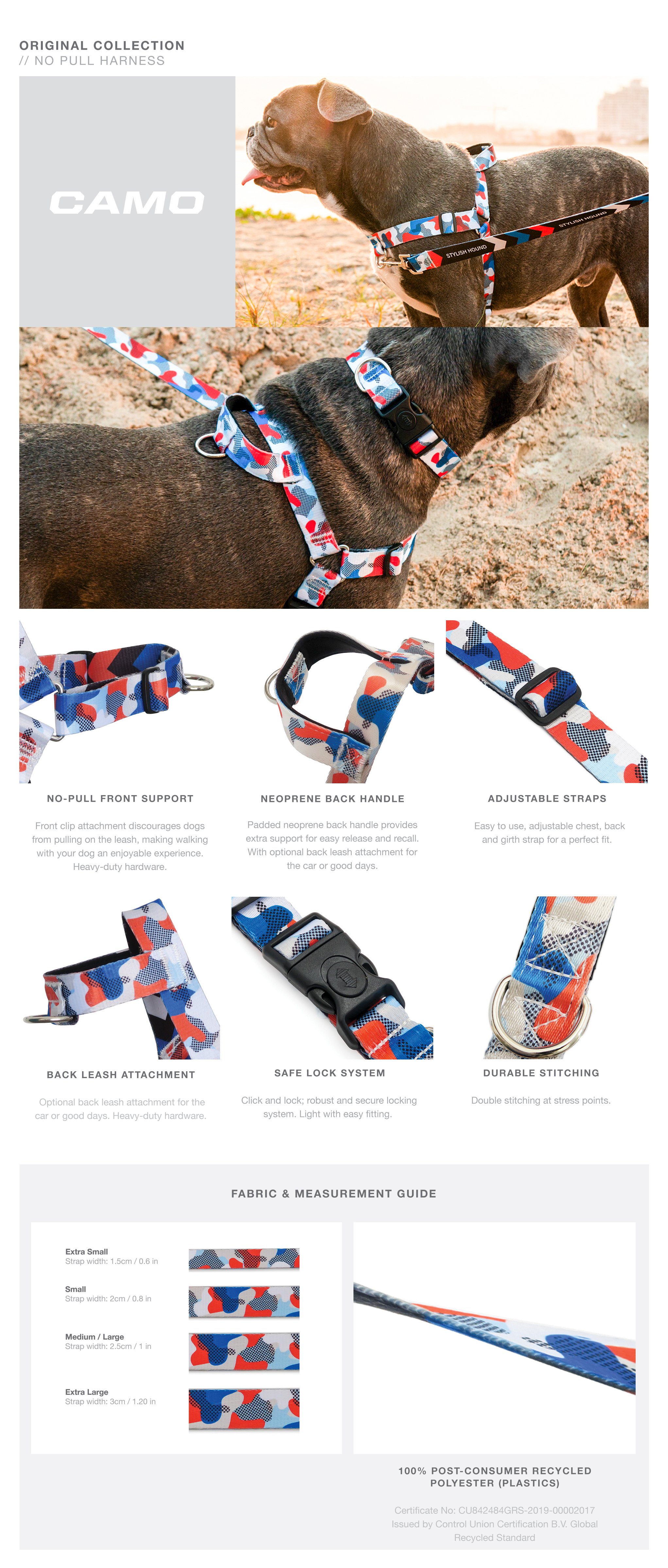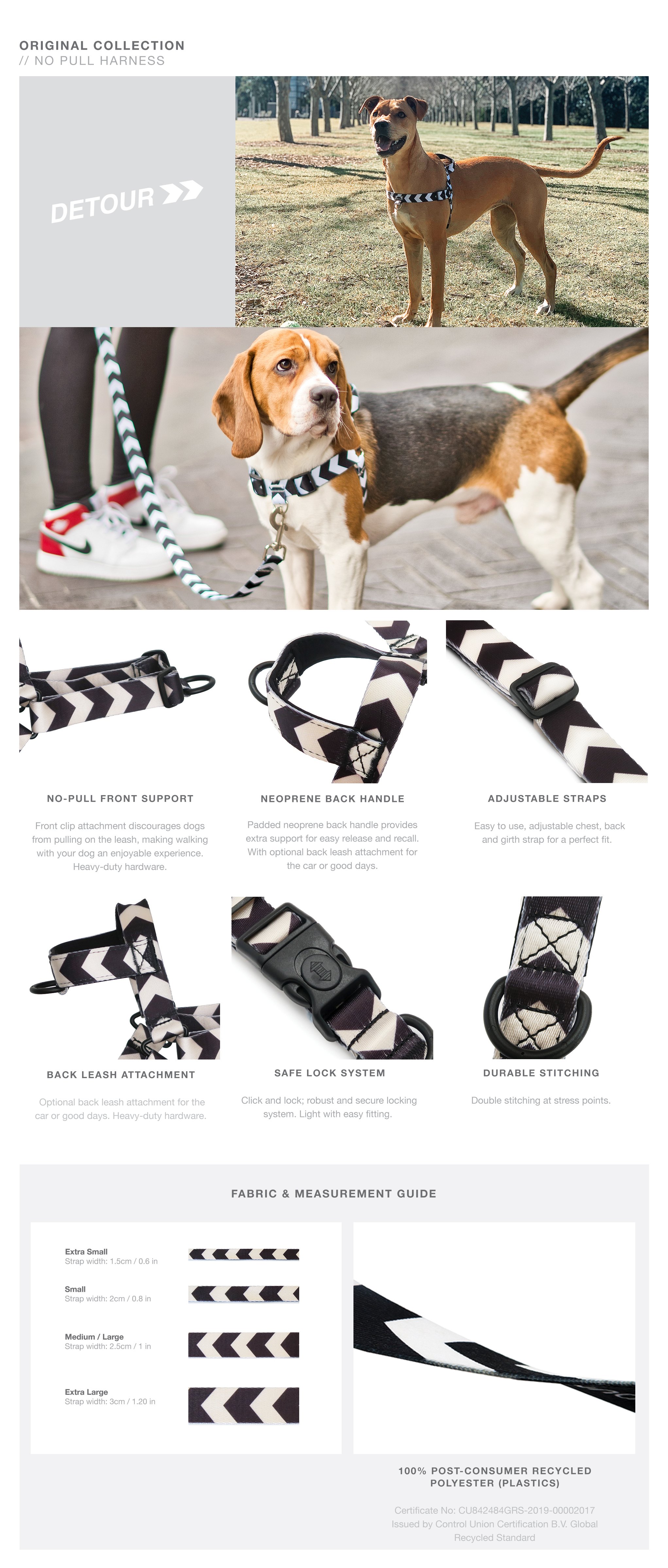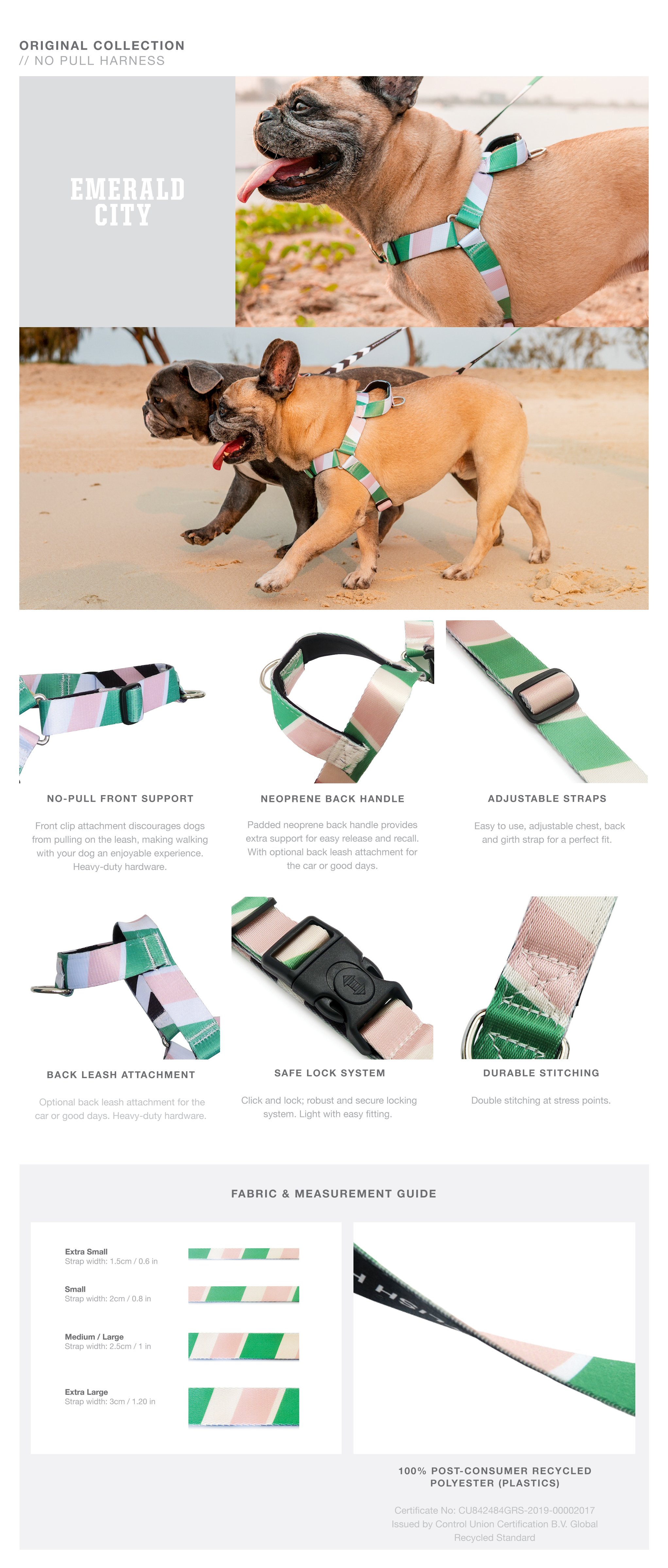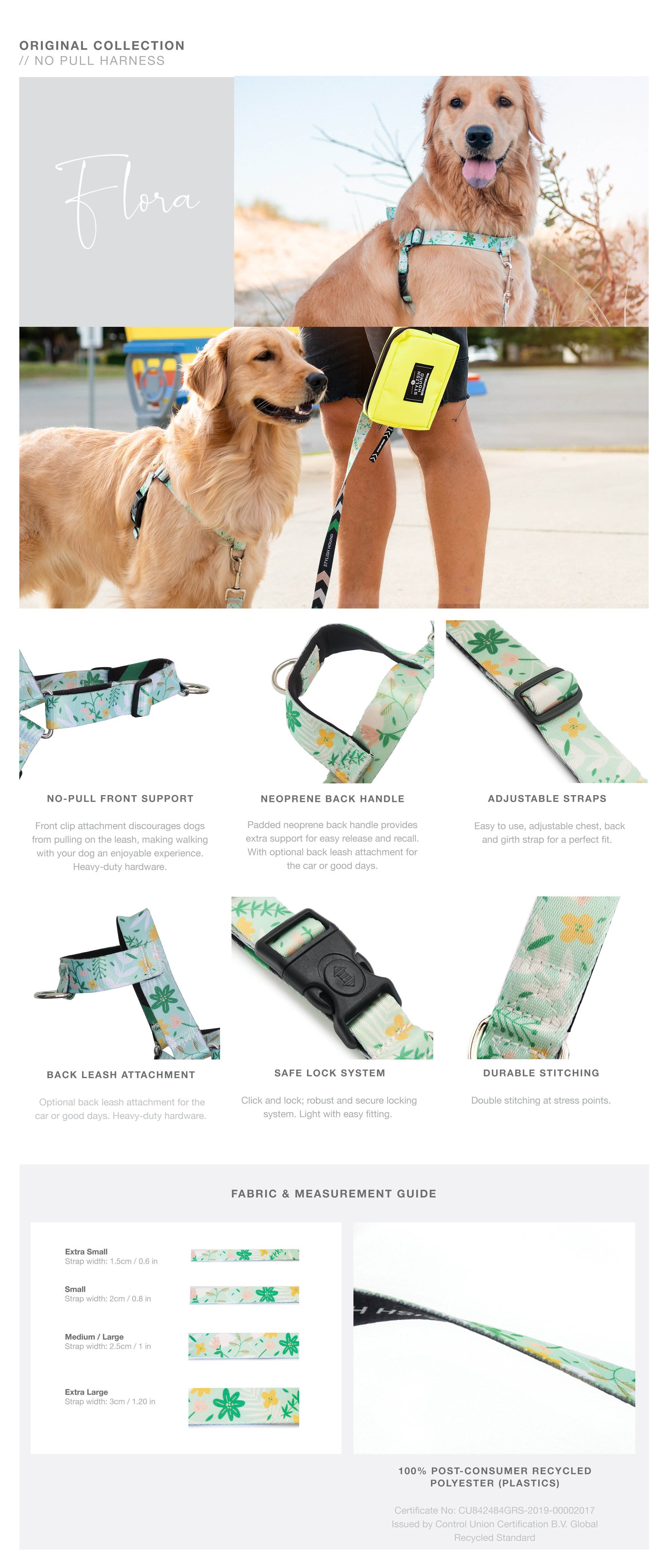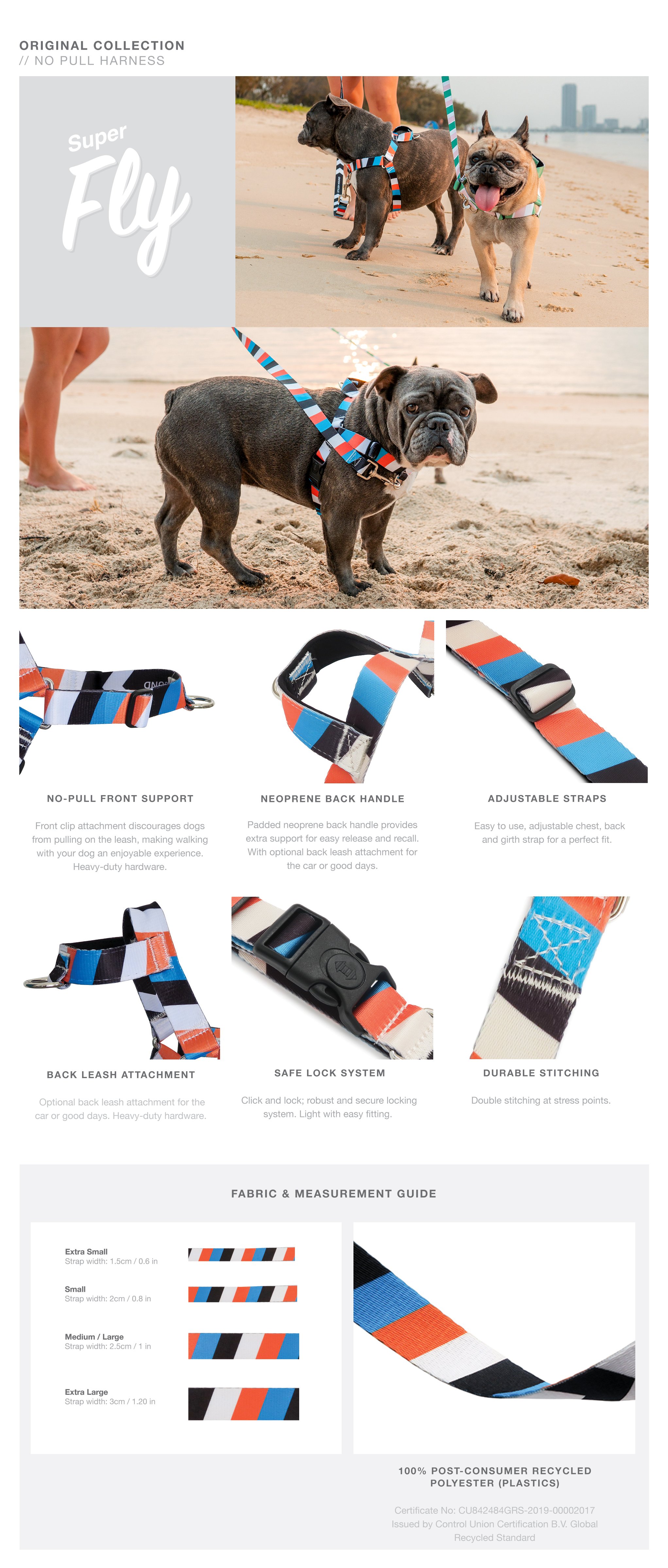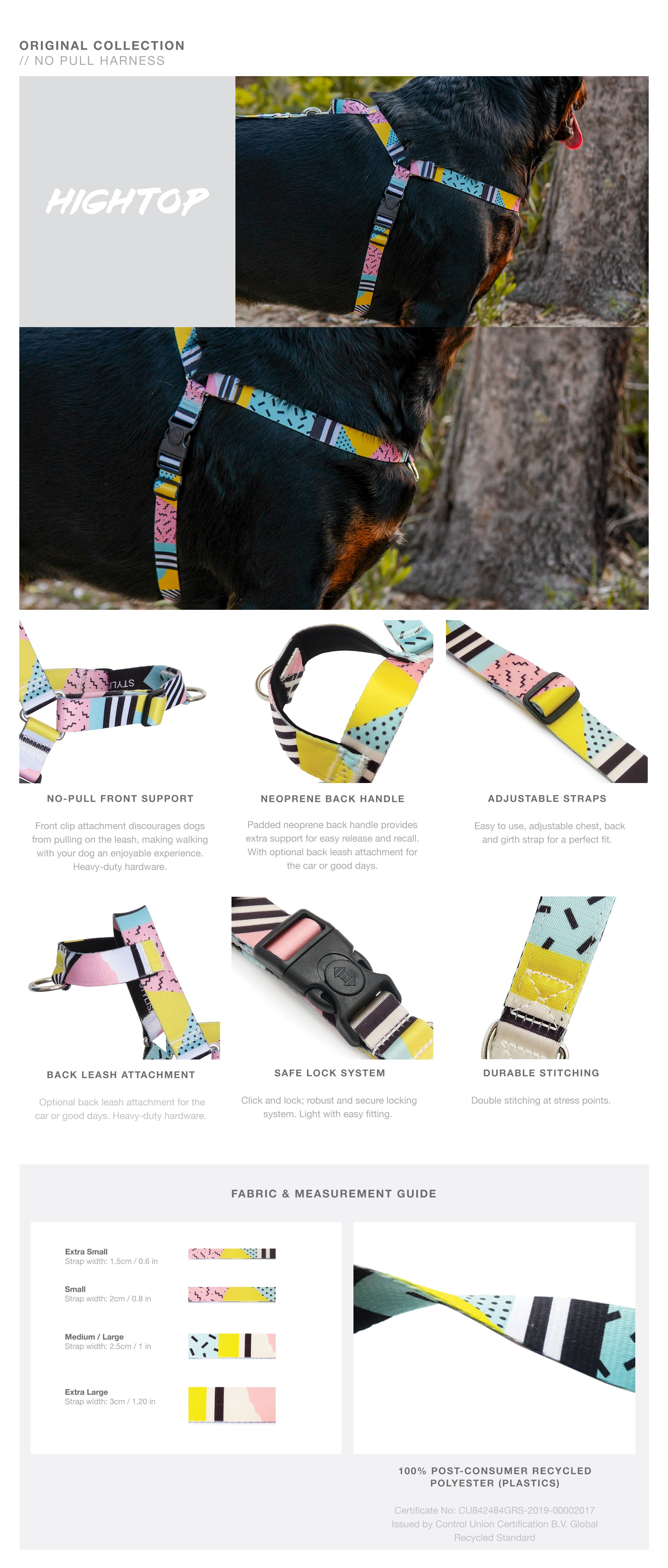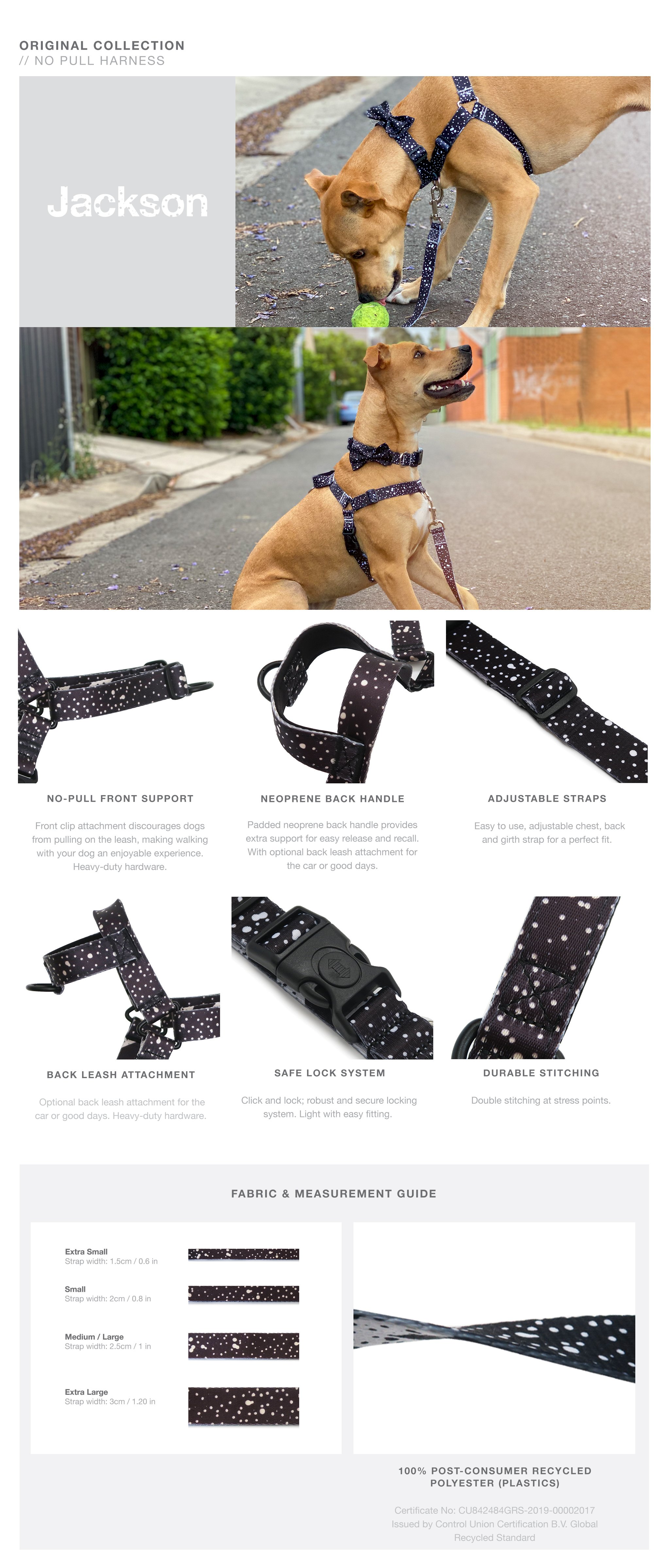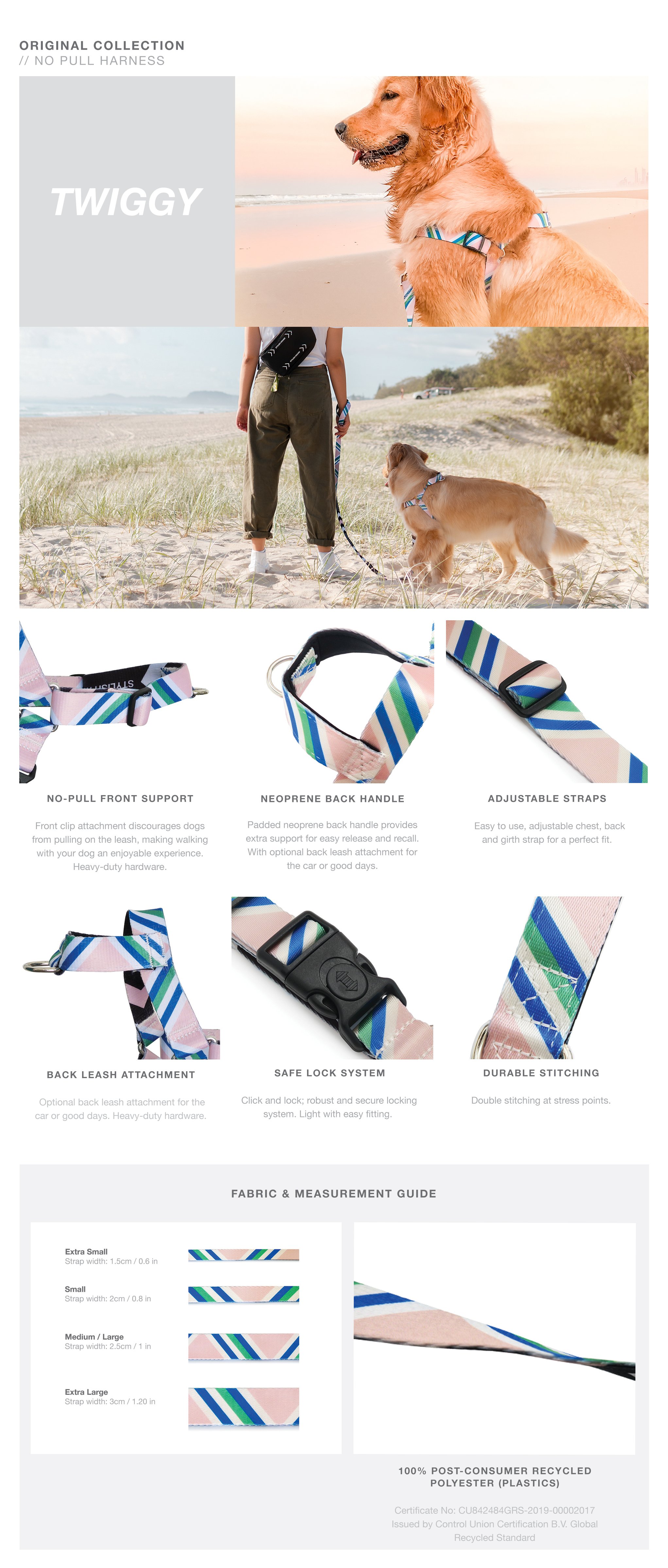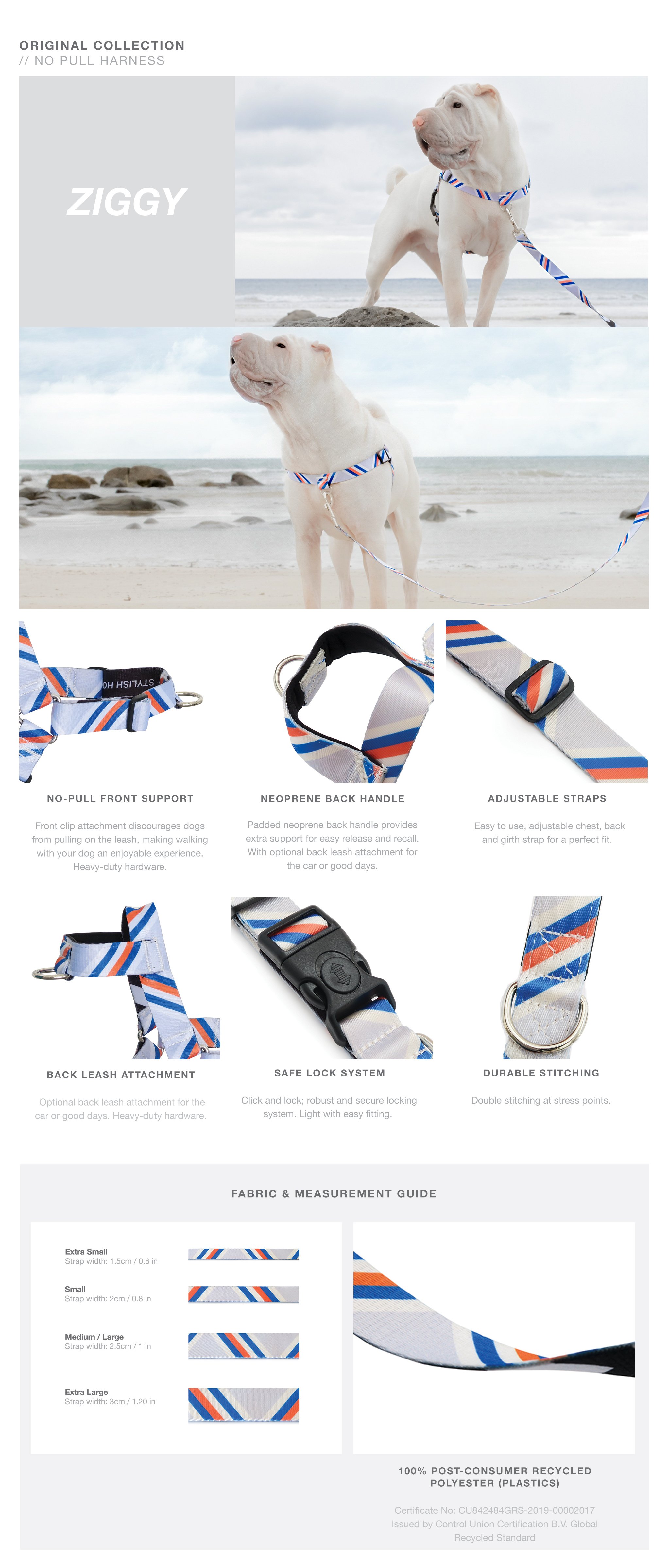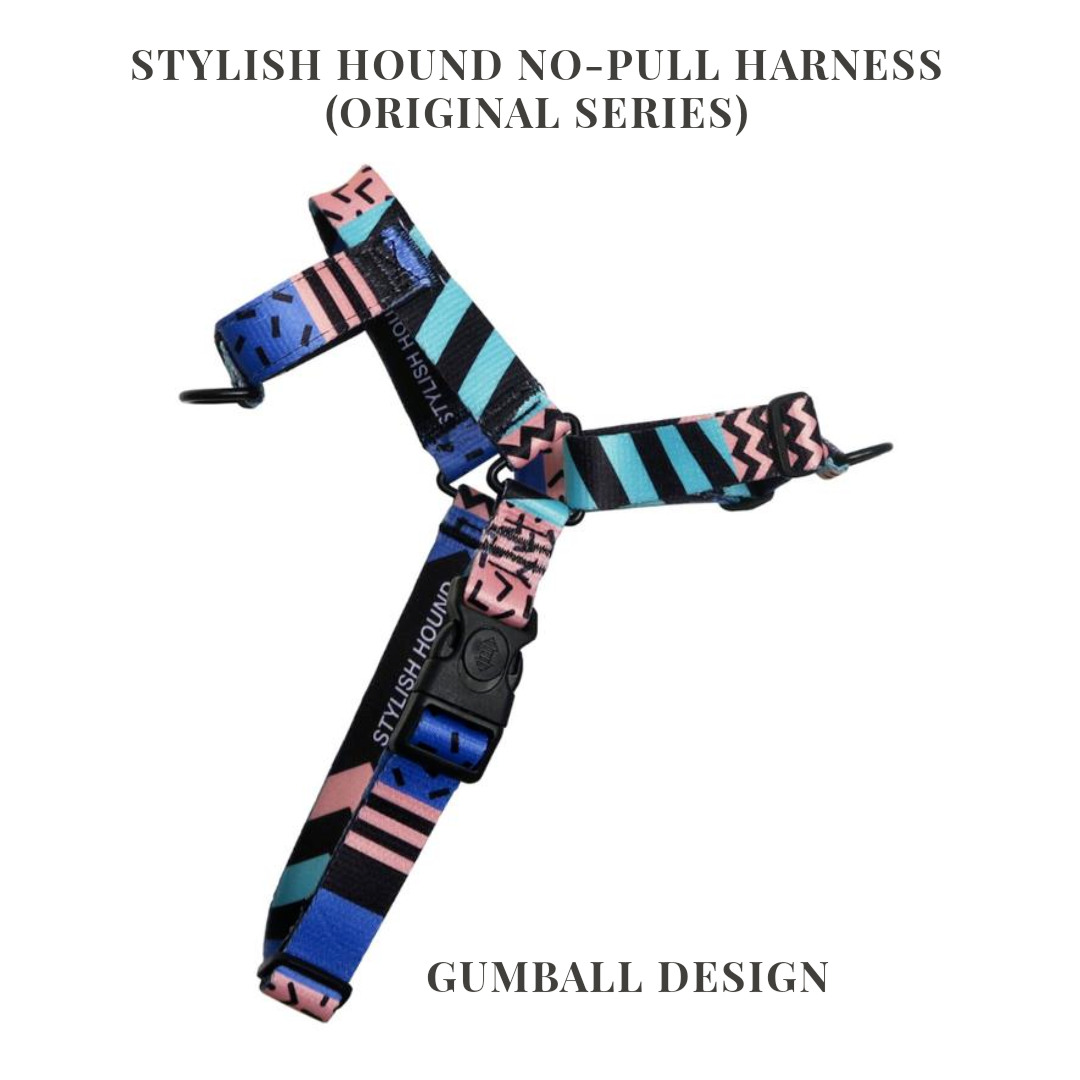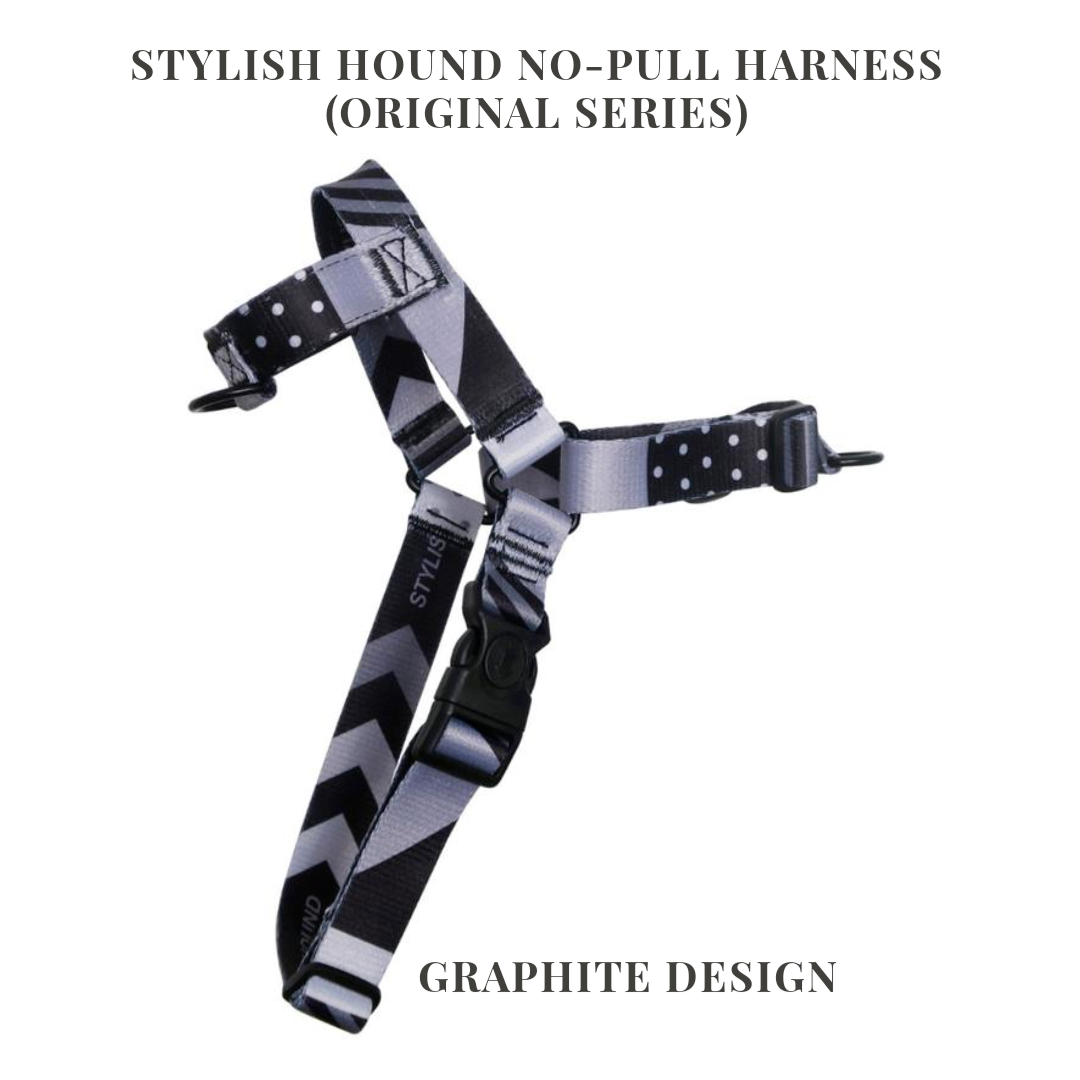 Product Videos
Stylish Hound No Pull Harness
How to put on and fit your Stylish Hound No Pull Harness
How does Stylish Hound No Pull Harness works and is it safe to use?
Stylish Hound No Pull training exercises
Product Sizing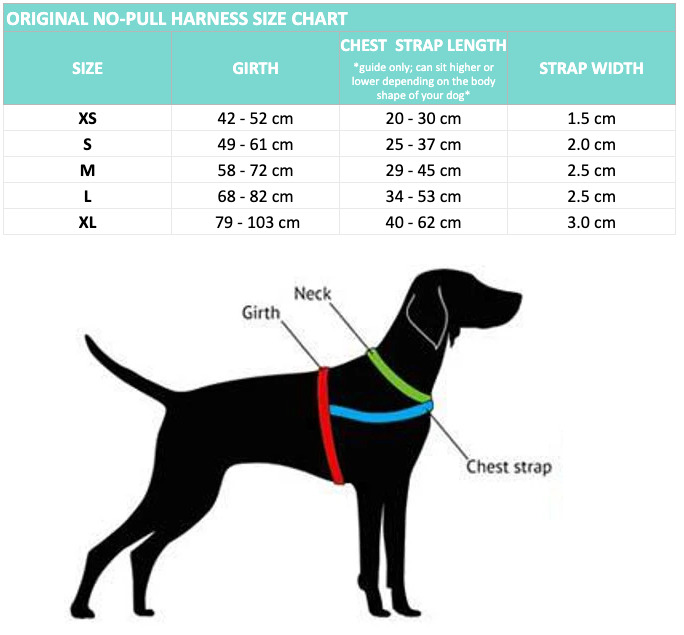 Measure your dog's girth to find the sizing for our No-Pull harness.
Wrap measuring tape around the broadest part of the dog's chest. Typically, this is right behind its front legs.
Pull the measuring tape so it's snug, but not tight.
Write down the measurement and check against our size chart
This size chart has been trialed on dogs of different breeds, shapes and sizes.
The girth measurement is the main point of reference. The chest measurement is a rough guide as it could sit higher or lower on your dog's chest.
If your dog is lean, wide chested, special body build (e.g. Corgi) or you just wish to check, please contact us anytime for personalized sizing advice at jjehomez@gmail.com with your dog's breed and measurements. We are more than happy to help!
The above chart is just a guide, please allow up to 5cm of manual measurement errors.
We understand purchasing online is difficult, please note that we can only exchange the harness IF the 2 small tag is still on.
Important note: Please measure your dog. Please check the harness fitted on your dog indoors prior to going outdoors. If the harness does not fit well, the no-pull will not work. Thank you for your understanding.
JJ E-Homez Holistic Pet Return Policy
Generally, all our products are strictly non-refundable nor exchangeable.
However, in the event you received an incorrect or defective item, or any other valid reason that you can't enjoy your purchase, we will provide a refund or an exchange, case by case basis.
All we ask is that when the item is returned, it should meet the following requirements:
Reach out to us to arrange an appointment to drop off your item at 216A Boon Lay Ave.
Item returned should be in their original & sealed packaging. Broken seals will not be accepted, unless there's a valid reason, based on case by case basis.
Please ensure at least 6 months of shelf life if it's a perishable item.
Send us your order confirmation email for refund verification.
Items not eligible for returns:
Food related, wearables, beds and carriers due to food safety & hygiene reasons.
Items that are purchased from promotional pricing from all of our sales channels.
Customers who had a history of returning more than 3 items.
When we receive the refunded/exchange item, we will review the condition of the item, and reach out to you to confirm and issue a refund/exchange within 7 working days. We regret that customers who decline to respect our policy will be ineligible for exchange, returns and refunds.
Do also note that if we find that a product has been intentionally damaged or tampered with, refunds will not be offered.
As generally, returns are not allowed otherwise, please check your order (e.g. type, size, colour, quantity, etc) before checking out. If you need help with any product, chat with us or please send us an email to jjehomez@gmail.com
Pre-order Items T&C
Please note of the following terms & conditions on all our Pre-order items :
Full payment is required for all Pre-order items.
Expect Pre-order items to be delivered between 3 to 15 working days (depending on which item) starting from your order date.
We will connect via WhatsApp or Email should there be any updates or concerns regarding your order.
Promotions
Website promotion for year 2023
Free Delivery for : orders above $38
*Terms & Conditions:
Website promotion is only applicable for orders/payments made via our website.
Promotions at other shopping platforms (Carousell, Lazada, Shopee, Amazon) is only applicable for orders/payments made via our shops within those shopping platforms.