Product Summary
Smallbatch Freeze-Dried Hearts is a Single ingredient treats for dogs and cats. Excellent treats for pets with allergy issues and a great source of protein.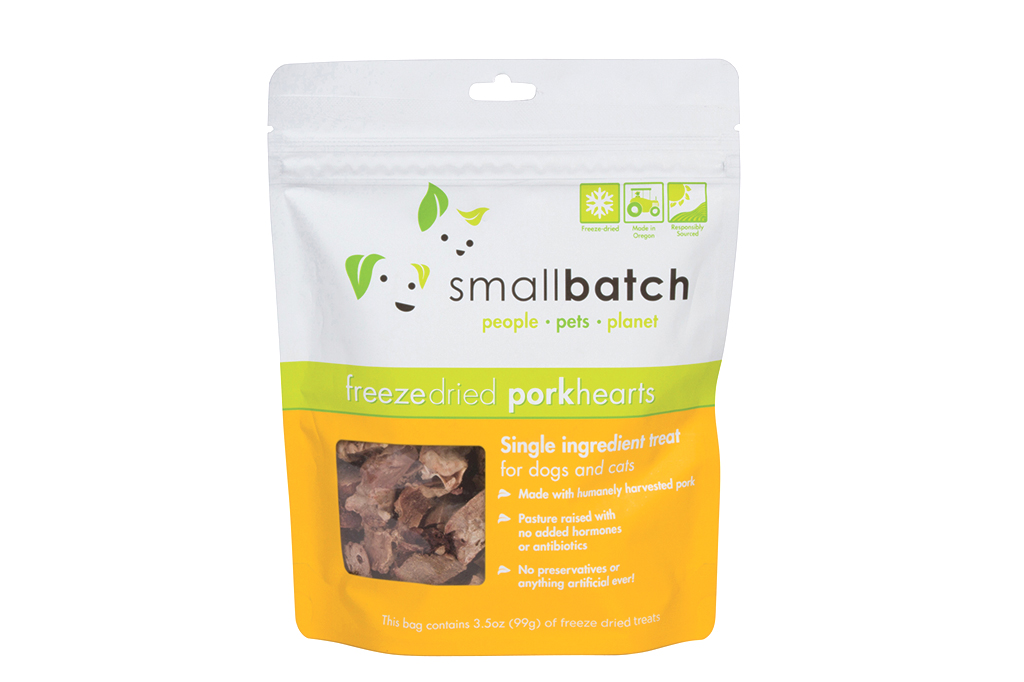 Product Ingredients
Single Protein Ingredient :
Guaranteed Analysis :
Moisture (max): 3.6%
Crude Protein (min): 67.6%
Crude Fat (min): 26.1%
Crude Fiber (max): 1%
Calorie Content (calculated):
Metabolize Energy: 2200 kcal/kg = 220 kcal/100g = 63 kcal/oz
Ingredient Summary:
Pork heart - Pork heart is high in essential B vitamins, zinc, iron, selenium, coenzyme Q10, and more. Pork heart provides 29 grams of complete protein, which makes it a highly satiating food. Containing trace amounts of carbohydrates, it is not nearly enough to affect blood glucose levels or kick one out of ketosis. Pork heart is lower in fat than most varieties of conventional pork. The fat it does contain is mostly polyunsaturated.
Pork heart is a great source of B12. B12 contributes to cellular energy production, mental health, and immune strength. Pork heart is also a great source of B2 (riboflavin). Riboflavin contributes to cellular energy generation, eyesight health, and more. Like virtually every B vitamin, it is also anti-fatigue.
It is richer in iron than most other pork products. The easily-absorbed heme iron plays a vital role in keeping the body oxygenated.Loaded with coenzyme Q10, this interesting antioxidant has been found to possess anti-stress, anti-aging, and anti-inflammatory properties. Pork heart is a great source of zinc, an essential nutrient that plays a critical role in metabolizing nutrients, maintaining an effective immune system, and growing and repairing body tissues.
Pork heart's combination of B vitamins, iron, and coenzyme Q10, and zinc, means it is great for the heart. B vitamins may have a cardioprotective effect to reduce the risk of heart disease, and are associated with healthy blood pressure levels.
Iron delivers oxygen into the muscle tissues, including the heart muscle. Pork heart's coenzyme Q10 contributes to its cardioprotective effects. CoQ10 has been correlated with reduced risks of heart disease, reduced levels of inflammation and fibrosis. The zinc in pork heart affects the heart by modulating oxidative stress in the heart, and maintaining myocardial structure.
Pork heart's B vitamin content not only energizes the body, it improves lean muscle mass, and increases athletic performance because B vitamins are catalysts in the chemical reactions that turn food molecules into a usable energy source called ATP. B vitamins even help with brightening one's outlook on life as they help the brain's metabolic processes, while at the same time, clearing harmful metabolic byproducts like homocysteine out.
Lower homocysteine levels have been correlated with happiness, while higher levels are associated with depression.
Pork heart is rich in zinc and other known immune-boosting nutrients. In fact, zinc has such strong antiviral properties that it can prevent viruses from binding to host cells, which effectively stops viral replication. Zinc may also strengthen the lung's natural barriers enough to stop invading viruses.
JJ E-Homez Return Policy
Generally, all our products are strictly non-refundable nor exchangeable.
However, in the event you received an incorrect or defective item, or any other valid reason that you can't enjoy your purchase, we will provide a refund or an exchange, case by case basis.
All we ask is that when the item is returned, it should meet the following requirements:
Reach out to us to arrange an appointment to drop off your item at 216A Boon Lay Ave.
Item returned should be in their original & sealed packaging. Broken seals will not be accepted, unless there's a valid reason, based on case by case basis.
Please ensure at least 6 months of shelf life if it's a perishable item.
Send us your order confirmation email for refund verification.
Items not eligible for returns:
Food related, wearables, beds and carriers due to food safety & hygiene reasons.
Items that are purchased from promotional pricing from all of our sales channels.
Customers who had a history of returning more than 3 items.
When we receive the refunded/exchange item, we will review the condition of the item, and reach out to you to confirm and issue a refund/exchange within 7 working days. We regret that customers who decline to respect our policy will be ineligible for exchange, returns and refunds.
Do also note that if we find that a product has been intentionally damaged or tampered with, refunds will not be offered.
As generally, returns are not allowed otherwise, please check your order (e.g. type, size, colour, quantity, etc) before checking out. If you need help with any product, chat with us or please send us an email to [email protected]
Pre-order Items T&C
Please note of the following terms & conditions on all our Pre-order items :
Full payment is required for all Pre-order items.
Expect Pre-order items to be delivered between 3 to 15 working days (depending on which item) starting from your order date.
We will connect via WhatsApp or Email should there be any updates or concerns regarding your order.
Promotions
Website promotion for year 2021
Free Delivery for : orders above $38
*Terms & Conditions:
Website promotion is only applicable for orders/payments made via our website.
Promotions at other shopping platforms (Carousell, Lazada, Shopee, Amazon or Qoo10) is only applicable for orders/payments made via our shops within those shopping platforms.