Product Summary
Protein + Probiotic + Superfood
Smallbatch freeze-dried bites is a Single-source protein treats for dogs and cats featuring 95% meat, organ and bone, fermented purple cabbage probiotic and a different superfood with each flavor. Great for adding to mealtime or as treats.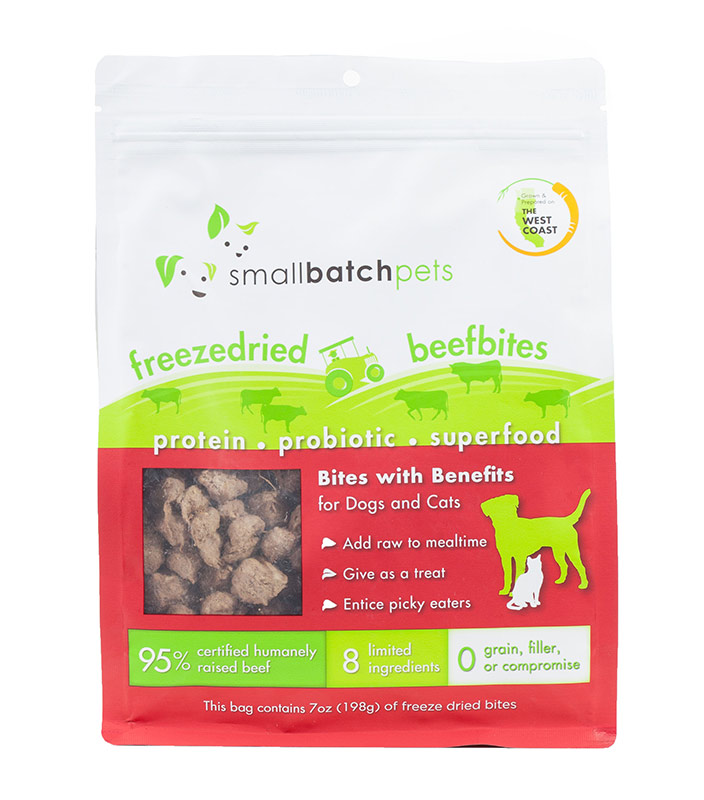 Product Ingredients
Single Protein + 8 Limited Ingredients :
Beef hearts
Beef kidneys
Beef livers
Beef bones
Organic winter squash
Organic papaya
Organic spinach
Organic MCT oil
Salmon oil
Organic hemp seeds
Fermented organic purple cabbage
Fermented organic sunchokes


Guaranteed Analysis :
Moisture (max): 3.8%
Crude Protein (min): 48.8%
Crude Fat (min): 37.7%
Crude Fiber (max): 3.8%
Calorie Content (calculated):
Metabolize Energy: 4900 kcal/kg = 490 kcal/100g = 139 kcal/oz
Ingredient Summary:
Beef bones - Beef bones are a form of proper dental maintenance to prevent periodontal disease and promote healthy teeth and gums since it is the most effective way to get rid of plaque build-up as plaque is hard to remove from teeth given that dental bacteria create a protective barrier, or biofilm, which cannot be permeated by water, toothpaste, or chemicals. Traditional brushing moves the plaque around the teeth, and while some is removed, much of the plaque and bacteria remain behind. Raw bones have naturally occurring enzymes which break down the biofilm. When chewed, the plaque is gently scraped off the teeth.
Great dental health benefits aside, raw meaty bones provide recreational activity and an appropriate chewing outlet. Young and teething dogs have a psychological and physical need to chew. Besides providing a fun, engaging and yummy activity, it helps the proper development of the jaw, skull, neck, and shoulder muscling.
Nutritionally, raw bones, and the marrow within, are both natural nutritional sources of protein, fat, minerals, calcium, and phosphorous. However, since raw marrow bones are meant to be chewed only, there are only small amounts of these nutrients, so the bones should be fed more as a "treat" than as a food replacement.
Beef hearts - Beef hearts are rich in B vitamins, coenzyme Q10, and many other bioavailable nutrients. Beef heart nutrition entails robust levels of zinc, iron, selenium. It is also a great source of vitamin B2, vitamin B6, and vitamin B12. The B vitamins provide energy, have a cardioprotective effect, boost the mood, and have an antiviral immunoprotective property.
Beef heart is a complete protein: it contains all 9 essential amino acids. 3 ounces of beef heart contains 24.2 grams of protein, which is more than enough to ensure muscle synthesis and brain health, containing only trace amount of carbohydrates.
Beef heart is also lower in fat in comparision, of which it is comprised of saturated fatty acids, mono- and polyunsaturated fatty acids, and naturally occurring trans fats.
Beef kidneys - Beef kidney is an organ meat that is the most nutrient dense, making it a good source of protein without a trace of carbohydrates, and is filled with vitamin C, zinc, vitamin A, thiamin, riboflavin, niacin, vitamin B6, folate, vitamin B12, pantothenic acid, iron, phosphorus, copper and selenium.
Beef kidney is low in saturated fat but it is high in cholesterol. Most of the cholesterol in the blood is produced by the liver, so much so when eating high levels of cholesterol, the liver produces less. Therefore, cholesterol in the diet has little effect on cholesterol in the blood.
Beef livers - Beef livers are rich in nutrients and a good source of B vitamins, copper, essential fatty acids, iron, phosphorus, vitamin A, and zinc. It also benefits the liver and gives a boost of energy with its load of vitamin b12. As a great source of omega 3 and 6 fatty acids, it promotes a fully functioning immune system, while keeping the skin and coat healthy and shiny.
Fermented purple cabbage – Fermented purple cabbage contains iron, which gives an energy boost, regulate metabolism and support blood circulation. it also supports gastrointestinal health due to the presence of "good" bacteria (probiotics) that helps improve and maintain gut health. Aside from preventing constipation, bloating and flatulence, improved gut enzymatic activity reduces the risk of gastric ulcers and chronic diarrhoea. The probiotics also promote cardiovascular health by lowering cholesterol levels and interfering with fat absorption.
Vitamin A and carotene act as antioxidants to enhance eye health and reduce the risk of cataract formation. furthermore, Vitamin a contributes to tissue growth. Vitamin c in cabbage supports the immune system by promoting white blood cell production and stimulates cellular regeneration. vitamin c also helps with collagen formation needed for healthy development and growth of organs, muscles, blood vessels and bones.
The phytonutrients act as anti inflammatory antioxidants that may help reduce muscle and joint pain that comes with arthritis or other musculoskeletal problems. The probiotics also provide anti inflammatory attributes to help improve allergies, reduce incidences of infection and support overall health and well-being.
The minerals in cabbage are ideal for developing strong bones and bone health maintenance. Vitamin k2 supports other minerals to help maintain bone integrity and the ability to remineralize.
Fermented sunchokes – Fermented sun chokes, commonly known as Jerusalem artichokes, are a great go to for several important minerals. Rich in iron, magnesium, phosphate, potassium, b vitamins- b1, thiamin, niacin, riboflavin, b6 and folate; vitamin c, it is even high in prebiotic fibre insulin, which is known for gut health.
The insulin fibre in sunchokes aids gut health because of it as a prebiotic, and its role in helping regulate bowel function. As a prebiotic, it stimulates the growth of beneficial bacteria. This in turn decreases the bad bacteria and improve the gut microbiome. Maintaining a healthy amount of good bacteria relates to reduced inflammation and improved metabolism and immunity. Inulin is also beneficial for gut bacteria, and may also be beneficial for glucose metabolism with being a short chain carbohydrate.
Sunchokes are a good source of potassium, which helps regulate blood pressure and counter sodium's negative effects. The soluble fibre in sunchokes may help lower cholesterol by binding the cholesterol in the small intestine, which in effect promotes cardiovascular health.
Hemp seeds - Hemp seeds are a high-protein, easily digestible source of immune-system support, supplying lots of antioxidants. The ratio of omega 3 and 6 fatty acids acids are in perfect proportion, which means there will not be excessive fatty acids.
Hemp seeds will improve skin quality as the omega fatty acids are directly responsible for moisturizing the skin and reducing itchiness. the perfect portion also helps lower skin disease to promote a shinier coat. Hemp seeds also reduce shedding. Allergy occurrence are also reduced. Omega 6 fatty acids also have inflammatory properties, which helps reduce arthritis, joint swelling and pain.
Hemp seeds improve cardiac health as they contain a high amount of amino acids and arginine, which produce nitric oxide that dilates and relax the blood vessels to improve blood circulation. With lower blood pressure, blood flow to the heart and other organs are increased. Hemp seeds also promote better organ function to decrease the chance of organ failure, which in turn keeps cardiac pressure low.

An antioxidant powerhouse, hemp seeds provides multiple nutrients, calcium, iron, magnesium, and zinc to increase immunity. It also contains plenty of fibre to promote a healthy digestive system. This also aids in reducing the effects of aging.

Hemp seeds are also great for calming purposes. Due to its calming effect, hemp seeds can reduce anxiety and mitigate various behavioural problems like stress, anxiety and obsessive behaviours.
Medium chain triglyceride (MCT) oil - Medium chain triglyceride (MCT) oil contains medium-length chains of fats called triglycerides. Due to the shorter length, MCTs are more easily digested than longer-chain fatty acids found in foods.
Most commonly extracted from coconut oil, as these fats are also found in other foods, such as palm oil and dairy products. Four different types of MCTs exist, of which caprylic and capric acid are most commonly used for MCT oil. In some cases, these specific types have unique benefits.
Mct oil may possibly be beneficial for weight loss due to the release of peptide yy and leptin, as well as the conversion into ketones when carbohydrate levels are low, even preventing obesity. This is also done by helping optimize good bacteria growth and support the gut lining. Since it aids weight loss, this effectively reduces heart disease risk since there are reductions of ldl (bad) cholesterol and increase of heart protective Hdl (good) cholesterol. It even significantly reduces c reactive protein (crap), an inflammatory marker that increases the risk for heart disease. Reducing fat storage and increasing heart burning also helps manage blood sugar levels.
MCTs are absorbed more rapidly and travel more quickly from the gut to the liver without requiring bile for break down compared to long-chain triglycerides (LCTs). Aaside from being used as an immediate energy source, it could also be converted into ketones, which pass through the blood brain barrier, making them an energy source for the brain cells.
Papaya - Papayas contain high levels of antioxidants vitamin A, vitamin C, and vitamin E, folate, potassium and trace amounts of calcium, magnesium, vitamins b1, b3, b5, e and k. Diets high in antioxidants may reduce the risk of heart disease. The antioxidants prevent the oxidation of cholesterol. When cholesterol oxidizes, it is more likely to create blockages that lead to heart disease. Papayas also contain healthy antioxidants known as carotenoids, particularly one type called lycopene.
Overall, these ingredients are better absorbed through papaya than other fruits and vegetables. Papaya reduces oxidative stress thanks to lycopene's content and ability to remove excess iron, which is known to produce free radicals.
Considered to have anti cancer properties as it reduces free radicals that cause cancer, papaya not only lowers the cancer risk, but also slows cancer progression. As a fruit high in lycopene and vitamin c, papaya helps to prevent heart disease. The antioxidants also aid in heart protection, enhance the protective effects of "good" HDL cholesterol and help reduce inflammatory markers.
The papain enzyme in papaya aids protein digestion. It is even considered a remedy for constipation and other symptoms of irritable bowel syndrome. Other parts like the seeds, leaves and roots have also been shown to treat ulcers.
Papaya also helps keep skin look toned as excessive free radical activity is believed to be responsible for wrinkling, sagging and other skin damage that occurs with age. Vitamin c and lycopene also help with skin protection.
Salmon oil - Salmon oil is rich in omega-3 and omega-6 fatty acids that support a healthy immune system, heart health, anti-inflammatory properties, healthy skin and coat and cognitive function.
The main Omega-3 long chain fatty acids found in salmon oil are EPA (eicosapentaenoic acid), DHA (docosahexaenoic acid) and DPA (docosapentaenoic acid).
Omega-3 acids are important structural components of healthy cell membranes. In addition, long-chain fatty acids provide anti-inflammatory benefits can help support the coat and skin, potentially decrease the development of skin allergies and help aid in the healing of wounds.
Spinach - Spinach benefits eye health, reduces oxidative stress, helps prevent cancer, and reduces blood pressure levels. Most of the carbohydrates in spinach consist of fibre, though spinach also contains small amounts of sugar in the forms of glucose and fructose. High in insoluble fibre, it helps prevent constipation.

Spinach is an excellent source of many vitamins and minerals, which include calcium, folic acid, iron, magnesium, potassium, vitamins a, b6, b9, c, e and k1. it also contains several important plant compounds like outrun, kaemoferol, nitrates, quercetin and zeaxanthin that helps improve oxidative stress, eye health and blood pressure.
Winter squash - Winter squash is extremely nutritious and a great source for carotenoids like beta carotene, a precursor to vitamin a, lutein and zeaxanthin; protein, fibre, magnesium, potassium, vitamin b6 and c. In general, these nutrients are good for health and are known for chronic disease prevention, of which historically, winter squash has been used in some cultures as a medicinal plant to treat diabetes, high blood pressure, cancer, high cholesterol and inflammation, and improving heart health.
JJ E-Homez Return Policy
Generally, all our products are strictly non-refundable nor exchangeable.
However, in the event you received an incorrect or defective item, or any other valid reason that you can't enjoy your purchase, we will provide a refund or an exchange, case by case basis.
All we ask is that when the item is returned, it should meet the following requirements:
Reach out to us to arrange an appointment to drop off your item at 216A Boon Lay Ave.
Item returned should be in their original & sealed packaging. Broken seals will not be accepted, unless there's a valid reason, based on case by case basis.
Please ensure at least 6 months of shelf life if it's a perishable item.
Send us your order confirmation email for refund verification.
Items not eligible for returns:
Food related, wearables, beds and carriers due to food safety & hygiene reasons.
Items that are purchased from promotional pricing from all of our sales channels.
Customers who had a history of returning more than 3 items.
When we receive the refunded/exchange item, we will review the condition of the item, and reach out to you to confirm and issue a refund/exchange within 7 working days. We regret that customers who decline to respect our policy will be ineligible for exchange, returns and refunds.
Do also note that if we find that a product has been intentionally damaged or tampered with, refunds will not be offered.
As generally, returns are not allowed otherwise, please check your order (e.g. type, size, colour, quantity, etc) before checking out. If you need help with any product, chat with us or please send us an email to [email protected]
Pre-order Items T&C
Please note of the following terms & conditions on all our Pre-order items :
Full payment is required for all Pre-order items.
Expect Pre-order items to be delivered between 3 to 15 working days (depending on which item) starting from your order date.
We will connect via WhatsApp or Email should there be any updates or concerns regarding your order.
Promotions
Website promotion for year 2021
Free Delivery for : orders above $38
*Terms & Conditions:
Website promotion is only applicable for orders/payments made via our website.
Promotions at other shopping platforms (Carousell, Lazada, Shopee, Amazon or Qoo10) is only applicable for orders/payments made via our shops within those shopping platforms.