Product Summary
SloDog™ is the best no-gulp slow feeder on the market. Most slow dog feeders work by putting obstructions or maze-like structures to make it difficult for the dog to get to the food. The dog has to chase the food around the bowl in order to eat. This can be extremely frustrating to the dog and can cause unnecessary stress and anxiety.
SloDog is a unique approach to slow-feeding and anti-anxiety. By changing from a bowl to a plate, a much larger surface area becomes available to the feeding dog. All the food is in plain sight and does not have to be chased, thus avoiding frustration.
A simple and elegant device that splits the meal into multiple mini-meals by spreading the food into lots of small shallow pockets. The dog simply eats one mini-meal at a time. If the dog tries to eat from two pockets at a time, the dimple causes the food to fall from the dog's open mouth. Your dog will quickly learn to eat slowly.
SloDog is logical and elegantly simple. It was vet-design for a relaxed and stress-free feeding time. Our testing has shown that SloDog can slow the dog's feeding down from a few seconds to many minutes.
Elegant. Simple. Easy. Designed to allow your dog to see all the food without having to move it around. Designed be used anywhere in the house without making a mess.
Patented Design. A special dimple prevents your dog from picking up more than a few biscuits with every bite. This slows down the feeding and achieves the benefits you are looking for.
Anti-Skid Base is built into the bowl to prevent movement during feeding. Your dog will feel more comfortable with a feeding surface that does not move.
Suitable for all dog sizes (and cats, too!)
Suitable for puppies
Made from Human Food Grade Polyproplene
Dimension : 35 x 26cm
Recyclable
Freezer-Friendly
Microwave safe
Dishwasher safe
Patent Pending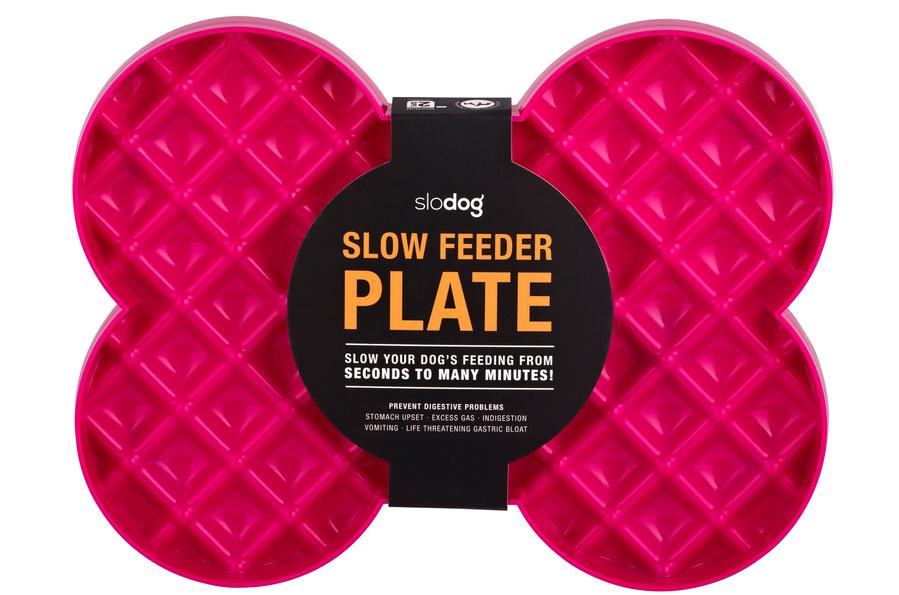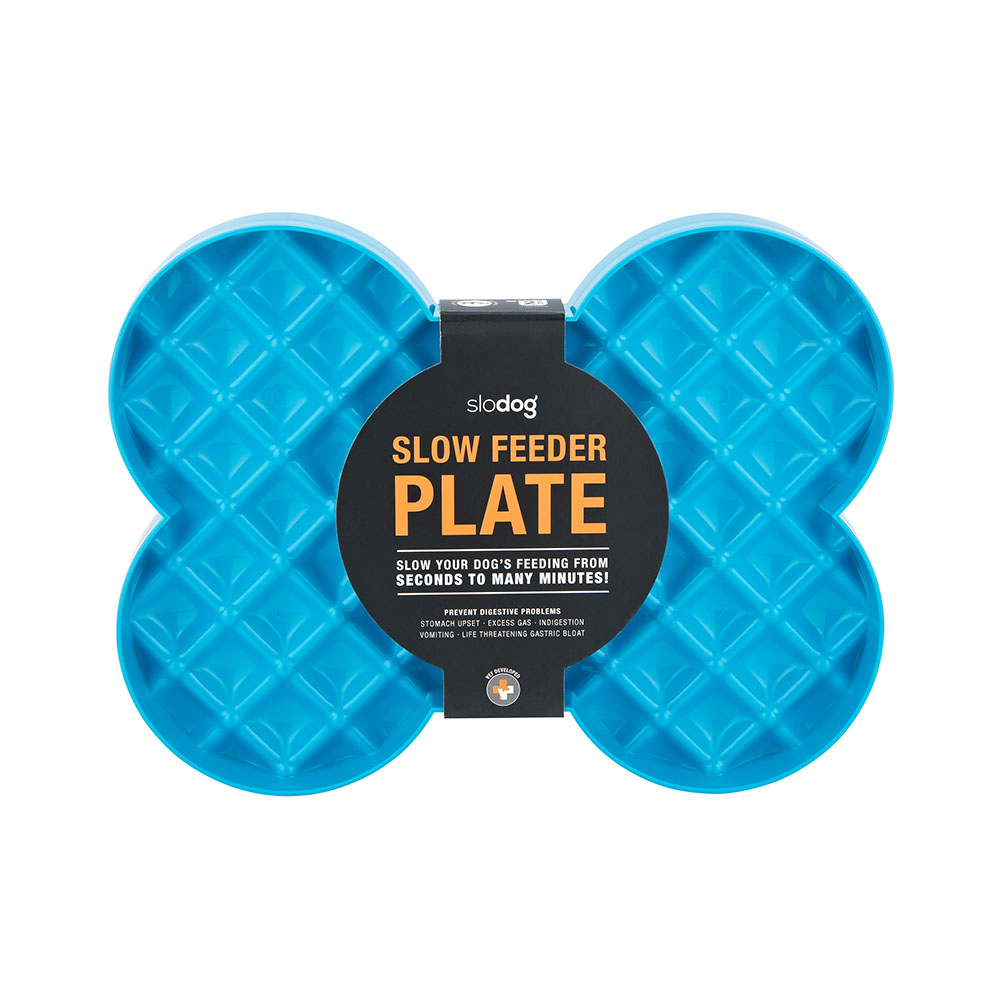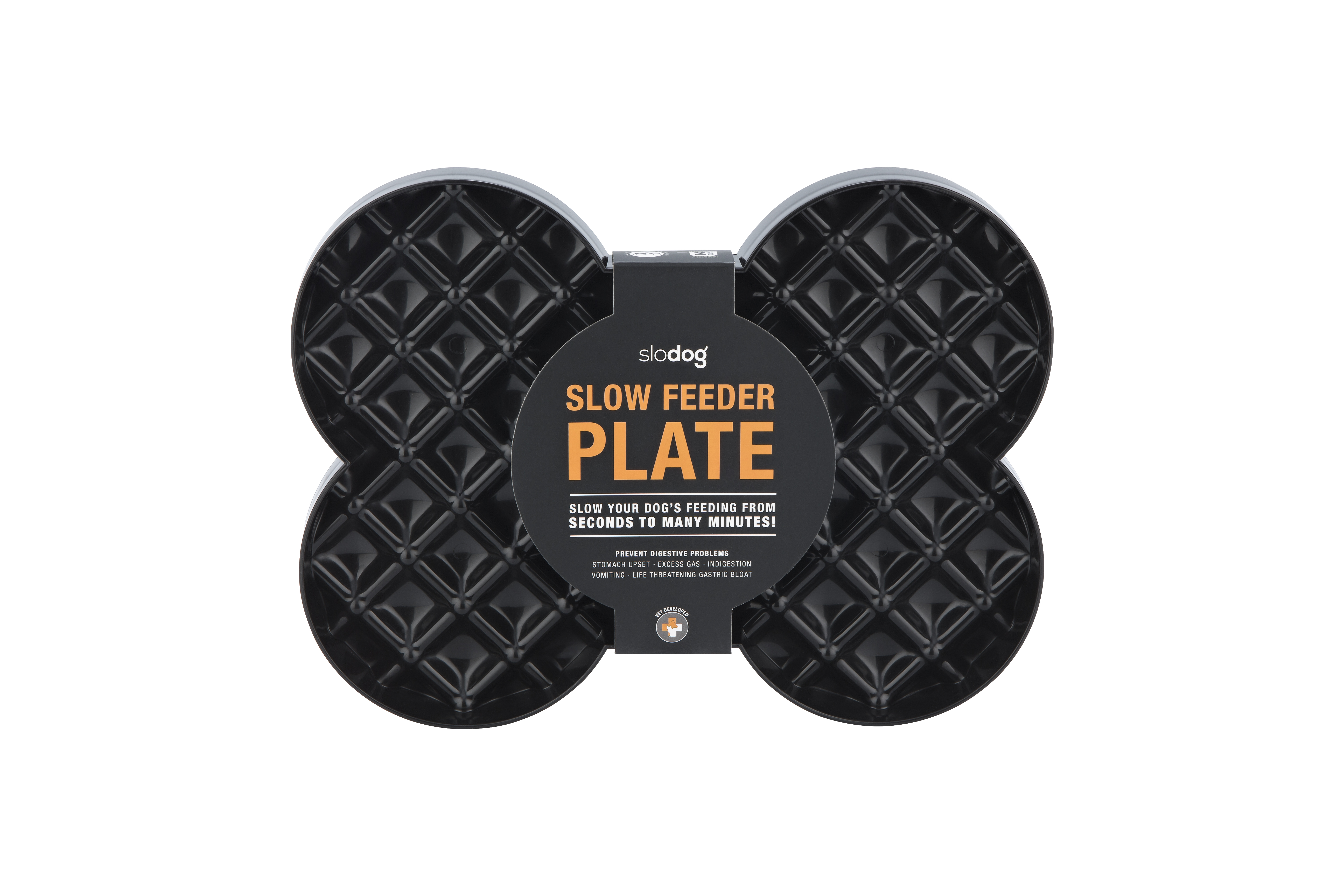 Product Video
Product Benefits
SLOWER HEALTHIER FEEDING :
SloDog Feeder encourages slower eating, which reduces bloating and improves digestion.
REDUCES GULPING AT FEEDING TIME :
SloDog's unique plate design slows the rate of feeding and reduces gulping behaviour by enabling your dog to see and access food easily, with no annoying lumps or obstructions like other slow feeders.
DRY, WET, RAW AND LIQUID FOODS AND TREATS :
SloDog is designed for your pet's favourite dog food, cat food and healthy treats.
The SloDog holds up to 2 cups of dry dog food.
RECOMMENDED FOR BOTH DOGS & CATS :
SloDog Slow Feeders are perfect feeding solution for both dogs and cats and make a great gift for every pet parent.
JJ E-Homez Holistic Pet Return Policy
Generally, all our products are strictly non-refundable nor exchangeable.
However, in the event you received an incorrect or defective item, or any other valid reason that you can't enjoy your purchase, we will provide a refund or an exchange, case by case basis.
All we ask is that when the item is returned, it should meet the following requirements:
Reach out to us to arrange an appointment to drop off your item at 216A Boon Lay Ave.
Item returned should be in their original & sealed packaging. Broken seals will not be accepted, unless there's a valid reason, based on case by case basis.
Please ensure at least 6 months of shelf life if it's a perishable item.
Send us your order confirmation email for refund verification.
Items not eligible for returns:
Food related, wearables, beds and carriers due to food safety & hygiene reasons.
Items that are purchased from promotional pricing from all of our sales channels.
Customers who had a history of returning more than 3 items.
When we receive the refunded/exchange item, we will review the condition of the item, and reach out to you to confirm and issue a refund/exchange within 7 working days. We regret that customers who decline to respect our policy will be ineligible for exchange, returns and refunds.
Do also note that if we find that a product has been intentionally damaged or tampered with, refunds will not be offered.
As generally, returns are not allowed otherwise, please check your order (e.g. type, size, colour, quantity, etc) before checking out. If you need help with any product, chat with us or please send us an email to jjehomez@gmail.com
Pre-order Items T&C
Please note of the following terms & conditions on all our Pre-order items :
Full payment is required for all Pre-order items.
Expect Pre-order items to be delivered between 3 to 15 working days (depending on which item) starting from your order date.
We will connect via WhatsApp or Email should there be any updates or concerns regarding your order.
Promotions
Website promotion for year 2022
Free Delivery for : orders above $38
*Terms & Conditions:
Website promotion is only applicable for orders/payments made via our website.
Promotions at other shopping platforms (Carousell, Lazada, Shopee, Amazon or Qoo10) is only applicable for orders/payments made via our shops within those shopping platforms.