Product Details
Show Ready was created to help maintain good health in your dogs and horses. Dogs and horses can become more susceptible to illness and disease during times of travel, stress, boarding for long periods of time, or exposure to unfamiliar animals. This blend utilizes essential oils to help support their immune system in order to help protect them from illness.
Strength of Aroma : Mild-Medium
Aromatic Scent : Vibrant and fresh slightly herbaceous scent
Blend Ingredients : Boswellia Carterii (Frankincense) Gum Oil, Citrus Paradisi (Grapefruit) Peel Oil, Lavandula Angustifolia (Lavender) Oil, Cymbopogon Martini (Palmarosa) Oil, Melaleuca Quinquenervia (Niaouli) Leaf Oil, Thymus Vulgaris (Thyme) Flower/Leaf Oil
KidSafe® : No
Shelf Life : 1-2 Years
Cautions : Do not use if animals are pregnant or under 10 weeks old. For use with dogs/horses only. Dilute for skin application. Keep out of reach of children and pets.
Size available : 10ml
Product Usage Directions
Diffuse using 1-2 drops per 100 mL of water for 5-10 minutes every few hours. Passive diffusion is also a great option. Try adding 1-2 drops to a cotton ball and tucking that cotton ball into your dog's bed.
For topical application dilute to 0.25-2% depending on your animal's species and weight. Apply to the chest or back of the neck 1-2 times daily during those times when environmental stressors make your animals more susceptible to illness.
When using essential oils with animals it is important to create a positive association with the oil. You can do this by applying the oil to yourself for the first few days of usage. This will allow your animal to begin to associate the blend with his/her person. When you are ready to apply the blend to your animal or begin active diffusion you can reinforce the positive experience by doing something they love like giving them their favorite treat or using a massage application before bedtime.
This blend is intended for use with dogs and horses only. Do not diffuse around or use this blend topically on cats, birds, reptiles, rodents, etc.
SHOW READY CLEANING WIPES
What you'll need and what you'll do:
1.9 quart airtight container
1 roll paper towels
2 tbsp Castile Soap
36 drops of Show Ready
2 cups warm water*
Cut a roll of paper towels in half using an electric knife or serrated bread knife.
Place paper towels into container.
In a separate measuring cup – add 36 drops of Show Ready to 2 tablespoons of Castile Soap and mix well.
Next, slowly mix in 2 cups of warm water.
Pour mixture over paper towels.
Once soaked, you can easily remove the core.
Seal with lid and use as you would any other counter wipes.
Refrigerate and use within a week or add a preservative.
DILUTION RATES & CHART :
Essential oils should not be used with animals under 10 weeks old.
Dogs 25 lbs or less: 0.25-0.5% dilution
Dogs 25 lbs to 50 lbs: 0.5-0.75% dilution
Dogs more than 50 lbs: 0.75%-1% dilution
Horses: 1-2% dilution
AREAS OF APPLICATION :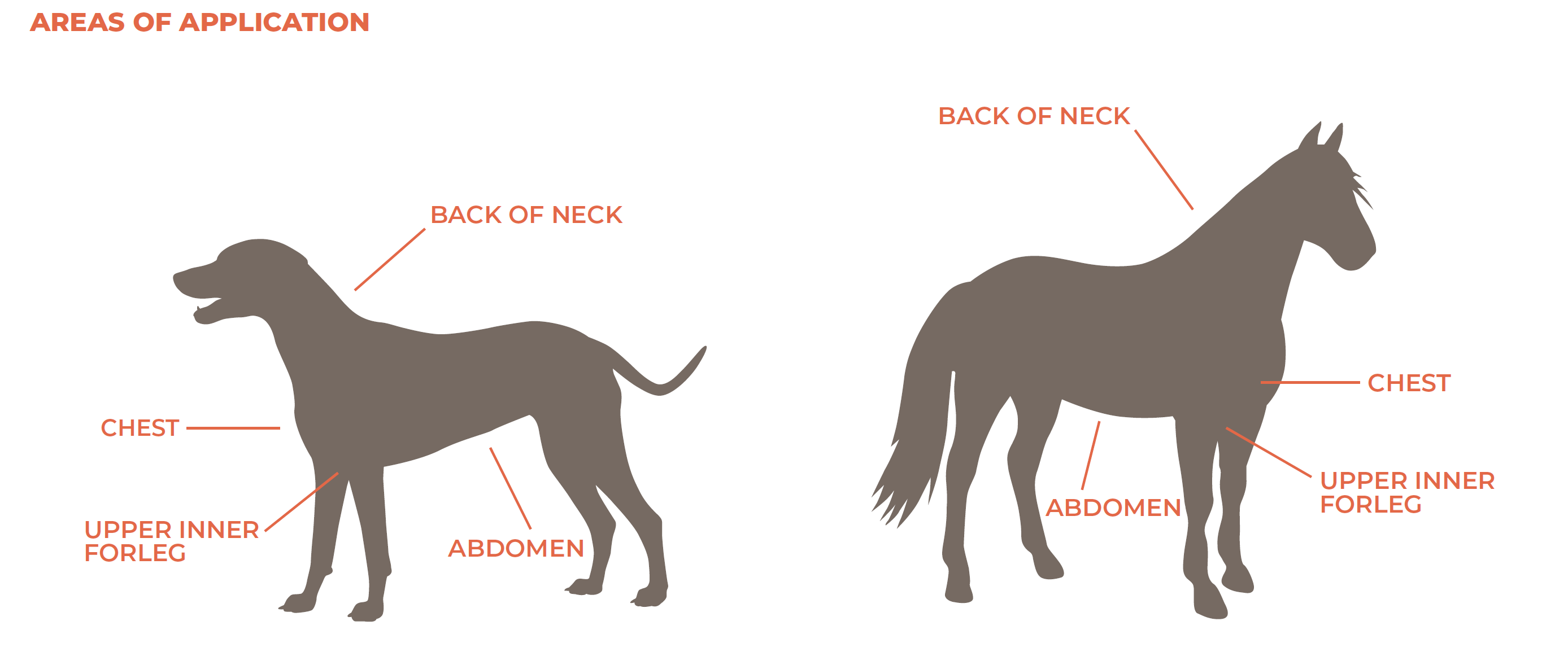 Plant Therapy Return Policy
Our goal is to help you and your family live happier, healthier lives – and that includes ensuring you're completely satisfied with your purchase. If, for any reason, you are unhappy with your Plant Therapy product, we offer a 100% money back guarantee within 90 days of purchase. Has it been more than 90 days? Don't worry, we are still happy to credit your account with the amount of return.
Please send us an email to jjehomez@gmail.com
Plant Therapy Disclaimers
The International Federation of Aromatherapists does not recommend that Essential Oils be taken internally unless under the supervision of a Medical Doctor who is also qualified in clinical Aromatherapy. All cautions listed for individual oils do not include those cautions from ingestion.
This statement has not been evaluated by the Food and Drug Administration. This product is not intended to diagnose, treat, cure, or prevent any disease.
Bottles are filled by volume. Some bottle sizes may not be filled to the top, but do contain the volume of oil specified.
Pre-order Items T&C
Please note of the following terms & conditions on all our Pre-order items :
Full payment is required for all Pre-order items.
Expect Pre-order items to be delivered between 3 to 15 working days (depending on which item) starting from your order date.
We will connect via WhatsApp or Email should there be any updates or concerns regarding your order.
Promotions
Website promotion for year 2020
Free Delivery for : orders above $38
Free Gift : Redeem (one) Free Gift per order number for every picture review posted on YOUR Facebook or Instagram profile.
Carousell promotion for year 2020
Free Delivery for the following brands :
Natural Dog Company - All items
Adored Beast - All items
Plant Therapy - All items
Stylish Hound - All items
Houndztooth - All Items
Loyalty Pet Treats - All Items
*For brands not listed above, please refer to individual item promotion listed in the shop.
Free Gift : Redeem (one) Free Gift per order number for every picture review posted on YOUR Facebook or Instagram profile.
---
*Terms & Conditions:
Website promotion is only applicable for orders/payments made via our website.
Carousell promotion is only applicable for orders/payments made via our carousell platform.
To qualify for Free Gift redemption, YOUR Facebook or Instagram profile needs to be set public and YOUR post need to mention/tag @jjehomezsg Facebook or Instagram.
JJ E-Homez will be in touch with you on the Free Gift redemption upon notification of mention/tag.
Per order number is only entitled to (one) Free Gift redemption.
Free Gift items are not fixed, it varies from time to time.
Free Gift delivery will be via mailing, expect up to 5 working days to receive.