Product Details
Happy Trails was created to make traveling easier for your dogs and horses. Often times, our four-legged friends can experience motion sickness during travel. The scent of this blend is soothing to an upset stomach while also comforting to your animals so they stay calm and worry-free.
Strength of Aroma : Medium
Aromatic Scent : Zesty, sweet, citrus scent with a hint of spice
Blend Ingredients : Citrus Limon (Lemon) Peel Oil, Citrus Aurantium Dulcis (Orange) Peel Oil, Zingiber Officinale (Ginger) Root Extract, Santalum Spicata (Australian Sandalwood) Wood Oil, Lavandula Angustifolia (Lavender) Oil, Mentha Piperita (Peppermint) Oil
KidSafe® : No
Shelf Life : 1-2 Years
Cautions : Do not use if animals are pregnant or under 10 weeks old. For use with dogs/horses only. Dilute for skin application. Keep out of reach of children and pets.
Size available : 10ml
Product Usage Directions
Diffuse using 1-2 drops per 100 mL of water for 5-10 minutes every few hours. This blend can also be used at low levels in our Diffuse on the Move diffuser.
For topical application dilute to 0.25-2% depending on your animal's species and weight. Apply the diluted blend to the abdomen taking care to avoid any sensitive areas.
When using essential oils with animals it is important to create a positive association with the oil. You can do this by applying the oil to yourself for the first few days of usage. This will allow your animal to begin to associate the blend with his/her person. When you are ready to apply the blend to your animal or begin active diffusion you can reinforce the positive experience by doing something they love like giving them their favorite treat or using a massage application before bedtime.
This blend is intended for use with dogs and horses only. Do not diffuse around or use this blend topically on cats, birds, reptiles, rodents, etc.


HAPPY TRAILS PASSIVE DIFFUSER
What you'll need and what you'll do:
clothespin
1 pom pom
Hot glue gun
1-2 drops of Happy Trails
Glue pom pom to clothespin using a hot glue gun.
Once cooled, add 1-2 drops of Happy Trails and clip to your car's vent.
DILUTION RATES & CHART :
Essential oils should not be used with animals under 10 weeks old.
Dogs 25 lbs or less: 0.25-0.5% dilution
Dogs 25 lbs to 50 lbs: 0.5-0.75% dilution
Dogs more than 50 lbs: 0.75%-1% dilution
Horses: 1-2% dilution
AREAS OF APPLICATION :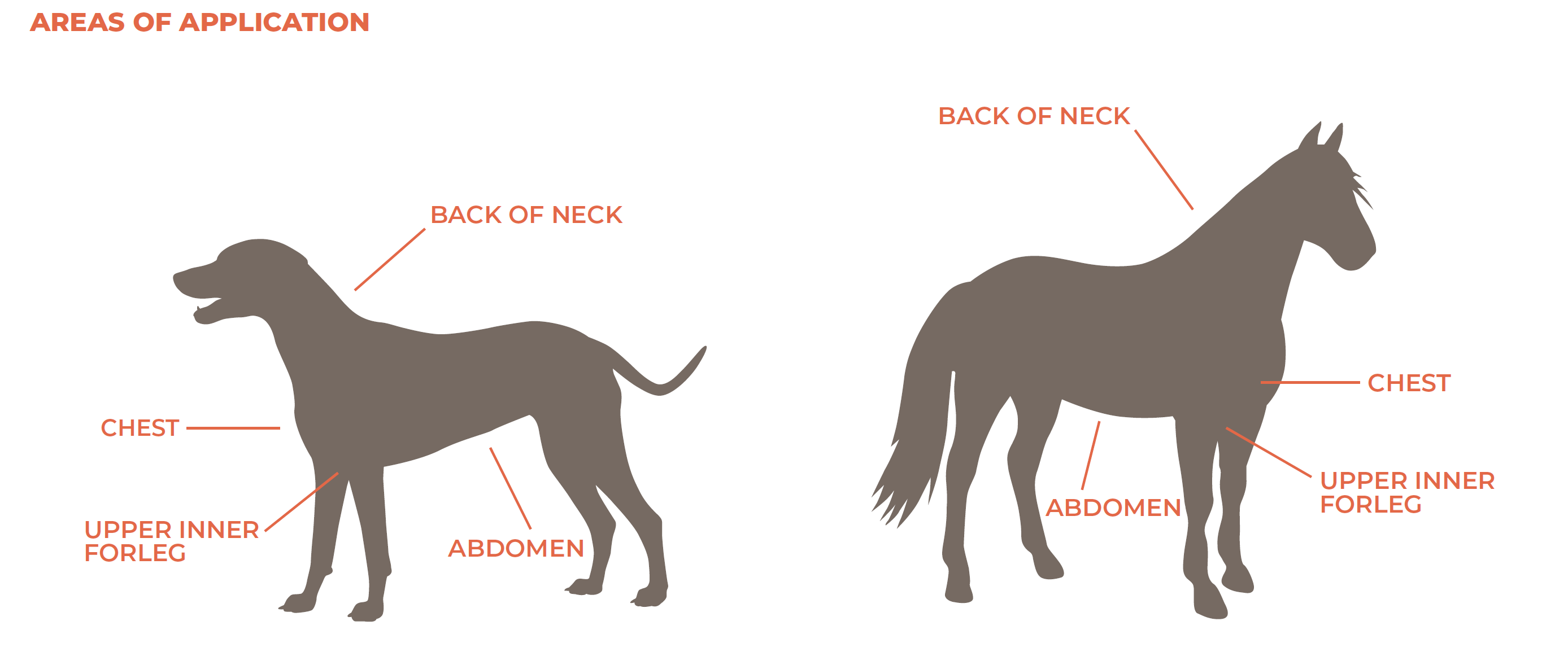 Plant Therapy Return Policy
Our goal is to help you and your family live happier, healthier lives – and that includes ensuring you're completely satisfied with your purchase. If, for any reason, you are unhappy with your Plant Therapy product, we offer a 100% money back guarantee within 90 days of purchase. Has it been more than 90 days? Don't worry, we are still happy to credit your account with the amount of return.
Please send us an email to jjehomez@gmail.com
Plant Therapy Disclaimers
The International Federation of Aromatherapists does not recommend that Essential Oils be taken internally unless under the supervision of a Medical Doctor who is also qualified in clinical Aromatherapy. All cautions listed for individual oils do not include those cautions from ingestion.
This statement has not been evaluated by the Food and Drug Administration. This product is not intended to diagnose, treat, cure, or prevent any disease.
Bottles are filled by volume. Some bottle sizes may not be filled to the top, but do contain the volume of oil specified.
JJ E-Homez Holistic Pet Return Policy
Generally, all our products are strictly non-refundable nor exchangeable.
However, in the event you received an incorrect or defective item, or any other valid reason that you can't enjoy your purchase, we will provide a refund or an exchange, case by case basis.
All we ask is that when the item is returned, it should meet the following requirements:
Reach out to us to arrange an appointment to drop off your item at 216A Boon Lay Ave.
Item returned should be in their original & sealed packaging. Broken seals will not be accepted, unless there's a valid reason, based on case by case basis.
Please ensure at least 6 months of shelf life if it's a perishable item.
Send us your order confirmation email for refund verification.
Items not eligible for returns:
Food related, wearables, beds and carriers due to food safety & hygiene reasons.
Items that are purchased from promotional pricing from all of our sales channels.
Customers who had a history of returning more than 3 items.
When we receive the refunded/exchange item, we will review the condition of the item, and reach out to you to confirm and issue a refund/exchange within 7 working days. We regret that customers who decline to respect our policy will be ineligible for exchange, returns and refunds.
Do also note that if we find that a product has been intentionally damaged or tampered with, refunds will not be offered.
As generally, returns are not allowed otherwise, please check your order (e.g. type, size, colour, quantity, etc) before checking out. If you need help with any product, chat with us or please send us an email to jjehomez@gmail.com
Pre-order Items T&C
Please note of the following terms & conditions on all our Pre-order items :
Full payment is required for all Pre-order items.
Expect Pre-order items to be delivered between 3 to 15 working days (depending on which item) starting from your order date.
We will connect via WhatsApp or Email should there be any updates or concerns regarding your order.
Promotions
Website promotion for year 2022
Free Delivery for : orders above $38
*Terms & Conditions:
Website promotion is only applicable for orders/payments made via our website.
Promotions at other shopping platforms (Carousell, Lazada, Shopee, Amazon or Qoo10) is only applicable for orders/payments made via our shops within those shopping platforms.