Product Summary
Every loving pet owner wishes for the pet to have a long, healthy life. How could you help increase the pet's odds of staying nutritionally vibrant and healthy?
Whether there is a…
New puppy or kitten and want to give them a healthy start in life
Young pet with no serious health issues, and you would like to do everything to help keep it that way, or a
Pet that may be predisposed to certain issues, and you would like to provide an extra nutritional boost to maintain its health on an ongoing basis,
… By providing basic nutrients that are not typically available in commercially processed pet foods, a valuable, proactive step is being taken to support your pet's nutritional health and overall well-being.
Dr Mercola Healthy Pets's Whole Food Digestive Probiotic provides general nutritional maintenance support for your pet's immune health, digestion and gut health, normal cell growth and development, and overall vitality.
This "all-in-one" nutritional supplement contains four key blends:
Probiotic blend of 8 valuable strains of gut-friendly probiotics to promote a healthy nutritional balance of gastrointestinal bacteria for healthy normal immune function, brain health, digestion and utilization of nutrients
Digestive nutrition enzyme blend from papaya, pineapple and porcine pancreas to help break down protein, fats, fiber and carbohydrates into usable components
Superfood and green food blend, including spirulina, fermented chlorella, broccoli sprouts and turmeric root to provide valuable nutritional antioxidant support for cellular, detox, gut, joint and immune health
Mushroom blend of highly-valued Reishi and Chaga mushrooms to help maintain your pet's nutrition through healthy normal immune function, healthy blood flow and circulation, and a healthy liver
Probiotics, the "good guys" or good bacteria, are live microorganisms that live in your pet's gastrointestinal track, skin, lungs, other organs, even inside the nose and mouth. When talking about bacteria, probiotics are considered "the good guys," or good bacteria. Diets high in carbohydrates, as many commercial pet foods are, particularly kibble, the wrong bacteria type could flourish, starting in the mouth. Carbohydrates and starches are harmful for your pet's teeth and gut. The addition of probiotics could help promote a healthy balance.
Probiotics could benefit your pet from head to paw since they matter for its digestion, utilization of nutrients, especially its immune function, with about 80 percent of its immune system residing in its gut. Even your pet's brain health may benefit from probiotics. Your pet's gut is its "second brain" and is filled with neurons or nerve cells. By maintaining the proper balance of beneficial bacteria in its gut, healthy brain function is promoted.
When animals in the wild kill prey, they truly receive a "balanced and complete" meal since they get everything they need for digestion and nutrient absorption to thrive. Above all, live enzymes are absorbed from the prey. Enzymes are essential for every metabolic process in the body. Digestive enzymes help break down protein, fats, fiber, and carbohydrates into their usable components, while between meals, the enzymes go straight to promoting immune and cellular health.
A homemade diet may still be insufficient, as heating the food over 110 to 115 degrees Fahrenheit destroys any valuable live enzymes. So when there is insufficient enzymes, your pet may have poor digestive or nutrient absorption, which lead to issues with digestion and overall health. Most likely, your pet is not receiving these important nutrients in its diet. Act now to help ensure your pet is on the road to a long, healthy life.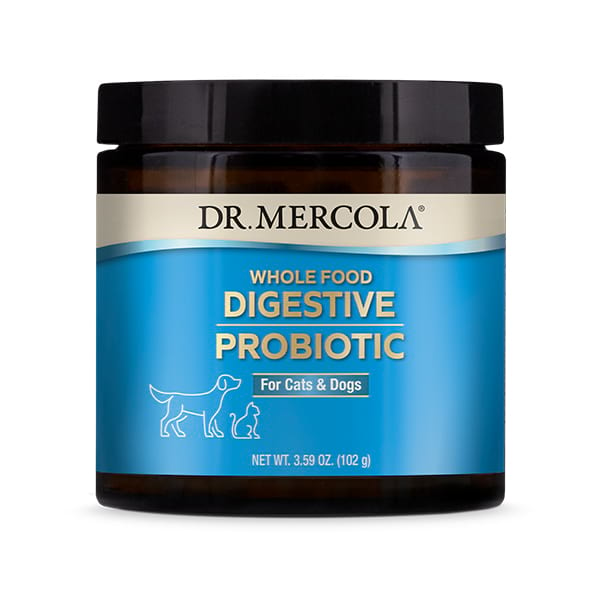 Product Video
Product Complete Label with Usage Directions

Product FAQ
Q : I'm giving my pet Digestive Enzymes now. If I use Whole Food Digestive Probiotic for Cats and Dogs, should I give both or stop using the enzymes?
A : If your pet is showing any of the common signs of digestive distress – occasional gas, bloating, abdominal gurgling or passing undigested food – he or she may be lacking in digestive enzymes. This is a situation where the limited amount of enzymes in my Whole Food Digestive Probiotic may be inadequate for your pet. My Digestive Enzymes contains the whole array of five digestive enzymes plus Betaine HCl. I would suggest continuing the use of Digestive Enzymes along with the Whole Food Digestive Probiotic.
Q : Does the Whole Food Digestive Probiotic contain the products Complete Probiotics and Digestive Enzymes?
A : No, this is a basic nutritional formula designed for maintaining a healthy pet's well-being. While my Digestive Enzymes contain five different enzymes plus betaine HCl, my Whole Food Digestive Probiotic contains three digestive enzymes – papain, trypsin, and bromelain.
Similarly, each serving of my Complete Probiotics for Pets provides over 58 billion CFU from 10 powerful bacteria strains. In contrast, my Whole Food Digestive Probiotic provides 15 billion CFU from a blend of 8 of the 10 strains per serving. With my Whole Food Digestive Probiotic, you get smaller amounts of each per serving, but these doses are likely to be very adequate for young, healthy pets.
JJ E-Homez Holistic Pet Return Policy
Generally, all our products are strictly non-refundable nor exchangeable.
However, in the event you received an incorrect or defective item, or any other valid reason that you can't enjoy your purchase, we will provide a refund or an exchange, case by case basis.
All we ask is that when the item is returned, it should meet the following requirements:
Reach out to us to arrange an appointment to drop off your item at 216A Boon Lay Ave.
Item returned should be in their original & sealed packaging. Broken seals will not be accepted, unless there's a valid reason, based on case by case basis.
Please ensure at least 6 months of shelf life if it's a perishable item.
Send us your order confirmation email for refund verification.
Items not eligible for returns:
Food related, wearables, beds and carriers due to food safety & hygiene reasons.
Items that are purchased from promotional pricing from all of our sales channels.
Customers who had a history of returning more than 3 items.
When we receive the refunded/exchange item, we will review the condition of the item, and reach out to you to confirm and issue a refund/exchange within 7 working days. We regret that customers who decline to respect our policy will be ineligible for exchange, returns and refunds.
Do also note that if we find that a product has been intentionally damaged or tampered with, refunds will not be offered.
As generally, returns are not allowed otherwise, please check your order (e.g. type, size, colour, quantity, etc) before checking out. If you need help with any product, chat with us or please send us an email to jjehomez@gmail.com
Pre-order Items T&C
Please note of the following terms & conditions on all our Pre-order items :
Full payment is required for all Pre-order items.
Expect Pre-order items to be delivered between 3 to 15 working days (depending on which item) starting from your order date.
We will connect via WhatsApp or Email should there be any updates or concerns regarding your order.
Promotions
Website promotion for year 2023
Free Delivery for : orders above $38
*Terms & Conditions:
Website promotion is only applicable for orders/payments made via our website.
Promotions at other shopping platforms (Carousell, Lazada, Shopee, Amazon) is only applicable for orders/payments made via our shops within those shopping platforms.