Product Summary
For a canine or feline in the wild, a prey's organs and glands are truly the pride of the hunt. No doubt, these nutrient-dense organs and glands have played a major role in the "survival of the fittest" for thousands of years.
During this same time period, humans have also valued the use of organs and glandulars for health. With the discovery of "glandular therapy," they found that the glands or tissues from healthy animals could provide their own bodies with nutrients, enzymes, and energy for repair and maintenance.
This "like supports like" strategy is based on the concept that when another human or animal consumes the gland or organ tissue concentrates, these healthy, intact components can supply his organs and glands with the building blocks they may need.
Whole Body Glandular Support has been created to provide your pet with a unique formula of 16 or 17 different freeze-dried glandular concentrates, depending on whether the Male or Female variety is chosen.
This is the first complete customized formula for male and female pets. There is simply nothing like this out there!
Whole Body Glandular Support is recommended for:
Spayed and neutered dogs, of any age, to promote endocrine balance
Intact dogs, of any age, to support overall health
Cats and ferrets desexed or intact, of any age, to support overall health
Dogs, cats, or ferrets who could use extra support for any specific gland or organ, especially liver, kidney or thyroid
Older pets experiencing cognitive decline
The glandulars in my Whole Body Glandular Support come from the tissues of government inspected, hormone- and antibiotic-free, range-fed Argentinian-raised cows and pigs. The glandular material, which is a byproduct of the grass-fed meat industry, is immediately frozen and then vacuum-dried to maintain its biological activity.
Support your pet's overall health with this subtle yet profound formula. Order Whole Body Glandular Support today!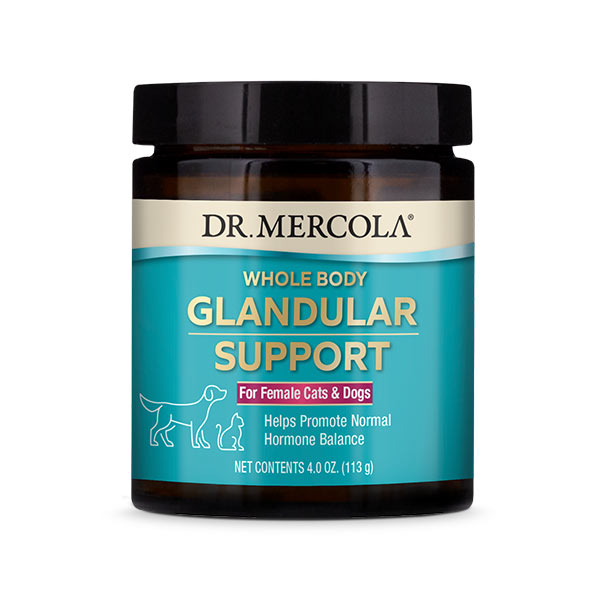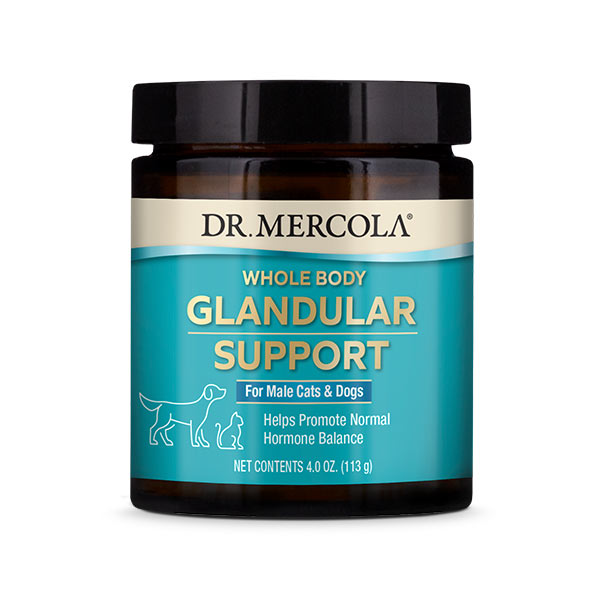 Product Video
Product Complete Label with Usage Directions


Product FAQ
Q : If I give my pet Whole Body Glandular Support, do I still need to give her Ubiquinol or Digestive Enzymes?
A : While glands in general provide low levels of Coenzyme Q10 and pancreatic enzymes, many pets potentially benefit from much higher doses of Coenzyme Q10, and in the reduced active form Ubiquinol. I don't consider my Whole Body Glandular Support to be an equal replacement for Ubiquinol, especially for those animals that may need higher levels to support their heart health and energy needs.
The same applies to digestive enzymes. My Digestive Support provides a full spectrum of digestive enzymes, not just pancreatic enzymes. And it supplies HCL that helps promote the normal production of hydrochloric acid in your pet's stomach for proper digestion.
Q : Can I give Whole Body Glandular Support to my cat or ferret? The label says "for dogs only."
A : While a kitty's endocrine system is not as negatively impacted by spaying and neutering as dogs', glandulars can provide important support for their other organs and glands. This product may also benefit ferrets and other carnivorous pets.
The unique organ tissues in Whole Body Glandular Support provide an important food source that they don't normally receive in their regular diet, even most raw or fresh food diets.
With dogs, you can see noticeable physical benefits, such as new hair growth, that you may not observe in cats. But that doesn't mean your kitty or ferret isn't benefiting on a deep level!
Q : Should I give my neutered or spayed pet Whole Body Glandular Support or Canine Hormone Support, or both?
A : Canine Hormone Support provides the building blocks for supporting healthy hormonal balance and endocrine function in desexed dogs, while Whole Body Glandular Support (for male or female dogs, cats, or ferrets) provides the actual healthy animal glandular tissues for supporting the health of all of your pet's glands and organs.
I don't recommend giving Canine Hormone Support to cats as they are not impacted by spaying and neutering the same way as are dogs. Whole Body Glandular Support, however, may be beneficial for cats and ferrets as well as dogs for overall organ and gland support.
If your dog is already showing signs of hormonal imbalance, then I recommend giving both Canine Hormone Support and Whole Body Glandular Support. If your vet hasn't yet diagnosed an endocrine imbalance or deficiency in your pet, then Glandular Support by itself may be enough to support your pet's endocrine health and promote a normal balance of hormones.
I recommend Whole Body Glandular Support (either the female or male formula) for all dogs, de-sexed or intact, for promoting normal hormone balance and supporting organ and glandular health throughout their entire body. Dogs that have been neutered or spayed may especially benefit.
JJ E-Homez Holistic Pet Return Policy
Generally, all our products are strictly non-refundable nor exchangeable.
However, in the event you received an incorrect or defective item, or any other valid reason that you can't enjoy your purchase, we will provide a refund or an exchange, case by case basis.
All we ask is that when the item is returned, it should meet the following requirements:
Reach out to us to arrange an appointment to drop off your item at 216A Boon Lay Ave.
Item returned should be in their original & sealed packaging. Broken seals will not be accepted, unless there's a valid reason, based on case by case basis.
Please ensure at least 6 months of shelf life if it's a perishable item.
Send us your order confirmation email for refund verification.
Items not eligible for returns:
Food related, wearables, beds and carriers due to food safety & hygiene reasons.
Items that are purchased from promotional pricing from all of our sales channels.
Customers who had a history of returning more than 3 items.
When we receive the refunded/exchange item, we will review the condition of the item, and reach out to you to confirm and issue a refund/exchange within 7 working days. We regret that customers who decline to respect our policy will be ineligible for exchange, returns and refunds.
Do also note that if we find that a product has been intentionally damaged or tampered with, refunds will not be offered.
As generally, returns are not allowed otherwise, please check your order (e.g. type, size, colour, quantity, etc) before checking out. If you need help with any product, chat with us or please send us an email to jjehomez@gmail.com
Pre-order Items T&C
Please note of the following terms & conditions on all our Pre-order items :
Full payment is required for all Pre-order items.
Expect Pre-order items to be delivered between 3 to 15 working days (depending on which item) starting from your order date.
We will connect via WhatsApp or Email should there be any updates or concerns regarding your order.
Promotions
Website promotion for year 2023
Free Delivery for : orders above $38
*Terms & Conditions:
Website promotion is only applicable for orders/payments made via our website.
Promotions at other shopping platforms (Carousell, Lazada, Shopee, Amazon) is only applicable for orders/payments made via our shops within those shopping platforms.