Product Summary
Now, there is a helpful spot-on product that does NOT contain harmful chemicals!
Dealing with annoying fleas, ticks, and mosquitoes on our pets is not fun, but harsh repellents, are not the answer. There have been many cases of serious adverse side effects in pets that may have been caused by chemical spot on products.
Dr Mercola's Spot On Topical Herbal Repellent for dogs and puppies has NO harsh ingredients, and offers convenient longer term protection.
The many benefits of Spot On Topical Herbal Repellent include:
Each dose lasts roughly one month, so there is no need to reapply constantly
Easy to apply and has a fresh, minty smell
No need for reapplying after your pet swims or goes out in the rain
The formula contains essential oils that work to repel insects
Give your dog the alternative deterrent during insect season! Dr Mercola's Spot On Topical Herbal Repellent can be used by itself, or with other Mercola Healthy Pets pest repellent products for protection. Try this essential repellent for your best friend today!
Made in France.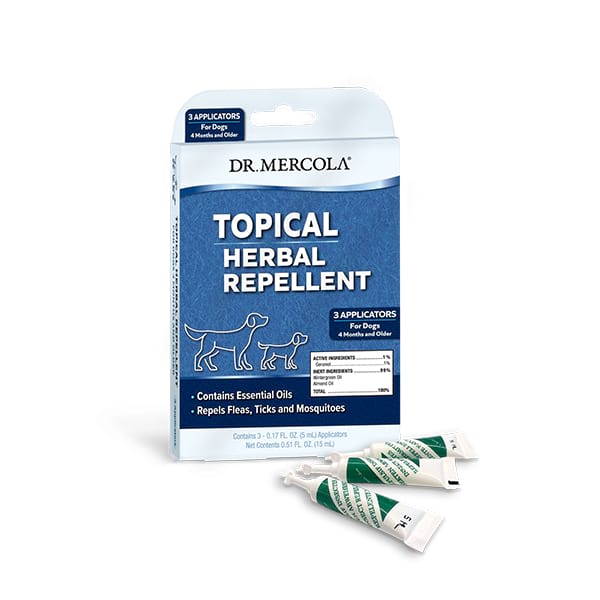 Product Video
Product Complete Label with Usage Directions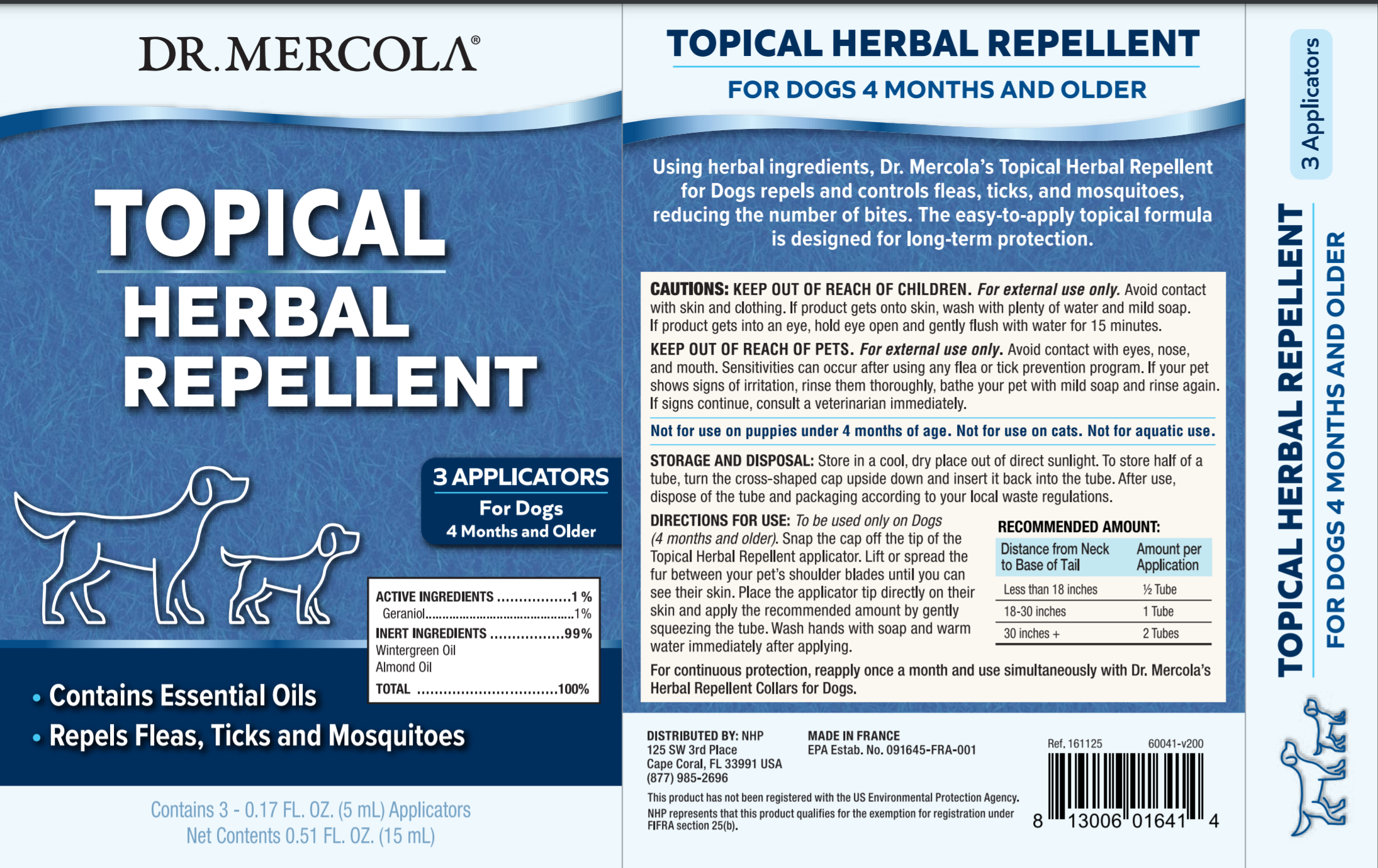 Note
If your pet is sensitive to essential oils or has a medical condition, consult your veterinarian prior to use.
Product FAQ
Q : Can I use the Herbal Repellent Collar, Spot On Topical Herbal Repellent, and Flea & Tick Defense together?
A : Yes, all three repellent products were designed to be used either individually or together, depending on where you live and your pet's exposure to pests. It is recommended to use all three together if you live in an area heavily populated with fleas and ticks.
Q : Could the wintergreen essential oil (or any of the other oils in these products) have a negative effect on my pet's health?
A : Outdated, conventional veterinary medicine has suggested that all essential oils (including wintergreen), could pose a risk to an animal's health. However, professionally blended essential oils are and have been used for holistic pet remedies safely and effectively for many years. When used correctly, the well-researched oils included in our formulas should not pose any negative health effects, unless your pet is allergic to essential oils or has a medical condition where essential oils should not be used. It is important to apply the product correctly. If your pet has a medical condition, consult with your vet before using this product.
Q : Am I allowed to bathe my pet after applying the Spot On treatment?
A : The spot on product is applied to your pet's skin and is absorbed through the dermis, or the outer layer of skin. For maximum absorption, it is recommended to follow the listed provided label instructions and avoid allowing your pet to swim and/or bathing your pet for at least 24hrs after application.
Q : My pet is constantly exposed to water… What are the best pest repellent options for her?
A : Both the Herbal Repellent Collar and the Spot On Topical Herbal Repellent are effective pest repellent options for pets that are constantly exposed to water, such as by swimming, bathing, or going out in the rain. If you wish, the Herbal Repellent Collar may be removed prior to swimming or bathing, but it is not necessary. If you do remove the collar, promptly put it back on after the water activity for pest protection.
Q : How can I tell if my pet is sensitive to the essential oils in these products?
A : You should always check to make sure that your pet is not sensitive to essential oils prior to using the entire dose. To determine if your pet may be sensitive to the essential oils in Flea & Tick Defense or Spot On Topical Herbal Repellent, apply a small amount of product (one drop) using your finger tip, between the shoulder blades and wait 24 hours to evaluate if a red rash appears or if you observe any other effects. If there is no reaction, apply the remaining amount of product as directed. If itching, flaking, scratching or redness appears, wash the area with soap and water and discontinue use.
Q : What if my pet has any medical or health conditions?
A : It is important that you consult your veterinarian prior to use or application if your pet has a medical or health condition or allergies.
Q : How do I apply the Spot On Topical Herbal Repellent and the Flea & Tick Defense?
A : Snap the cap off the tip of the Spot On Topical Herbal Repellent applicator. Complete sensitivity testing. Part the fur between your pet's shoulder blades until you can see their skin. Place the applicator tip directly on their skin and apply the recommended amount by gently squeezing the tube. You can apply the repellent in three spots, an inch apart, between the shoulder blades. Wash hands immediately with soap and water after application.
For the Flea & Tick Defense — Shake well before use. Spray generously on your pet, including legs and stomach. Work into the coat. Depending on your pet, spray may require additional rubbing to get product through their entire coat. Avoid contact with mucous membranes by covering your animal's nose, mouth and eyes when applying near your animal's head. To apply product to your pet's head, spray solution onto a paper towel and wipe your pet's neck, ears and face, carefully avoiding eyes and nose.
Q : Can my pet consume the Spot On or Flea & Tick Defense products?
A : Essential oils do not taste good to dogs and cats. You should avoid contact with the mouth, nose and eyes as noted in the instructions. If contact does occur, you may find your pet salivates or foams from the mouth profusely until the taste is gone. To avoid hypersalivation response, do not allow your pet to lick off the product.
Q : Are herbal pest repellents as effective as harsh commercial repellants?
A : Many people choose harsh chemical-based spot-on products and collars because they are convenient and effective. Herbal pest repellants deter fleas, ticks and mosquitos utilizing essential oils. Herbal pest repellents combined with a regimen of daily grooming and nose-to-tail body checks are useful alternatives.
JJ E-Homez Holistic Pet Return Policy
Generally, all our products are strictly non-refundable nor exchangeable.
However, in the event you received an incorrect or defective item, or any other valid reason that you can't enjoy your purchase, we will provide a refund or an exchange, case by case basis.
All we ask is that when the item is returned, it should meet the following requirements:
Reach out to us to arrange an appointment to drop off your item at 216A Boon Lay Ave.
Item returned should be in their original & sealed packaging. Broken seals will not be accepted, unless there's a valid reason, based on case by case basis.
Please ensure at least 6 months of shelf life if it's a perishable item.
Send us your order confirmation email for refund verification.
Items not eligible for returns:
Food related, wearables, beds and carriers due to food safety & hygiene reasons.
Items that are purchased from promotional pricing from all of our sales channels.
Customers who had a history of returning more than 3 items.
When we receive the refunded/exchange item, we will review the condition of the item, and reach out to you to confirm and issue a refund/exchange within 7 working days. We regret that customers who decline to respect our policy will be ineligible for exchange, returns and refunds.
Do also note that if we find that a product has been intentionally damaged or tampered with, refunds will not be offered.
As generally, returns are not allowed otherwise, please check your order (e.g. type, size, colour, quantity, etc) before checking out. If you need help with any product, chat with us or please send us an email to jjehomez@gmail.com
Pre-order Items T&C
Please note of the following terms & conditions on all our Pre-order items :
Full payment is required for all Pre-order items.
Expect Pre-order items to be delivered between 3 to 15 working days (depending on which item) starting from your order date.
We will connect via WhatsApp or Email should there be any updates or concerns regarding your order.
Promotions
Website promotion for year 2023
Free Delivery for : orders above $38
*Terms & Conditions:
Website promotion is only applicable for orders/payments made via our website.
Promotions at other shopping platforms (Carousell, Lazada, Shopee, Amazon) is only applicable for orders/payments made via our shops within those shopping platforms.