Product Summary
Ideally, I prefer that your pet receive all the nutrition he or she needs through the foods they eat. But that's not always possible.
The best of diets – even a raw, species-specific diet – can come from soils that are depleted or from lower quality food sources. Sometimes, the food simply loses many of its nutrients through processing and storage.
And most commercially available pet foods, even if they're "fortified" to meet AAFCO (Association of American Feed Control Officials) standards, contain synthetic vitamins and minerals which have their place, but are further removed from naturally derived supplements.
That's why I often feel it's important to offer your pet two of nature's most nutrient-dense dietary supplements – the microalgae spirulina and astaxanthin-containing microalgae. SpiruGreen for Cats & Dogs is a unique complex that contains both of these supplements that are great for cats and dogs.
Studies suggest these benefits when animals are directly supplemented with microalgae astaxanthin:
Supports the health, longevity, and immune system in cats and dogs
Supports joint and muscle recovery after exercise in racehorses and sled dogs
Promotes normal neurological and eye health in dogs and cats
Supports normal healthy cardiovascular health
Miroalgae astaxanthin not only promotes good health but vibrant, natural color
Meanwhile, spirulina is one of the richest beta-carotene ingredients, with ten mixed carotenoids. Including orange carotenes, alpha, beta, gamma, and yellow xanthophylls, these powerful antioxidants work synergistically in different sites in your pet's body.
Studies on both cats and dogs show that spirulina supports good health in several ways:
Helps support a strong, healthy normal immune system
Helps promote a healthy coat and skin
May help promote comfortable movement and flexibility
SpiruGreen for Cats & Dogs truly packs a one-two punch with all the nutrient value of spirulina, including carotenoids, phycocyanins, and enzymes, plus all the goodness of microalgae astaxanthin, one of the world's most powerful fat-soluble antioxidant carotenoids.
We test our product through a third-party lab to ensure it is free of 15 different microcystins, including ß-methylamino-L-alanine (BMAA), a known neurotoxin.
Give your pet the goodness of one of the most wholesome ingredients available together with one of the world's most powerful antioxidants.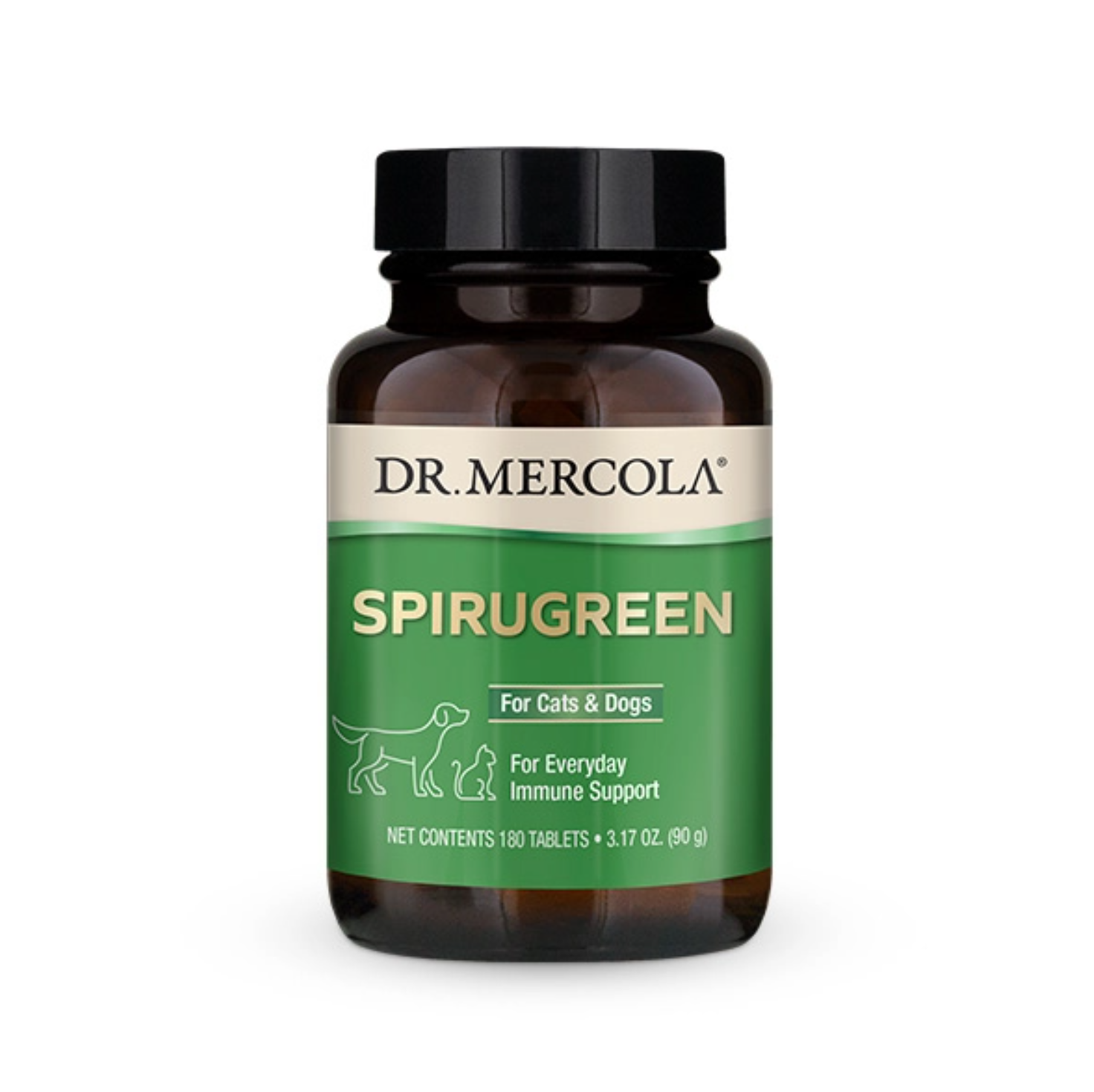 Product Video
Product Complete Label with Usage Directions

JJ E-Homez Holistic Pet Return Policy
Generally, all our products are strictly non-refundable nor exchangeable.
However, in the event you received an incorrect or defective item, or any other valid reason that you can't enjoy your purchase, we will provide a refund or an exchange, case by case basis.
All we ask is that when the item is returned, it should meet the following requirements:
Reach out to us to arrange an appointment to drop off your item at 216A Boon Lay Ave.
Item returned should be in their original & sealed packaging. Broken seals will not be accepted, unless there's a valid reason, based on case by case basis.
Please ensure at least 6 months of shelf life if it's a perishable item.
Send us your order confirmation email for refund verification.
Items not eligible for returns:
Food related, wearables, beds and carriers due to food safety & hygiene reasons.
Items that are purchased from promotional pricing from all of our sales channels.
Customers who had a history of returning more than 3 items.
When we receive the refunded/exchange item, we will review the condition of the item, and reach out to you to confirm and issue a refund/exchange within 7 working days. We regret that customers who decline to respect our policy will be ineligible for exchange, returns and refunds.
Do also note that if we find that a product has been intentionally damaged or tampered with, refunds will not be offered.
As generally, returns are not allowed otherwise, please check your order (e.g. type, size, colour, quantity, etc) before checking out. If you need help with any product, chat with us or please send us an email to jjehomez@gmail.com
Pre-order Items T&C
Please note of the following terms & conditions on all our Pre-order items :
Full payment is required for all Pre-order items.
Expect Pre-order items to be delivered between 3 to 15 working days (depending on which item) starting from your order date.
We will connect via WhatsApp or Email should there be any updates or concerns regarding your order.
Promotions
Website promotion for year 2023
Free Delivery for : orders above $38
*Terms & Conditions:
Website promotion is only applicable for orders/payments made via our website.
Promotions at other shopping platforms (Carousell, Lazada, Shopee, Amazon) is only applicable for orders/payments made via our shops within those shopping platforms.