Product Summary
Allergies are extremely common among both cats and dogs today, and they are one of the top reasons for veterinarian visits.
Unlike the typical respiratory symptoms that plague humans when they have seasonal allergies, allergies could show up in your pet as skin irritation, itchiness and inflammation. Your pet may lose hair, develop rashes, hives, open sores or "hot spots," inflamed ears, and feel downright miserable.
If your pet's symptoms change with the seasons, they are most likely from seasonal allergies. However, it could also be from food allergies, or even a combination of both. Many pets often suffer from both. Potential allergens can include grass and weed pollens, trees, mold spores, insects, and even human personal care and cleaning and pest control products. Allergens are substances that provoke an exaggerated immune response in sensitive animals.
Cats and dogs could become sensitized to everyday substances. As your pet becomes exposed to normally harmless substances in the environment, its immune system could begin to identify these substances as "hazardous." When exposed repeatedly to any of these everyday substances it is sensitive to, the immune system launches its attack on what is now viewed as "foreign invaders."
During this attack, the immune system produces antibodies, and they, in turn, signal the release of chemicals into the bloodstream. Histamine, one of the major chemicals released, is largely responsible for the cascade of inflammatory events of itchiness, irritation, redness and swelling that follow.
At a young age, the immune response may be minimal with only mild reactions, such as itchy ears or a red tummy. If nothing is done to address the root cause of the allergic response, it is almost certain your pet's symptoms will return the following year when the temperatures rise again, and it only worsens with each return. Left untreated, seasonal allergies can become a year-round issue. A traditional veterinarian typically only provides symptomatic treatment to help provide relief. A much better goal, rather, is to support your pet's functional immune response, help it to "rebalance itself" so it is able to handle allergens with a normal immune response.
Dr Mercola's Healthy Pets has developed a seasonal allergy protocol of herbs and vitamins, now available as Pet Seasonal Support, to help:
Support an optimally functioning immune system, allowing it to re-balance itself when confronted with environmental allergens
Support a normal inflammatory response to potential allergens by helping to maintain normal histamine levels
Bring greater comfort to pets during allergy season
This unique formula contains 8 nutrients that address the root cause of your pet's discomfort rather than covering up the symptoms:
Quercetin – Helps quell the fire of redness, irritation, and inflammation by promoting normal histamine levels with its potent antioxidant activity.
Bromelain – Increases the absorption of quercetin, and together, promoting a normal inflammatory response by supporting normal prostaglandin release.
Vitamin C – A potent antioxidant that supports a normal inflammatory response while having a natural anti-histamine effect.
Bee Pollen – Widely used for centuries in Traditional Chinese Medicine for its "superfood" properties, bee pollen may help desensitize your pet to allergens.
Plant Sterols – Produced by plants, these molecules may support a normal inflammatory response and a balancing effect on immune function.
Butterbur Extract – Long used for medicinal purposes, this is a favorite of mine for its ability to promote a healthy normal inflammatory response to allergens.
Stinging Nettle Leaf – Promotes a normal response to allergens by helping to maintain normal levels of histamine and other pro-inflammatory chemicals.
Cat's Claw – An herb from the highlands of the Peruvian Amazon, it has become one of South America's most prescribed herbs for promoting a normal immune response to allergies.
Seasonal Support is a pet-friendly beef liver-flavored powder that could be given to your pet once or twice daily to help support your pet's body's immune response to common seasonal allergens.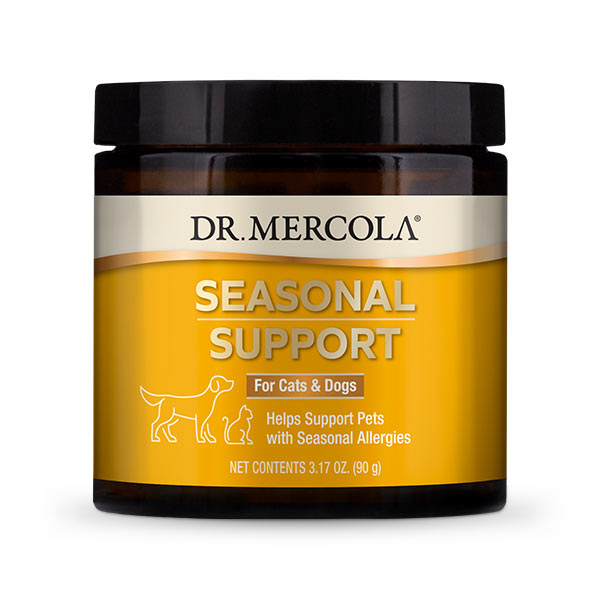 Product Video
Product Complete Label with Usage Directions

Product FAQ
Q : My pet is allergic to dust mites. Will Seasonal Support help?
A : Dust mites are a whole different situation from seasonal allergies. If dust mites are behind your pet's allergies, I typically see about a 25 percent improvement with Seasonal Support. This product is formulated to support animals with true seasonal allergies.
Q : Does Seasonal Support help with other indoor allergens?
A : I designed Seasonal Support primarily for outdoor allergens simply because that's the primary source of seasonal allergies and the source of many pets' seasonal discomfort. However, because these botanicals work deeply to promote healthy normal inflammatory and balanced immune responses, and help maintain normal histamine levels, you may see improvements with indoor allergens as well (with dust mites being the toughest challenge, as I've already mentioned).
Q : Do I need to use Seasonal Support year-round?
A : Some areas like the Midwest where I live give animals a break from seasonal allergens during the cold winters. But in more temperate climates, allergens may be present year round. Use as needed for your pet and your geographical area. For best results in areas with colder winters and pronounced seasons, begin using two to four weeks before allergy season starts. Continue using through the allergy season and discontinue when symptoms resolve.
Q : If my pet is on medications from the vet, including antihistamines and steroids, can I use this product as well?
A : I have used this formula extensively with many animals that are concurrently taking other medications prescribed by their conventional vets with no negative interactions. Be sure to check with your vet first to see if this product is safe to use with the medications they have prescribed for your pet.
JJ E-Homez Holistic Pet Return Policy
Generally, all our products are strictly non-refundable nor exchangeable.
However, in the event you received an incorrect or defective item, or any other valid reason that you can't enjoy your purchase, we will provide a refund or an exchange, case by case basis.
All we ask is that when the item is returned, it should meet the following requirements:
Reach out to us to arrange an appointment to drop off your item at 216A Boon Lay Ave.
Item returned should be in their original & sealed packaging. Broken seals will not be accepted, unless there's a valid reason, based on case by case basis.
Please ensure at least 6 months of shelf life if it's a perishable item.
Send us your order confirmation email for refund verification.
Items not eligible for returns:
Food related, wearables, beds and carriers due to food safety & hygiene reasons.
Items that are purchased from promotional pricing from all of our sales channels.
Customers who had a history of returning more than 3 items.
When we receive the refunded/exchange item, we will review the condition of the item, and reach out to you to confirm and issue a refund/exchange within 7 working days. We regret that customers who decline to respect our policy will be ineligible for exchange, returns and refunds.
Do also note that if we find that a product has been intentionally damaged or tampered with, refunds will not be offered.
As generally, returns are not allowed otherwise, please check your order (e.g. type, size, colour, quantity, etc) before checking out. If you need help with any product, chat with us or please send us an email to jjehomez@gmail.com
Pre-order Items T&C
Please note of the following terms & conditions on all our Pre-order items :
Full payment is required for all Pre-order items.
Expect Pre-order items to be delivered between 3 to 15 working days (depending on which item) starting from your order date.
We will connect via WhatsApp or Email should there be any updates or concerns regarding your order.
Promotions
Website promotion for year 2023
Free Delivery for : orders above $38
*Terms & Conditions:
Website promotion is only applicable for orders/payments made via our website.
Promotions at other shopping platforms (Carousell, Lazada, Shopee, Amazon) is only applicable for orders/payments made via our shops within those shopping platforms.