Product Summary
B vitamins are important for your pet's brain, nervous system and immune function, energy production, cell metabolism, organ and tissue health, muscle, coat, skin and eye health, and much more.
Low levels of B vitamins can affect your pet's body in many different ways because of the vitamins' far-reaching and interrelated effects.
As vitamin B is water-soluble and is not stored in your pet's body, your pet needs to get the entire complex through its diet each day. B vitamins can be easily destroyed by high temperatures during processing, light, oxygen, and long storage periods.
The words "complete and balanced" on your pet's food label does not provide a guarantee that the food actually contains enough of these essential heat- and light-sensitive vitamins to last the lifetime of the product. The nutrient profiles you see on food products are only minimum standards, and do not address the quality, the digestibility or the bioavailability of the nutrients, much less the optimal recommendations.
Feed-grade synthetic vitamins are typically used to "enrich" pet food. The majority of these feed-grade premixes come from China and from questionable sources.
Dr Mercola's Vitamin B Complex is a USDA Certified Organic complete complex that provides the ideal proportion of the eight major B vitamins:
Contains the patented PANMOL® vitamin B complex with concentrations of B vitamins a hundred-fold higher than what is found in whole grains (but without the grain)
The B vitamins are organically bound to sprouts from Certified Organic quinoa seeds for enhanced bioavailability and potential benefits
Contains more than just the eight familiar B vitamins – contains a multitude of well-balanced and biologically active B vitamins complete with co-factors and coenzymes
May be better absorbed in your pet's body than regular isolated synthetic B vitamins
This is the first time B vitamins have been created through a patented process where they are organically bound to a natural complex! Order your supply of Organic Vitamin B Complex for Dogs and Cats today and provide your pet with the extra B vitamins it may need.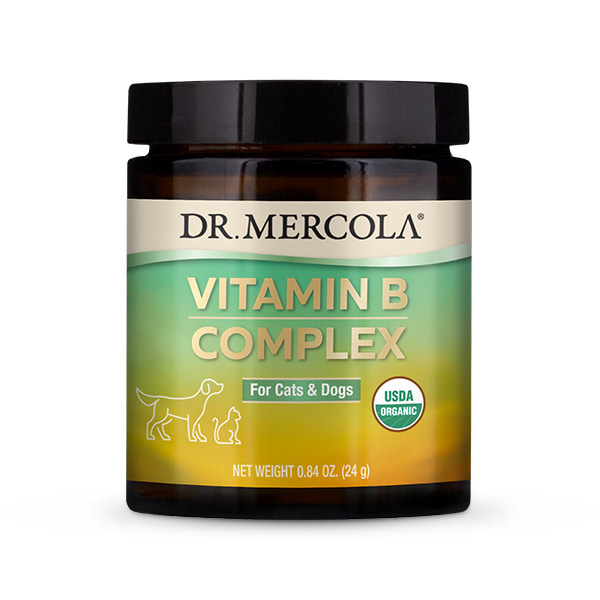 Product Video
Product Complete Label with Usage Directions

Note
This product is intended for intermittent or supplemental feeding only.
Product FAQ
Q : "I'm already giving my pet some supplemental B vitamins – is there any danger in providing more?"
A : B vitamins are water soluble, which means they aren't stored in the body (except for B12) and any excess is excreted in your pet's urine. Your pet's body will utilize only what is needed.
Q : "You warn about feeding cats and dogs starches and grains. What about the quinoa seeds in the Vitamin B Complex?"
A: Considered holy by the Incas in ancient times, quinoa is a pseudo-grain, unlike wheat. Although we cook quinoa like a grain, it is actually a seed. It contains no gluten and isn't a common allergen.

As for quinoa's carbohydrate content and antigens, the sprouting process uses up the organic quinoa's pro-inflammatory sugars and eliminates antigens. The finished sprouted quinoa powder with the organically bound B complex vitamins is very different from quinoa flour, which still contains antigens and carbohydrates.
Q : "Are the vitamins in the Vitamin B Complex synthetic like other B vitamin supplements?"
A: Our lab starts their patented process with bioidentical B vitamins, but that's where the similarities end.

During the sprouting process, the B vitamins become organically bound to the organic quinoa sprout and incorporated into the plant. The B vitamins are now complete nutrients with coenzymes and co-factors to provide the potential for improved absorption, unlike typical B vitamins.
JJ E-Homez Holistic Pet Return Policy
Generally, all our products are strictly non-refundable nor exchangeable.
However, in the event you received an incorrect or defective item, or any other valid reason that you can't enjoy your purchase, we will provide a refund or an exchange, case by case basis.
All we ask is that when the item is returned, it should meet the following requirements:
Reach out to us to arrange an appointment to drop off your item at 216A Boon Lay Ave.
Item returned should be in their original & sealed packaging. Broken seals will not be accepted, unless there's a valid reason, based on case by case basis.
Please ensure at least 6 months of shelf life if it's a perishable item.
Send us your order confirmation email for refund verification.
Items not eligible for returns:
Food related, wearables, beds and carriers due to food safety & hygiene reasons.
Items that are purchased from promotional pricing from all of our sales channels.
Customers who had a history of returning more than 3 items.
When we receive the refunded/exchange item, we will review the condition of the item, and reach out to you to confirm and issue a refund/exchange within 7 working days. We regret that customers who decline to respect our policy will be ineligible for exchange, returns and refunds.
Do also note that if we find that a product has been intentionally damaged or tampered with, refunds will not be offered.
As generally, returns are not allowed otherwise, please check your order (e.g. type, size, colour, quantity, etc) before checking out. If you need help with any product, chat with us or please send us an email to jjehomez@gmail.com
Pre-order Items T&C
Please note of the following terms & conditions on all our Pre-order items :
Full payment is required for all Pre-order items.
Expect Pre-order items to be delivered between 3 to 15 working days (depending on which item) starting from your order date.
We will connect via WhatsApp or Email should there be any updates or concerns regarding your order.
Promotions
Website promotion for year 2023
Free Delivery for : orders above $38
*Terms & Conditions:
Website promotion is only applicable for orders/payments made via our website.
Promotions at other shopping platforms (Carousell, Lazada, Shopee, Amazon) is only applicable for orders/payments made via our shops within those shopping platforms.