Product Summary
If you are seeking an aromatic shampoo, you might want to try Dr Mercola's Organic Peppermint Shampoo.
Peppermint's main constituent is menthol… famous for its heady, minty aroma and remarkable "cooling sensation." After a long tiring day of romping outside, your pup will really appreciate peppermint's rejuvenating properties. To summarize, Organic Peppermint Shampoo gives your dog:
A rejuvenating bath time
Contains organic herbals and moisturizers (more on those coming up)
Perfect for dogs who enjoy bath time, or who like the smell of peppermint A terrific way to help reduce dog odors
Whenever possible, Dr Mercola believes that you should use products directly from nature that moisturize your dog's skin and coat…
Dr Mercola assures that he is very concerned about the potential toxins found in so many pet shampoos. In the area of shampoo, he is committed to helping you give your pet equal stature in your family with its human members, so he searched for what he believes to be the very best options that not only cleans, but manages your dog's beautiful coat of hair, in a natural way.
The ingredients in Organic Peppermint Shampoo make a great foundation for your dog's finest and most glorious-looking skin and hair - whether or not you ever enter her into a show.
You can be confident that Organic Peppermint Shampoo contains the best organic ingredients – compliments of nature – that could be found, to bring your dog a beautiful, luxurious coat of hair. One of the best looking fur coats in nature, worthy of your beloved dog.
Make the switch today, to pet products that will make your furkid look beautiful.
Product Video
Product Complete Label with Usage Directions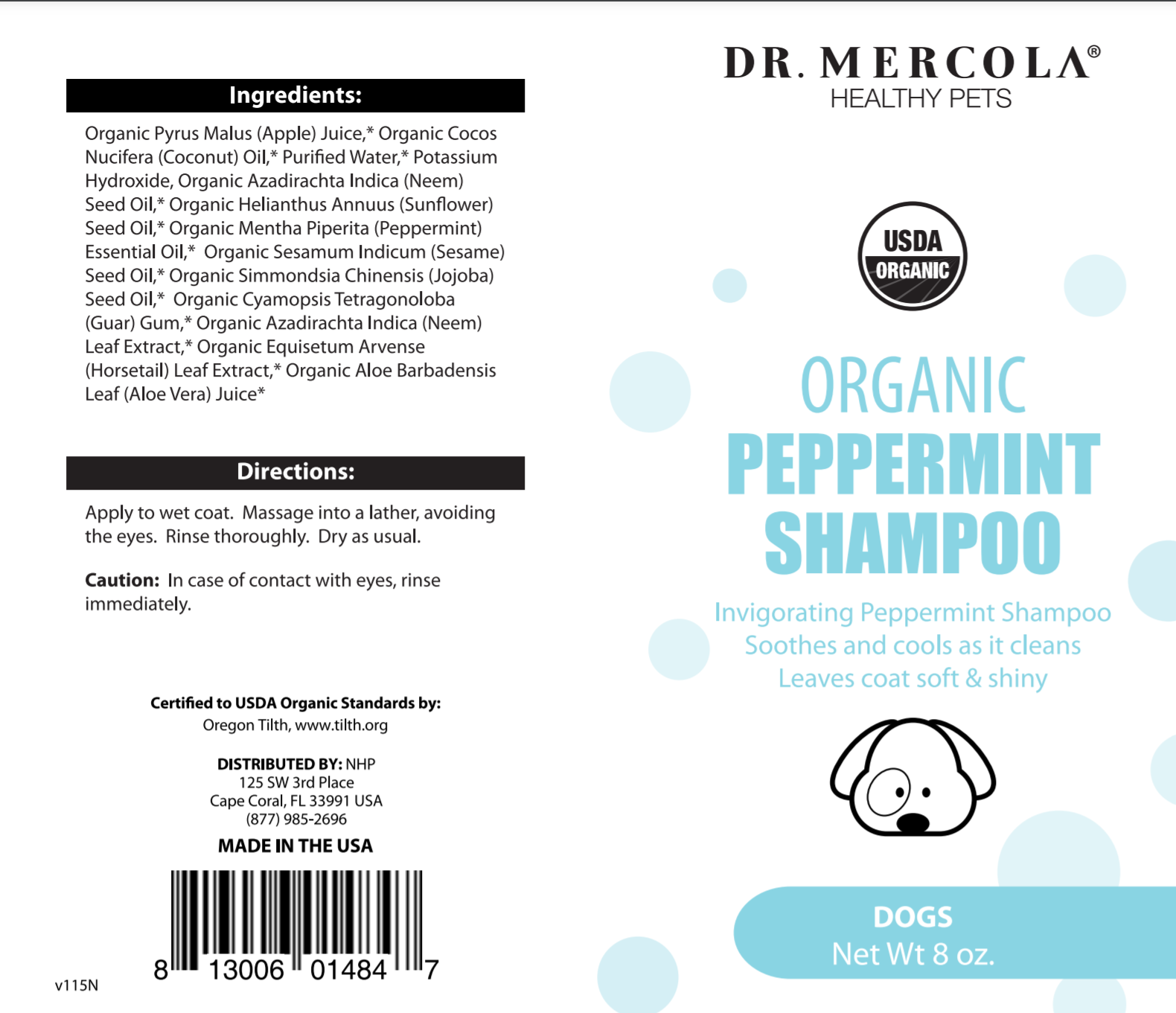 Caution:
Rinse immediately in case of contact with eyes.
JJ E-Homez Holistic Pet Return Policy
Generally, all our products are strictly non-refundable nor exchangeable.
However, in the event you received an incorrect or defective item, or any other valid reason that you can't enjoy your purchase, we will provide a refund or an exchange, case by case basis.
All we ask is that when the item is returned, it should meet the following requirements:
Reach out to us to arrange an appointment to drop off your item at 216A Boon Lay Ave.
Item returned should be in their original & sealed packaging. Broken seals will not be accepted, unless there's a valid reason, based on case by case basis.
Please ensure at least 6 months of shelf life if it's a perishable item.
Send us your order confirmation email for refund verification.
Items not eligible for returns:
Food related, wearables, beds and carriers due to food safety & hygiene reasons.
Items that are purchased from promotional pricing from all of our sales channels.
Customers who had a history of returning more than 3 items.
When we receive the refunded/exchange item, we will review the condition of the item, and reach out to you to confirm and issue a refund/exchange within 7 working days. We regret that customers who decline to respect our policy will be ineligible for exchange, returns and refunds.
Do also note that if we find that a product has been intentionally damaged or tampered with, refunds will not be offered.
As generally, returns are not allowed otherwise, please check your order (e.g. type, size, colour, quantity, etc) before checking out. If you need help with any product, chat with us or please send us an email to jjehomez@gmail.com
Pre-order Items T&C
Please note of the following terms & conditions on all our Pre-order items :
Full payment is required for all Pre-order items.
Expect Pre-order items to be delivered between 3 to 15 working days (depending on which item) starting from your order date.
We will connect via WhatsApp or Email should there be any updates or concerns regarding your order.
Promotions
Website promotion for year 2023
Free Delivery for : orders above $38
*Terms & Conditions:
Website promotion is only applicable for orders/payments made via our website.
Promotions at other shopping platforms (Carousell, Lazada, Shopee, Amazon) is only applicable for orders/payments made via our shops within those shopping platforms.