Product Summary
Ear concerns are one of the top five reasons pets and their owners visit their veterinarian. However, many of these visits could be avoided, saving you time and money, and your dog or cat of its pain and trauma.
Help your pet maintain clean, healthy ears simply by including ear cleaning in your regular pet care at home. It is surprisingly easy to do.
Dr Mercola's USDA Certified Organic Ear Wash for Cats & Dogs contains the following six natural herbal extracts and oils that soften and assist with the removal of accumulated debris and wax in the ear canal which can be a breeding ground for ear issues:
Organic Witch Hazel Extract (Hamamelis virginiana) – With its gentle astringent properties, it naturally helps to dissolve and remove wax and debris. It is safe and gentle on delicate ear canal tissue and won't irritate sensitive or tender ears.
Organic Calendula Flower Oil (Calendula officinalis) – A "go-to" oil for redness and irritated tissue, this botanical is very calming. Together with the other two oils in the formula, it helps soften and remove hardened and crusty, accumulated wax in the ear canal.
Organic Mullein Leaf Oil (Verbascum thapsus) – Historically used to help maintain ear health, this gentle oil is soothing in the ear canal as it works with Calendula and Niaouli Oils to soften and remove accumulated wax and debris.
Organic Niaouli Oil (Melaleuca quinquenervia cineolifera) – A safe, effective alternative to tea tree oil, this comforting oil is high in antioxidant properties to support the integrity of the ear canal.
Organic Aloe Vera Leaf Powder (Aloe barbadensis) – Included as a carrier, aloe is soothing and gentle on ear tissue.
Organic Chamomile Flower Extract (Matricaria) (Chamomilla recutita) – This calming flower extract promotes an already normal inflammatory response in tissue.
Dr Mercola's Organic Ear Wash contains no tea tree oil that can be hazardous to kitties. It also contains no antibiotics or harsh chemicals, making it non-irritating, non-drying and suitable for daily use; perfect for maintaining clean and healthy ears.
Help your pet maintain optimal ear health with the proven-effective ingredients in Dr Mercola's Organic Ear Wash for Cats & Dogs, and order your supply today.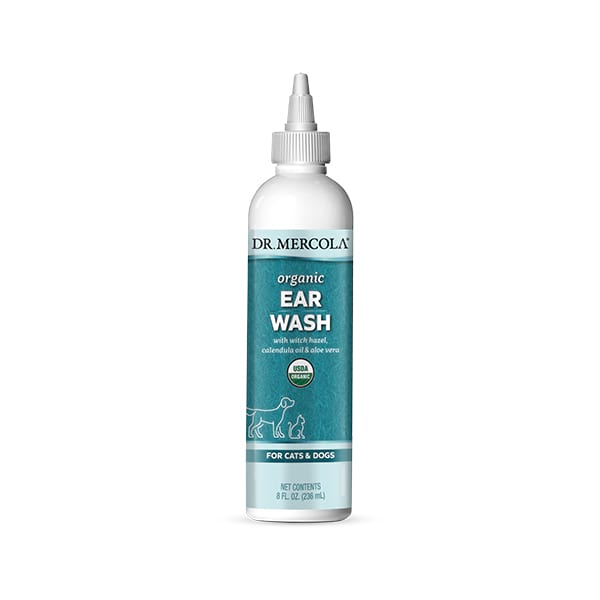 Product Video
Product Complete Label with Usage Directions


Note
To avoid damaging your pet's eardrums, use only cotton balls, cotton rounds and gauze to clean inside the ear canal.
Product FAQ
Q : My veterinarian has prescribed an ear medication for my pet. Can I use Organic Ear Wash with the medication?
A : Yes, you can use Organic Ear Wash to help remove wax and debris, and keep your pet's ears clean while using a medication prescribed by your veterinarian (unless your pet's eardrums are ruptured).
Q : How often can I use Organic Ear Wash to clean my pet's ears?
A : Organic Ear Wash is very gentle and non-drying, so you can use it as often as necessary to keep your pet's ears clean – even daily if needed.
Q : There's a possibility my pet may have a ruptured ear drum. Can I use Organic Ear Wash?
A : No, a ruptured ear drum is a serious condition that must be treated by your veterinarian. Do not use this product or any ear cleaning product if you suspect your pet may have a ruptured ear drum. Seek professional help immediately.
Q : Does Organic Ear Wash contain tea tree oil, which is not recommended for use with cats?
A : No, our formula does not contain any tea tree oil. All of the ingredients in Organic Ear Wash are safe for kitties.
JJ E-Homez Holistic Pet Return Policy
Generally, all our products are strictly non-refundable nor exchangeable.
However, in the event you received an incorrect or defective item, or any other valid reason that you can't enjoy your purchase, we will provide a refund or an exchange, case by case basis.
All we ask is that when the item is returned, it should meet the following requirements:
Reach out to us to arrange an appointment to drop off your item at 216A Boon Lay Ave.
Item returned should be in their original & sealed packaging. Broken seals will not be accepted, unless there's a valid reason, based on case by case basis.
Please ensure at least 6 months of shelf life if it's a perishable item.
Send us your order confirmation email for refund verification.
Items not eligible for returns:
Food related, wearables, beds and carriers due to food safety & hygiene reasons.
Items that are purchased from promotional pricing from all of our sales channels.
Customers who had a history of returning more than 3 items.
When we receive the refunded/exchange item, we will review the condition of the item, and reach out to you to confirm and issue a refund/exchange within 7 working days. We regret that customers who decline to respect our policy will be ineligible for exchange, returns and refunds.
Do also note that if we find that a product has been intentionally damaged or tampered with, refunds will not be offered.
As generally, returns are not allowed otherwise, please check your order (e.g. type, size, colour, quantity, etc) before checking out. If you need help with any product, chat with us or please send us an email to jjehomez@gmail.com
Pre-order Items T&C
Please note of the following terms & conditions on all our Pre-order items :
Full payment is required for all Pre-order items.
Expect Pre-order items to be delivered between 3 to 15 working days (depending on which item) starting from your order date.
We will connect via WhatsApp or Email should there be any updates or concerns regarding your order.
Promotions
Website promotion for year 2023
Free Delivery for : orders above $38
*Terms & Conditions:
Website promotion is only applicable for orders/payments made via our website.
Promotions at other shopping platforms (Carousell, Lazada, Shopee, Amazon) is only applicable for orders/payments made via our shops within those shopping platforms.