Product Summary
Neglecting your pet's oral care can result in more than just stinky breath and sore, inflamed gums. Like with your own dental health, inadequate care of your pet's mouth can lead to painful tooth and bone loss and negative effects on his heart, kidneys, liver and lungs.
Organic Dental Gel for Cats & Dogs contains three plant extracts that can help clean your pet's teeth, freshen breath and promote clean, healthy gums. All three active ingredients are plant based, natural, and safe for both cats and dogs.
Using Organic Dental Gel with a toothbrush will yield the fastest results, but with less cooperative pets, you can also smear the gel over her teeth and gums, or place the gel on her lips or paw for her to lick off. The more she licks, the more it will mix with her saliva and coat her teeth and gums.
Order Organic Dental Gel for Cats & Dogs today, and Take Control of Your Pet's Health®.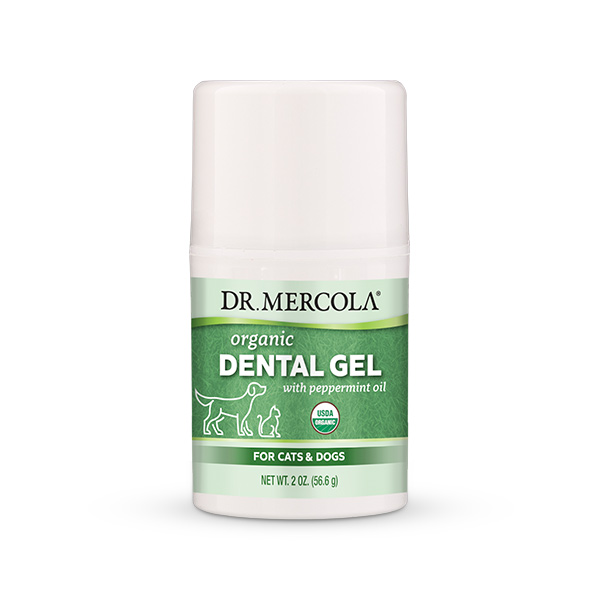 Product Video
Product Complete Label with Usage Directions

Note
If your pet is sensitive to essential oils, please consult your veterinarian prior to use/application.
Product FAQ
Q : Organic Dental Gel contains grain alcohol. Is that safe for my pet?
A : Grain alcohol is a food-grade alcohol and is used in many products for humans and pets as a natural preservative. Because it is present in such a small quantity in our Organic Dental Gel, it is safe for dogs and cats when used as directed.
Q : How much Organic Dental Gel should I use on my pet's teeth?
A : To help clean very dirty teeth, apply one or two times daily after meals for the first four weeks. After that, apply two to three times per week (may still be used daily), preferably before bedtime.
For fastest results, apply gel directly to teeth and gum line. Withhold food and water for at least 30 minutes after applying so the gel can mix with saliva and coat teeth and gums. Use the following amounts:
Cats (2+ lbs.) 1/16 tsp.
Toy Breed Dogs (up to 14 lbs.) 1/8 tsp.
Small Breed Dogs (15-29 lbs.) 1/4 tsp.
Medium Dogs (30-49 lbs.) 1/2 tsp.
Large Dogs (50-79 lbs.) 3/4 tsp.
Giant Breed Dogs (over 80 lbs.) 1 tsp.
These are general guidelines. You may want to adjust frequency of application to suit your pet's unique needs and factors, such as age, breed and cleanliness of teeth.
Q : My pet won't allow me to apply the gel to the inside of her mouth. Does it need to be applied directly to the teeth and gums to be effective?
A : The good news is no. You can simply apply the gel on the outside of your pet's lips, her upper muzzle near her whiskers, or even a cat's paw or front forearm, and she will naturally want to lick it off. The more she licks, the better the gel will coat all of her teeth and gums.
For dogs, try offering a bit of peanut butter with the tooth gel squeezed on top.
Follow the directions above to get your pet comfortable with you touching her mouth. Then, try applying the gel to your fingertip and work it through her mouth, coating the teeth and gums. Next, move to using a piece of gauze wrapped around your finger, and finally a pet finger brush to provide more mechanical abrasion.
Q : Do i need to use a toothbrush with Organic Dental Gel for Cats & Dogs to receive benefits?
A : You will still receive benefits without using a toothbrush. With some geriatric pets with poor dental health, you may not be able to use a toothbrush due to the conditions of their teeth and gums.
However brushing can help speed up the cleaning of your dog's or cat's mouth. Use a finger brush, a soft toothbrush for pets or a simple piece of gauze, and rub your pet's teeth and gums.
Q : I haven't routinely brushed my middle-aged pet's teeth, and they are quite dirty. Is it too late to start using the Dentel Gel now?
A : You're not alone when you ask this question, as many pet parents are in the same situation. The important point here is the awareness of the issue and positive action to start cleaning now. Organic Dental Gel may give your pet perfectly clean teeth, but you will be helping to keep them cleaner than they would be without use of the product.
JJ E-Homez Holistic Pet Return Policy
Generally, all our products are strictly non-refundable nor exchangeable.
However, in the event you received an incorrect or defective item, or any other valid reason that you can't enjoy your purchase, we will provide a refund or an exchange, case by case basis.
All we ask is that when the item is returned, it should meet the following requirements:
Reach out to us to arrange an appointment to drop off your item at 216A Boon Lay Ave.
Item returned should be in their original & sealed packaging. Broken seals will not be accepted, unless there's a valid reason, based on case by case basis.
Please ensure at least 6 months of shelf life if it's a perishable item.
Send us your order confirmation email for refund verification.
Items not eligible for returns:
Food related, wearables, beds and carriers due to food safety & hygiene reasons.
Items that are purchased from promotional pricing from all of our sales channels.
Customers who had a history of returning more than 3 items.
When we receive the refunded/exchange item, we will review the condition of the item, and reach out to you to confirm and issue a refund/exchange within 7 working days. We regret that customers who decline to respect our policy will be ineligible for exchange, returns and refunds.
Do also note that if we find that a product has been intentionally damaged or tampered with, refunds will not be offered.
As generally, returns are not allowed otherwise, please check your order (e.g. type, size, colour, quantity, etc) before checking out. If you need help with any product, chat with us or please send us an email to jjehomez@gmail.com
Pre-order Items T&C
Please note of the following terms & conditions on all our Pre-order items :
Full payment is required for all Pre-order items.
Expect Pre-order items to be delivered between 3 to 15 working days (depending on which item) starting from your order date.
We will connect via WhatsApp or Email should there be any updates or concerns regarding your order.
Promotions
Website promotion for year 2022
Free Delivery for : orders above $38
*Terms & Conditions:
Website promotion is only applicable for orders/payments made via our website.
Promotions at other shopping platforms (Carousell, Lazada, Shopee, Amazon or Qoo10) is only applicable for orders/payments made via our shops within those shopping platforms.