Product Summary
Collagen is the most plentiful protein in your pet's body – it makes up as much as 30% of his or her body's total proteins and 70 to 80% of the protein in the skin. Found in the connective tissue throughout the body, collagen provides the structural scaffolding for tissues to maintain their integrity and flexibility.
Collagen supports the integrity of your pet's muscles, bones, tendons, ligaments, blood vessels, digestive tract and skin. It plays an essential role in many functions:
Supports digestion by increasing stomach acid and attracting and holding liquids, including digestive juices in your pet's gut
Helps restore and maintain gut health, as well as support immune function
Supports normal detoxification processes as a precursor amino acid for glutathione
Supports healthy muscles and energy production during exercise by forming creatine along with two other amino acids
Supports the genetic building blocks, DNA and RNA, for healthy cells
Supports your pet's normal healthy inflammatory response
As vital as collagen may be to your cat's or dog's well-being, her body's capacity to produce it declines as she ages.
Lost collagen can be replaced, however. The sooner you begin supplying your pet with the building blocks his body needs, the more likely you can help support healthy, comfortable movement and all of collagen's other potential benefits.
Our USDA Certified Organic Collagen Powder is unique for several reasons :
Sourced from Organic Grass Fed Beef Bone Concentrate and not a by-product of the leather industry.
USDA Certified Organic so you know exactly what you're getting.
Third-party tested for heavy metals so you can serve it to your pet with confidence.
Not processed with metal salts as it's a minimally processed "complete" source of collagen.
Created especially for cats and dogs so it's free of additives, flavorings added sugar, onion, spices, and MSG.
Very palatable thanks to a dash of Himalayan salt, making it a great option for increasing your pet's fluid intake.
Simply boiled and dried, our Organic Collagen Powder for Cats & Dogs is the closest thing possible to slowly-simmered beef bone broth – only without the hard work and long wait. Just mix with water and it's ready to offer to your pet.
Help your pet stay in peak condition as he or she ages, and order Organic Collagen Powder for Cats & Dogs today.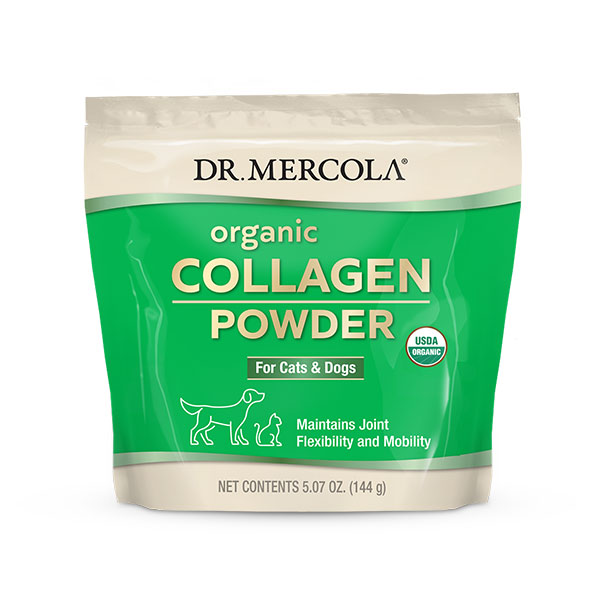 Product Video
Product Complete Label with Usage Directions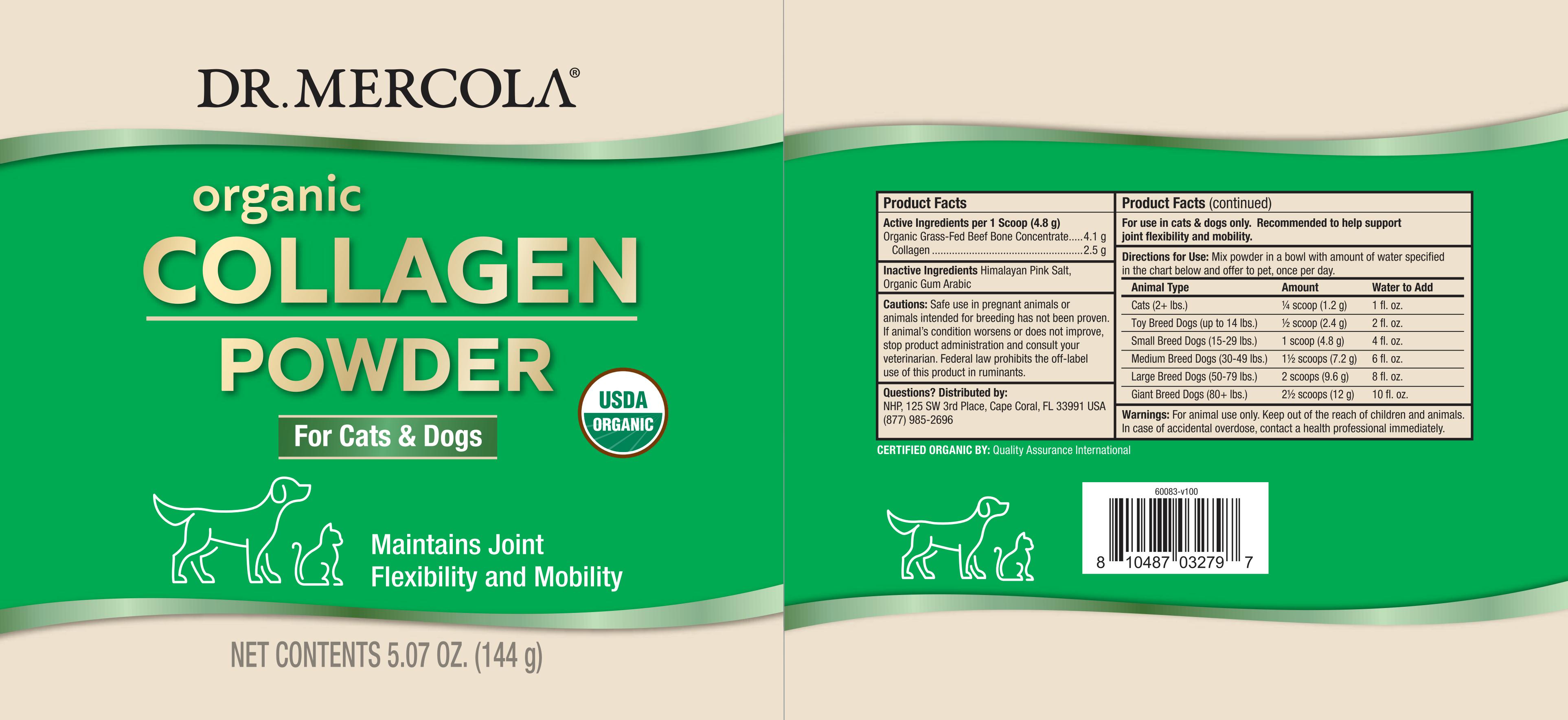 Product FAQ
Q : I give my pet Joint Support for Pets for his mobility and joint comfort. Should I add Organic Collagen for Cats and Dogs to his regimen?
A : The glycosaminoglycans (GAGs) in Joint Support include naturally-occurring glucosamine and chondroitin which work to regulate the synthesis of collagen in cartilage.

While Joint Support for Pets contains 175 mg of Organic Beef Bone Concentrate (providing 100 mg collagen), one scoop of Organic Collagen Powder for Cats & Dogs contains 4.1 grams of Organic Beef Bone Concentrate, which provides 2.5 grams of collagen, an abundant supply for supporting your pet's gut and immune health, joints, bones and more.

Joint Support also contains other ingredients and co-factors to support healthy flexibility. Working together, both products provide optimal support for your pet's mobility, flexibility, and range of motion.
Q : Can I replace my pet's water with reconstituted Organic Collagen Powder?
A : No. Pets must have access to fresh, pure water at all times. However, you can offer a second bowl of broth beside your pet's water bowl.


Q : Can I make "bone broth ice cubes" from Organic Collagen Powder?
A : Yes. If your dog safely enjoys regular ice cubes, "bone broth ice cubes" can be a fun and easy way to administer Organic Collage Powder for Cats & Dogs.
Q : What are some other ways I can serve Organic Collagen Powder to my pet?
A : Organic Collagen Powder can be reconstituted with water and used to rehydrate or add extra flavor to other items you offer to your pet. It can be offered warm and used to help soften up harder items that may be difficult for some pets to chew, such as a geriatric pet or pet with sensitive teeth. While a reconstituted consistency may be preferable for some pets, it is not necessary, as Organic Collagen Powder can be served completely dry.
Our Organic Collagen Powder for Cats & Dogs can also be put into a syringe and lapped up. This technique can be especially useful for pets who refuse their supplements when offered in other ways. Never shoot liquid into your pet's mouth. Rather, drip it slowly and ensure they are voluntarily swallowing before offering more.
JJ E-Homez Return Policy
Generally, all our products are strictly non-refundable nor exchangeable.
However, in the event you received an incorrect or defective item, or any other valid reason that you can't enjoy your purchase, we will provide a refund or an exchange, case by case basis.
All we ask is that when the item is returned, it should meet the following requirements:
Reach out to us to arrange an appointment to drop off your item at 216A Boon Lay Ave.
Item returned should be in their original & sealed packaging. Broken seals will not be accepted, unless there's a valid reason, based on case by case basis.
Please ensure at least 6 months of shelf life if it's a perishable item.
Send us your order confirmation email for refund verification.
Items not eligible for returns:
Food related, wearables, beds and carriers due to food safety & hygiene reasons.
Items that are purchased from promotional pricing from all of our sales channels.
Customers who had a history of returning more than 3 items.
When we receive the refunded/exchange item, we will review the condition of the item, and reach out to you to confirm and issue a refund/exchange within 7 working days. We regret that customers who decline to respect our policy will be ineligible for exchange, returns and refunds.
Do also note that if we find that a product has been intentionally damaged or tampered with, refunds will not be offered.
As generally, returns are not allowed otherwise, please check your order (e.g. type, size, colour, quantity, etc) before checking out. If you need help with any product, chat with us or please send us an email to [email protected]
Pre-order Items T&C
Please note of the following terms & conditions on all our Pre-order items :
Full payment is required for all Pre-order items.
Expect Pre-order items to be delivered between 3 to 15 working days (depending on which item) starting from your order date.
We will connect via WhatsApp or Email should there be any updates or concerns regarding your order.
Promotions
Website promotion for year 2021
Free Delivery for : orders above $38
*Terms & Conditions:
Website promotion is only applicable for orders/payments made via our website.
Promotions at other shopping platforms (Carousell, Lazada, Shopee, Amazon or Qoo10) is only applicable for orders/payments made via our shops within those shopping platforms.