Product Summary
Manufacturers use more than 82,000 different ingredients today to formulate household cleaning products and personal care products, and most of them have not been tested for safety.
Shockingly, one out of five adults are potentially exposed every day to all of the top seven carcinogens found in personal care products: hydroquinone, ethylene dioxide, 1,4-dioxane, formaldehyde, nitrosamines, PAHs and acrylamide.
Replacing your potentially hazardous household cleaning and personal care products with our botanical-based Organic Castile Wash could help you and your family avoid the adverse effects of toxic ingredients and airborne pollutants found in many of today's popular products, including so called "green" ones.
Incredibly versatile, Organic Castile Wash is a natural, biodegradable and chemical-free concentrated multi purpose liquid soap that can be used for personal care, laundry, dishes and for general cleaning around your home. It is so gentle, it could even be used to shampoo the family pet.
Our scientifically designed Organic Castile Wash is simply made with USDA Certified Organic oils, like coconut, sunflower and sesame seed, aloe vera juice and 100% pure peppermint essential oil for a natural clean scent.
Organic Castile Wash is highly concentrated, so you only need to use a small amount for most uses, including bathing, shaving and even brushing your teeth. It is highly recommended to mix the product with distilled water for a general household cleaner or convenient hand soap.
Simplify and detoxify your life and order Organic Castile Wash today for a naturally clean body and home.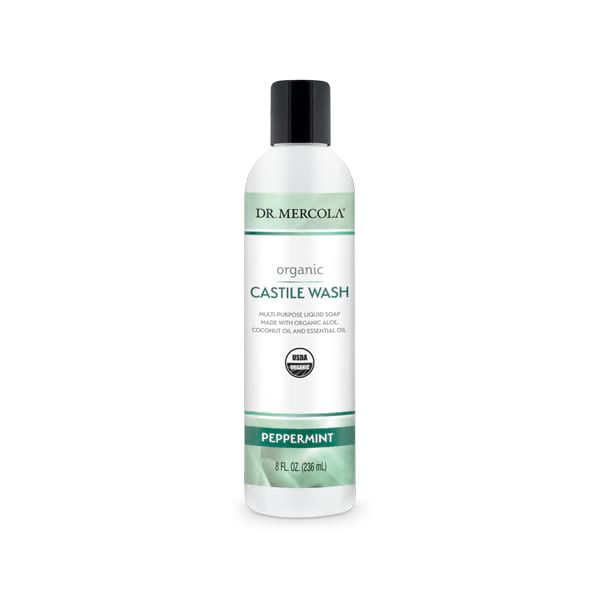 Product Complete Label with Usage Directions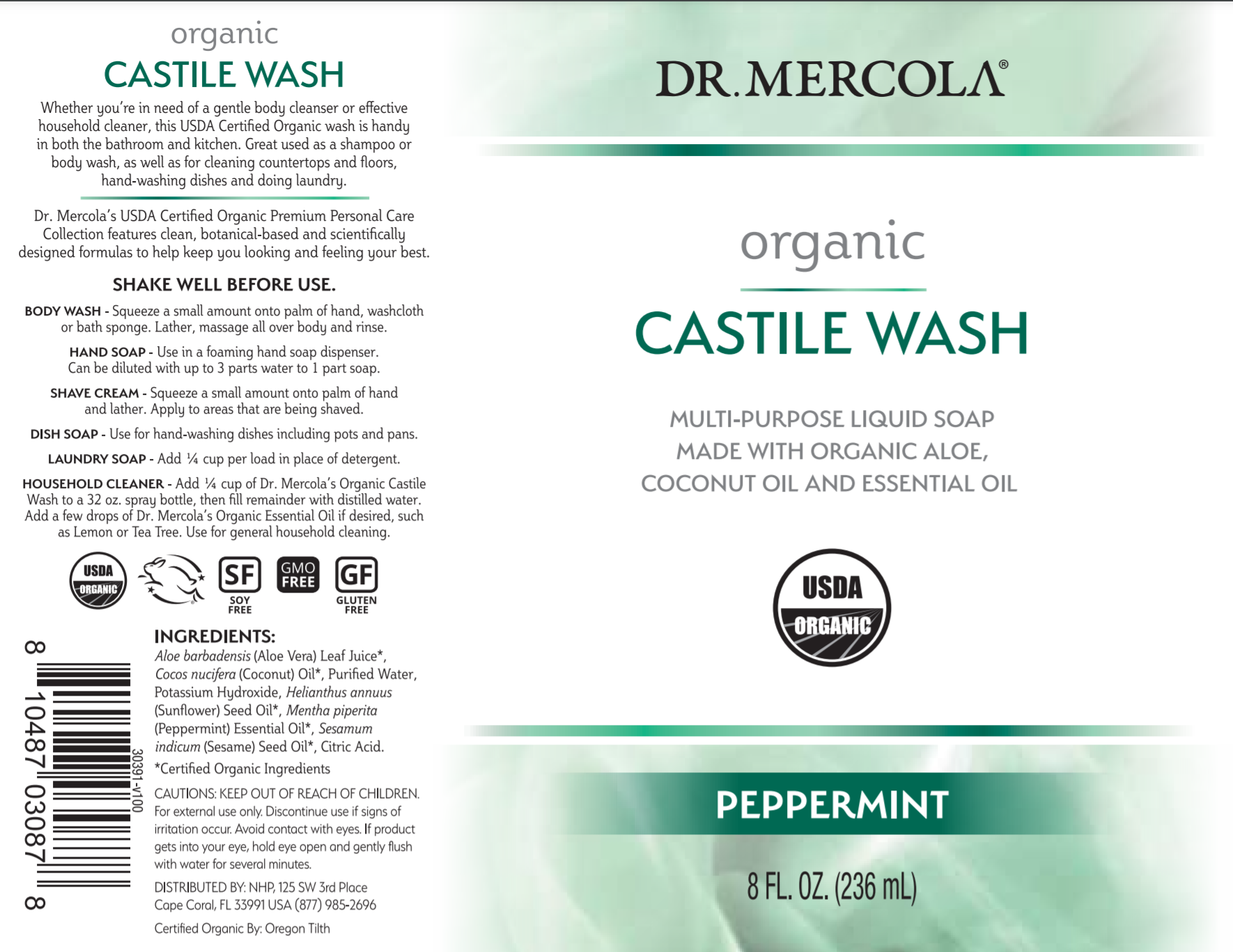 Product FAQ
Q : Can I use Organic Castile Wash on color-treated hair?
A : We don't recommend using any castile wash on color-treated hair, as it may strip the color from hair follicles.
Q : Can I mix Organic Castile Wash with other substances, like vinegar or lemon juice, for cleaning?
A: Castile soap is a base, pH-speaking, so if you mix it with an acid like lemon juice or vinegar, you can end up with a curdled solution that can leave behind a film. However, when using our Organic Castile Wash as a shampoo, after rinsing, you can follow up with an acidic rinse of lemon juice or diluted apple cider vinegar.
Because our natural peppermint-scented Organic Castile Wash is concentrated, we recommend mixing it with distilled water for general cleaning. If you have hard water with an abundance of natural minerals, avoid mixing Castile Wash with your tap water, as it may leave a white film residue when used to clean surfaces.
JJ E-Homez Holistic Pet Return Policy
Generally, all our products are strictly non-refundable nor exchangeable.
However, in the event you received an incorrect or defective item, or any other valid reason that you can't enjoy your purchase, we will provide a refund or an exchange, case by case basis.
All we ask is that when the item is returned, it should meet the following requirements:
Reach out to us to arrange an appointment to drop off your item at 216A Boon Lay Ave.
Item returned should be in their original & sealed packaging. Broken seals will not be accepted, unless there's a valid reason, based on case by case basis.
Please ensure at least 6 months of shelf life if it's a perishable item.
Send us your order confirmation email for refund verification.
Items not eligible for returns:
Food related, wearables, beds and carriers due to food safety & hygiene reasons.
Items that are purchased from promotional pricing from all of our sales channels.
Customers who had a history of returning more than 3 items.
When we receive the refunded/exchange item, we will review the condition of the item, and reach out to you to confirm and issue a refund/exchange within 7 working days. We regret that customers who decline to respect our policy will be ineligible for exchange, returns and refunds.
Do also note that if we find that a product has been intentionally damaged or tampered with, refunds will not be offered.
As generally, returns are not allowed otherwise, please check your order (e.g. type, size, colour, quantity, etc) before checking out. If you need help with any product, chat with us or please send us an email to jjehomez@gmail.com
Pre-order Items T&C
Please note of the following terms & conditions on all our Pre-order items :
Full payment is required for all Pre-order items.
Expect Pre-order items to be delivered between 3 to 15 working days (depending on which item) starting from your order date.
We will connect via WhatsApp or Email should there be any updates or concerns regarding your order.
Promotions
Website promotion for year 2022
Free Delivery for : orders above $38
*Terms & Conditions:
Website promotion is only applicable for orders/payments made via our website.
Promotions at other shopping platforms (Carousell, Lazada, Shopee, Amazon or Qoo10) is only applicable for orders/payments made via our shops within those shopping platforms.