Product Summary
Your pet comes into contact with environmental toxins whether it spends its time indoors or outdoors.
Indoor contaminants include volatile organic compounds (VOCs) and other toxic chemicals from household furnishings, cleaning and personal care products. Outdoor pollutants and contaminants can be present in the air, dirt and grass. Even rain water has been found to contain measurable amounts of glyphosate from the agricultural herbicide Roundup®.
Dr Mercola's Healthy Pets's Liver and Kidney Support for Cats and Dogs was formulated to help maintain your pet's healthy liver and kidney function, and to support its normal detoxification processes. It includes a full array of 13 ingredients to support liver and kidney health:
Japanese Knotweed (providing 15 mg of Resveratrol)
Milk Thistle (Seed) Extract
Organic Chlorella
Curcumin Phytosome Complex
Organic Dandelion (Leaf)
Glycine
N-Acetyl L-Cysteine (NAC)
Phosphatidylcholine (from Sunflower Lecithin)
Superoxide Dismutase (SOD)
Taurine
Schisandra (Fruit) Extract
Organic Green Tea (Leaf) Extract (decaffeinated)
L-Glutathione
Liver and Kidney Support for Cats and Dogs is recommended for daily use or as needed, depending upon your pet's exposure and overall vitality. Animals with stressed organs from either normal genetic predispositions or age related changes may benefit from daily use.
Here are Dr Mercola's Healthy Pets's general suggestions for use to support your pet's normal detoxification process:
If your pet has seasonal exposure to toxins, such as swimming in chlorinated pools or walking in areas that have been sprayed, use as needed.
If your pet experiences regular exposure to pollutants or chemicals indoors or outdoors, such as household cleaners, air fresheners or household sprays, use regularly.
If you apply chemical lawn fertilizers, herbicides or pesticides in or around your home or yard, use regularly.
Liver and Kidney Support could be used as a daily maintenance product for life-long support or periodically for short term exposures. Your pet's well-being depends upon healthy liver and kidney function.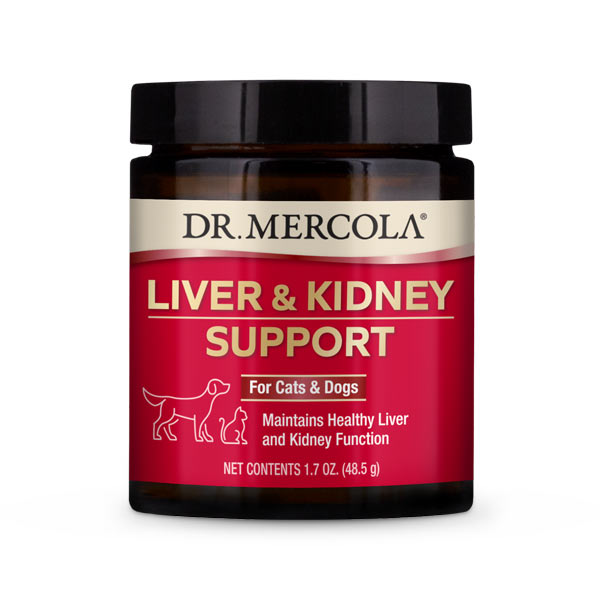 Product Video
Product Complete Label with Usage Directions

Product FAQ
Q : I feed my pet SpiruGreen. I see Liver and Kidney Support contains Chlorella, so should I stop the SpiruGreen?
A : No. Chlorella is one of fourteen ingredients in Liver and Kidney Support. SpiruGreen offers many benefits that Liver and Kidney Support doesn't.
Q : Can I overuse Liver and Kidney Support?
A : If you happen to use Liver and Kidney Support more often than your pet may need, there is no danger of "overdosing." Liver and Kidney Support is without negative side effects and does not leach healthful minerals from your pet's body.
Q : How much Liver and Kidney Support should I give my pet?
A : These are the serving sizes I recommend for Liver and Kidney Support. For appropriate dosage, use the fill line molded into the scoop rather than filling a level scoop:
Cats (2+ lbs.) – ½ scoop daily
Toy Breed Dogs (up to 14 lbs.) – 1 scoop daily
Small Breed Dogs (15 to 29 lbs.) – 1 ½ scoops daily
Medium Breed Dogs (30 to 49 lbs.) – 2 scoops daily
Large Breed Dogs (50 to 79 lbs.) – 3 scoops daily
Giant Breed Dogs (80+ lbs.) – 4 scoops daily
No loading dose is needed with Liver and Kidney Support.
Q : I see that there is soy in this product. Should I be concerned about allergies?
A : No. The phosphatidylcholine used in the Liver and Kidney Support is derived from non-GMO soy lecithin. The lecithin does not contain isolated soy proteins so it is not considered allergenic.
JJ E-Homez Holistic Pet Return Policy
Generally, all our products are strictly non-refundable nor exchangeable.
However, in the event you received an incorrect or defective item, or any other valid reason that you can't enjoy your purchase, we will provide a refund or an exchange, case by case basis.
All we ask is that when the item is returned, it should meet the following requirements:
Reach out to us to arrange an appointment to drop off your item at 216A Boon Lay Ave.
Item returned should be in their original & sealed packaging. Broken seals will not be accepted, unless there's a valid reason, based on case by case basis.
Please ensure at least 6 months of shelf life if it's a perishable item.
Send us your order confirmation email for refund verification.
Items not eligible for returns:
Food related, wearables, beds and carriers due to food safety & hygiene reasons.
Items that are purchased from promotional pricing from all of our sales channels.
Customers who had a history of returning more than 3 items.
When we receive the refunded/exchange item, we will review the condition of the item, and reach out to you to confirm and issue a refund/exchange within 7 working days. We regret that customers who decline to respect our policy will be ineligible for exchange, returns and refunds.
Do also note that if we find that a product has been intentionally damaged or tampered with, refunds will not be offered.
As generally, returns are not allowed otherwise, please check your order (e.g. type, size, colour, quantity, etc) before checking out. If you need help with any product, chat with us or please send us an email to jjehomez@gmail.com
Pre-order Items T&C
Please note of the following terms & conditions on all our Pre-order items :
Full payment is required for all Pre-order items.
Expect Pre-order items to be delivered between 3 to 15 working days (depending on which item) starting from your order date.
We will connect via WhatsApp or Email should there be any updates or concerns regarding your order.
Promotions
Website promotion for year 2022
Free Delivery for : orders above $38
*Terms & Conditions:
Website promotion is only applicable for orders/payments made via our website.
Promotions at other shopping platforms (Carousell, Lazada, Shopee, Amazon or Qoo10) is only applicable for orders/payments made via our shops within those shopping platforms.