Product Summary
If you feed your dog or cat a commercially processed diet, there is a good chance she may have a fatty acid deficiency or imbalance. The outer signs of an omega-3 deficiency are easy to spot, like itchy, dry skin or a greasy hair or coat. That aside, these fatty acids are crucial for your pet's immune system, too. Commercial diets tend to be heavy in omega-6 fats because of the use of cheap cereal grain animal feeds, which could offset your pet's delicate balance of omega-3s. Omega-3 fatty acids are heat-sensitive, which is why they are not typically found in kibble or canned food. Even if pet food manufacturers add them, they tend to not use the right ones. Marine oils are a good source of omega-3s for dogs and cats.
Krill Oil is rich in omega-3 fatty acids, especially the important ones, namely DHA and EPA. Dr Mercola Healthy Pets's Krill Oil for Cats & Dogs stands apart from other omega-3 supplements for several reasons. Compared to fish oil, krill:
Has a very high absorption rate, so your pet requires a smaller dose.
Contains more EPA – about 33% more than fish oil.
Delivers its abundant EPA and DHA as phospholipids directly into your pet's cells.
Provides natural antioxidant protection to help guard against oxidation.
Is a thriving, sustainable product.
In fact, the fishery that supplies the krill for Dr Mercola Healthy Pets's Krill Oil for Cats & Dogs was awarded an "A" rating for sustainability and management strategy – the only one among 24 fisheries to receive a top score! The fishery uses patent pending technology that helps avoid unwanted by-catch, and the krill are kept alive until processing to maintain freshness and nutrients. You can even trace Krill Oil for Cats & Dogs back to its sustainable place of harvest using the coordinates on each bottle.
There are no messy, oily capsules to deal with Dr Mercola Healthy Pets's Krill Oil for Cats & Dogs. Packed in an airless pump, this advanced delivery system locks freshness in and keeps air and contaminants out. The oil stays fresh until the last drop is used. With a higher concentrated formula, not only is there a higher concentration of Krill Oil per pump, less is also required.
Product Video
Product Complete Label with Usage Directions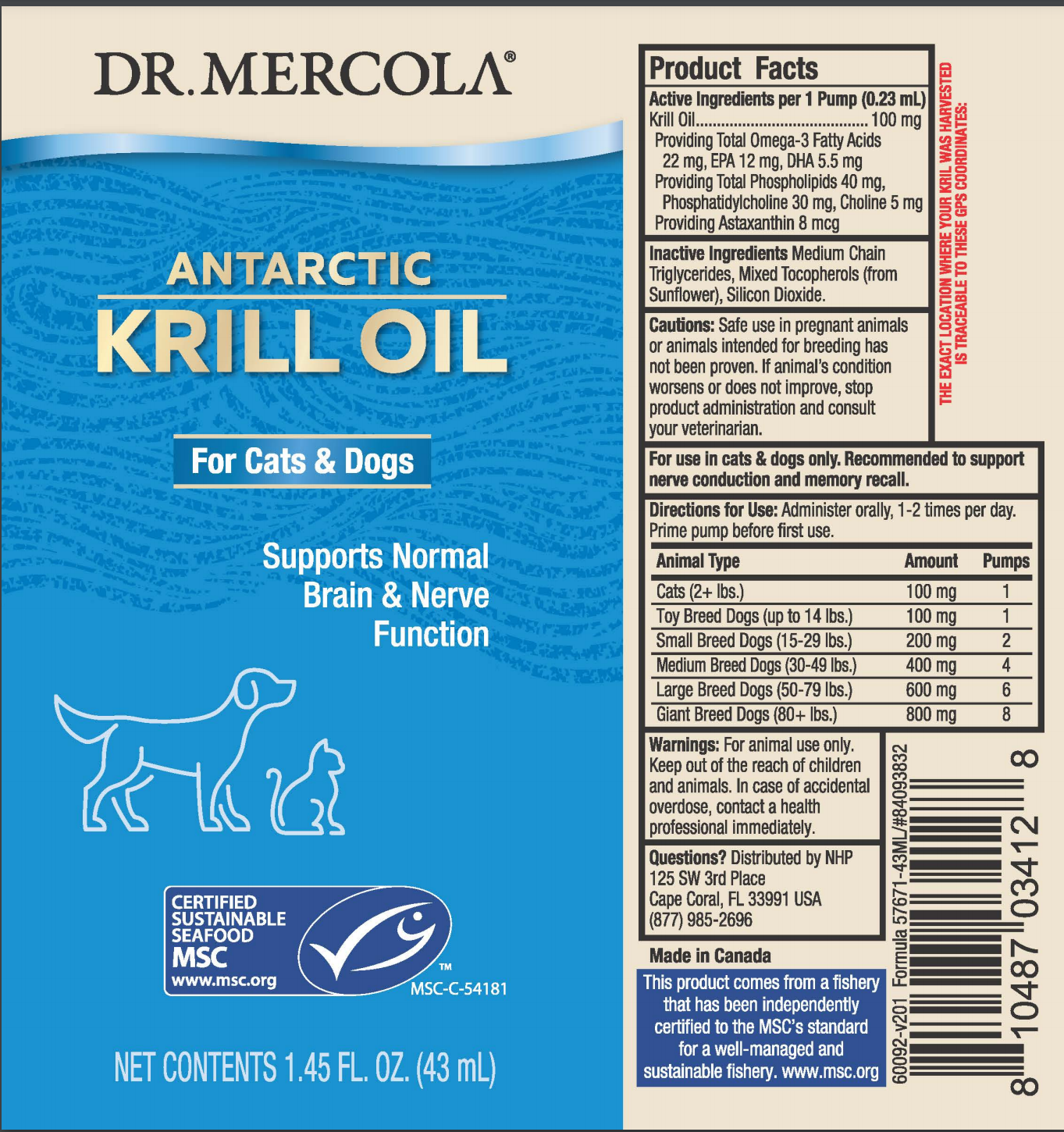 JJ E-Homez Holistic Pet Return Policy
Generally, all our products are strictly non-refundable nor exchangeable.
However, in the event you received an incorrect or defective item, or any other valid reason that you can't enjoy your purchase, we will provide a refund or an exchange, case by case basis.
All we ask is that when the item is returned, it should meet the following requirements:
Reach out to us to arrange an appointment to drop off your item at 216A Boon Lay Ave.
Item returned should be in their original & sealed packaging. Broken seals will not be accepted, unless there's a valid reason, based on case by case basis.
Please ensure at least 6 months of shelf life if it's a perishable item.
Send us your order confirmation email for refund verification.
Items not eligible for returns:
Food related, wearables, beds and carriers due to food safety & hygiene reasons.
Items that are purchased from promotional pricing from all of our sales channels.
Customers who had a history of returning more than 3 items.
When we receive the refunded/exchange item, we will review the condition of the item, and reach out to you to confirm and issue a refund/exchange within 7 working days. We regret that customers who decline to respect our policy will be ineligible for exchange, returns and refunds.
Do also note that if we find that a product has been intentionally damaged or tampered with, refunds will not be offered.
As generally, returns are not allowed otherwise, please check your order (e.g. type, size, colour, quantity, etc) before checking out. If you need help with any product, chat with us or please send us an email to jjehomez@gmail.com
Pre-order Items T&C
Please note of the following terms & conditions on all our Pre-order items :
Full payment is required for all Pre-order items.
Expect Pre-order items to be delivered between 3 to 15 working days (depending on which item) starting from your order date.
We will connect via WhatsApp or Email should there be any updates or concerns regarding your order.
Promotions
Website promotion for year 2022
Free Delivery for : orders above $38
*Terms & Conditions:
Website promotion is only applicable for orders/payments made via our website.
Promotions at other shopping platforms (Carousell, Lazada, Shopee, Amazon or Qoo10) is only applicable for orders/payments made via our shops within those shopping platforms.