Product Summary
Research shows that one in five dogs, especially larger breed dogs, could use support for optimal hip and joint health throughout life, not just as they age.
With joint health being a major concern among many pet parents, Joint Support for Cats & Dogs was formulated exclusively to contain eight fast-acting joint health ingredients to benefit your furry friend in the many stages of his life, including:
Here's what you'll find in our fast-acting formula:
NEM® Eggshell Membrane supports the stability and flexibility of your pet's joints as well as your pet's skin health.
Collagen from Organic Beef Bone Broth offers Types I, II, and III collagen, providing support for cartilage tissue and bone health.
CMO (Cetyl Myristoleate) is a potent joint lubricant that helps ease joint discomfort from normal activity and supports healthy joints and flexibility.
Low Density Hyaluronic Acid is a special patented, more easily absorbed form of Hyaluronic Acid that acts as a lubricant to protect joints.
MSM (Methylsulfonylmethane) provides sulfur, which is a vital building block of your pet's joints, cartilage, nerve, skin, hair, and nails, plus methyl groups to support many vital biochemical processes in your pet's body.
Vitamin C is a powerful antioxidant to help reduce free radical production that's, gentle on your pet's stomach due to pH balanced.
BioPerine® Black Pepper is a patented extract obtained from black pepper fruits (Piper nigrum) standardized minimum to 95% Piperine to help your pet absorb the beneficial compounds in the formula.
Bromelain is a proteolytic enzyme from fresh pineapple that helps promote a normal immune response in humans and animals.
This unique formula goes beyond the traditional slow-acting glucosamine-chondroitin pet supplements that are commonly found on the market.
Provide your pet with the support she needs, even at a younger age, and order your supply of Joint Support for Cats & Dogs today.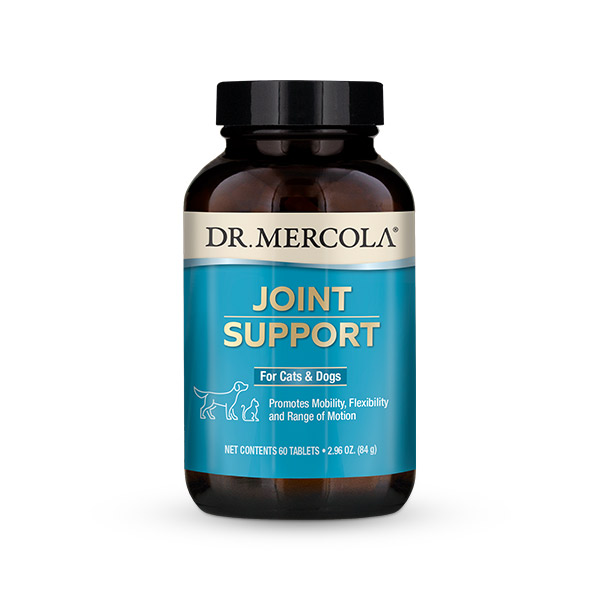 Product Video
Product Complete Label with Usage Directions

Product FAQ
Q : How much and how often should I give my pet Joint Support for Cats & Dogs?

A : Please refer to the label for exact instructions on how often and how much you should give your pet Joint Support for Cats & Dogs, as the dosage differs for cats and dogs of various sizes. The dosage is also different the first week than it will be during the "maintenance" phase.
Q : How soon after starting my pet on Joint Support for Cats & Dogs can I expect him to experience the benefits?

A : Although each pet is unique, and each will respond differently, our studies showed animals experienced changes in as little as one week.
Q : My pet has an allergy to eggs, can I give him Joint Support for Cats & Dogs?

A : We do not recommend giving this product to your pet if he has an allergy to eggs.
Q : Joint Support for Cats & Dogs contains bromelain. Should I continue to feed my pet supplemental digestive enzymes?

A : For optimal digestion, please continue your pet's digestive enzymes. Joint Support for Cats & Dogs contains the amount of enzymes needed to help your pet digest this product. It's not enough to help your pet digest her food, too.
Q : Should I stop giving my pet other medications while he's taking Joint Support for Cats & Dogs?

A : Your pet should continue taking any medications that have been prescribed by your veterinarian. Please don't discontinue any prescribed medications without your veterinarian's consent. Also, prior to giving Joint Support for Cats & Dogs to your pet, please confirm with your veterinarian that the product is safe to take with any medications your pet is currently taking.
JJ E-Homez Holistic Pet Return Policy
Generally, all our products are strictly non-refundable nor exchangeable.
However, in the event you received an incorrect or defective item, or any other valid reason that you can't enjoy your purchase, we will provide a refund or an exchange, case by case basis.
All we ask is that when the item is returned, it should meet the following requirements:
Reach out to us to arrange an appointment to drop off your item at 216A Boon Lay Ave.
Item returned should be in their original & sealed packaging. Broken seals will not be accepted, unless there's a valid reason, based on case by case basis.
Please ensure at least 6 months of shelf life if it's a perishable item.
Send us your order confirmation email for refund verification.
Items not eligible for returns:
Food related, wearables, beds and carriers due to food safety & hygiene reasons.
Items that are purchased from promotional pricing from all of our sales channels.
Customers who had a history of returning more than 3 items.
When we receive the refunded/exchange item, we will review the condition of the item, and reach out to you to confirm and issue a refund/exchange within 7 working days. We regret that customers who decline to respect our policy will be ineligible for exchange, returns and refunds.
Do also note that if we find that a product has been intentionally damaged or tampered with, refunds will not be offered.
As generally, returns are not allowed otherwise, please check your order (e.g. type, size, colour, quantity, etc) before checking out. If you need help with any product, chat with us or please send us an email to jjehomez@gmail.com
Pre-order Items T&C
Please note of the following terms & conditions on all our Pre-order items :
Full payment is required for all Pre-order items.
Expect Pre-order items to be delivered between 3 to 15 working days (depending on which item) starting from your order date.
We will connect via WhatsApp or Email should there be any updates or concerns regarding your order.
Promotions
Website promotion for year 2023
Free Delivery for : orders above $38
*Terms & Conditions:
Website promotion is only applicable for orders/payments made via our website.
Promotions at other shopping platforms (Carousell, Lazada, Shopee, Amazon) is only applicable for orders/payments made via our shops within those shopping platforms.