Product Summary
Now you can provide your pet with the cardiovascular support he or she may need with our Heart Health for Cats & Dogs. An ounce of prevention now has the potential to reap significant benefits later, when your pet could use it the most.
One proactive measure you can take is to provide your pet with human-grade antioxidants, amino acids and other beneficial plant compounds that might not be present in sufficient quantities in your pet's food.
Heart Health for Cats & Dogs contains 12 active ingredients in a pet-friendly organic cheddar cheese base to support cardiovascular health, including:
Rutin (from the flower bud of Sophora japonica)
Taurine
Glycine
Organic Hawthorn Berry Fruit
D-Ribose
Trimethylglycine (TMG)
L-Carnitine
Epigallocatechin Gallate (EGCG) (from Decaffeinated Green Tea Leaf Extract)
Pomegranate Fruit Extract
d'Alpha Tocopherol (Vitamin E from non-GMO sunflower)
Pine Bark Extract (from the phenol-rich bark of Pinus radiata)
Niacin
This unique formula was designed to support optimal heart health in these groups of cats and dogs:
High-risk breeds (start when your pet is still a kitten or puppy)
Athletic and hard-working pets
All cats and dogs over the age of 7
Any cat or dog with a heart health concern
Any cat or dog eating kibble (and semi-moist pouched food)
If your pet falls into one of these higher risk categories, now you can take action and provide the cardiovascular support your cat or dog may need. Order Heart Health for Cats & Dogs today.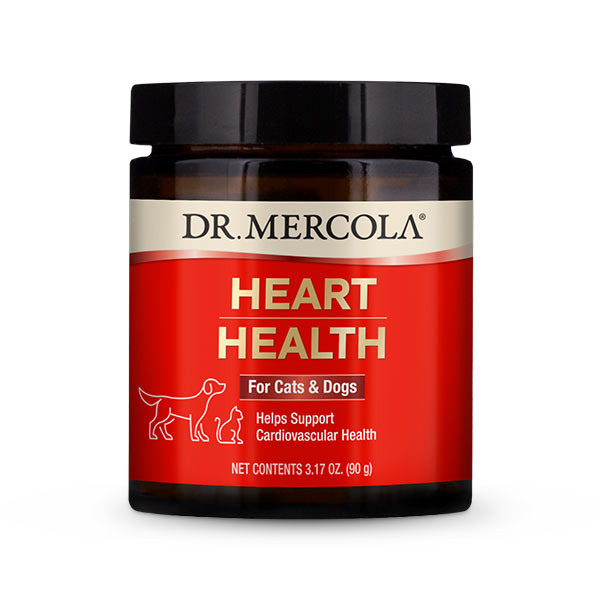 Product Video
Product Complete Label with Usage Directions

Product FAQ
Q : Do I need to use Heart Health along with Ubiquinol, or can I just give my pet Heart Health?
A : We recommend giving your cat or dog both products, as they each work differently, yet synergistically. Ubiquinol supports the heart's energy production and Heart Health provides heart muscle support. You will be addressing both aspects of cardiac support by using them together.
Q : Because Heart Health contains Organic Cheddar Cheese powder, can I feed it to my pet if he has a dairy allergy?
A : True dairy allergies are rare in cats and dogs, but if your pet is sensitive to dairy, avoid use.
JJ E-Homez Holistic Pet Return Policy
Generally, all our products are strictly non-refundable nor exchangeable.
However, in the event you received an incorrect or defective item, or any other valid reason that you can't enjoy your purchase, we will provide a refund or an exchange, case by case basis.
All we ask is that when the item is returned, it should meet the following requirements:
Reach out to us to arrange an appointment to drop off your item at 216A Boon Lay Ave.
Item returned should be in their original & sealed packaging. Broken seals will not be accepted, unless there's a valid reason, based on case by case basis.
Please ensure at least 6 months of shelf life if it's a perishable item.
Send us your order confirmation email for refund verification.
Items not eligible for returns:
Food related, wearables, beds and carriers due to food safety & hygiene reasons.
Items that are purchased from promotional pricing from all of our sales channels.
Customers who had a history of returning more than 3 items.
When we receive the refunded/exchange item, we will review the condition of the item, and reach out to you to confirm and issue a refund/exchange within 7 working days. We regret that customers who decline to respect our policy will be ineligible for exchange, returns and refunds.
Do also note that if we find that a product has been intentionally damaged or tampered with, refunds will not be offered.
As generally, returns are not allowed otherwise, please check your order (e.g. type, size, colour, quantity, etc) before checking out. If you need help with any product, chat with us or please send us an email to jjehomez@gmail.com
Pre-order Items T&C
Please note of the following terms & conditions on all our Pre-order items :
Full payment is required for all Pre-order items.
Expect Pre-order items to be delivered between 3 to 15 working days (depending on which item) starting from your order date.
We will connect via WhatsApp or Email should there be any updates or concerns regarding your order.
Promotions
Website promotion for year 2023
Free Delivery for : orders above $38
*Terms & Conditions:
Website promotion is only applicable for orders/payments made via our website.
Promotions at other shopping platforms (Carousell, Lazada, Shopee, Amazon) is only applicable for orders/payments made via our shops within those shopping platforms.