Product Summary
Does your pet eat mostly commercially processed food such as kibble or canned food? If so, there's a good chance she isn't receiving all the enzymes she may need. Even though your pet's body can make some of the enzymes needed to digest food, it relies on the naturally occurring enzymes in food to aid in optimal digestion.
When it comes to digestive enzyme supplements, it's a mistake to think that "one size fits all" or that one digestive enzyme product works for every type of pet food. The amount of carbohydrate, or sugar, in your pet's food determines what type of enzymes he needs. In other words, enzymes should match the diet.
For highly processed diets like kibble that are high in starches and carbohydrates, including rice, ancient grains, potatoes or legumes, your pet needs a specialized digestive enzyme formula that can handle the heavy carb load.
Digestive Enzymes for Cats & Dogs on Kibble Diets or Pets with Sensitive Stomachs contains nine human-grade enzymes from porcine pancreas as well as select fungal sources, plus Papain from papaya, Bromelain from pineapple and Betaine Hydrochloride for the optimal digestion of high-carbohydrate diets.
Why sensitive stomachs? Pancreatin, a pancreatic enzyme typically found in formulas designed for meat-based diets, can boost stomach acid and potentially irritate sensitive stomachs when the diet contains lower levels of protein. Digestive Enzyme for Cats & Dogs formulated for pets with sensitive stomachs contains lower levels of pancreatic enzymes.
Provide your pet with the right combination of enzymes to match his diet, and support his digestive function with Digestive Enzymes for Cats & Dogs on Kibble Diets or for Pets with Sensitive Stomachs.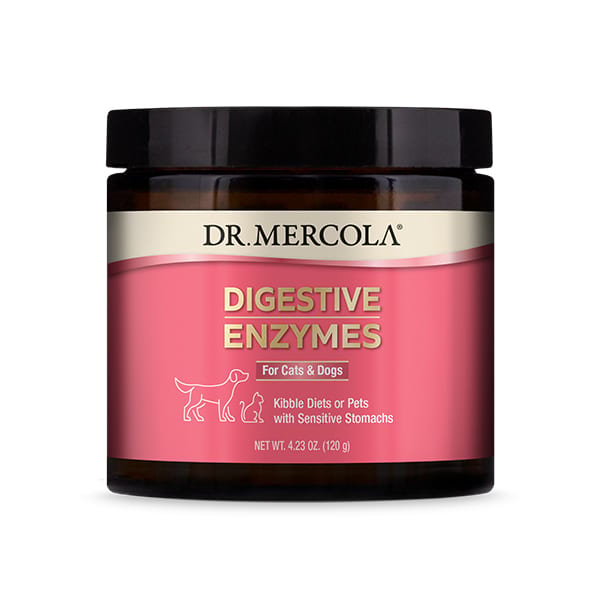 Product Video
Product Complete Label with Usage Directions

Product FAQ
Q : I've heard that some animals can be allergic to animal protein. Since some of the enzymes in this formula are from porcine (pig) sources, should I be concerned?

A : Quite honestly, in my practice, I've never seen one case of an allergy to porcine derived enzymes – it's that rare. However, if your pet has a known allergy to pork products, then they shouldn't take this product. Moreover, if your pet displays any kind of reaction to this or any enzyme product, you should immediately stop feeding them the product and contact your veterinarian.
Q : Can digestive enzymes cause diarrhea and vomiting?

A : It's important to realize that any enzyme supplement can cause vomiting and diarrhea if given in too high a dose. If your pet has digestive issues, an enzyme with less protein and fat enzymes may be better tolerated. That's why I created this special enzymes formula specifically for pets on a kibble diet or with sensitive stomachs.

With any enzyme product, I advise you to start slowly. Begin with very small amounts and work up to the recommended amount over time, according to your pet's tolerance.
Q : Which is better – enzymes from plants or animals?

A : It depends upon what you are feeding your pet. Animal-based enzymes, like pancreatin, are preferred for dogs and cats who eat meat-based diets. Pets who eat kibble and other ultra-processed foods containing sugars and starches require additional enzymes to break down the carbs, like cellulase and xylanase. Because these enzymes aren't available from animal sources, they must be obtained from plant or fungal sources. Enzymes from fungal sources can be better for some pets as they tend to resist digestion and function in a wider range of pH.
Q : My pet eats a diet of raw meat, vegetables and fruits. Do I need to give him supplemental enzymes?

A : Congratulations for making the switch to a real food diet. Even if your pet consumes a raw diet, he may benefit from supplemental enzymes. Any time you can spare your pet from dipping into his enzyme stores, you're supporting his other metabolic functions and good health.
Q : I've heard that stomach acid destroys pancreatic enzymes. Isn't that a problem if I sprinkle this on my pet's food?

A : Because our pancreatic enzymes are animal-sourced, their ability to withstand stomach acidity on their way to the small intestine is naturally much greater than with plant enzymes.
Q : Is there ever a time you don't recommend enzymes for pets?

A : Yes. If your pet has recently undergone GI surgery or is currently being treated for a GI ulcer, I recommend you wait until your pet has recovered before instituting enzyme supplementation. If your pet has other health conditions or is on medications you are concerned about, I always recommend consulting your veterinarian before beginning a new supplement regimen.
JJ E-Homez Holistic Pet Return Policy
Generally, all our products are strictly non-refundable nor exchangeable.
However, in the event you received an incorrect or defective item, or any other valid reason that you can't enjoy your purchase, we will provide a refund or an exchange, case by case basis.
All we ask is that when the item is returned, it should meet the following requirements:
Reach out to us to arrange an appointment to drop off your item at 216A Boon Lay Ave.
Item returned should be in their original & sealed packaging. Broken seals will not be accepted, unless there's a valid reason, based on case by case basis.
Please ensure at least 6 months of shelf life if it's a perishable item.
Send us your order confirmation email for refund verification.
Items not eligible for returns:
Food related, wearables, beds and carriers due to food safety & hygiene reasons.
Items that are purchased from promotional pricing from all of our sales channels.
Customers who had a history of returning more than 3 items.
When we receive the refunded/exchange item, we will review the condition of the item, and reach out to you to confirm and issue a refund/exchange within 7 working days. We regret that customers who decline to respect our policy will be ineligible for exchange, returns and refunds.
Do also note that if we find that a product has been intentionally damaged or tampered with, refunds will not be offered.
As generally, returns are not allowed otherwise, please check your order (e.g. type, size, colour, quantity, etc) before checking out. If you need help with any product, chat with us or please send us an email to jjehomez@gmail.com
Pre-order Items T&C
Please note of the following terms & conditions on all our Pre-order items :
Full payment is required for all Pre-order items.
Expect Pre-order items to be delivered between 3 to 15 working days (depending on which item) starting from your order date.
We will connect via WhatsApp or Email should there be any updates or concerns regarding your order.
Promotions
Website promotion for year 2023
Free Delivery for : orders above $38
*Terms & Conditions:
Website promotion is only applicable for orders/payments made via our website.
Promotions at other shopping platforms (Carousell, Lazada, Shopee, Amazon) is only applicable for orders/payments made via our shops within those shopping platforms.