Product Summary
There is an ancient secret for keeping your pet comfortable during flea season, and protecting your home and yard against pesky insects. One that does not use harsh chemical products on your pet or around the home.
Diatomaceous earth is classified in the United States as a safe substance for household use under the Federal Insecticide, Fungicide, and Rodenticide Act. Food-grade diatomaceous earth is listed as "generally regarded as safe" (GRAS) by the U.S. Food and Drug Administration (FDA) and it is considered to be so safe, that it is allowed in foods, beverages and supplements!
While not a pesticide, it makes life miserable for insects and is harmless to humans, mammals, birds, and reptiles.
Diatomaceous earth by itself can by very drying, so it was decided to organic neem leaf powder was to create Dr Mercola's blend of Diatomaceous Earth with Neem.
Neem leaf powder has many moisturizing properties and helps reduce excess dryness and scaling, and soothes irritated skin. However, there is more to neem leaf that just its moisturizing properties.
Insects and pests do not like neem either. The neem tree (Azadirachta indica) has existed for thousands of years because it protects itself against insects!
With this synergistic formula, you get food-grade DE along with organic neem leaf to enhance diatomaceous earth's actions while helping to protect your pet from excess dry skin.
For use with or without herbal flea repellents, it is important to make your pet's environment unwelcome territory for pests. Diatomaceous Earth with Neem makes it easy to do. Sprinkle it on your pet, on his bedding, and anywhere he likes to spend his time.
You can also use Diatomaceous Earth with Neem around your home, along walls, on your carpets and floors, and in crevices between appliances. It is also useful in your garden to help aerate soil and provide vital soil minerals. You could even use it outdoors to help chase away mosquitos!
Take charge today and order Diatomaceous Earth with Neem for a happy, comfortable pet and inviting home and yard.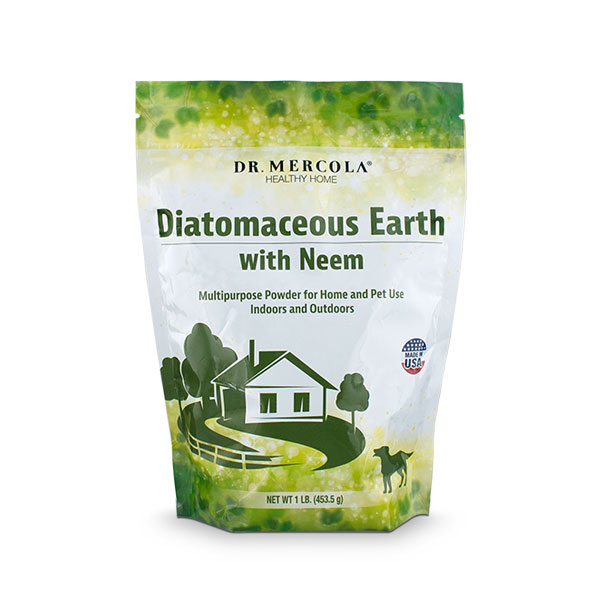 Product Video
Product Complete Label with Usage Directions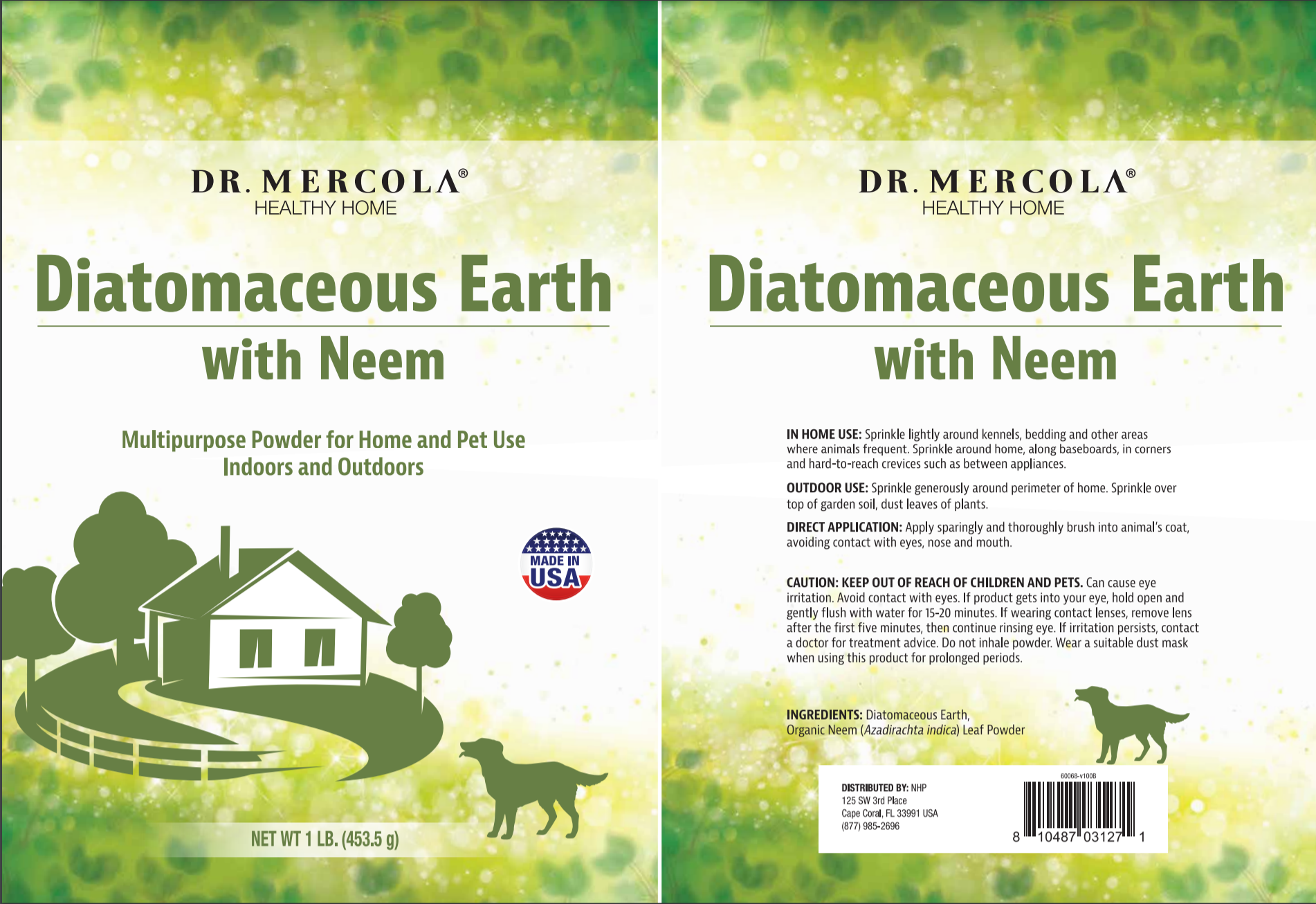 Product FAQ
Q : Can I feed Diatomaceous Earth with Neem to my pet?
A : Although the ingredients are all food grade, we have not done a scientific study for internal use in pets.
Q : Do I need to be concerned if my pet licks this off his fur and skin after I apply it?
A : No, Diatomaceous Earth with Neem is safe for pets and won't harm them if accidently ingested.
Q : How often can I apply Diatomaceous Earth with Neem to my pet?
A : You can apply this blend as often as you'd like. There are no limits.
Q : What are the tiny green flecks in the white powder?
A : The green flecks are the neem leaf powder.
Q : Do I need to use gloves and wear a mask while handling it?
A : No gloves or mask is needed with my formula. However, just like with any fine powder, handle it with care, avoid contact with your or your pet's eyes, and avoid inhaling the dust.
JJ E-Homez Holistic Pet Return Policy
Generally, all our products are strictly non-refundable nor exchangeable.
However, in the event you received an incorrect or defective item, or any other valid reason that you can't enjoy your purchase, we will provide a refund or an exchange, case by case basis.
All we ask is that when the item is returned, it should meet the following requirements:
Reach out to us to arrange an appointment to drop off your item at 216A Boon Lay Ave.
Item returned should be in their original & sealed packaging. Broken seals will not be accepted, unless there's a valid reason, based on case by case basis.
Please ensure at least 6 months of shelf life if it's a perishable item.
Send us your order confirmation email for refund verification.
Items not eligible for returns:
Food related, wearables, beds and carriers due to food safety & hygiene reasons.
Items that are purchased from promotional pricing from all of our sales channels.
Customers who had a history of returning more than 3 items.
When we receive the refunded/exchange item, we will review the condition of the item, and reach out to you to confirm and issue a refund/exchange within 7 working days. We regret that customers who decline to respect our policy will be ineligible for exchange, returns and refunds.
Do also note that if we find that a product has been intentionally damaged or tampered with, refunds will not be offered.
As generally, returns are not allowed otherwise, please check your order (e.g. type, size, colour, quantity, etc) before checking out. If you need help with any product, chat with us or please send us an email to jjehomez@gmail.com
Pre-order Items T&C
Please note of the following terms & conditions on all our Pre-order items :
Full payment is required for all Pre-order items.
Expect Pre-order items to be delivered between 3 to 15 working days (depending on which item) starting from your order date.
We will connect via WhatsApp or Email should there be any updates or concerns regarding your order.
Promotions
Website promotion for year 2023
Free Delivery for : orders above $38
*Terms & Conditions:
Website promotion is only applicable for orders/payments made via our website.
Promotions at other shopping platforms (Carousell, Lazada, Shopee, Amazon) is only applicable for orders/payments made via our shops within those shopping platforms.