Product Summary
Chances are you own a pet that's been neutered or spayed the conventional way. According to the American Society for the Prevention of Cruelty to Animals (ASPCA), 83% of pet dogs are, and many undergo one of these procedures before six months of age.
However, both spaying and neutering remove all of the normal sex hormone-secreting tissues, but your dog still needs a certain level of circulating hormones for normal biologic functioning throughout life.
Over time, the loss of these hormone-secreting organs takes a toll on your dog's adrenal glands, as they are the only tissues remaining that are capable of producing these hormones. Now they must do their own work plus the work of the missing organs. It's very difficult for these tiny little glands to keep up with the body's demand.
Adapted from the protocol of the world's top veterinary endocrinologist, Canine Hormone Support helps you balance your dog's hormones and counter the hormonal effects of spaying and neutering, as well as potentially dangerous estrogen-mimicking chemicals.
The only commercially available product of its type, Canine Hormone Support, is made with all human-grade ingredients: HMR lignans from Norway spruce, melatonin and Diindoylymethane (DIM) from cruciferous vegetables to help:
Balance cortisol and other hormones.
Lower strong estradiol estrogen levels.
Support beneficial estrogen metabolism.
Rebalance endocrine systems, including the adrenal glands.
Give your dog the gift of hormonal balance, and order Canine Hormone Support today.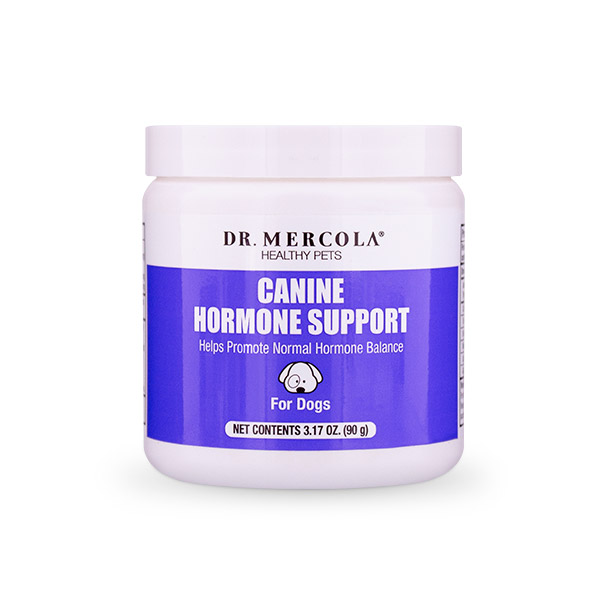 Product Video
Product Complete Label with Usage Directions

Product FAQ
Q : Can I use this for my spayed (or neutered) cat? Are cats at the same risk of negative long-term physiologic consequences?

A : The good news is that so far, research shows that felines don't seem to have the same issues with desexing as dogs. Our canine companions are more negatively affected.

Cats' endocrine systems are significantly different from dogs' so although it would not harm cats, most cats would not benefit from this product.
Q : Can this product be used in conjunction with medications used to treat adrenal disease?

A : This product has been used very successfully alongside conventional drugs used to treat elevated cortisol levels. Before starting this product, your integrative vet will need to calculate appropriate doses for your dog's specific medical issues.
Q : My dog is on other medications, so can she take this too?

A : Medications can cross-react with herbs and nutraceuticals. Ask the prescribing vet if your dog's current medications are safe to take with other products such as this one.
Q : My dog doesn't have any current visible symptoms or negative consequences from being neutered, should I give him this product?

A : Although the all-natural supplements included in this product are dosed to be safe for long-term consumption, not all desexed dogs have side effects that affect their quality of life. This product was specifically created for dogs with sex hormone and cortisol imbalances. These conditions are easily confirmed with a blood test through your proactive veterinarian.
Q : This product relieved my dog's symptoms. If I discontinue the product, will the symptoms return?

A : Yes, because no matter what we do, we can't give your dog's reproductive organs back to them. However, many people are able to taper their dog's dose down to a maintenance level that keeps her symptom-free on the lowest possible effective dose.
JJ E-Homez Holistic Pet Return Policy
Generally, all our products are strictly non-refundable nor exchangeable.
However, in the event you received an incorrect or defective item, or any other valid reason that you can't enjoy your purchase, we will provide a refund or an exchange, case by case basis.
All we ask is that when the item is returned, it should meet the following requirements:
Reach out to us to arrange an appointment to drop off your item at 216A Boon Lay Ave.
Item returned should be in their original & sealed packaging. Broken seals will not be accepted, unless there's a valid reason, based on case by case basis.
Please ensure at least 6 months of shelf life if it's a perishable item.
Send us your order confirmation email for refund verification.
Items not eligible for returns:
Food related, wearables, beds and carriers due to food safety & hygiene reasons.
Items that are purchased from promotional pricing from all of our sales channels.
Customers who had a history of returning more than 3 items.
When we receive the refunded/exchange item, we will review the condition of the item, and reach out to you to confirm and issue a refund/exchange within 7 working days. We regret that customers who decline to respect our policy will be ineligible for exchange, returns and refunds.
Do also note that if we find that a product has been intentionally damaged or tampered with, refunds will not be offered.
As generally, returns are not allowed otherwise, please check your order (e.g. type, size, colour, quantity, etc) before checking out. If you need help with any product, chat with us or please send us an email to jjehomez@gmail.com
Pre-order Items T&C
Please note of the following terms & conditions on all our Pre-order items :
Full payment is required for all Pre-order items.
Expect Pre-order items to be delivered between 3 to 15 working days (depending on which item) starting from your order date.
We will connect via WhatsApp or Email should there be any updates or concerns regarding your order.
Promotions
Website promotion for year 2023
Free Delivery for : orders above $38
*Terms & Conditions:
Website promotion is only applicable for orders/payments made via our website.
Promotions at other shopping platforms (Carousell, Lazada, Shopee, Amazon) is only applicable for orders/payments made via our shops within those shopping platforms.