Product Summary
With up to 550 times the antioxidant activity of other potent nutrients, such as vitamins E and C, lutein, and beta-carotene, astaxanthin helps protect cells, organs, and tissues from oxidative damage, including your pet's eyes, spinal cord, brain and nerves.
Astaxanthin is ideal for supporting your pet's immune health, longevity and protecting delicate cellular DNA for healthy cell division and function. This powerful antioxidant helps protect against the excess free radicals created by normal body functions, stress, pollutants, toxins and poor diet.
What sets astaxanthin apart from other antioxidants is its ability to cross your pet's blood-brain and blood-retina barriers to reach her eyes, brain, spinal cord and nervous system. Plus, unlike other antioxidants, astaxanthin protects both the water- and the fat-soluble parts of cells and can neutralize more than 19 free radicals at one time.
Our Organic Astaxanthin for Cats & Dogs:
Is sourced from Organic Astaxanthin from Haematococcus pluvialis microalgae and not fungi.
Comes in a stay-fresh airless pump for easy dispensing and precise dosing – no messy capsules to open.
Has no odor or taste, so it's acceptable to even the fussiest of cats and dogs.
Contains Organic Olive Oil and Organic Medium-Chain Triglycerides (MCTs) to maximize absorption.
Is formulated without the use of chemical solvents, preservatives, impurities or residues.
Is carefully monitored and analyzed during production to ensure quality and a high concentration of astaxanthin isomers.
Support your pet's cell and immune health, from head to toe, with Organic Astaxanthin for Cats and Dogs. Order your supply today.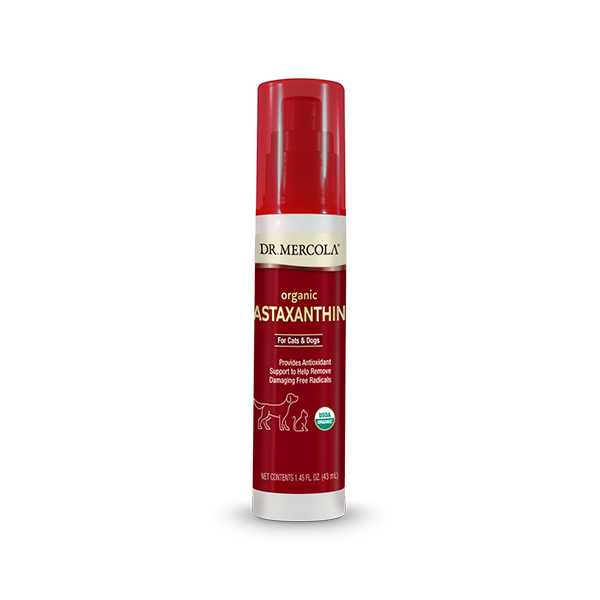 Product Complete Label with Usage Directions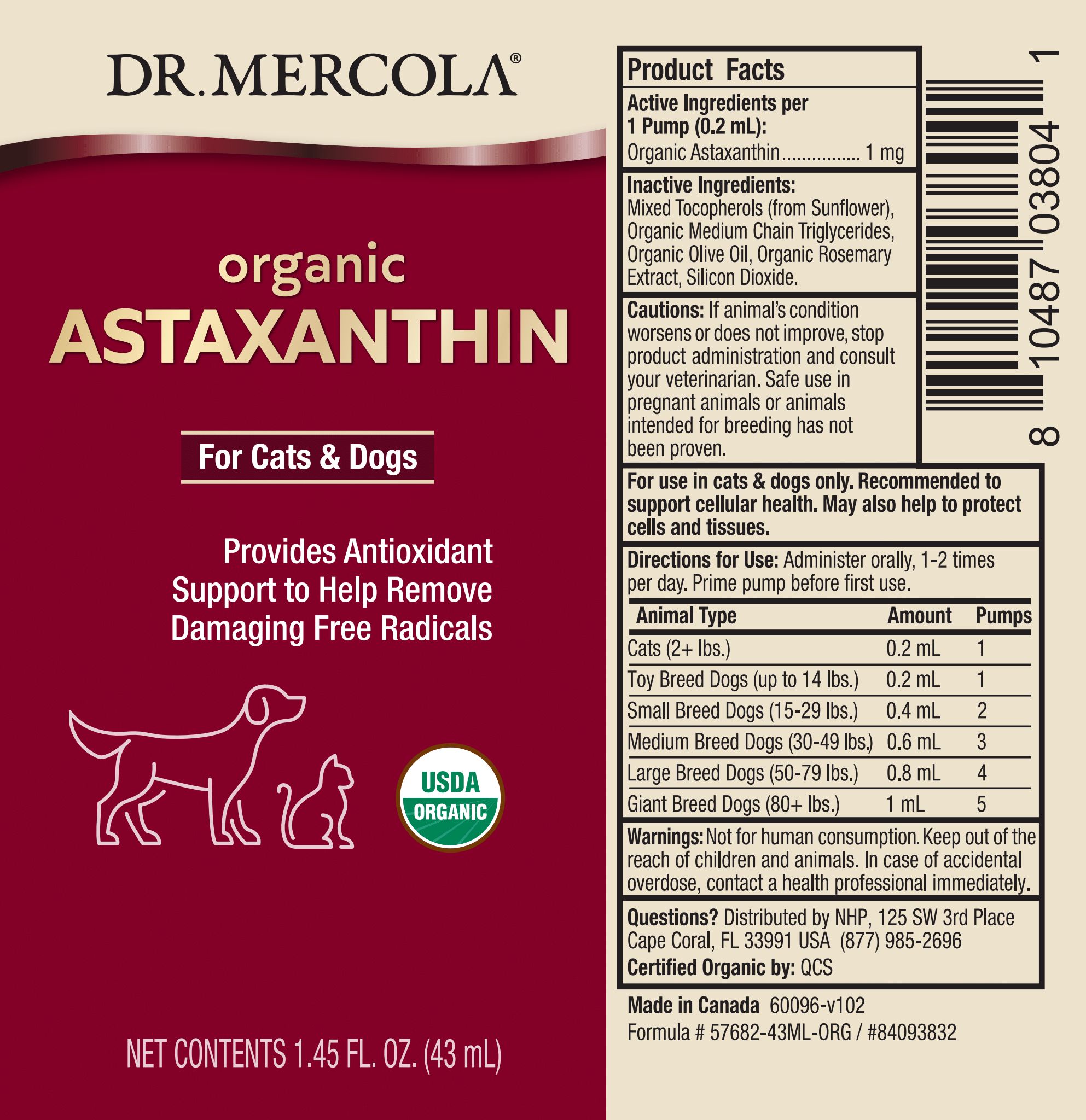 Product FAQ
Q : What is the shelf life of Organic Astaxanthin for Cats & Dogs?

A : Organic Astaxanthin has a shelf life of at least 18 months. Because of the advanced airless pump technology, we don't need to add artificial preservatives like some other products. By sealing out oxygen, the oils stay fresh to the last drop
Q : I give my pet Krill Oil, which also contains astaxanthin. Isn't that enough?

A : While the krill itself is an excellent source of astaxanthin, Krill Oil contains only small amounts. I recommend using both Krill Oil and Organic Astaxanthin for optimal benefits for your pets.
Q : Can I give my pet Organic Astaxanthin along with SpiruGreen for Cats & Dogs?

A : Yes, you can give both. Even though SpiruGreen contains the same microalgae Haematococcus pluvialis, it doesn't provide as much concentrated astaxanthin as our Organic Astaxanthin for Cats & Dogs. Plus, SpiruGreen comes in tablet form and is formulated for everyday immune support, while Organic Astaxanthin, in its convenient liquid pump form, is designed for daily targeted support against excess free radicals.
Q : Are there any side effects associated with Organic Astaxanthin?
A : The only potential side effect with Organic Astaxanthin is the development of orange staining on the skin, but only with extremely high doses (much, much more than you will give to your pet). This can be seen with marine animals such as salmon, crabs, shrimp and flamingos who consume large amounts of astaxanthin as a major part of their diet.
JJ E-Homez Holistic Pet Return Policy
Generally, all our products are strictly non-refundable nor exchangeable.
However, in the event you received an incorrect or defective item, or any other valid reason that you can't enjoy your purchase, we will provide a refund or an exchange, case by case basis.
All we ask is that when the item is returned, it should meet the following requirements:
Reach out to us to arrange an appointment to drop off your item at 216A Boon Lay Ave.
Item returned should be in their original & sealed packaging. Broken seals will not be accepted, unless there's a valid reason, based on case by case basis.
Please ensure at least 6 months of shelf life if it's a perishable item.
Send us your order confirmation email for refund verification.
Items not eligible for returns:
Food related, wearables, beds and carriers due to food safety & hygiene reasons.
Items that are purchased from promotional pricing from all of our sales channels.
Customers who had a history of returning more than 3 items.
When we receive the refunded/exchange item, we will review the condition of the item, and reach out to you to confirm and issue a refund/exchange within 7 working days. We regret that customers who decline to respect our policy will be ineligible for exchange, returns and refunds.
Do also note that if we find that a product has been intentionally damaged or tampered with, refunds will not be offered.
As generally, returns are not allowed otherwise, please check your order (e.g. type, size, colour, quantity, etc) before checking out. If you need help with any product, chat with us or please send us an email to jjehomez@gmail.com
Pre-order Items T&C
Please note of the following terms & conditions on all our Pre-order items :
Full payment is required for all Pre-order items.
Expect Pre-order items to be delivered between 3 to 15 working days (depending on which item) starting from your order date.
We will connect via WhatsApp or Email should there be any updates or concerns regarding your order.
Promotions
Website promotion for year 2023
Free Delivery for : orders above $38
*Terms & Conditions:
Website promotion is only applicable for orders/payments made via our website.
Promotions at other shopping platforms (Carousell, Lazada, Shopee, Amazon) is only applicable for orders/payments made via our shops within those shopping platforms.