Product Summary
As a pet parent, your dog or cat relies on you for everything she needs. The decisions you make affect her health, vitality and overall happiness. One of the most important things you can do to help protect your pet's health is to make sure she receives adequate antioxidants every day.
Antioxidants are special nutrients that fight harmful free radicals in your pet's body, helping to protect him from premature aging. Research shows that by supplementing your pet's diet with antioxidants, you can increase the level of circulating antioxidants in his bloodstream and help protect his cells from oxidative damage.
Antioxidants for Cats & Dogs is formulated to provide your pet with extra free radical-scavenging support from potent whole food botanical sources. This exclusive synergistic formula provides an antioxidant value of 5,000 ORAC (Oxygen Radical Absorbance Capacity) units per serving and contains:
Acerola Fruit Extract – An outstanding source of natural bioavailable vitamin C and polyphenolic antioxidant compounds, both with free radical-scavenging abilities
Red Raspberry Fruit Powder – A valuable source of polyphenols with potent antioxidant activity, as well as vitamin C and minerals
Naturally Decaffeinated Green Tea Leaf Extract (standardized to provide 60 mg polyphenols) – Contains polyphenols and catechins for immune and cell health support
Japanese Knotweed (standardized to provide 25 mg Resveratrol) – This naturally occurring polyphenol helps protect the liver, brain and other organs against oxidative damage
This powerful synergistic formula is recommended for any pet, but especially those who fall into one or more of the following categories. If your pet lands in more than one group, her need for extra antioxidants is even higher:
Eats a commercially prepared processed diet
Has reached middle age and need more antioxidants to combat cellular aging
May be genetically disposed to age faster, such as large and giant breed dogs and puppies
Lives in a toxic environment (that covers just about all pets)
Has increased antioxidant needs because of a stressful lifestyle or exposure to various stressors, such as excessive vaccinations or flea treatments
Lives active, working lives, such as service dogs
Your pet needs extra protection in today's world of processed foods and toxic environments. Your pet relies on you to provide what she needs to thrive. Help protect her health by boosting her antioxidant intake with Antioxidants for Cats & Dogs. It gives your pet the free radical-fighting power she needs, to enjoy a long healthy life of active companionship.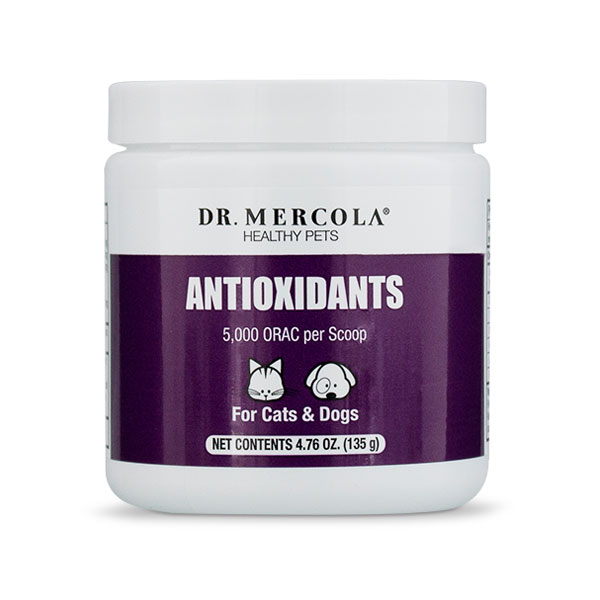 Product Complete Label with Usage Directions

Product FAQ
Q : Can I give my pet Antioxidants for Cats & Dogs every day?

A : Yes. Antioxidants for Cats & Dogs is designed for daily use. In fact, the more regularly your pet takes it, the more benefits he may experience. Many studies show the benefits of feeding pets an antioxidant rich diet every day. As antioxidants build up in a pet's body, they may provide accumulating benefits.
Q : Can I give Antioxidants for Cats & Dogs along with other pet supplements?

A : Yes. Antioxidants for Cats & Dogs is perfect for combining with other Dr. Mercola pet products for customized, synergistic support. You might want to combine it with Ubiquinol Liquid Pump for Cats & Dogs if your pet needs extra heart support or with Bladder Support to promote healthy and comfortable urinary tract function for your cat.
JJ E-Homez Holistic Pet Return Policy
Generally, all our products are strictly non-refundable nor exchangeable.
However, in the event you received an incorrect or defective item, or any other valid reason that you can't enjoy your purchase, we will provide a refund or an exchange, case by case basis.
All we ask is that when the item is returned, it should meet the following requirements:
Reach out to us to arrange an appointment to drop off your item at 216A Boon Lay Ave.
Item returned should be in their original & sealed packaging. Broken seals will not be accepted, unless there's a valid reason, based on case by case basis.
Please ensure at least 6 months of shelf life if it's a perishable item.
Send us your order confirmation email for refund verification.
Items not eligible for returns:
Food related, wearables, beds and carriers due to food safety & hygiene reasons.
Items that are purchased from promotional pricing from all of our sales channels.
Customers who had a history of returning more than 3 items.
When we receive the refunded/exchange item, we will review the condition of the item, and reach out to you to confirm and issue a refund/exchange within 7 working days. We regret that customers who decline to respect our policy will be ineligible for exchange, returns and refunds.
Do also note that if we find that a product has been intentionally damaged or tampered with, refunds will not be offered.
As generally, returns are not allowed otherwise, please check your order (e.g. type, size, colour, quantity, etc) before checking out. If you need help with any product, chat with us or please send us an email to jjehomez@gmail.com
Pre-order Items T&C
Please note of the following terms & conditions on all our Pre-order items :
Full payment is required for all Pre-order items.
Expect Pre-order items to be delivered between 3 to 15 working days (depending on which item) starting from your order date.
We will connect via WhatsApp or Email should there be any updates or concerns regarding your order.
Promotions
Website promotion for year 2023
Free Delivery for : orders above $38
*Terms & Conditions:
Website promotion is only applicable for orders/payments made via our website.
Promotions at other shopping platforms (Carousell, Lazada, Shopee, Amazon) is only applicable for orders/payments made via our shops within those shopping platforms.