Product Summary
Inflapotion™ Oil is a new form of our famous pet inflammation herbal remedy that contains organic herbs traditionally used to relieve swelling everyday aches and pains. The Inflapotion™ Oil is designed to be used externally only and may provide relief very quickly when used as directed.
Inflapotion Oil set in .35oz roll-on and 2oz. pump dispensers, and also comes in a 4 oz refill size. This handy set is packaged with a 0.35 ounce glass bottle featuring a handy roll-on style dispenser, plus, you also get a 2 ounce bottle that features a pump style dispenser. Once applied to the intended external area, your pet may really enjoy the gentle massage you use to work the oil into the skin, however, that part is optional. You may want to use a surgical type glove to keep the oil from penetrating your skin too.
General age-related aches and discomfort similar to arthritis
Joint pain and swelling
Minor Injuries or connective tissue injuries
Sore muscles commonly associated with working dogs and performance horses.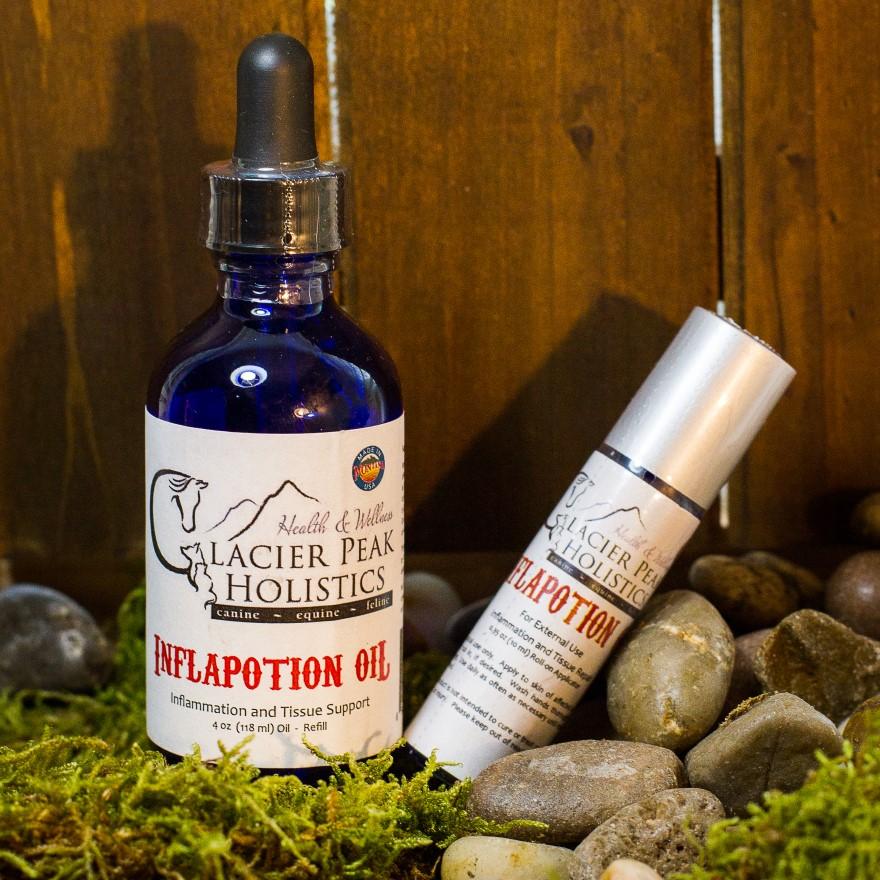 Product Video
Product Ingredients
Inflapotion™ is made with a proprietary blend of 100% organic herbs:
Marshmallow Root
Slippery Elm Bark
Echinacea
Red Clover
Spirulina
Milk Thistle seed
Comfrey Leaf
Castor oil
vitamin E
Emu oil
With specially chosen anti-inflammatory essential oils, in a base of olive oil
Also contains DMSO to assist in allowing the herbs to penetrate the skin and essential oils known to be anti inflammatory.
Castor Oil
Castor oil is a multi-purpose vegetable oil made by extracting oil from the seeds of the Ricinus communis plant. These seeds, known as castor beans, contain a toxic enzyme called ricin. However, the heating process that castor oil undergoes deactivates it, allowing the oil to be used safely. Castor oil has a number of medicinal, industrial and pharmaceutical uses. It is a common additive in foods, medications and skin care products, as well as an industrial lubricant and biodiesel fuel component.
Comfrey Leaf
Also known as 'bone knit' for its ability to knit tissue and bone back together. Comfrey was used by the Greeks and Romans for wound healing, respiratory ailments, to stop bleeding, and as a poultice to mend broken bones. Nicholas Culpeper, a seventeenth-century English Herbalist, recommended comfrey for all wounds external and internal. The Cherokee tribe used the comfrey plant for many ailments. Comfrey is one of the most valuable herbs known to man. It has been used with success for centuries as a wound healer and bone knitter.
Echineacea Purpurea Herb
Used in the U.S. and Canada by Native Americans for swelling and respiratory support. Echinacea also supports the immune system. Echinacea has shown to help with skin issues.
Emu Oil
Emu oil is used to relieve minor aches and pains, help wounds heal quicker, and protect skin from the elements. The most popular benefit is its use as an anti inflammatory, though it also contains compounds that have anti oxidant properties. Made up of smaller particles, allowing the carriage of many healthful compounds to deep layers of the skin.
Emu oil contains high amounts of polyunsaturated fatty acids (PUFAs), antioxidants, and compounds, including essential fatty acids, namely omega-3, omega 6, and omega-9 fatty acids that help reduce inflammation, ease muscular pain, and arthritic joint pain. They may also help relieve signs of wrinkles, scars, and blemishes by nourishing the skin cells. It also contains vitamin A, an antioxidant and essential nutrient, which is an excellent skin tonic. Emu oil also has additional compounds like carotenoids, flavones, polyphenols, tocopherol, and phospholipids.
Marshmallow Root
An anti-inflammatory and anti-irritant, which makes it good for joints and the gastrointestinal tract. it is high in calcium, iodine, iron, pantothenic acid, sodium, vitamins A and B-complex. Marshmallow has been used as food and medicine since ancient Egyptian times. Marshmallow helps expel phlegm and relaxes the bronchial tubes while soothing and healing.
Milk Thistle Herb
Has been shown in dogs that it could help reverse both acute and chronic liver problems and it is beneficial with general liver restoration, protection, and strengthening. Milk Thistle was used in Europe as a remedy for liver problems and as a digestive aid. The liver is an extremely important organ in the body. Milk Thistle has been proven to be very beneficial for liver function. Its high mineral content includes chromium, iron, manganese, phosphorus, selenium, tin, zinc.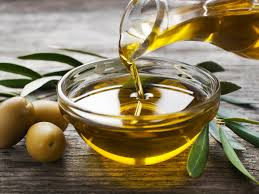 Olive Oil
Olive oil is rich in antioxidants, which help prevent cellular damage caused by molecules called free radicals. When too many free radicals build up, oxidative stress happens, which leads to cell damage, and the possible development of certain diseases, including cancer.
Red Clover Herb
Valued as a blood cleanser and has been used for treating cancer, bronchitis, nervous conditions, spasms, and toxins in the body. Studies indicate Red Clover contains some antibiotic properties beneficial against several bacteria. Researchers as the National Cancer Institute have found anticancer activity in Red Clover. It also has been used in natural hormone balancing. While the use of Red Clover as a cancer treatment has not been validated, research continues and is promising. Red Clover is a rich source of calcium, copper, magnesium, manganese, nickel, tin, vitamins A, C, B-complex, F, and P.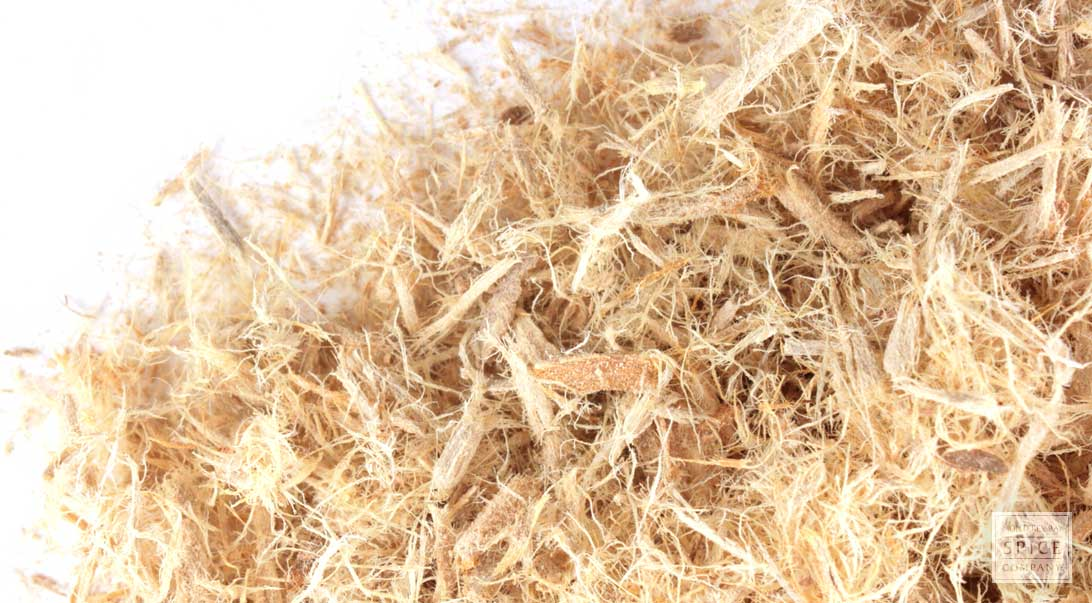 Slippery Elm Bark
Known by Native Americans and early colonist as a valuable survival food. They used the inner bark as a salve externally for burns and wounds. It was used for colds, coughs, sore throats, wounds, as a poultice to bring boils to a head, and bowel complaints. Many herbalists call it one of the most valuable remedies in herbal practice. It contains as much nutrition as oatmeal. It has been used mainly to treat gastrointestinal problems, such as stomach and intestinal ulcers, soothing the stomach and colon, indigestion, acidity, and to lubricate the bowels. Nutritionally Slippery Elm contains: calcium, copper, iodine, niacin, selenium, and vitamins A, F, K, and P.
Spirulina
Used since the 16th century by the Aztecs in Mexico and possibly as early as the 9th century in the Kanem Empire. A 2008 study showed immune modulating effects, which can help reduce allergies. Studies have also shown it to be a potent anti-cancer food as well as enhancing detoxification and natural cleansing. Spirulina is over 60% protein and has a high concentration of beta carotene, vitamin B-12 iron, trace minerals and gamma-linolenic acid (GLA).
Vitamin E
Vitamin E is a nutrient that helps support the immune system and help cell regeneration. It also has antioxidant and anti-inflammatory properties. It is most commonly known for its benefits for skin health and appearance. Applied topically, it helps reduce inflammation and makes skin look younger.
Product Usage Directions
Gently shake before use.
Roll-on - remove cap and place the roll-on applicator against the skin above the desired area and gently roll along the skin.
Pump - remove the cap and use the pump to dispense a small amount either in your hand or directly on the area.
You may choose to gently rub the oil into the skin.
Use 2-3 times per day until results are observed and work back to one dose per day for maintenance.
Note
IN ORDER TO PRESERVE FRESHNESS, KEEP CLOSED IN A COOL, DRY PLACE AND AVOID EXCESSIVE HEAT.
KEEP THIS AND ALL HERBAL MEDICINES OUT OF THE REACH OF CHILDREN AND PETS.
THIS PRODUCT IS NOT INTENDED TO CURE OR TREAT MAJOR DISEASE, ILLNESS, OR INJURY AND IS NOT SUITABLE FOR REGULAR VETERINARY CARE.
FOR ANIMAL USE ONLY.
NOT INTENDED FOR HUMAN CONSUMPTION.
JJ E-Homez Holistic Pet Return Policy
Generally, all our products are strictly non-refundable nor exchangeable.
However, in the event you received an incorrect or defective item, or any other valid reason that you can't enjoy your purchase, we will provide a refund or an exchange, case by case basis.
All we ask is that when the item is returned, it should meet the following requirements:
Reach out to us to arrange an appointment to drop off your item at 216A Boon Lay Ave.
Item returned should be in their original & sealed packaging. Broken seals will not be accepted, unless there's a valid reason, based on case by case basis.
Please ensure at least 6 months of shelf life if it's a perishable item.
Send us your order confirmation email for refund verification.
Items not eligible for returns:
Food related, wearables, beds and carriers due to food safety & hygiene reasons.
Items that are purchased from promotional pricing from all of our sales channels.
Customers who had a history of returning more than 3 items.
When we receive the refunded/exchange item, we will review the condition of the item, and reach out to you to confirm and issue a refund/exchange within 7 working days. We regret that customers who decline to respect our policy will be ineligible for exchange, returns and refunds.
Do also note that if we find that a product has been intentionally damaged or tampered with, refunds will not be offered.
As generally, returns are not allowed otherwise, please check your order (e.g. type, size, colour, quantity, etc) before checking out. If you need help with any product, chat with us or please send us an email to jjehomez@gmail.com
Pre-order Items T&C
Please note of the following terms & conditions on all our Pre-order items :
Full payment is required for all Pre-order items.
Expect Pre-order items to be delivered between 3 to 15 working days (depending on which item) starting from your order date.
We will connect via WhatsApp or Email should there be any updates or concerns regarding your order.
Promotions
Website promotion for year 2023
Free Delivery for : orders above $38
*Terms & Conditions:
Website promotion is only applicable for orders/payments made via our website.
Promotions at other shopping platforms (Carousell, Lazada, Shopee, Amazon) is only applicable for orders/payments made via our shops within those shopping platforms.