Product Summary
Salvation Heals Crusty Dog Nose, Dry Paws and Topical Inflammations.
Fresh herbs and botanicals chosen for their skin soothing properties work to heal your dog's dry skin, topical inflammations, flaky skin, topical yeast, crusty nose, and sore, tender paw pads. Great for skin folds and wrinkles where things can get a bit stinky.
Benefits of using Salvation Skin Care and Crusty Nose Salve:
Helps heal dry skin, inflammation, paw pads, and inflamed wrinkles
Repairs and eliminates crusty dog nose in as little as 4-5 days
Helps grow hair back quickly and the same color
Speeds healing, skin cell regeneration and hair growth after surgery, abscess and punctures
Salvation is a multipurpose healing salve for your dog's skin, paws, ears, and nose.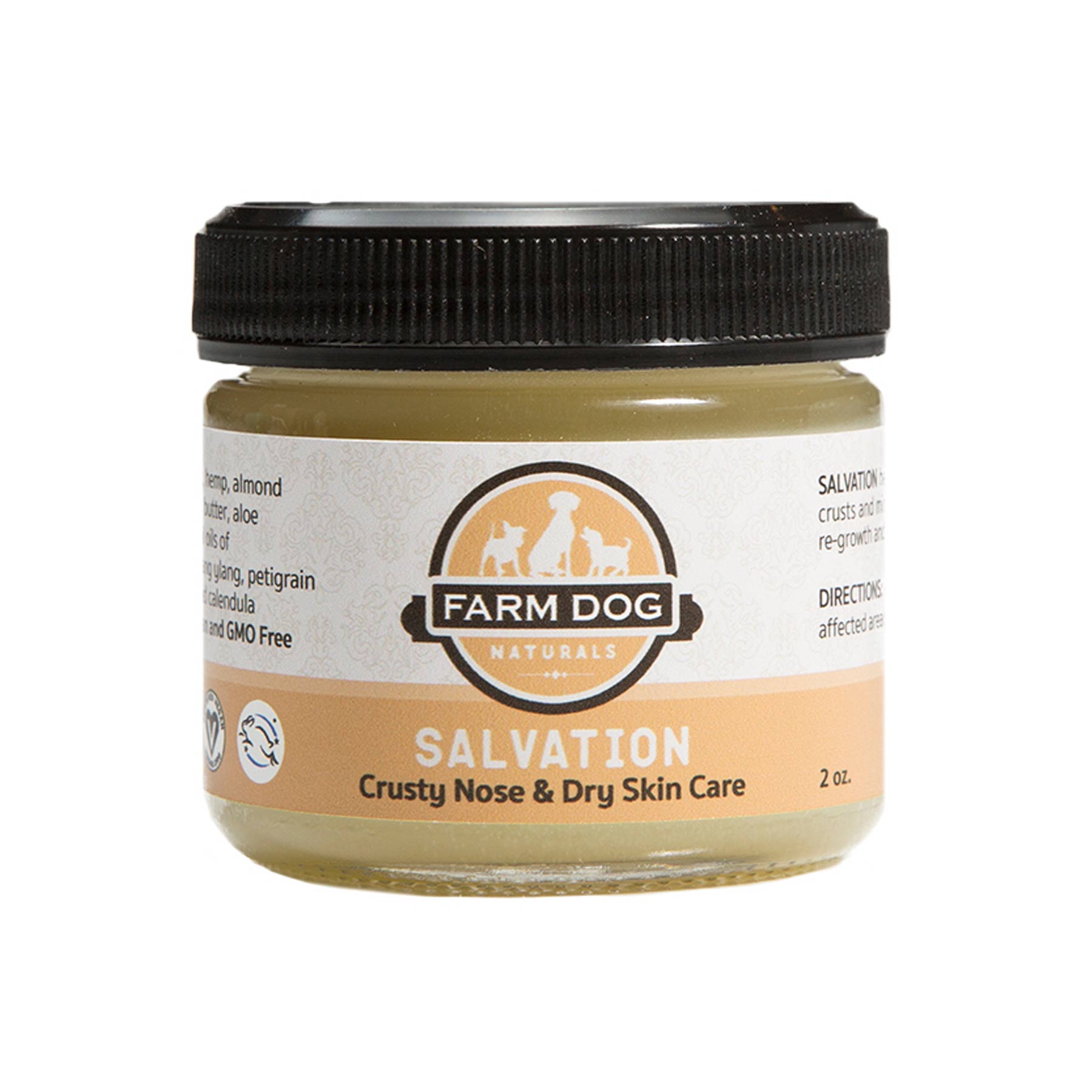 Example of Salvation Salve at work. Maggie's Crusty Nose is on it's way to being smooth again.

Product Video
Product Ingredients
All Of Our Ingredients Are GMO-FREE, Cruelty-Free And Vegan-Friendly.
Natural Product Alert! Farm Dog infuses herbs into our formulas. You may occasionally see a small piece of herb in our salves.
Salvation's Simple Herbal Ingredients:
Organic coconut
Organic olive extra virgin
Almond and apricot kernel oils.
Mango, Organic Shea
Aloe butters.
Candelilla wax
Organic calendula herb.
Essential oils of organic petitgrain, ylang ylang, organic peppermint and organic lavender.
Organic vitamin E.
Organic Coconut Oil
The medium chain fatty acids in coconut oil have antimicrobial properties that can help protect against harmful microorganisms, especially skin infections. Applying coconut oil directly to the skin also helps with the prevention of the growth of microorganisms, ala bacteria, due to its lauric acid content. Capric acid also helps prevent anti fungal growth.
Coconut oil also has been shown to have anti inflammatory and pain relieving properties. It is able to improve the anti oxidant status, which in turns reduces oxidative stress.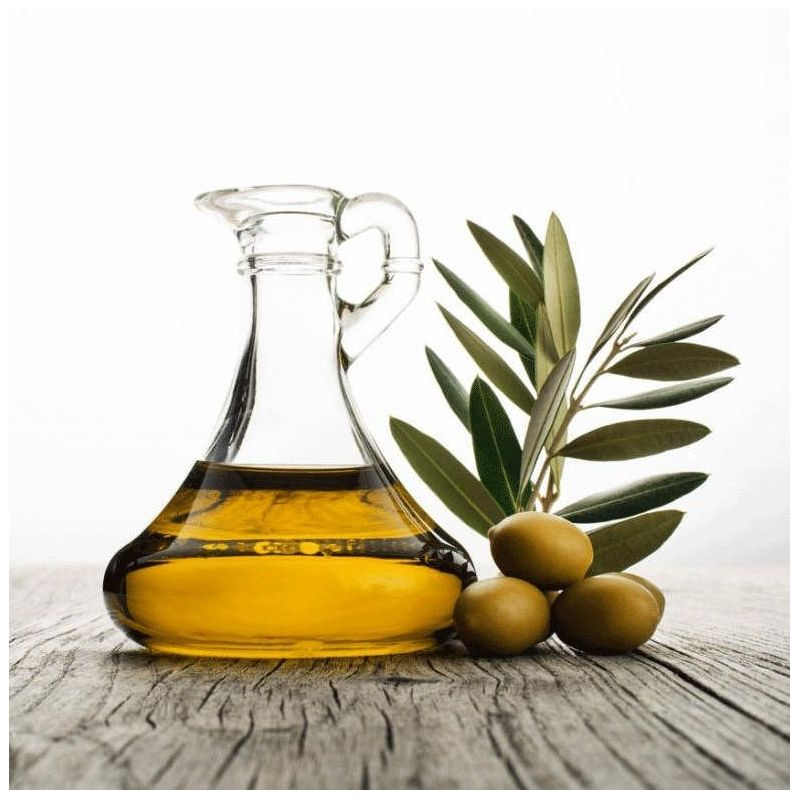 Organic Olive Extra Virgin Oil
Extra virgin olive oil is an excellent source of monounsaturated fats, antioxidants, and omega-6 and omega-3 fatty acids. that help keep your dog's skin moisturized and well-nourished. These nutrients also benefit your dog's coat, adding shine and strength to their hair.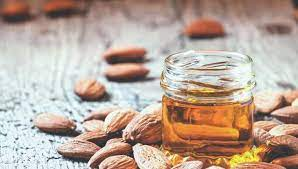 Almond Oil
Almond oil (Prunus amygdalus). Also called sweet almond oil, this popular carrier oil contains protein, glucosides, minerals, and vitamins A, B1, B2, B6, and E. Almond oil is very pale yellow and has a subtle fragrance. Widely used as a massage oil because it lubricates and protects without being quickly absorbed, almond oil is recommended for skin conditions such as eczema, dryness, inflammation, muscle soreness, and itching. In addition, it helps heal burns.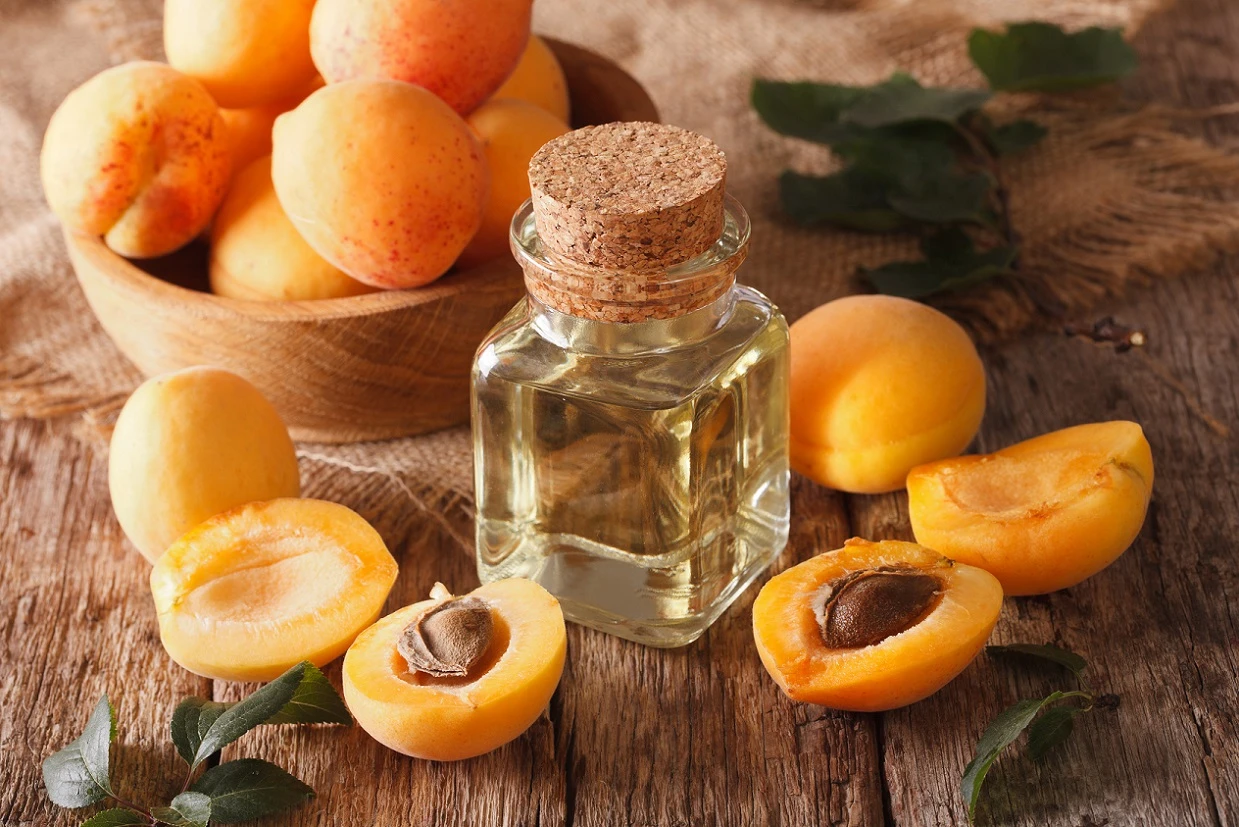 Apricot Kernel Oil
Apricot kernel oils is rich in vitamin A, apricot kernel oil is pale yellow and has a light, pleasant texture. Appropriate for all skin conditions, it nourishes and helps heal sensitive, delicate, dry, inflamed, or aged skin.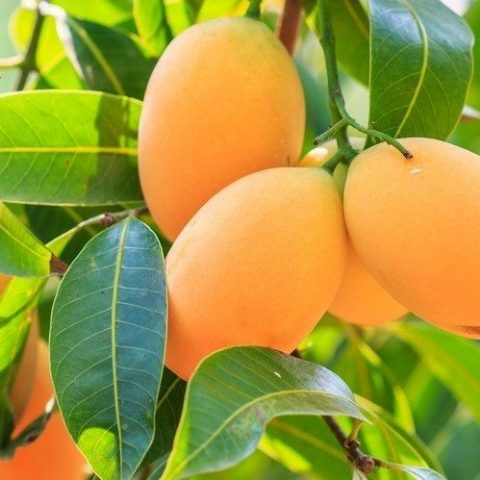 Mango Butter
Organic mango butter is derived from the juicy tropical forest fruit, the mango. These fruits are loaded with some potent combinations of vitamins and fatty acids, so they are great when applied to skin. Mangos are rich in vitamins A, C, and E and they contain high quantities of fatty acids. The vitamins help to immediately combat free radicals in the skin, which can cause dryness, cracking, and other problems.
Fatty acids, such as omega-6, omega-9, and others can provide some potent benefits with regard to adding moisture and healing to skin.
Not only is mango butter rich in vitamins A, C, and E, which are essential components in the fight against free radicals, which are molecules that have an unpaired number of electrons and will begin a domino like effect to begin breaking down the condition of the skin, are abundant in mango butter.
Fatty acids are also found in high quantity within mango butter. Those fatty acids include:
Palmitic acid
Stearic acid
Oleic acid
Linoleic acid
Arachidic acid
Organic mango butter is considered non greasy and is deeply penetrating as well, which helps to make it a great additive for any skin protector.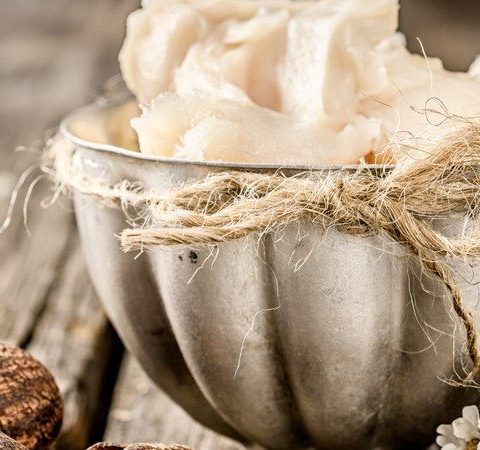 Organic Shea Butter
Organic Shea Butter also known as Butyrospermum Parkii, is truly deserving of the "miracle ingredient" moniker, unrefined Shea nut butter's constellation of vitamins, minerals, proteins and fatty acids restores the skin's natural elasticity and enables it to better absorb moisture from the air. Shea nut butter also has natural sunscreen and anti-inflammatory properties, and helps improve skin ailments ranging from eczema, dermatitis, allergies and fungal infections to blemishes, wrinkles, scars, and scrapes.
Shea butter is known especially for its properties as a moisturizer and emollient. Shea butter absorbs rapidly into the skin without leaving a greasy feeling. Shea butter is comparatively richer than other emollients.

Shea butter is edible and completely harmless if injested.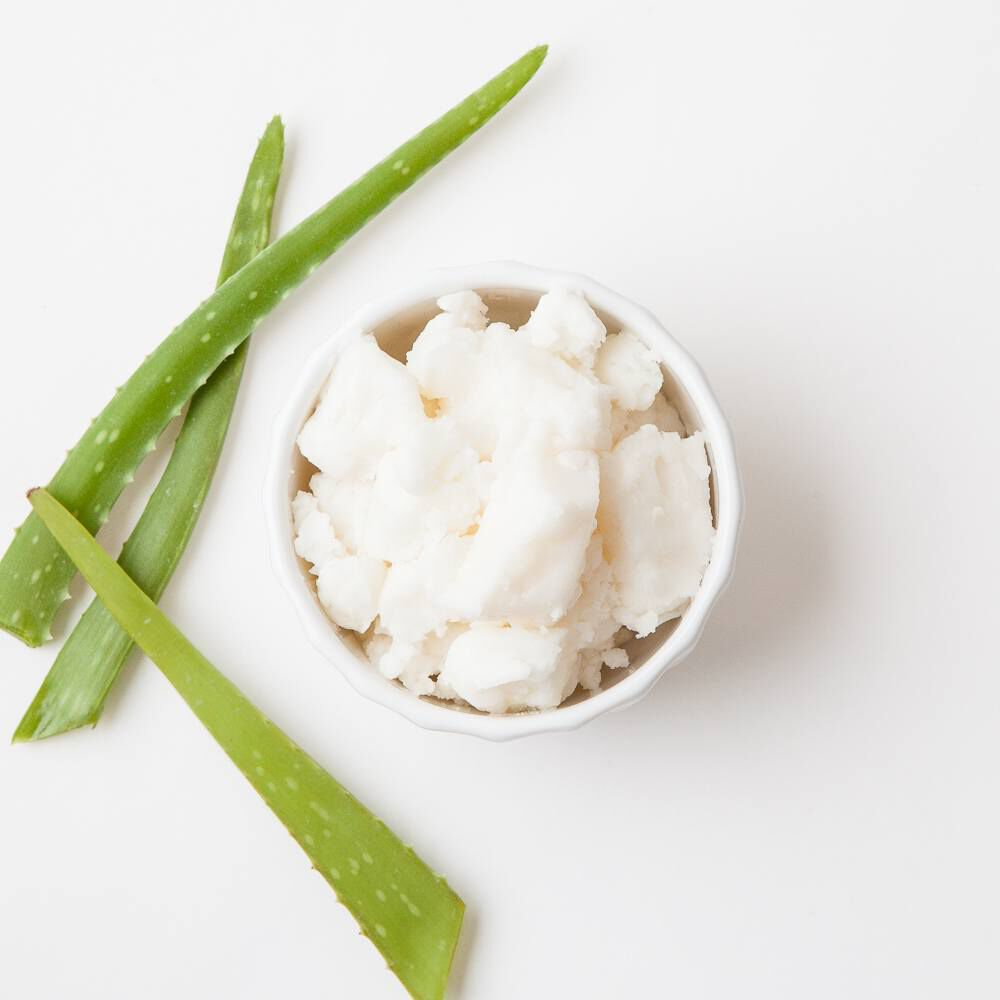 Aloe Butter
Aloe butter, rich in Vitamins A, C, E, B, Choline, B12, Folic Acid contains all the key properties of Aloe Vera, skin soothing and restoring with rapid rehydration properties to quickly hydrate and moisturise the skin.
Aloe vera is highly antioxidant and skin rejuvenating, has wound healing and natural anti-inflammatory properties and naturally contains lignin which aids its ability to draw in other ingredients to this skin. This makes Aloe Butter the perfect butter to blend with essential oils intended for the skin. Natural Aloe not only sooths the skin but draws in your added oils to aid their effects.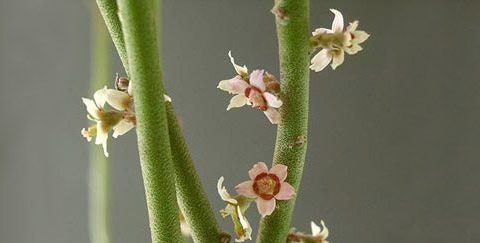 Candelilla Wax
Candelilla (Euphorbia Antisyphilitica) is native to the Chihuahuan Desert of Northern Mexico and Western Texas. Candelilla wax is derived from the stems of the Candelilla plant. The wax occurs as the outer coating of the shrub which helps the plant retain moisture. Candelilla wax is a great vegan alternative to traditional beeswax.
There are certain qualities about candelilla wax that make it beneficial as a soother for dogs. Because of its high ester, fatty acid and moisture retaining properties, Candelilla wax is one of the best suited ingredients for increasing the protective coating.
One of the most important characteristics of candelilla wax is that it helps to lock in moisture in the skin. This essentially acts as a barrier and that can be incredibly beneficial for dog, especially those that may have a tendency to become dried and cracked.
Organic Calendula Herb
Calendula is known for its medicinal properties and can be used as a topical application of oils, creams, and lotions. The medicinal properties of calendula include triterpene saponins, flavonoids, carotenoids, and volatile oils., which make calendula an excellent healing aid as anti-inflammatory, antiviral, antifungal, and antimicrobial medicine. Calendula could be used for stomach ulcers and, externally, as pain relievers, though it has been found most useful for healing wounds and skin conditions as it promotes the formation of granulation tissue while also preventing bacterial infections.
As an anti-inflammatory, calendula has been proven useful for urinary tract infections or an inflamed digestive system and could also be used as an eyewash for eye infections or injuries.
Calendula contains many essential oils, saponins, triterpene alcohols, flavonoids, and carotenes. These medicinal properties may quicken the cell reproduction and prevent bacterial or fungal infections.
Organic Petitgrain Essential Oil
Petitgrain essential oil is high in linalyl acetate, linalool, and alpha terpineol. It could be used to support the nervous system, particularly with nervous stress and calming nerve excitement, as well as soothing nervous digestive tracts. It also promotes healthy skin and coat, even supporting antioxidant support and healthy cardiovascular function. Petitgrain essential oil has a calming effect and is able to calm feelings of fear and panic.
Ylang Ylang Essential Oil
Ylang ylang essential oil has been found to be a mood booster, helping to reduce depression and alleviate anxiety, lowering blood pressure and decreasing the heart rate. It has even been known to be a bug repellent.
Ylang ylang contains linalool, a compound which has antibacterial, antifungal and anti inflammatory properties. It has had a history of use as a traditional herbal treatment for various conditions like stomach distress and rheumatism.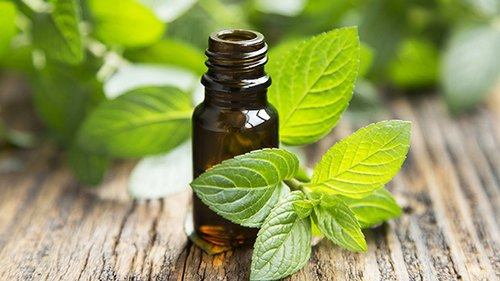 Organic Peppermine Essential Oil
We carefully dilute and mix peppermint oil in our products to ensure they are completely safe, while also making sure your dog receives all the good benefits too. There are 5 main benefits of peppermint oil that will help your dog have healthy skin and even a more alert mind.
One major benefit of using products with peppermint oil is that it can help repel and prevent fleas and ticks from bothering your dog. Not only that, but it can also help soothe itchy bites too. Peppermint oil has natural anti-microbial properties. It can reduce inflammation and bring relief to skin issues if it is combined with other high-quality ingredients. If your dog is suffering from seasonal allergies, using a natural product with peppermint oil is definitely to their benefit. It has anti-inflammatory, antiseptic and analgesic properties. It will help your dog find relief from itching, sneezing, and other allergic symptoms.
Organic Lavender
Lavender essential oil is able to act as a deterrent for insects and pests, keeping away fleas, ticks and mosquitoes. It also aids with soothing itchy skin, and inflammation caused conditions like burns and joint pain since lavender is a natural anti inflammatory, antibacterial antihistamine and pain reliever.
It has a soothing effect that could help with calming anxiety and stress reduction. The same component also makes it an excellent sleep aid. Lavender oil is also a great way to deodorize and refresh bad smells.
Vitamin E
Vitamin E is a nutrient that helps support the immune system and help cell regeneration. It also has antioxidant and anti-inflammatory properties. It is most commonly known for its benefits for skin health and appearance. Applied topically, it helps reduce inflammation and makes skin look younger.
Product Application
Apply Salvation to affected area twice daily or as needed.
In The Ears:
Apply a small amount of Salvation to the inside flap of your dog's ear and let it melt into the ear canal.
Wait 24 hours and gently clean out the ear and reapply Salvation until symptoms disappear.
If symptoms persist, contact your veterinarian.
In Your Dog's Wrinkles and Folds:
Gently clean out any debris from your dog's wrinkles and folded skin.
Spread a thin amount of Salvation to the area twice daily to clear up the yeast.
For maintenance, apply Salvation one time per week.
Crusty Nose:
Apply Salvation to your dog's cracked nose twice daily.
After their nose looks black and shiny again, apply Salvation once daily or every other day for maintenance.
JJ E-Homez Holistic Pet Return Policy
Generally, all our products are strictly non-refundable nor exchangeable.
However, in the event you received an incorrect or defective item, or any other valid reason that you can't enjoy your purchase, we will provide a refund or an exchange, case by case basis.
All we ask is that when the item is returned, it should meet the following requirements:
Reach out to us to arrange an appointment to drop off your item at 216A Boon Lay Ave.
Item returned should be in their original & sealed packaging. Broken seals will not be accepted, unless there's a valid reason, based on case by case basis.
Please ensure at least 6 months of shelf life if it's a perishable item.
Send us your order confirmation email for refund verification.
Items not eligible for returns:
Food related, wearables, beds and carriers due to food safety & hygiene reasons.
Items that are purchased from promotional pricing from all of our sales channels.
Customers who had a history of returning more than 3 items.
When we receive the refunded/exchange item, we will review the condition of the item, and reach out to you to confirm and issue a refund/exchange within 7 working days. We regret that customers who decline to respect our policy will be ineligible for exchange, returns and refunds.
Do also note that if we find that a product has been intentionally damaged or tampered with, refunds will not be offered.
As generally, returns are not allowed otherwise, please check your order (e.g. type, size, colour, quantity, etc) before checking out. If you need help with any product, chat with us or please send us an email to jjehomez@gmail.com
Pre-order Items T&C
Please note of the following terms & conditions on all our Pre-order items :
Full payment is required for all Pre-order items.
Expect Pre-order items to be delivered between 3 to 15 working days (depending on which item) starting from your order date.
We will connect via WhatsApp or Email should there be any updates or concerns regarding your order.
Promotions
Website promotion for year 2022
Free Delivery for : orders above $38
*Terms & Conditions:
Website promotion is only applicable for orders/payments made via our website.
Promotions at other shopping platforms (Carousell, Lazada, Shopee, Amazon or Qoo10) is only applicable for orders/payments made via our shops within those shopping platforms.