Product Summary
Do you ask yourself, "why is my dog so hyper?". We have the solution for you.
Relax is an external remedy for your dog's stress and anxiety. For you? Bliss.
Take the edge off naturally with Relax Stress & Anxiety calmative. Our unique formula can help your dog cope with the stressors of everyday life.
Benefits of Relax Herbal Stress & Anxiety Formula:
Calms your dog and helps them find their happy place
Non-habit forming, non-toxic, easy to use
Helps treat stress and anxiety related to situations like thunderstorms, car rides, meeting new people, and vet visits
Treats chronic behaviors like barking, pacing, spinning, separation anxiety and more
Relax is an external aromatherapy treatment.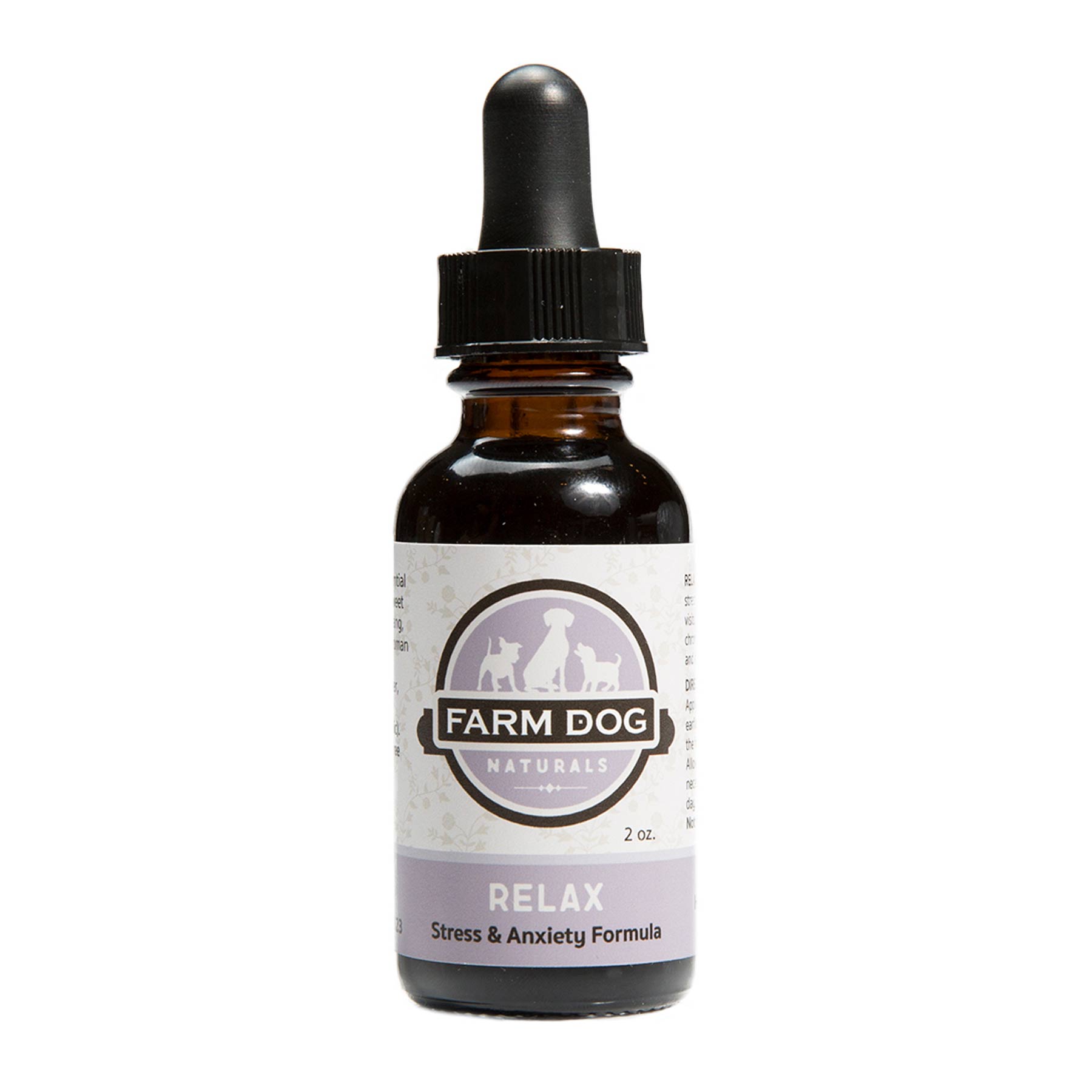 Product Ingredients
All Of Our Ingredients Are GMO-FREE, Cruelty-Free And Vegan-Friendly.
Relax's Simple Herbal Ingredients:
Organic petitgrain, majoram, ylang ylang, turkish rose attar, roman and blue chamomile, and organic lavender essential oils
Base of organic avocado oil
Avocado Oil
Avocado oil contains vitamin E and omega three fatty acids to decrease inflammation in the body. As an external application, it helps to hydrate the coat, soothe and nourish damaged skin, and relieve skin itchiness and dryness.
Blue Chamomile Essential Oil
Blue chamomile, also known as German chamomile, has anti inflammatory benefits good for the skin and coat. Containing the highest level of azulene, it helps promote a healthy immune response and gives the freshly distilled oil its rice blue hue. In its earliest days, it could be used as a treatment for a wide range of ailments from motion sickness, allergies, insomnia to anxiety. Its anti inflammatory properties slow chemicals associated with inflammation, including prostaglandins, leukotrienes, and histamines, which are a part of the body's immune system, allowing for it to be effective in treating pain that comes with rheumatoid arthritis, fibromyalgia, symptoms associated with chemotherapy or radiation and various skin conditions, even help heal inflammation and irritation of the respiratory tract to improve lung function.
Lavender Essential Oil
Lavender essential oil is able to act as a deterrent for insects and pests, keeping away fleas, ticks and mosquitoes. It also aids with soothing itchy skin, and inflammation caused conditions like burns and joint pain since lavender is a natural anti inflammatory, antibacterial antihistamine and pain reliever.
It has a soothing effect that could help with calming anxiety and stress reduction. The same component also makes it an excellent sleep aid. Lavender oil is also a great way to deodorize and refresh bad smells.
Marjoram Essential Oil
Marjoram has been shown to have several anti inflammatory and antimicrobial properties. It has been used medicinally to help treat a variety of ailments, including digestive issues and infections. Several compounds in marjoram, such as carvacrol, have been shown to have antioxidant effects, which help prevent cell damage caused by potentially harmful molecules called free radicals. They may also help reduce inflammation, of which reducing inflammation may decrease the risk of certain diseases.
Its antimicrobial properties could be effected in an application of the marjoram essential oil to treat fungal infection.
Petitgrain Essential Oil
Petitgrain essential oil is high in linalyl acetate, linalool, and alpha terpineol. It could be used to support the nervous system, particularly with nervous stress and calming nerve excitement, as well as soothing nervous digestive tracts. It also promotes healthy skin and coat, even supporting antioxidant support and healthy cardiovascular function. Petitgrain essential oil has a calming effect and is able to calm feelings of fear and panic.
Roman Chamomile Essential Oil
Roman chamomile essential oil has uses slightly more varied in comparison to blue chamomile's uses that targets more digestive, inflammation and pain relief benefits due to its sesquiterpenes and oxides. Roman chamomile oil's constituents of isobutyl angelate, butyl angelate, borneol, camphene, pinene and terpinene gives it varied antiseptic protection, anxiety and depressionrelief, antispasmodic and tonic actions.
Roman chamomile is able to give acute anxiety relief by promoting relaxation and helping with anxiety. Its anti inflammatory effects makes it suited for wound healing, while its antibacterial effects help curb infection. As compared to blue chamomile, Roman chamomile has significantly higher antioxidant levels, which rejuvenate health and repair damage. Roman chamomile is also able to support digestive health by giving relief alongside multiple treatment measures.
Turkish Rose Attar Essential Oil
Turkish rose attar essentail oil contains several therapeutic compounds like citronellol, citral, acrvone, citronellyl acetate, eugenol, farnesol, methyl eugenol. nerol, phenyl acetaldehyde and phenyl geraniol. One of the top benefits of rose oil is its mood boosting ability, helping with depression and anxiety. It has antimicrobial, bacteriacidal and anti inflammatory effects. It also contains antioxidants to fight off free radicals that cause cellular aging and damage, which effect antiaging.
Ylang Ylang Essential Oil
Ylang ylang essential oil has been found to be a mood booster, helping to reduce depression and alleviate anxiety, lowering blood pressure and decreasing the heart rate. It has even been known to be a bug repellent.
Ylang ylang contains linalool, a compound which has antibacterial, antifungal and anti inflammatory properties. It has had a history of use as a traditional herbal treatment for various conditions like stomach distress and rheumatism.
Product Application
Apply two or three drops of Relax to your dog's inner ear flaps and chin.
Relax can be applied up to 3 times daily.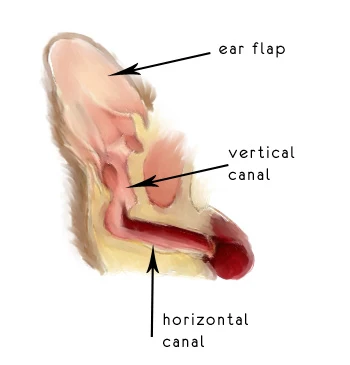 JJ E-Homez Holistic Pet Return Policy
Generally, all our products are strictly non-refundable nor exchangeable.
However, in the event you received an incorrect or defective item, or any other valid reason that you can't enjoy your purchase, we will provide a refund or an exchange, case by case basis.
All we ask is that when the item is returned, it should meet the following requirements:
Reach out to us to arrange an appointment to drop off your item at 216A Boon Lay Ave.
Item returned should be in their original & sealed packaging. Broken seals will not be accepted, unless there's a valid reason, based on case by case basis.
Please ensure at least 6 months of shelf life if it's a perishable item.
Send us your order confirmation email for refund verification.
Items not eligible for returns:
Food related, wearables, beds and carriers due to food safety & hygiene reasons.
Items that are purchased from promotional pricing from all of our sales channels.
Customers who had a history of returning more than 3 items.
When we receive the refunded/exchange item, we will review the condition of the item, and reach out to you to confirm and issue a refund/exchange within 7 working days. We regret that customers who decline to respect our policy will be ineligible for exchange, returns and refunds.
Do also note that if we find that a product has been intentionally damaged or tampered with, refunds will not be offered.
As generally, returns are not allowed otherwise, please check your order (e.g. type, size, colour, quantity, etc) before checking out. If you need help with any product, chat with us or please send us an email to jjehomez@gmail.com
Pre-order Items T&C
Please note of the following terms & conditions on all our Pre-order items :
Full payment is required for all Pre-order items.
Expect Pre-order items to be delivered between 3 to 15 working days (depending on which item) starting from your order date.
We will connect via WhatsApp or Email should there be any updates or concerns regarding your order.
Promotions
Website promotion for year 2023
Free Delivery for : orders above $38
*Terms & Conditions:
Website promotion is only applicable for orders/payments made via our website.
Promotions at other shopping platforms (Carousell, Lazada, Shopee, Amazon) is only applicable for orders/payments made via our shops within those shopping platforms.