Product Summary
Harmony is an external remedy for confirmed yeast in the ears and on the skin.
Harmony manages the symptoms of topical yeast like itching, scratching, hair loss, that "yeasty" "corn chip" smell and yeast related oozing. Harmony helps manage yeast symptoms while you figure out the root cause of your dog's yeast.
Harmony Topical Yeast Serum Benefits:
Reduces itching, scratching, and licking related to yeast
Helps dry up yeast ooze, yeast related moisture and discharge
Repairs skin and helps keep yeast from spreading
Harmony is an topical yeast serum for the skin and ears.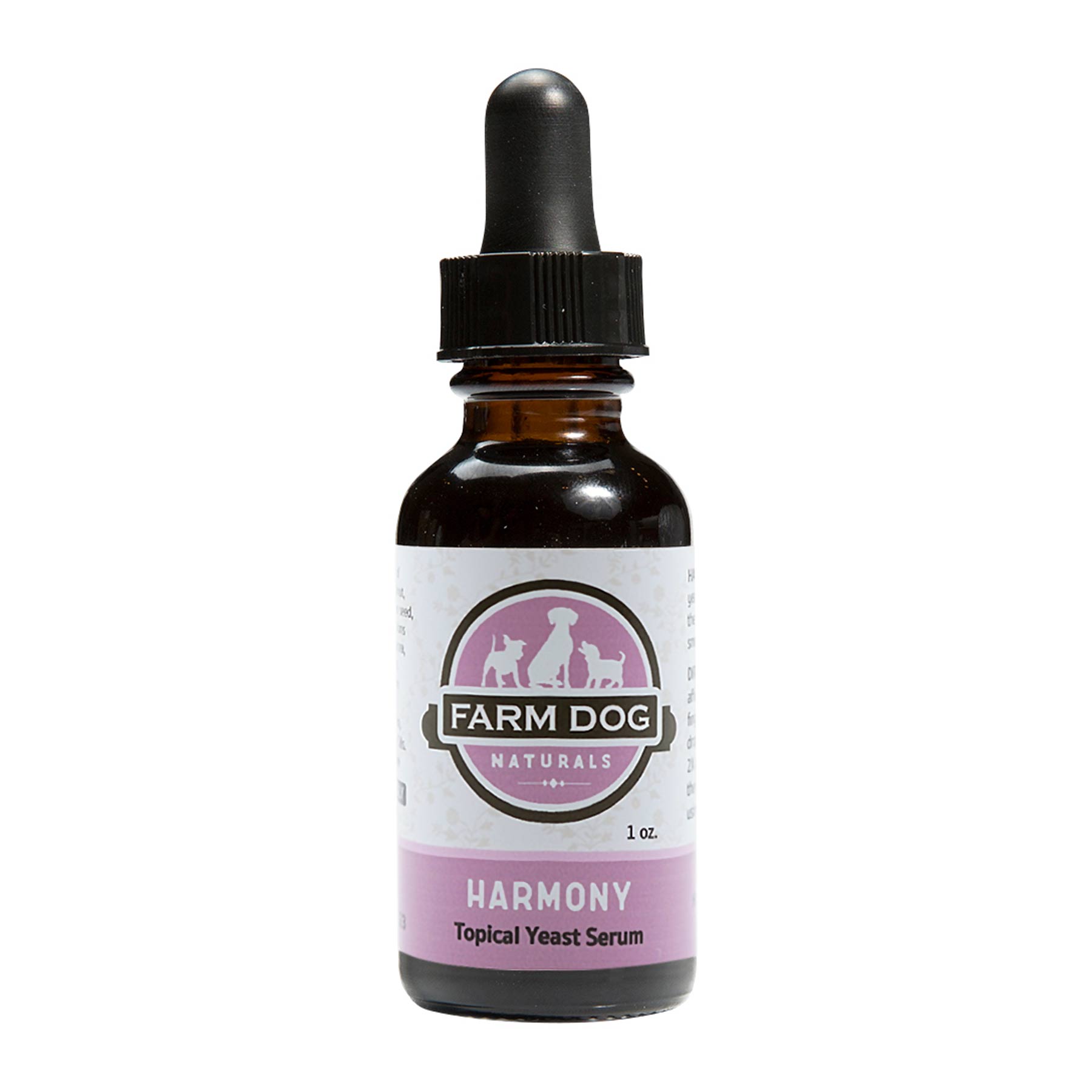 Product Video
Product Ingredients
All Of Our Ingredients Are GMO-FREE, Cruelty-Free And Vegan-Friendly.
Harmony's Simple Herbal Ingredients:
Almond oil
English walnut oil
Tamanu oil
Black Cumin Seed oil
Dried Calendula
Echinacea
Mullen Leaf
Pau De Arco Bark.
Essential oils of Frankincense, Roman Chamomile, German Chamomile, Geranium, and Petitgrain.
Organic Vitamin E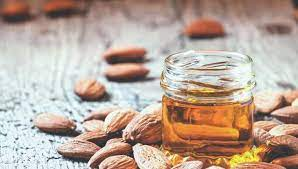 Almond Oil
Almond oil (Prunus amygdalus). Also called sweet almond oil, this popular carrier oil contains protein, glucosides, minerals, and vitamins A, B1, B2, B6, and E. Almond oil is very pale yellow and has a subtle fragrance. Widely used as a massage oil because it lubricates and protects without being quickly absorbed, almond oil is recommended for skin conditions such as eczema, dryness, inflammation, muscle soreness, and itching. In addition, it helps heal burns.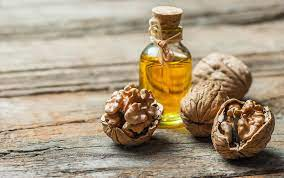 English Walnut Oil
High in vitamins and proteins, walnut oil works wonders for skin. They are known to be rich in fibre, Omega-3, protein and other vital minerals.
Walnut oil is known to be a remedy to treat fungal infections. Athlete's foot and Candida are some of the infections which are known to get treated with the application of walnut oil.
Walnut oil is known to be an excellent plant source of Omega-3, boosts the essential fatty acids that are vital to skin health. Omega-3s, including those in walnut oil, may stimulate skin growth, fight inflammatory skin disorders, and promote wound healing. What's more, walnut oil contains high amounts of the omega-6 fatty acid linoleic acid (LA), the most predominant fatty acid in the outermost layer of your skin. Shown to reduce age related degeneration.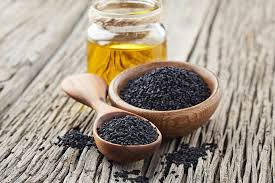 Black Cumin Seed Oil
Black Cumin Seed Oil is an herb for pet product known for its antibiotic, anti-oxidant, anti-inflammatory and anticancer properties. Many health experts claim that it is, indeed, a true panacea; able to help cure everything from allergies to hypertension. Black seed has been used for thousands of years in Asia. It is a safe, plant-based viable alternative to conventional supplements and can be supportive for:
Killing multi-drug resistant "superbugs" associated with viral and bacterial infection, including TB
Eliminating fungus and mold
Reducing inflammation and relieving associated pain due to arthritis or injury
Providing antioxidant support to fight free radical damage that could lead to cancer
Preserving antioxidant enzymes that protect the liver and aid cellular antioxidant defense systems
Dried Calendula
Calendula is known for its medicinal properties and can be used as a topical application of oils, creams, and lotions. The medicinal properties of calendula include triterpene saponins, flavonoids, carotenoids, and volatile oils., which make calendula an excellent healing aid as anti-inflammatory, antiviral, antifungal, and antimicrobial medicine. Calendula could be used for stomach ulcers and, externally, as pain relievers, though it has been found most useful for healing wounds and skin conditions as it promotes the formation of granulation tissue while also preventing bacterial infections.
As an anti-inflammatory, calendula has been proven useful for urinary tract infections or an inflamed digestive system and could also be used as an eyewash for eye infections or injuries.
Calendula contains many essential oils, saponins, triterpene alcohols, flavonoids, and carotenes. These medicinal properties may quicken the cell reproduction and prevent bacterial or fungal infections.

Echinacea
Echinacea has been used traditionally to clear inflammatory skin problems. It was used in the treatment of boils, abscesses, and eruptive skin conditions. Echinacea is believed to exert its benefits in the treatment of skin conditions via enhancing the activity of the lymph system, improving local elimination and reducing inflammation.93 Echinacea also may be applied locally (topically) for inflammatory skin conditions. The polysaccharides are being investigated as possible active ingredients in its external activity.83 Echinacea has demonstrated important immunomodulatory effects. It may be included in internal use formulae for chronic acne, as a general anti-inflammatory and immunotonic herb. Echinacea has been used successfully as a local anti-inflammatory for minor wounds and may be considered as part of a rinse or cream-based topical preparation.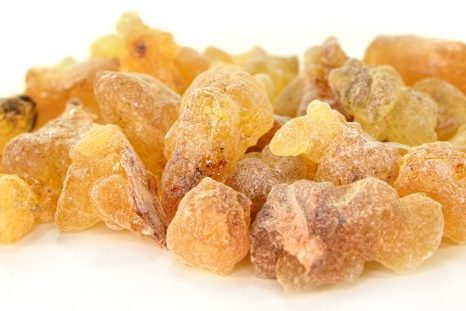 Frankincense Essential Oil
As the king of oils, Frankincense is known to promote cellular health and immunity and can be consumed daily for these internal benefits. It promotes cellular health and DNA integrity for any lumps or bumps that your animal may have. Frankincense supports healthy function of the nervous system, immune system, and digestive tract. It helps soothe skin that is irritated, itchy or damaged, particularly when used in conjunction with lavender. It also relaxes and soothes sore muscles and joints in older animals.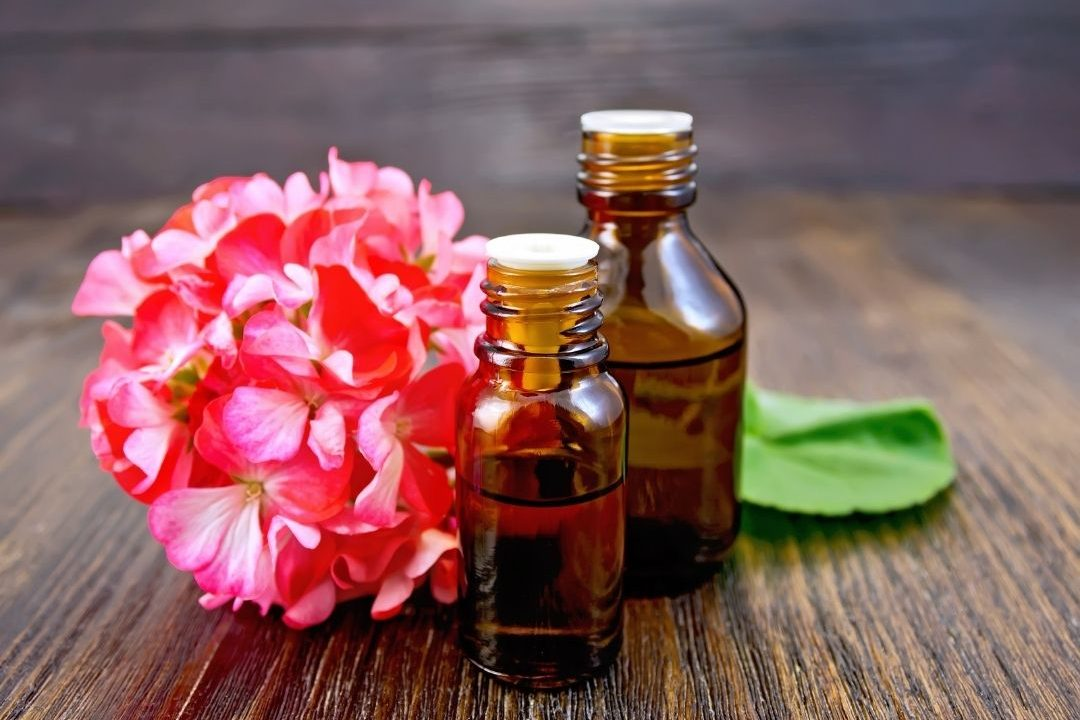 Geranium Essential Oil
Geranium, another safe essential oil to use on pets. It has strong antifungal properties against yeast overgrowth, fungal ear infections and is effective in repelling ticks and fleas. For pets that love the outdoors and grass, Geranium is a must-have for all owners.
Geranium essential oil has wonderful benefits for animals, including:
A calming effect on dogs suffering from anxiety.
Helps to heal canine skin problems
Treats fungal ear infections
Reduces stress
Treats yeast overgrowth
Repels fleas and ticks.
German Chamomile Essential Oil
German chamomile, also known as blue chamomile, has anti inflammatory benefits good for the skin and coat. Containing the highest level of azulene, it helps promote a healthy immune response and gives the freshly distilled oil its rice blue hue. Its anti inflammatory properties slow chemicals associated with inflammation, including prostaglandins, leukotrienes, and histamines, which are a part of the body's immune system, allowing for it to be effective in treating pain that comes with rheumatoid arthritis, fibromyalgia, symptoms associated with chemotherapy or radiation and various skin conditions, even help heal inflammation and irritation of the respiratory tract to improve lung function.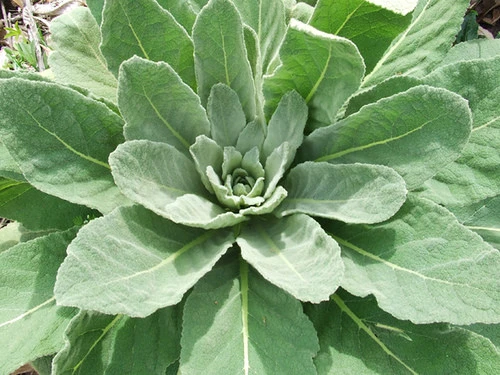 Mullen Leaf
Mullein has a long history of use as an herbal treatment, is one of the most commonly suggested herbs for dogs – and for good reason.
For dogs, there is evidence that suggests its use in treating respiratory illnesses like the common cold. It's also great for calming the pain of ear aches and treating mild ear infections. There is also evidence to support the usage of mullein leaves as a poultice for soothing the skin and for providing antimicrobial sustenance for irritations, wounds, bites, and burns.
The flowers are generally of most interest in mullein, with high levels of vitamins A, B-complex and D found along with calcium, iron, potassium, and sulfur. The leaves can be used in a poultice, as mentioned, and in a tea. And the leaves and flowers can be used together to create an oil to assist with ear infections.
Pau D'arco Bark
Pau d'Arco is a dietary supplement made from the inner bark of several species of Tabebuia trees that grow in Central and South America. Also known as taheebo or lapacho, pau d'arco has long been used to treat a range of ailments. It is used primarily as a supplement to reduce inflammation and promote weight loss. Several compounds called naphthoquinones, mainly lapachol and beta-lapachone, are thought responsible for its purported benefit.
Pau d'Arco is thought to have antifungal properties through the inhibition of the processes that bacteria and fungi need to produce oxygen and energy. It also has antibacterial and anti inflammatory properties by inhibiting the release of specific chemicals that trigger an inflammatory response. It also helps treat inflammatory conditions such as osteoarthritis.
Pau d'arco also inhibits pancreatic lipase, the enzymes that helps the body digest and absorb dietary fat, aiding weight loss.
Petitgrain Essential Oil
Petitgrain essential oil is high in linalyl acetate, linalool, and alpha terpineol. It could be used to support the nervous system, particularly with nervous stress and calming nerve excitement, as well as soothing nervous digestive tracts. It also promotes healthy skin and coat, even supporting antioxidant support and healthy cardiovascular function. Petitgrain essential oil has a calming effect and is able to calm feelings of fear and panic.
Roman Chamomile Essential Oil
Roman chamomile essential oil has uses slightly more varied in comparison to blue chamomile's uses that targets more digestive, inflammation and pain relief benefits due to its sesquiterpenes and oxides. Roman chamomile oil's constituents of isobutyl angelate, butyl angelate, borneol, camphene, pinene and terpinene gives it varied antiseptic protection, anxiety and depressionrelief, antispasmodic and tonic actions.
Roman chamomile is able to give acute anxiety relief by promoting relaxation and helping with anxiety. Its anti inflammatory effects makes it suited for wound healing, while its antibacterial effects help curb infection. As compared to blue chamomile, Roman chamomile has significantly higher antioxidant levels, which rejuvenate health and repair damage. Roman chamomile is also able to support digestive health by giving relief alongside multiple treatment measures.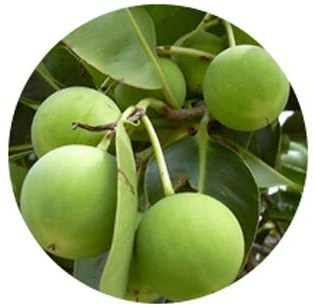 Tamanu Oil
Tamanu Oil skin benefits seem to be endless so it shouldn't come as any surprise that its amazing skin healing power works wonders on animals such as horses, dogs and even cats although care needs to be taken that they do not ingest it.
Humans and animals are not all that different. However, dogs and horses DO tend to be somewhat more prone to injury! Dogs get into scrapes with other dogs. Horses seem to cut themselves on barb wire or other objects. Cats can develop a range of skin irritations for any number of reasons, including injury. Animals can also suffer from conditions akin to Rheumatism, post surgical wounds, scarring or a pulled muscle, a sprain or general inflammation. Fleas and bites commonly lead to itching and sores.
Works well for wounds, inflammation, swellings, skin infection, sores, dry skin, itching, bruised skin, hair loss, scabs, redness, pain in joints, healthy skin, flea allergy.
Vitamin E
Vitamin E is a nutrient that helps support the immune system and help cell regeneration. It also has antioxidant and anti-inflammatory properties. It is most commonly known for its benefits for skin health and appearance. Applied topically, it helps reduce inflammation and makes skin look younger.
Product Application
Directions For Skin:
Apply a thin layer of Harmony to the skin with a clean finger or gauze wrapped finger.
Completely cover the affected area with Harmony twice daily until yeast clears up.
Apply maintenance dose if needed.
Directions For Ears:
Massage 2-3 drops in the affected vertical ear canal or ear flap.
Apply twice daily until yeast clears.
Maintenance dose may be needed.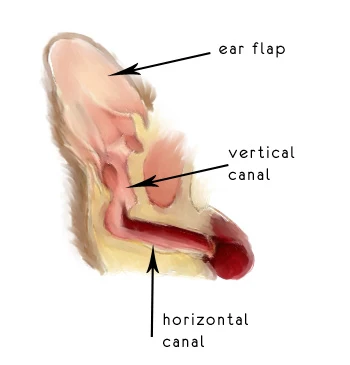 JJ E-Homez Holistic Pet Return Policy
Generally, all our products are strictly non-refundable nor exchangeable.
However, in the event you received an incorrect or defective item, or any other valid reason that you can't enjoy your purchase, we will provide a refund or an exchange, case by case basis.
All we ask is that when the item is returned, it should meet the following requirements:
Reach out to us to arrange an appointment to drop off your item at 216A Boon Lay Ave.
Item returned should be in their original & sealed packaging. Broken seals will not be accepted, unless there's a valid reason, based on case by case basis.
Please ensure at least 6 months of shelf life if it's a perishable item.
Send us your order confirmation email for refund verification.
Items not eligible for returns:
Food related, wearables, beds and carriers due to food safety & hygiene reasons.
Items that are purchased from promotional pricing from all of our sales channels.
Customers who had a history of returning more than 3 items.
When we receive the refunded/exchange item, we will review the condition of the item, and reach out to you to confirm and issue a refund/exchange within 7 working days. We regret that customers who decline to respect our policy will be ineligible for exchange, returns and refunds.
Do also note that if we find that a product has been intentionally damaged or tampered with, refunds will not be offered.
As generally, returns are not allowed otherwise, please check your order (e.g. type, size, colour, quantity, etc) before checking out. If you need help with any product, chat with us or please send us an email to jjehomez@gmail.com
Pre-order Items T&C
Please note of the following terms & conditions on all our Pre-order items :
Full payment is required for all Pre-order items.
Expect Pre-order items to be delivered between 3 to 15 working days (depending on which item) starting from your order date.
We will connect via WhatsApp or Email should there be any updates or concerns regarding your order.
Promotions
Website promotion for year 2023
Free Delivery for : orders above $38
*Terms & Conditions:
Website promotion is only applicable for orders/payments made via our website.
Promotions at other shopping platforms (Carousell, Lazada, Shopee, Amazon) is only applicable for orders/payments made via our shops within those shopping platforms.