Product Summary
Equus Soap K9 Outback Spray is an antibacterial, skin soothing and extremely effective aromatherapy for fleas and ticks to be kept away. Chemical-free flea and tick repellent for the outback lovers.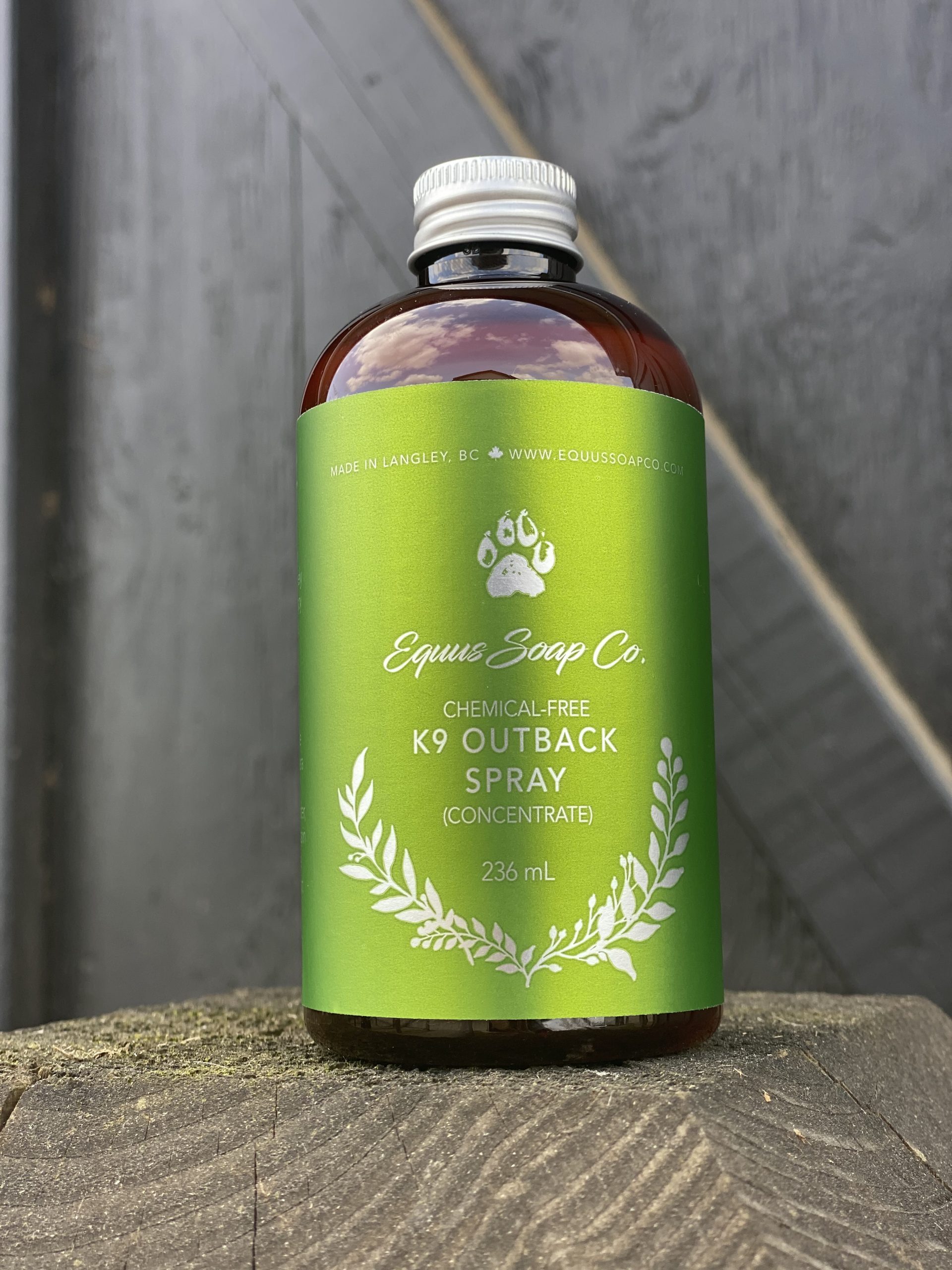 Product Ingredients
Water
Witch Hazel
Unpasteurized Apple Cider Vinegar
Aloe Vera Extract
Neem Oil
Essential Oils of Lavender, Rose Geranium, Bergamot and Fir Needle plus vitamin E (antioxidant preservative)
Aloe Vera Extract
Aloe vera extract contains healthful plant compounds, namely vitamins, minerals, amino acids and anti oxidants. It has anti oxidant, antibacterial and antiviral properties due to the polyphenols and other compounds that inhibit bacterial growth, which cause infection. It accelerates wound healing and is able to act as a skin protectant. Thanks to its effectiveness in killing plaque producing bacteria, it is even able to reduce dental plaque. It is also able to treat canker sores. Aloe vera is able to improve skin and prevent wrinkles as it helps the skin retain moisture and improve skin integrity.
Bergamot Essential Oil
Bergamot essential oil is a natural cleanser. It is particularly good for oily skin, helping to unclog pores and balance sebum levels. Several compounds like linalool and carvacrol in bergamot oil have antibacterial, anticonvulsant and anti inflammatory properties, which essentially reduces pain and inflammation. Its analgesic qualities may also make it effective against painful cysts and pimples.
Fir Needle Essential Oil
The health benefits of fir needle essential oil include its ability to reduce pain, prevent infections, improve respiratory function, increase the metabolism, detoxify the body, and reduce body odor by decreasing foul smelling bacteria growth.
When it comes to preventing infection, thanks to its high concentration of antiseptic organic compounds that stimulate the immune system and prevent dangerous infections, fir needle essential oil can be a powerful tool for that healthy body. The soothing nature of fir needle essential oil makes it ideal for soothing pain and relaxing aching muscles. The stimulating nature of the oil brings blood to the skin surface, flushing out toxins and increasing the body's healing and recovery rate for pain to fade away, In a toxin flush, sweating is induced by the body to push additional toxins out. The liver is also kicked into a higher gear to cleanse numerous systems of the body..
Lavender Essential Oil
Lavender essential oil has antifungal properties, and helps reduce inflammation. It helps to cleanse the skin, lessening redness and irritation with dry, itchy and scaly skin. It also has a skin lightening effect by reducing skin inflammation of blotchiness and redness, and reducing discoloration, like dark spots, even hyperpigmentation. Painful inflammation could be treated and soothed as lavender oil has pain relieving and numbing effects. The beta carophyllene in the oil also acts as a natural anti inflammatory. With wounds, lavender oil aids with skin tissue healing, even reducing scars.
Neem Oil
Neem oil contains fatty acids, antioxidants, and antimicrobial compounds, and these can benefit the skin in a range of ways. These compounds may help fight skin infections, promote wound healing, and combat signs of skin aging.
Rose Geranium Essential Oil
Rose geranium essential oil has antioxidant, anti aging, anti inflammatory, antimicrobial, antifungal, antiviral, analgesic and anti anxiety properties. While the antioxidants may help reduce skin aging, they also improve the skin's ability to heal itself from environmental toxins and exposure.
Vitamin E
Vitamin E is a nutrient that supports the immune system and aids cell regeneration. It also has antioxidant and anti-inflammatory properties though it is most commonly known for its benefits for skin health and appearance.
Unpasteurized Apple Cider Vinegar
Apple cider vinegar has anti inflammatory properties and it consists of acetic acid and alpha hydroxy acid. It has the ability to exfoliate the skin, absorb excess oils and unplug blocked pores. It also has the power to restore the proper pH levels to the skin.
Witch Hazel
Witch hazel has many benefits for skin, including relieving inflammation, tightening pores, and helping with bumps. It is also ale to cleanse the skin of excess oil. However, witch hazel should not be used by people with dry or extremely sensitive skin since it could become a cause of irritation.
Product Usage Directions
Pour concentrate into the provided 1L bottle with water
Shake well before each use.
Apply liberally to the body paying special attention to legs and the underside.
Apply to the face with your hands.
Note
Avoid eye contact.
JJ E-Homez Holistic Pet Return Policy
Generally, all our products are strictly non-refundable nor exchangeable.
However, in the event you received an incorrect or defective item, or any other valid reason that you can't enjoy your purchase, we will provide a refund or an exchange, case by case basis.
All we ask is that when the item is returned, it should meet the following requirements:
Reach out to us to arrange an appointment to drop off your item at 216A Boon Lay Ave.
Item returned should be in their original & sealed packaging. Broken seals will not be accepted, unless there's a valid reason, based on case by case basis.
Please ensure at least 6 months of shelf life if it's a perishable item.
Send us your order confirmation email for refund verification.
Items not eligible for returns:
Food related, wearables, beds and carriers due to food safety & hygiene reasons.
Items that are purchased from promotional pricing from all of our sales channels.
Customers who had a history of returning more than 3 items.
When we receive the refunded/exchange item, we will review the condition of the item, and reach out to you to confirm and issue a refund/exchange within 7 working days. We regret that customers who decline to respect our policy will be ineligible for exchange, returns and refunds.
Do also note that if we find that a product has been intentionally damaged or tampered with, refunds will not be offered.
As generally, returns are not allowed otherwise, please check your order (e.g. type, size, colour, quantity, etc) before checking out. If you need help with any product, chat with us or please send us an email to jjehomez@gmail.com
Pre-order Items T&C
Please note of the following terms & conditions on all our Pre-order items :
Full payment is required for all Pre-order items.
Expect Pre-order items to be delivered between 3 to 15 working days (depending on which item) starting from your order date.
We will connect via WhatsApp or Email should there be any updates or concerns regarding your order.
Promotions
Website promotion for year 2022
Free Delivery for : orders above $38
*Terms & Conditions:
Website promotion is only applicable for orders/payments made via our website.
Promotions at other shopping platforms (Carousell, Lazada, Shopee, Amazon or Qoo10) is only applicable for orders/payments made via our shops within those shopping platforms.