Product Summary
Equus Soap K9 Ear Wash consist of witch hazel and aloe to sooth itch and inflammation, apple cider vinegar to balance pH and reduce yeast buildup. Calendula, hypericum oils and myrtle, lavender, rosemary essential oils have both antimicrobial and anti-inflammatory for added relief. A soothing and natural astringent ear cleaner for dogs, it is great for use swimming to prevent microbial infections due to wet ears.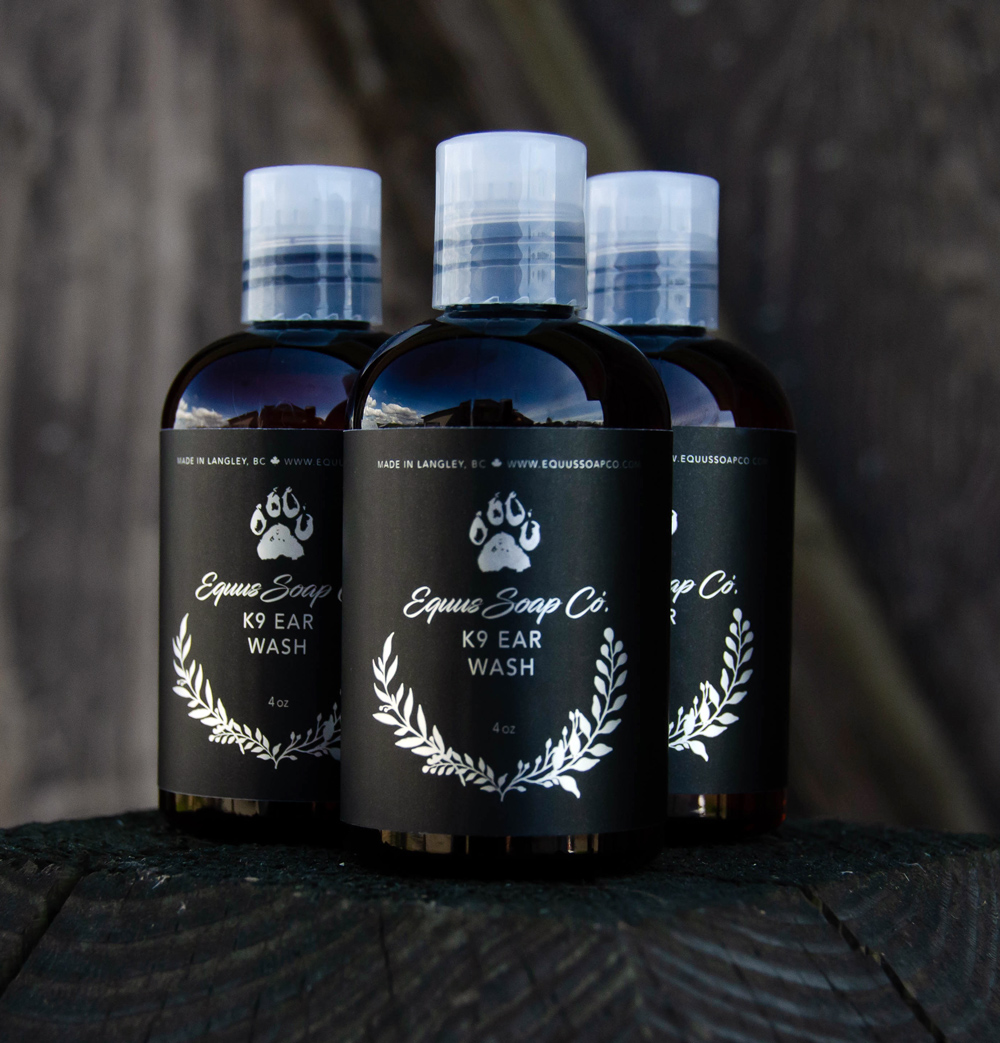 Product Ingredients
Water
Witch Hazel
Unpasteurized Apple Cider Vinegar
Aloe Vera Extract
Hypericum OIl
Calendula Oil
Castor Oil
Vegetable Glycerine
Denatured Alcohol - Source from grain or potato, highly distilled
Essential Oils of Myrtle, Lavendar, Rosemary plus vitamin E (antioxidant preservative)
Aloe Vera Extract
Aloe vera extract contains healthful plant compounds, namely vitamins, minerals, amino acids and anti oxidants. It has anti oxidant, antibacterial and antiviral properties due to the polyphenols and other compounds that inhibit bacterial growth, which cause infection. It accelerates wound healing and is able to act as a skin protectant. Thanks to its effectiveness in killing plaque producing bacteria, it is even able to reduce dental plaque. It is also able to treat canker sores. Aloe vera is able to improve skin and prevent wrinkles as it helps the skin retain moisture and improve skin integrity.
Calendula Oil
Calendula oil has antifungal, anti inflammatory, and anti bacterial properties that may make it useful in healing wounds, soothing eczema, and relieving itchiness. It could even be used as an antiseptic. It treats skin by improving skin appearance and quality.
Castor Oil
The main component of castor oil is ricinoleic acid, a fatty acid type that contains anti inflammatory properties. It could be used as a laxative, used topically for hair growth, or applied as a skin lubricant. It does help in pain relief, with no side effects. As a skin lubricant, it not only reduces wrinkles, it also improves skin quality.
Hypericum Oil
Hypericum oil has been recognised as a traditional, folk medicine used topically for the treatment of wounds, abrasions, burns, sunburns and inflammatory skin disorders.
Its use in wound healing could be justified with its anti inflammatory, antimicrobial and astringent effects. It also stimulated tissue growth and cell differentiation, as one of its main ingredients, hyperforin, was shown to activate TRPC6 channel which had been recognised as an activator of keratinocyte differentiation. Another potentially useful activities could be its inhibitory effects on epidermal Langerhans cells.
Lavender Essential Oil
Lavender essential oil has antifungal properties, and helps reduce inflammation. It helps to cleanse the skin, lessening redness and irritation with dry, itchy and scaly skin. It also has a skin lightening effect by reducing skin inflammation of blotchiness and redness, and reducing discoloration, like dark spots, even hyperpigmentation. Painful inflammation could be treated and soothed as lavender oil has pain relieving and numbing effects. The beta carophyllene in the oil also acts as a natural anti inflammatory. With wounds, lavender oil aids with skin tissue healing, even reducing scars.
Myrtle Essential Oil
Myrtle essential oil has astringent properties, diminishing wrinkles as it contracts and tightens skin, even stopping hemorrhaging due to blood vessel contraction. It helps to eliminate foul odors, without causing side effects of itching, irritation or skin patches. Myrtle oil helps to prevent infections as it does not let microbes infect wounds, thereby protecting against sepsis and tetanus. Aside from being an expectorant, myrtle essential oil helps to maintain healthy nerves and relaxes the body, allowing for relief from irritation, inflammation and various allergies.
Rosemary Essential Oil
Rosemary essential oil has been known to treat respiratory problems with its strong antiseptic and antibacterial properties. Alongside its strong antioxidant action, it also aids in reducing inflammation. Its anti inflammatory and anti analgesic properties aid with pain relief. Aside from easing pain, rosemary oil further stimulates blood circulation that aid in coagulation of wounds to quicken healing. Replete with anti fungal and anti bacterial properties, rosemary oil could go as far as to give the immune system a boost, combat illness with free radicals, and relieve stress. Ingested, rosemary essential oil is able to bring relief to indigestion, and treat problems of constipation, stomach cramps, bloat and relieve flatulence. It even helps improve memory and reduce hair loss.
Vitamin E
Vitamin E is a nutrient that supports the immune system and aids cell regeneration. It also has antioxidant and anti-inflammatory properties though it is most commonly known for its benefits for skin health and appearance.
Unpasteurized Apple Cider Vinegar
Apple cider vinegar has anti inflammatory properties and it consists of acetic acid and alpha hydroxy acid. It has the ability to exfoliate the skin, absorb excess oils and unplug blocked pores. It also has the power to restore the proper pH levels to the skin.
Vegetable Glycerine
Vegetable glycerine may lead to better skin health by soothing skin irritation, protect against infection and promote wound healing. Studies show that applying glycerin containing products may protect the skin against irritants and microbes, as well as soothe inflamed or wounded skin. Vegetable glycerine traps and locks moisture in the skin, thereby softening, smoothing and soothing the wrinkled skin.
Witch Hazel
Witch hazel has many benefits for skin, including relieving inflammation, tightening pores, and helping with bumps. It is also ale to cleanse the skin of excess oil. However, witch hazel should not be used by people with dry or extremely sensitive skin since it could become a cause of irritation.
Product Usage Directions
Shake well before use.
Use 10 to 30 milliliters in each ear.
Massage ear canal thoroughly and wipe away excess moisture with a clean cloth.
Note
If your dog has a suspected ear infection or inflammation, do check with your veterinarian before use.
JJ E-Homez Holistic Pet Return Policy
Generally, all our products are strictly non-refundable nor exchangeable.
However, in the event you received an incorrect or defective item, or any other valid reason that you can't enjoy your purchase, we will provide a refund or an exchange, case by case basis.
All we ask is that when the item is returned, it should meet the following requirements:
Reach out to us to arrange an appointment to drop off your item at 216A Boon Lay Ave.
Item returned should be in their original & sealed packaging. Broken seals will not be accepted, unless there's a valid reason, based on case by case basis.
Please ensure at least 6 months of shelf life if it's a perishable item.
Send us your order confirmation email for refund verification.
Items not eligible for returns:
Food related, wearables, beds and carriers due to food safety & hygiene reasons.
Items that are purchased from promotional pricing from all of our sales channels.
Customers who had a history of returning more than 3 items.
When we receive the refunded/exchange item, we will review the condition of the item, and reach out to you to confirm and issue a refund/exchange within 7 working days. We regret that customers who decline to respect our policy will be ineligible for exchange, returns and refunds.
Do also note that if we find that a product has been intentionally damaged or tampered with, refunds will not be offered.
As generally, returns are not allowed otherwise, please check your order (e.g. type, size, colour, quantity, etc) before checking out. If you need help with any product, chat with us or please send us an email to jjehomez@gmail.com
Pre-order Items T&C
Please note of the following terms & conditions on all our Pre-order items :
Full payment is required for all Pre-order items.
Expect Pre-order items to be delivered between 3 to 15 working days (depending on which item) starting from your order date.
We will connect via WhatsApp or Email should there be any updates or concerns regarding your order.
Promotions
Website promotion for year 2022
Free Delivery for : orders above $38
*Terms & Conditions:
Website promotion is only applicable for orders/payments made via our website.
Promotions at other shopping platforms (Carousell, Lazada, Shopee, Amazon or Qoo10) is only applicable for orders/payments made via our shops within those shopping platforms.