Product Summary
Deer Velvet Oral Drops is Dr. Morgan's signature product that makes caring for your pet's dental health easier than ever with all natural ingredients sourced from New Zealand. This alcohol free product can be used routinely to maintain good oral health for your dogs & cats. Contains approximately 250 drops (30 ml).
Beneficial for use in oral maladies such as :
Stomatitis
Gingivitis
Tooth extractions
Ulcers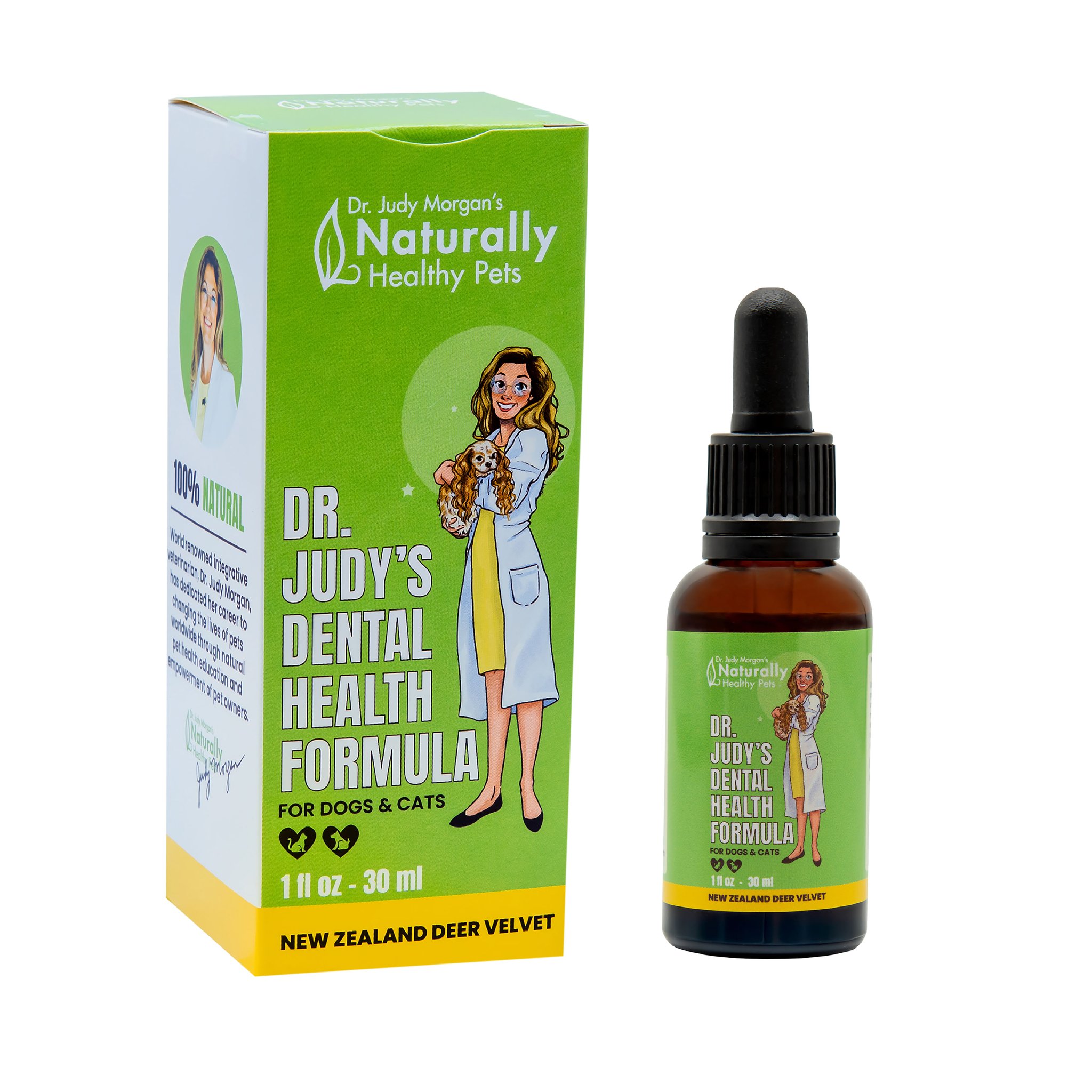 Product Ingredients
New Zealand Propolis
Manuka UMF 10+ Honey (produced in New Zealand)
Manuka Essential Oil Concentrate
Cinnamon Oil
Peppermint Oil
Manuka Hydrosol
Bio Active Deer Velvet Antler Extract
Symbiosolv XE
Cinnamon Oil
Cinnamon oil contains eugenol as a main constituent that is known for its antiseptic and anti inflammatory properties. It fights bacteria, and inhibits the growth of many fungi, including Candida albicans. Due to its high Eugenol level, cinnamon oil has various benefits. It helps decrease inflammation, increase circulation, fight viruses and free radicals, relieves depression, stimulates the immune system, and helps fight parasites.
Bio-Active Deer Velvert Antler Extract
Bio-active deer velvet antler extract are loaded with growth factors that stimulate cell healing, red blood cell production and tissue repair. Bio-active deer velvet antler extract is used to boost strength and endurance, improve the way the immune system works, counter the effects of stress, and promote rapid recovery from illness. It is also used at the onset of winter to ward off infections.
Manuka Essential Oil Concentrate
Manuka oil contains triketones, monoterpenes, sesquiterpenes and other compounds, which give it potent and valuable qualities. It has antibiotic properties and has a potent antibacterial effect, being extremely effective against up to 15 common microbes and bacteria, and is also up to 1000 times more effective against gram positive bacteria than manuka honey. It also reduces inflammation and helps prevent/treat gingivitis.
Manuka Hydrosol
Manuka hydrosol is a natural end-product from the steam distillation of Manuka plant with water under pressure to obtain the essential oil. A versatile Manuka product ideal for water based applications and an excellent addition to topical cleansers and washes.
Manuka hydrosol has antibiotic and antibacterial properties, helps cuts, bites, assist with wound care, gingivitis and fights bacteria.
Manuka UMF 10+ Honey
Manuka honey is made by bees that pollinate the native leptospermum scoparium bush, also known as "tea tree". Used since olden times to treat multiple conditions, honey has natural antibacterial qualities. It protects the body against damage caused by bacteria, even boosting production of special cells that can repair tissue damaged by infection. Manuka honey has an anti-inflammatory action that could help ease pain and inflammation though the antibacterial effect is dependent on the honey.
The UMFTM rating reflects the concentration of 3 signature compounds found in genuine Manuka honey, MGO, DHA and leptosperin. To be considered potent enough to be therapeutic, Manuka honey needs a minimum rating of UMF™ 10+.
The main medical use for Manuka honey is for wound and burn healing. Generally used for treating minor wounds and burns, Manuka honey could also be used to treat eczema and dermatitis, soothe a cough or sore throat, and help with digestive health.
Manuka honey may also help prevent gingivitis and other periodontal disease by reducing the buildup of plaque.
New Zealand Propolis
Propolis is one of nature's most powerful compounds, a unique combination of plant bioactives and bee ingenuity. Made by bees from plant resins, propolis is used to protect and sterilise the beehive, where it acts as the immune defence mechanism for the whole hive. The protective immune defence and antioxidant properties of Propolis come from the bioactive plant compounds it contains, allowing for it to be a health product. New Zealand Propolis is renowned for its high levels of these protective bioactives.
New Zealand's unique environment produces plant-life rich in bioactive compounds that help protect and enhance the plants survival. These bioactives are concentrated in New Zealand Propolis and are recognized for their powerful protective benefits for health which inludes anti-inflammatory and antimicrobial properties that kills or inhibits the growth of microorganisms
Peppermint Oil
Pepppermint oil are of antimicrobial properties and freshens breath. It is also a treatment for a variety of conditions, including irritable bowel syndrome (IBS), nausea, other digestive issues, the cold, and headaches. It is a topical application for relief from itching, muscle pain, and headache.
It has the ability to relax the smooth muscles of the gastrointestinal (GI) tract, affect the bacteria that naturally live in the GI tract, and decrease pain sensation in the GI tract. It also has an anti inflammatory effect. Aside from killing germs, peppermint oil is able to prevent or reduce vomiting, help the body eliminate mucus, reduce muscle spasms, flatulence, promote sweating and boost blood circulation.
Symboisolv XE
Symboisolv XEis a synergistically composed solubilizer blend for transparent aqueous solutions. It is made from, 100% renewable sources, through the esterification of glycerin from vegetable oil sources and medium chain fatty acids of coconut oil. Symboisolv is 100% natural.
Product Usage Directions
Shake well before use.
Apply 2-5 drops to upper gums once daily.
Note
Do not feed animal one hour prior or after product application.
JJ E-Homez Holistic Pet Return Policy
Generally, all our products are strictly non-refundable nor exchangeable.
However, in the event you received an incorrect or defective item, or any other valid reason that you can't enjoy your purchase, we will provide a refund or an exchange, case by case basis.
All we ask is that when the item is returned, it should meet the following requirements:
Reach out to us to arrange an appointment to drop off your item at 216A Boon Lay Ave.
Item returned should be in their original & sealed packaging. Broken seals will not be accepted, unless there's a valid reason, based on case by case basis.
Please ensure at least 6 months of shelf life if it's a perishable item.
Send us your order confirmation email for refund verification.
Items not eligible for returns:
Food related, wearables, beds and carriers due to food safety & hygiene reasons.
Items that are purchased from promotional pricing from all of our sales channels.
Customers who had a history of returning more than 3 items.
When we receive the refunded/exchange item, we will review the condition of the item, and reach out to you to confirm and issue a refund/exchange within 7 working days. We regret that customers who decline to respect our policy will be ineligible for exchange, returns and refunds.
Do also note that if we find that a product has been intentionally damaged or tampered with, refunds will not be offered.
As generally, returns are not allowed otherwise, please check your order (e.g. type, size, colour, quantity, etc) before checking out. If you need help with any product, chat with us or please send us an email to jjehomez@gmail.com
Pre-order Items T&C
Please note of the following terms & conditions on all our Pre-order items :
Full payment is required for all Pre-order items.
Expect Pre-order items to be delivered between 3 to 15 working days (depending on which item) starting from your order date.
We will connect via WhatsApp or Email should there be any updates or concerns regarding your order.
Promotions
Website promotion for year 2023
Free Delivery for : orders above $38
*Terms & Conditions:
Website promotion is only applicable for orders/payments made via our website.
Promotions at other shopping platforms (Carousell, Lazada, Shopee, Amazon) is only applicable for orders/payments made via our shops within those shopping platforms.