Product Summary
Canident is a blend of sustainably-harvested brown seaweeds that are farmed out in the cool waters of the Atlantic off West Ireland. We take great care how we dry our product, preserving these good bits. Completely natural and chemical free, Canident helps keep your dogs and cats teeth free from plaque and tartar naturally.
Gum disease arises from a build up of plaque that, when left unattended, forms a tough layer of yellow tartar besides the blood rich gum line. Bacteria now have easy access to the blood-highway. This is bad news. This means the immune system is in a contant state of arousal, defending itself from invaders, drawing daily on the bodies resources leaving the patient more vulnerable to disease. To top it all off, a by-product of these bacteria is a bad smell, leading to all the bad breath (halitosis). It is often the first sign that all is not well in the mouth (and possibly gut). Worse still it has knock-on effect on other organs too.
"Studies have shown that advance periodental disease can lead to heart, liver, kidney and respiratory problems. Periodontitis can also complicate the management of diseases such as diabetes" - British Veterinary Dental Association
The plants selected in this product contain unique polysaccharides that are clinically proven to reduce tartar build up in your pet in 5-8 weeks, or your money back. Canident works systemically through your pet's saliva to loosen tartar enabling it to be easily removed by the simple chewing of a nice, fresh bone.. The reviews don't lie!
As always, please remember, dirty teeth is first and foremost a dietary issue, usually a lack of abrasion in the diet. In this instance, nothing replaces a nice, raw meaty bone.
Giving such a natural seaweed-based supplement is not just about teeth cleaning, however. Seaweed is a popular food supplement for dogs as it is so rich in vitamins, minerals and antioxidants that boost your pet's health. Canident works systemically through the dogs and cats system keeping them healthy from within.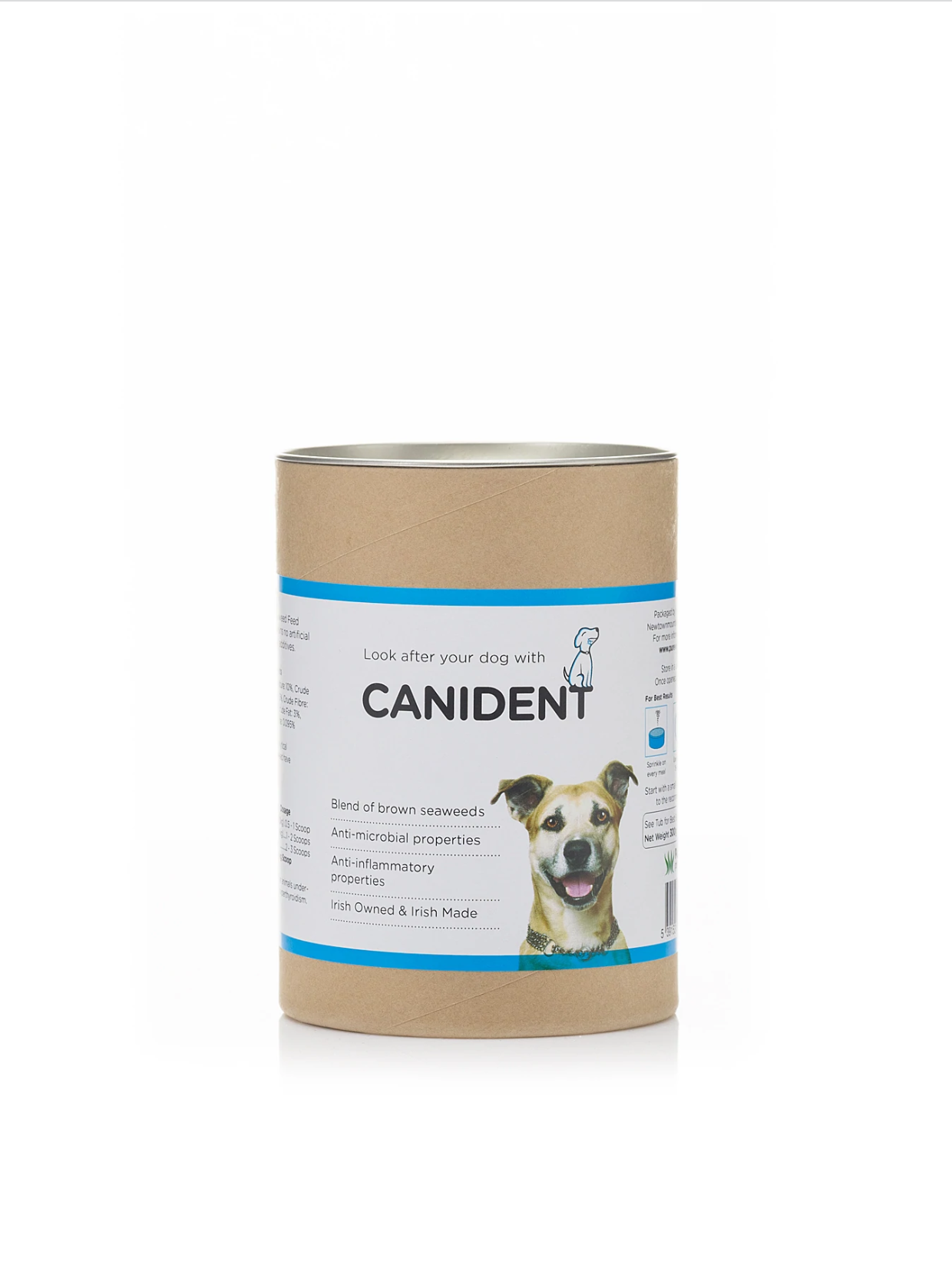 Product Ingredients
A proprietary blend of 3 brown, Irish Atlantic brown seaweeds, nothing more
No artificial chemicals, additives or preservatives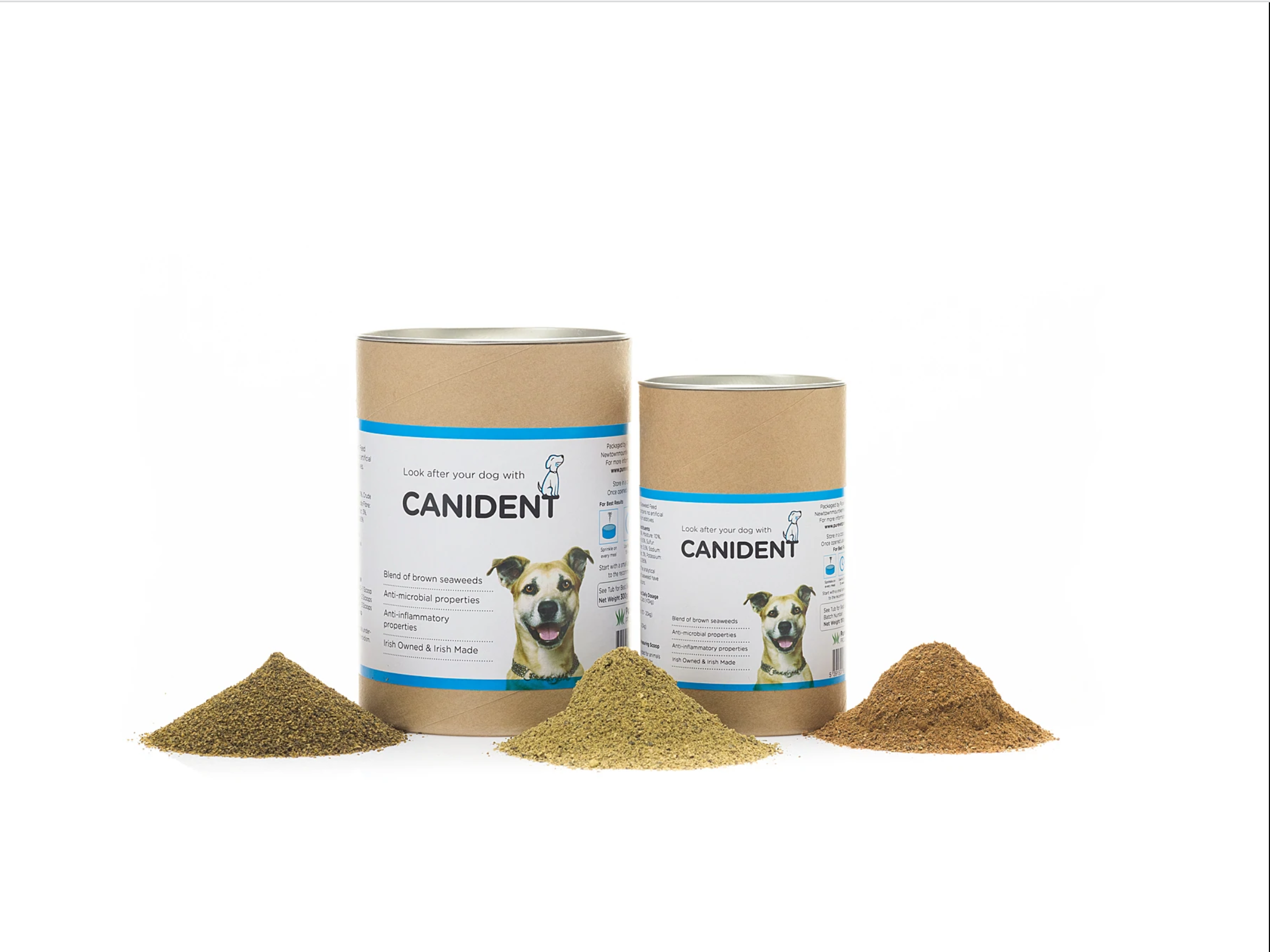 Product Usage Directions
If your animal has never previously eaten seaweed, commence feeding with a small amount and gradually increase the quantity, until the feeding recommendation is achieved. If Canident is not having a positive effect after a couple of months, then increase the amount being fed until desirable results are reached.
If using any other seaweed products in your pet's diet, do not exceed a 5% inclusion ratio of seaweed product to total feed.
The dosage below are to be mixed thoroughly with food once a day.
● <10kg - 1/2-1tsp
● 10kg to 20kg - 1-2tsp
● >20kg - 2-3tsp
*Start with small amounts and increase to recommended amount.
*Not suitable for animals undergoing treatment for hyperthryoidism.
Pet's Weight 150g tub 300g tub
● <10kg 100 day supply 200 day supply
● 10kg - 20kg 50 day supply 100 day supply
● >20kg 30 day supply 60 day supply
Note
CANIDENT IS NOT TO BE USED IN ANIMALS WITH HYPER THYROID ISSUES.
SAFE AND EFFECTIVE USE IN PREGNANT ANIMALS OR THOSE INTENDED FOR BREEDING HAS NOT BEEN PROVEN.
IF ANIMAL'S CONDITION WORSENS OR DOES NOT IMPROVE, STOP PRODUCT ADMINISTRATION AND CONSULT YOUR VETERINARIAN.
THIS INFORMATION IS INTENDED TO PROVIDE INFORMATION ONLY.
EACH ANIMAL HEALTH SITUATION IS UNIQUE. THIS INFORMATION IS NOT INTENDED FOR USE IN DIAGNOSIS OR TREATMENT OF SPECIFIC HEALTH PROBLEMS OR DISEASES, AND SHOULD NEVER BE CONSIDERED AS A SUBSTITUTE FOR VETERINARY ADVICE."
JJ E-Homez Holistic Pet Return Policy
Generally, all our products are strictly non-refundable nor exchangeable.
However, in the event you received an incorrect or defective item, or any other valid reason that you can't enjoy your purchase, we will provide a refund or an exchange, case by case basis.
All we ask is that when the item is returned, it should meet the following requirements:
Reach out to us to arrange an appointment to drop off your item at 216A Boon Lay Ave.
Item returned should be in their original & sealed packaging. Broken seals will not be accepted, unless there's a valid reason, based on case by case basis.
Please ensure at least 6 months of shelf life if it's a perishable item.
Send us your order confirmation email for refund verification.
Items not eligible for returns:
Food related, wearables, beds and carriers due to food safety & hygiene reasons.
Items that are purchased from promotional pricing from all of our sales channels.
Customers who had a history of returning more than 3 items.
When we receive the refunded/exchange item, we will review the condition of the item, and reach out to you to confirm and issue a refund/exchange within 7 working days. We regret that customers who decline to respect our policy will be ineligible for exchange, returns and refunds.
Do also note that if we find that a product has been intentionally damaged or tampered with, refunds will not be offered.
As generally, returns are not allowed otherwise, please check your order (e.g. type, size, colour, quantity, etc) before checking out. If you need help with any product, chat with us or please send us an email to jjehomez@gmail.com
Pre-order Items T&C
Please note of the following terms & conditions on all our Pre-order items :
Full payment is required for all Pre-order items.
Expect Pre-order items to be delivered between 3 to 15 working days (depending on which item) starting from your order date.
We will connect via WhatsApp or Email should there be any updates or concerns regarding your order.
Promotions
Website promotion for year 2023
Free Delivery for : orders above $38
*Terms & Conditions:
Website promotion is only applicable for orders/payments made via our website.
Promotions at other shopping platforms (Carousell, Lazada, Shopee, Amazon) is only applicable for orders/payments made via our shops within those shopping platforms.