Product Summary
CocoTherapy coconut oil for dogs and cats is the ultimate first-aid kit in a jar. It can be applied topically, as well as given orally as a functional MCFA supplement. Our virgin coconut oil is 100% human-grade so we also use our premium coconut oil for ourselves – for cooking, baking, first aid, the list is endless.
CocoTherapy® Organic Virgin Coconut Oil is made from the purest, fresh organically grown, non-GMO coconuts. The coconuts are grown in our family-owned coconut farm, and processed in our organic facility. Due to the unique properties of our coconuts and our processing methods, CocoTherapy is a therapeutic grade virgin coconut oil with the highest levels of MCFAs, Lauric Acid. It is the brand most recommended by integrative veterinarians.
Available in :
8oz Glass Jar
16oz Glass Jar
24oz Refil Pack
0.33oz x 12 Travel Pack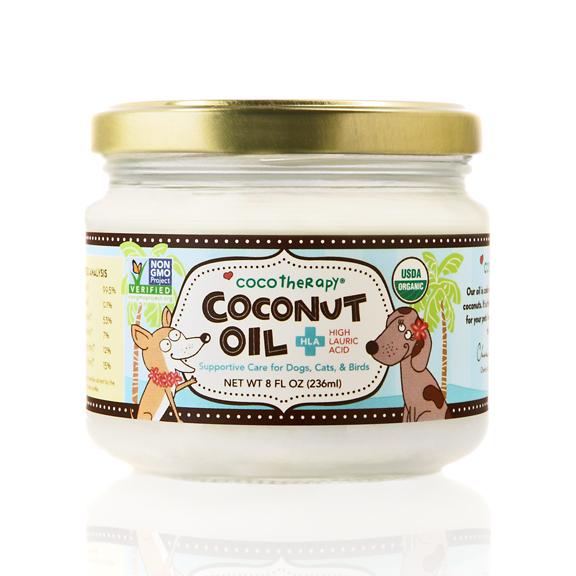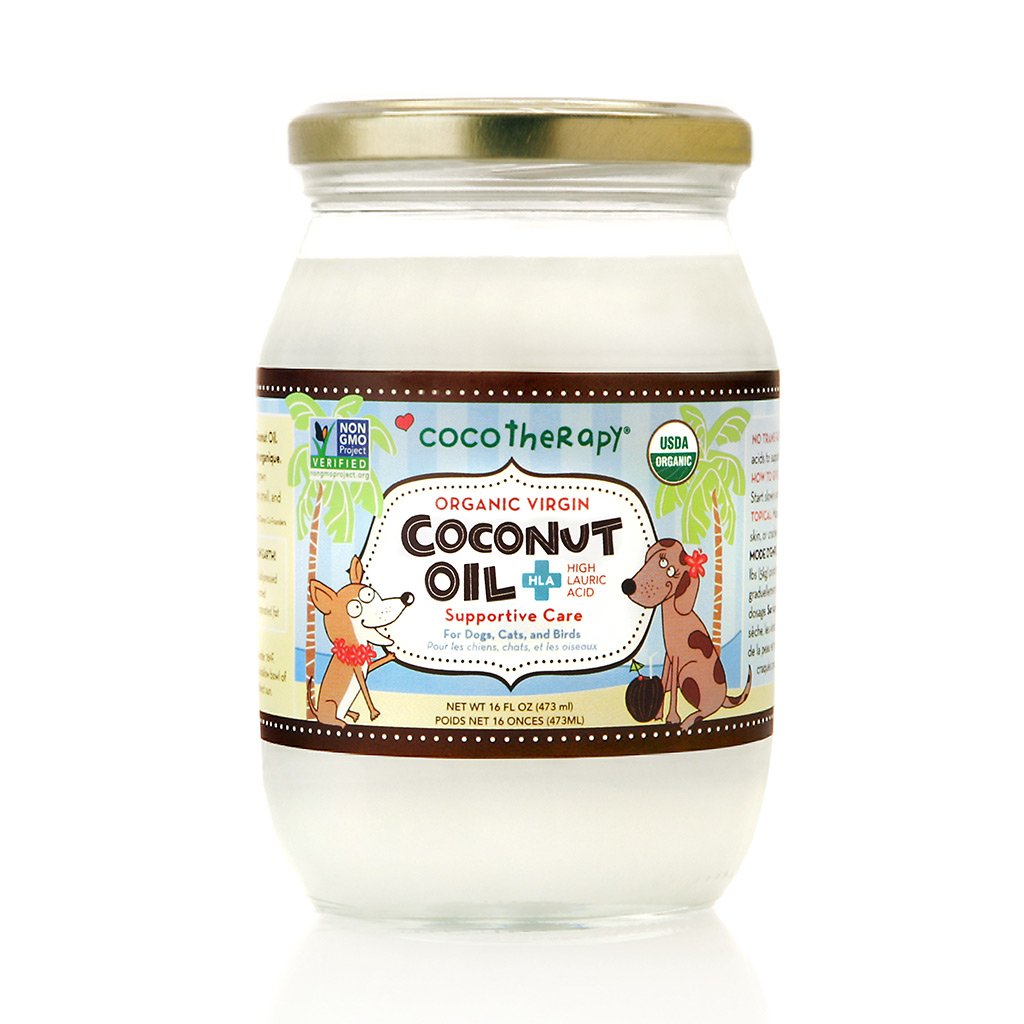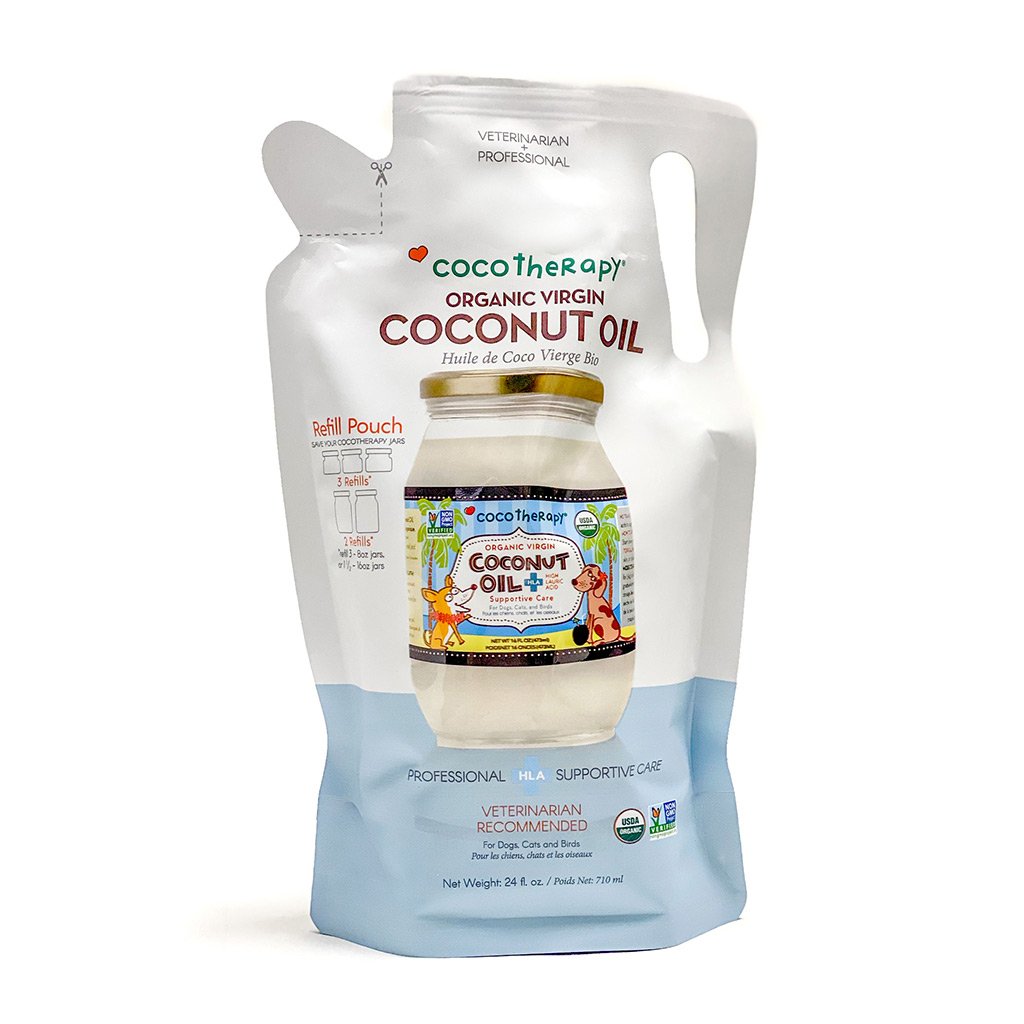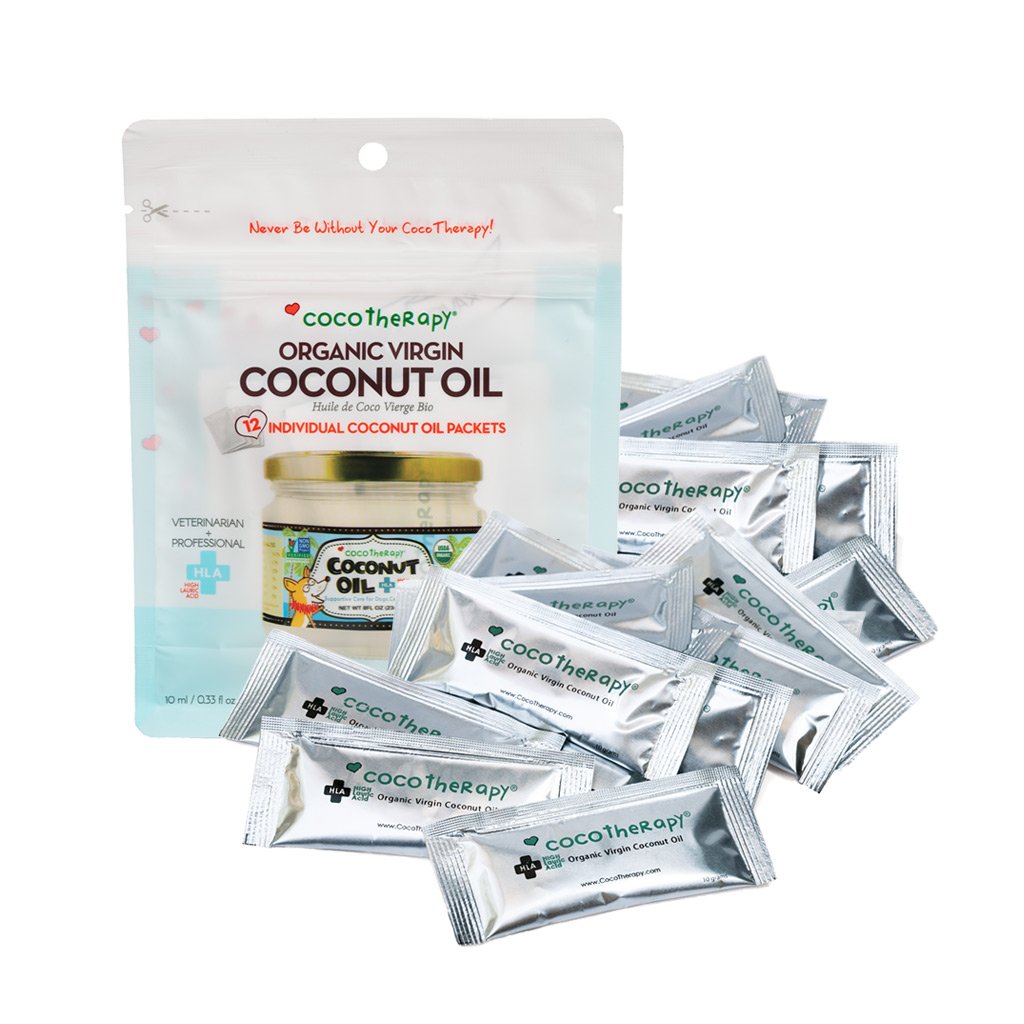 Product Video
Brush Your Dog and Cats Teeth with CocoTherapy Coconut Oil!
Clean Your Dog and Cats Ears with CocoTherapy Coconut Oil.
Health Benefits
CocoTherapy© Organic Virgin Coconut oil is a great-tasting, nutritious addition to your pet's diet. Virgin coconut oil contains approximately 96% saturated fat by weight. It supplies medium chain triglycerides, which help support your pet's over-all health, maintaining healthy body functions. Fed regularly to pets, coconut oil might have multiple benefits:
Skin Conditions
Supports and maintains healthy ski
Maintains normal, healthy levels of skin defense mechanisms
Supports healthy, shiny coats
Applied topically, soothes and supports the skin with cuts, wounds, hot spots, bites and stings
Gastrointestinal Health
Supports healthy gastrointestinal function
Supports healthy digestion
Supports healthy breath and oral health.
Healthy Immune System, Metabolic Function, and Bone Health.
Provides antioxidant support for healthy cell function
Supports healthy immune response to foreign microbes
Supports healthy thyroid function
Supports bone and joint health
Supports healthy weight
Provides quick, easily digested source of energy
Supports healthy brain and nervous system function
As always, before giving any new treat or supplement, talk to your holistic veterinarian about incorporating coconut oil and coconut chips in your pets' diet.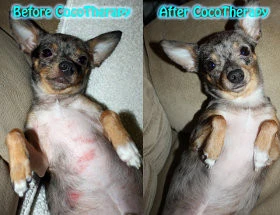 Product Ingredients
CocoTherapy Organic Virgin Coconut oil is 100% pure and natural:
100% pure, no chemicals or preservatives
Non-GMO (genetically modified organism)
USDA Organic Certified
Therapeutic Grade
Human-Grade
Raw
True cold-pressed below 100F
Unrefined
Hexane-free
Non-bleached
NO trans fat
NO hydrogenated fat
Calorie Content:
40 kcal in 1 tsp (4.5 g)
120 kcal in 1 tbsp (13.6 g)
Product Usage Directions
Recommended amount to give:
1 teaspoon (5ml) per 10 pounds (5kg) of body weight
1 tablespoon (15ml) per 30 pounds (13.6 kg) of body weight.
Start slowly, for example, start at a quarter of this and build up slowly. Use similarly for cats and other animals.
Our favorite way to give:
Simply place a tsp or so in the cupped palm of your hand and let the warmth of your hand melt the oil.
Then let your pet lick the oil directly from your hand! Our pooches and kitties love it, and what a wonderful way to bond!
As with all new supplements, start with small amounts, such as 1/8 - 1/4 teaspoon per day for small dogs, puppies, cats and kittens and 1 teaspoon for large dogs. Gradually increase the amount every few days.
As always, before giving any new treat or supplement, talk to your holistic veterinarian about incorporating coconut oil and coconut into your pets' diet.
JJ E-Homez Holistic Pet Return Policy
Generally, all our products are strictly non-refundable nor exchangeable.
However, in the event you received an incorrect or defective item, or any other valid reason that you can't enjoy your purchase, we will provide a refund or an exchange, case by case basis.
All we ask is that when the item is returned, it should meet the following requirements:
Reach out to us to arrange an appointment to drop off your item at 216A Boon Lay Ave.
Item returned should be in their original & sealed packaging. Broken seals will not be accepted, unless there's a valid reason, based on case by case basis.
Please ensure at least 6 months of shelf life if it's a perishable item.
Send us your order confirmation email for refund verification.
Items not eligible for returns:
Food related, wearables, beds and carriers due to food safety & hygiene reasons.
Items that are purchased from promotional pricing from all of our sales channels.
Customers who had a history of returning more than 3 items.
When we receive the refunded/exchange item, we will review the condition of the item, and reach out to you to confirm and issue a refund/exchange within 7 working days. We regret that customers who decline to respect our policy will be ineligible for exchange, returns and refunds.
Do also note that if we find that a product has been intentionally damaged or tampered with, refunds will not be offered.
As generally, returns are not allowed otherwise, please check your order (e.g. type, size, colour, quantity, etc) before checking out. If you need help with any product, chat with us or please send us an email to jjehomez@gmail.com
Pre-order Items T&C
Please note of the following terms & conditions on all our Pre-order items :
Full payment is required for all Pre-order items.
Expect Pre-order items to be delivered between 3 to 15 working days (depending on which item) starting from your order date.
We will connect via WhatsApp or Email should there be any updates or concerns regarding your order.
Promotions
Website promotion for year 2023
Free Delivery for : orders above $38
*Terms & Conditions:
Website promotion is only applicable for orders/payments made via our website.
Promotions at other shopping platforms (Carousell, Lazada, Shopee, Amazon) is only applicable for orders/payments made via our shops within those shopping platforms.