Product Summary
CocoTherapy Coco-Charms™ Training Treats are made using 100% organic and non-GMO ingredients that are not only good for your furry friend, but ridiculously delicious too! Absolutely vegan, grain and gluten free, dairy free, no eggs, and made with no preservatives, colors, or artificial flavors, so dogs with sensitive tummies or allergies can enjoy them too. Perfectly sized for training, small dogs, or figure-conscious dogs!
Coco-Charms are a truly beneficial treat:
Supports digestive health – coconut fiber has been shown to support digestive health and provide the healthiest form of fiber
No animal protein. Excellent for dogs on a limited protein diet or single source protein diet (ie: dogs with kidney, liver issues, or allergies).
Supports skin and coat health
Supports healthy weight
Pure, simple ingredients
Tiny size perfect for small dogs, training and figure-conscious dog
Available in :
Pumpkin Pie Flavour
Blueberry Cobbler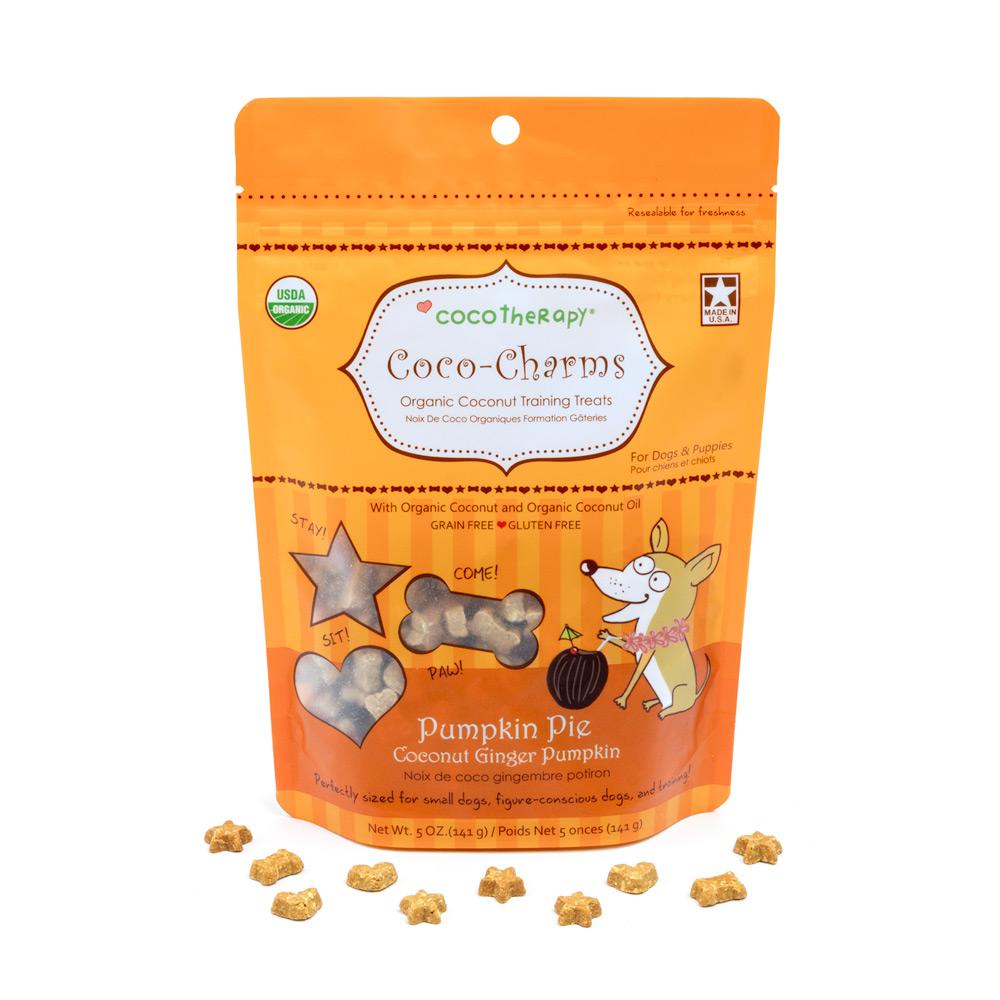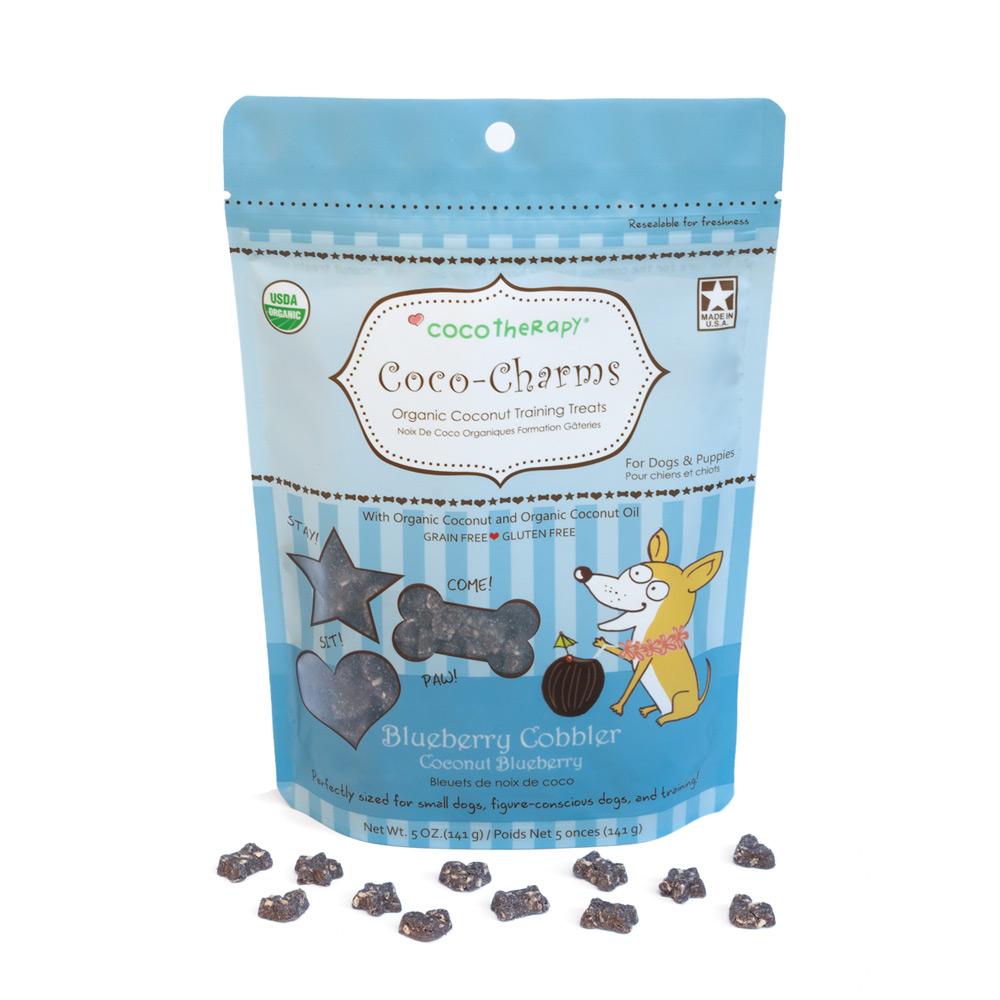 Product Video
Product Ingredients
Pumpkin Pie ingredients:
Organic coconut
Organic buckwheat flour
Organic coconut nectar
Organic coconut oil
Organic pumpkin
Organic ginger
Blue Cobblers ingredients:
Organic coconut
Organic buckwheat flour
Organic coconut nectar
Organic coconut oil
Organic blueberries
All ingredients are 100% human grade, 100% USDA certified organic, and non-GMO.
Calorie Content (calculated):
Metabolizable Energy: 5,229 kcal/kg
1 treat: approximately 1 kcal
Blueberries
Blueberries contain antioxidants, fibre, vitamins C and K, all of which support the immune system and contribute to overall health. The high vitamin c content helps support skin and heart health, while the high fibre content help regulate digestion and support a healthy gut microbiome. The antioxidants help protect cells against free radicals and inflammation, giving it anticancer benefits. Alongside the other minerals, vitamin K improves calcium absorption for strong bone maintenance.
Buckwheat Flour
Buckwheat is a treasure trove of nutrients. With protein and fibre, it improves heart health and helps prevent diabetes and digestive disorders. Loaded with antioxidants like rutin, tannin, and catechin, it is also packed with nutrients like amino acids, vitamins like vitamin b1 and b complex vitamins, and minerals of calcium, copper, magnesium, manganese, phosphorus, potassium, sodium and zinc. Rich in iron and folate, it even has a unique amino acid composition that works against cholesterol, hypertension and digestive problems like constipation.
Coconut
Coconut is highly nutritious. While it provides mostly fat, medium chain triglycerides, it also contains protein, several important minerals, and small amounts of B vitamins. The minerals in coconut are involved in body functions; like manganese, which is essential for bone health and the metabolism of carbohydrates, proteins, and cholesterol. Coconut is also rich in copper and iron, which help form red blood cells, as well as selenium, an important antioxidant that protects the cell. The fats promote body fat loss, which decreases the risk of heart disease and diabetes.
Coconut has antidiabetic effects, possibly due to its arginine content, which relates to blood sugar level regulation. The meat also contains phenolic compounds, which are antioxidants that may help protect cells from oxidative damage: gallic acid, caffeic acid, salicylic acid and p-coumaric acid.
Coconut Nectar
Coconut nectar is a natural sweetener that is rich in vitamins, namely b1, b2, b3, b6 and vitamin c, minerals, namely potassium, magensium, zinc and iron, and amino acids, yet has a dense and lush flavor alongside that low glycemic level.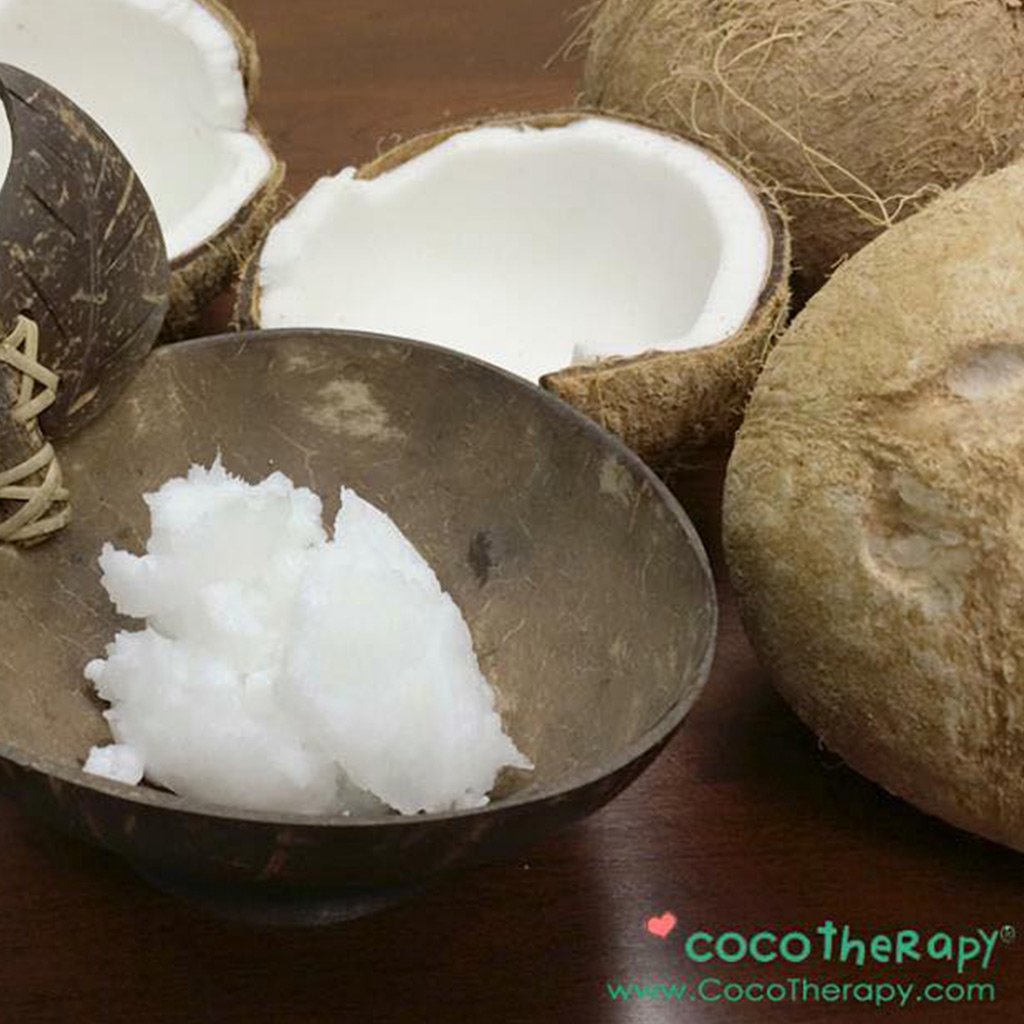 Coconut Oil
Contains healthy fatty acids, boosting heart health, encourage fat burning, reduce hunger, reduce seizures, raise good high density lipid (HDL) cholesterol, protects skin, hair and teeth, and even have antimicrobial effects.
Ginger
Ginger contains many antioxidants that help with motion sickness, blood circulation, nausea, gastrointestinal problems and bloat. Its anti inflammatory properties also help with arthritis.
Ginger contains gingerol and shogaol that give it its anti nausea effect. Not only do these compounds give ginger its taste, it also helps speed up the digestive process. Its anti inflammatory effect also helps soothe the digestive tract to reduce nausea. As a carminative herb, ginger helps prevent and expel gas from the digestive tract. By preventing bloat, which often progresses to gastric dilatation volvulus (GDV), a life threatening situation could be avoided as shock, from a lack of blood and oxygen, is avoided.
As a natural anti inflammatory, arthritis, osteoarthritis and rheumatoid arthritis symptoms could be reduced. It goes as far as to help prevent cancer, and act as an immune booster.
Ginger is also a holistic approach to prevent and remedy heartworm.
Pumpkin
Pumpkin is highly nutritious, containing minerals like iron, potassium and zinc, beta carotene, and vitamins A, C and E. It is also packed with dietary fibre, yet still has high water content to regulate digestion. Not only does the soluble fibre absorb water and add bulk to stool, the fibre fermentation produces beneficial fatty acids that supply energy to cells, stimulating intestinal sodium and water absorption to lower the large intestine's pH level. The high fibre content also aids with weight loss.
JJ E-Homez Holistic Pet Return Policy
Generally, all our products are strictly non-refundable nor exchangeable.
However, in the event you received an incorrect or defective item, or any other valid reason that you can't enjoy your purchase, we will provide a refund or an exchange, case by case basis.
All we ask is that when the item is returned, it should meet the following requirements:
Reach out to us to arrange an appointment to drop off your item at 216A Boon Lay Ave.
Item returned should be in their original & sealed packaging. Broken seals will not be accepted, unless there's a valid reason, based on case by case basis.
Please ensure at least 6 months of shelf life if it's a perishable item.
Send us your order confirmation email for refund verification.
Items not eligible for returns:
Food related, wearables, beds and carriers due to food safety & hygiene reasons.
Items that are purchased from promotional pricing from all of our sales channels.
Customers who had a history of returning more than 3 items.
When we receive the refunded/exchange item, we will review the condition of the item, and reach out to you to confirm and issue a refund/exchange within 7 working days. We regret that customers who decline to respect our policy will be ineligible for exchange, returns and refunds.
Do also note that if we find that a product has been intentionally damaged or tampered with, refunds will not be offered.
As generally, returns are not allowed otherwise, please check your order (e.g. type, size, colour, quantity, etc) before checking out. If you need help with any product, chat with us or please send us an email to jjehomez@gmail.com
Pre-order Items T&C
Please note of the following terms & conditions on all our Pre-order items :
Full payment is required for all Pre-order items.
Expect Pre-order items to be delivered between 3 to 15 working days (depending on which item) starting from your order date.
We will connect via WhatsApp or Email should there be any updates or concerns regarding your order.
Promotions
Website promotion for year 2023
Free Delivery for : orders above $38
*Terms & Conditions:
Website promotion is only applicable for orders/payments made via our website.
Promotions at other shopping platforms (Carousell, Lazada, Shopee, Amazon) is only applicable for orders/payments made via our shops within those shopping platforms.