Product Summary
CocoTherapy CAT HAIRBALL PLUS™ is made with only one ingredient, high-fiber organic coconut. It contains NO artificial ingredients, preservatives, and fillers, so you can feel good giving it to your kittens and cats -- even those with sensitive stomachs or food allergies! Coconut fiber passes through the intestines and has a much greater impact on intestinal transit time. It increases stool bulk to help waste pass through more efficiently.
CocoTherapy Hairball Plus is different from other coconut products: Unlike other coconut products which will not break down in water, CocoTherapy Hairball Plus breaks down easily in moisture, feeding friendly gut bacteria, thereby producing Short-Chain Fatty Acids that are necessary for optimum gut health.
WHY COCONUT FIBER? Our coconut fiber is rich in fiber: 93% insoluble fiber and 7% soluble fiber. Not only is it beneficial for managing hairballs; it also benefits your cat in several ways:
Helps your cat pass hairballs more easily by adding moisture and bulk to his/her stool
Does NOT contain phytic acid, which depletes your cat of vitamins and minerals; unlike psyllium and grain-based fibers often used in other hairball formulas
Contains Medium Chain Fatty Acids (MCFA) to support healthy immune response
Supports healthy skin and coat. This means less shedding
Supports digestive health and gastrointestinal tract function
Supports healthy weight
Safe for kittens and pregnant cats
Safe for long-term use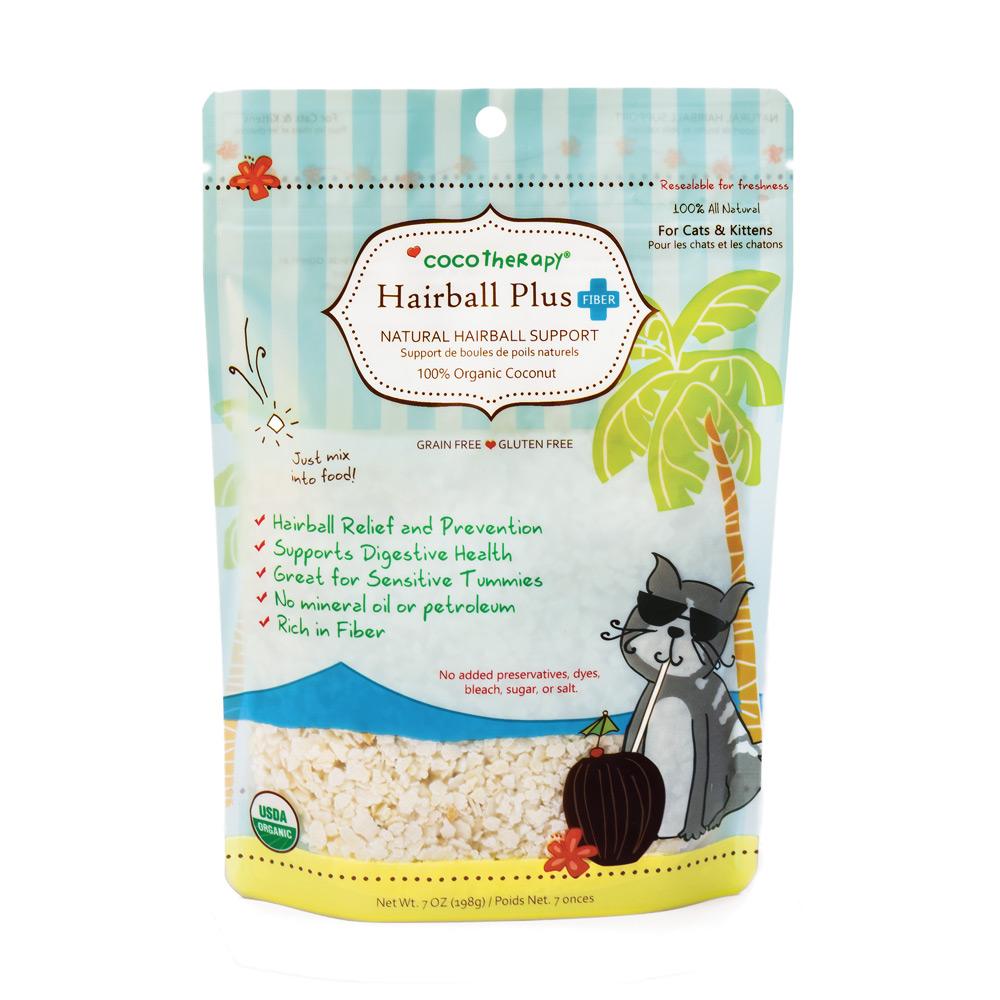 Product Video
Product Ingredients
CAT HAIRBALL PLUS™ is:
Organic dehydrated coconut
Raw & vegan
Grain & gluten free
Dairy free
No Trans Fat
No preservatives, colors, salt, or sugar
No sulfites
No mineral oil and petroleum
Breaks down easily in water (unlike other dehydrated coconut products)
100% Human-grade
100% USDA certified organic
Non-GMO
Calorie Content (calculated):
Metabolize Energy: 4,411 kcal/kg
2.2 kcal in 1 tsp

Coconut
Coconut is highly nutritious. While it provides mostly fat, medium chain triglycerides, it also contains protein, several important minerals, and small amounts of B vitamins. The minerals in coconut are involved in body functions; like manganese, which is essential for bone health and the metabolism of carbohydrates, proteins, and cholesterol. Coconut is also rich in copper and iron, which help form red blood cells, as well as selenium, an important antioxidant that protects the cell. The fats promote body fat loss, which decreases the risk of heart disease and diabetes.
Coconut has antidiabetic effects, possibly due to its arginine content, which relates to blood sugar level regulation. The meat also contains phenolic compounds, which are antioxidants that may help protect cells from oxidative damage: gallic acid, caffeic acid, salicylic acid and p-coumaric acid.
Product Usage Directions
Give 1-2 tsp per 10 lb body weight, dividing amount over AM and PM meals daily (0.83 grams of fiber contain in 1 tsp or 1.67 grams of fiber contain in 2 tsp).
Can be mixed with water, tuna water, clam juice, or your cat's favorite wet snack.
When added to liquid, Hairball Plus will break down into a cream of wheat consistency.
TIPS TO MINIMIZE HAIRBALLS, There are other ways to help prevent hairballs in your cat:
Provide clean, fresh water. This is important when adding fiber to his diet.
Brush your cat daily to remove loose hairs that cause hairballs.
Exercise and play with your cat daily.
If your cat has large amounts of hairballs, try giving CocoTherapy Organic Virgin Coconut Oil™ in addition to CocoTherapy Hairball Plus.
As always, before giving any new treat or supplement, talk to your holistic veterinarian about incorporating coconut oil and coconut into your pets' diet.
JJ E-Homez Holistic Pet Return Policy
Generally, all our products are strictly non-refundable nor exchangeable.
However, in the event you received an incorrect or defective item, or any other valid reason that you can't enjoy your purchase, we will provide a refund or an exchange, case by case basis.
All we ask is that when the item is returned, it should meet the following requirements:
Reach out to us to arrange an appointment to drop off your item at 216A Boon Lay Ave.
Item returned should be in their original & sealed packaging. Broken seals will not be accepted, unless there's a valid reason, based on case by case basis.
Please ensure at least 6 months of shelf life if it's a perishable item.
Send us your order confirmation email for refund verification.
Items not eligible for returns:
Food related, wearables, beds and carriers due to food safety & hygiene reasons.
Items that are purchased from promotional pricing from all of our sales channels.
Customers who had a history of returning more than 3 items.
When we receive the refunded/exchange item, we will review the condition of the item, and reach out to you to confirm and issue a refund/exchange within 7 working days. We regret that customers who decline to respect our policy will be ineligible for exchange, returns and refunds.
Do also note that if we find that a product has been intentionally damaged or tampered with, refunds will not be offered.
As generally, returns are not allowed otherwise, please check your order (e.g. type, size, colour, quantity, etc) before checking out. If you need help with any product, chat with us or please send us an email to jjehomez@gmail.com
Pre-order Items T&C
Please note of the following terms & conditions on all our Pre-order items :
Full payment is required for all Pre-order items.
Expect Pre-order items to be delivered between 3 to 15 working days (depending on which item) starting from your order date.
We will connect via WhatsApp or Email should there be any updates or concerns regarding your order.
Promotions
Website promotion for year 2022
Free Delivery for : orders above $38
*Terms & Conditions:
Website promotion is only applicable for orders/payments made via our website.
Promotions at other shopping platforms (Carousell, Lazada, Shopee, Amazon or Qoo10) is only applicable for orders/payments made via our shops within those shopping platforms.