Product Summary
BioStar US Terra Biota K9™ is a full-spectrum GI support supplement for dogs that combines the ecological community of symbiotic microorganisms that share the canine GI tract.
Along with a variety of strains of live microorganisms reflecting the diversity of the microorganism population in the GI tract, Terra Biota K9™ also contains a synergistic mushroom blend for prebiotic support, the specific earth clays for mineral and alkalizing pH support, as well as Soil Based Organisms, which are cultured probiotics found in healthy soils.
Terra Biota K9™ has a CFU content per serving (teaspoon) of 1.5 Billion CFUs. This multi-microorganism formula is micro-encapsulated to ensure and protect specific microorganisms from damage as they travel through the stomach. Along with our synergistic mushroom blend for prebiotic support, Terra Biota provides the specific earth elements kaolin clay and calcium bentonite for mineral and alkalizing pH support, as well as the additional prebiotics: Mannan-oligosaccharide (MOS), and Fructooligosaccharides (FOS), and Soil Based Organisms.
Available in 30 servings or 60 servings jars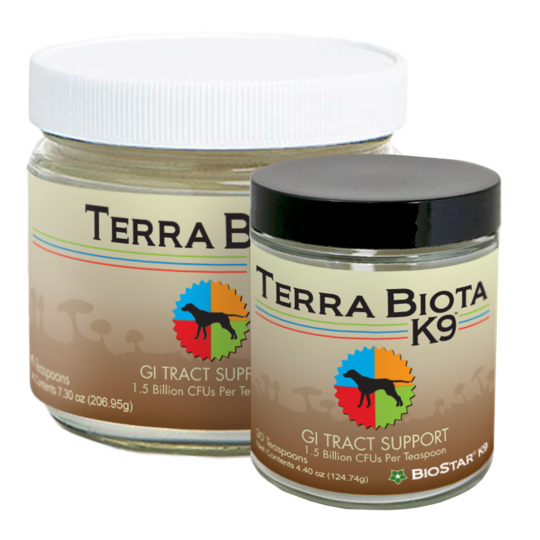 Product Ingredients and Analysis
Active Ingredients (per teaspoon - 4.16 g) :
Calcium Bentonite Clay - USA = 2329 mg
Proprietary Mushroom Blend - USA = 682 mg (Organic Shiitake Mushrooms, Organic Maitake Mushrooms, Organic Cordyceps militaris Mushrooms, Organic Turkey Tail Mushrooms, Organic Agaricus Mushrooms, Organic Lion's Mane Mushrooms, Organic King Trumpet Mushrooms)
Proprietary Probiotic Blend - Canada = 682 mg (E.thermophilus, B.bifidum, L.salivarius, B.lactis, L.acidophilus, B.breve, L.plantarum, B.longum, L.reuteri, L.rhamnosus, L.paracasei, B.infantis, E.faecium, Manno Oligosaccharides, Fructooligosaccarides, Soil Based Organisms - USA, [B.subtilis, L.brevis, L.bulgaricus, S.thermophilies])
Kaolin Clay - USA = 466 mg
No Preservatives
No Fillers or Binders
No Added Flavorings (artificial or "natural")
Product Analysis (per teaspoon) :
Crude Protein (min) = 48.0%
Crude Fat (min) = 0.38%
Crude Fibre (max) = 3.61%
Moisture (max) = 6.0%
Ash (max) = 2.5mg/g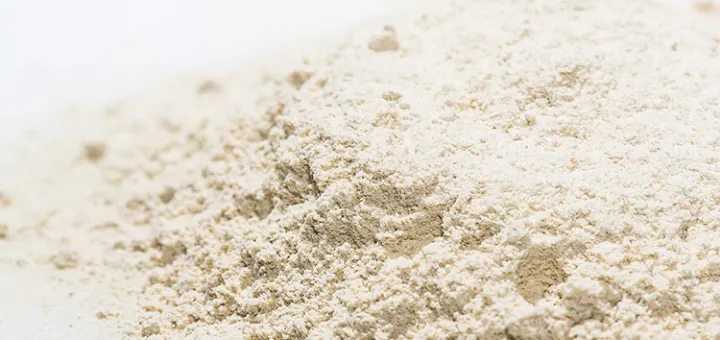 Proprietary Probiotic Blend
Combines thirteen different microorganisms known to populate the GI tract of canines, at a combined strength of 1.5 billion CFUs per serving. These microorganisms support colonization of healthy, beneficial bacteria starting in the oral cavity, and continuing through the GI tract. The Bifidobacteria can be found in the oral cavity too, and studies suggest this comes from early exposure of the oral cavity to mother's milk. Since dental issues in dogs are quite common, specific support of the microbiota of the oral cavity is beneficial.
Together with specific prebiotics MOS and FOS, which can support the growth of Bifidobacteria species - a microorganism that often diminishes in dogs as they age, as well as in dogs who are under stress. MOS has shown to increase nutrient digestibility and stool quality. Both MOS and FOS are cultured from the yeast Saccharomyces cereviae, thus enhancing the formula with the additional yeast element.
Includes also SBOs (soil-based organisms), which are cultured versions of the beneficial fungi and yeasts found in healthy soils.
Probiotic Blend Species
E.thermophilus
B.bifidum
L.salivarius
B.lactis
L.acidophilus
B.breve
L.plantarum
B.longum
L.reuteri
L.rhamnosus
L.paracasei
B.infantis
E.faecium
Manno Oligosaccharides
Fructooligosaccarides
B.subtilis (Soil based organisms)
L.brevis (Soil based organisms)
L.bulgaricus (Soil based organisms)
S.thermophilies (Soil based organisms)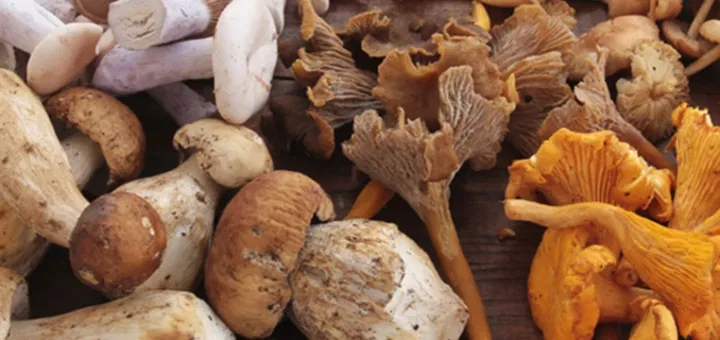 Propietary Mushroom Blend
Medicinal mushrooms have thousands of years of use as therapeutic foods in Traditional Chinese Medicine as well as in ancient Greece and Egypt. Now they've become increasingly popular in the U.S., for therapeutic use with humans and animals. BioStar's formulas containing medicinal mushrooms include the mycelium and the fruiting bodies. Providing both the mycelium and fruiting bodies ensures the whole food synergy of the mushroom components.
Mushroom Blend Species
Organic Shiitake Mushrooms
Organic Maitake Mushrooms
Organic Cordyceps militaris Mushrooms
Organic Turkey Tail Mushrooms
Organic Agaricus Mushrooms
Organic Lion's Mane Mushrooms
Organic King Trumpet Mushrooms
Specific Medicinal Mushrooms and their benefits:

Cordyceps (Cordyceps militaris) - A tonic in Traditional Chinese Medicine, it's classified as an adaptogen, supporting the body's healthy stress response. Cordyceps provides immuno-modulating properties, potent antioxidant activity, and supports healthy liver functions.

Turkey Tail (Trametes versicolor) - In many Asian cultures, Turkey Tail represents longevity, health and spiritual attunement. Practitioners recognize its ability to clear dampness, strengthen the lungs, and stomach. In Japan, it is revered for its immune properties and management of cellular inflammation. It is also a rich source of Beta Glucans.

Shiitake (Lentinula edodes) - In Traditional Chinese Medicine, this mushroom tonifies blood and qi. It supports the stomach, spleen, lungs, and liver. Due to its neutral nature (is not cooling nor warming to the body system), it is used to build strength and reduce fatigue.

Lion's Mane (Hericium erinaceus) - In Traditional Chinese Medicine, Lion's Mane functions as a tonic and regenerative. It supports gut health and intestinal mucosa, as well as aids in normal wound healing. In western medicine, lion's mane extract has shown to support brain health, memory and mood.

Maitake (Grifola frondosa) - Popular in Japan, this mushroom was used as currency during Japan's feudal era. It's traditional use is to tonify the kidneys, increase vitality, maintain balanced blood sugar levels, and support the immune system.

King Trumpet (Pleurotus eryngii) - contains high amounts of ergothioneine, a naturally occurring antioxidant that has a very high ORAC (Oxygen Radical Absorbance Capacity) value. Ergothioneine is considered by many researchers to be a master antioxidant due to its own cellular transport mechanism. No other medicinal mushroom contains this level of ergothioneine.

Agaricus (Agaricus subrufescens) - Native to South America, this mushroom can be seen on frescoes and clay fragments from the time of the Aztecs. Called "The Mushroom of God" or "The Sun Mushroom of Aztecs," its traditional use is for immune support, digestive, and liver support. Agaricus contains digestive enzymes such as amylase, trypsin, maltase, and protease, which assist the body in breaking down protein, carbohydrates, and fats.
Product Usage Directions
One teaspoon daily (scoop included)
or as directed by the veterinarian
JJ E-Homez Holistic Pet Return Policy
Generally, all our products are strictly non-refundable nor exchangeable.
However, in the event you received an incorrect or defective item, or any other valid reason that you can't enjoy your purchase, we will provide a refund or an exchange, case by case basis.
All we ask is that when the item is returned, it should meet the following requirements:
Reach out to us to arrange an appointment to drop off your item at 216A Boon Lay Ave.
Item returned should be in their original & sealed packaging. Broken seals will not be accepted, unless there's a valid reason, based on case by case basis.
Please ensure at least 6 months of shelf life if it's a perishable item.
Send us your order confirmation email for refund verification.
Items not eligible for returns:
Food related, wearables, beds and carriers due to food safety & hygiene reasons.
Items that are purchased from promotional pricing from all of our sales channels.
Customers who had a history of returning more than 3 items.
When we receive the refunded/exchange item, we will review the condition of the item, and reach out to you to confirm and issue a refund/exchange within 7 working days. We regret that customers who decline to respect our policy will be ineligible for exchange, returns and refunds.
Do also note that if we find that a product has been intentionally damaged or tampered with, refunds will not be offered.
As generally, returns are not allowed otherwise, please check your order (e.g. type, size, colour, quantity, etc) before checking out. If you need help with any product, chat with us or please send us an email to jjehomez@gmail.com
Pre-order Items T&C
Please note of the following terms & conditions on all our Pre-order items :
Full payment is required for all Pre-order items.
Expect Pre-order items to be delivered between 3 to 15 working days (depending on which item) starting from your order date.
We will connect via WhatsApp or Email should there be any updates or concerns regarding your order.
Promotions
Website promotion for year 2023
Free Delivery for : orders above $38
*Terms & Conditions:
Website promotion is only applicable for orders/payments made via our website.
Promotions at other shopping platforms (Carousell, Lazada, Shopee, Amazon) is only applicable for orders/payments made via our shops within those shopping platforms.