Product Summary
BioStar US Terra Biota K9™ is a full-spectrum GI support supplement for dogs that combines the ecological community of symbiotic microorganisms that share the canine GI tract.
Along with a variety of strains of live microorganisms reflecting the diversity of the microorganism population in the GI tract, Terra Biota K9™ also contains a synergistic mushroom blend for prebiotic support, the specific earth clays for mineral and alkalizing pH support, as well as Soil Based Organisms, which are cultured probiotics found in healthy soils.
Terra Biota K9™ has a CFU content per serving (teaspoon) of 1.5 Billion CFUs. This multi-microorganism formula is micro-encapsulated to ensure and protect specific microorganisms from damage as they travel through the stomach. Along with our synergistic mushroom blend for prebiotic support, Terra Biota provides the specific earth elements kaolin clay and calcium bentonite for mineral and alkalizing pH support, as well as the additional prebiotics: Mannan-oligosaccharide (MOS), and Fructooligosaccharides (FOS), and Soil Based Organisms.
Available in 30 servings or 60 servings jars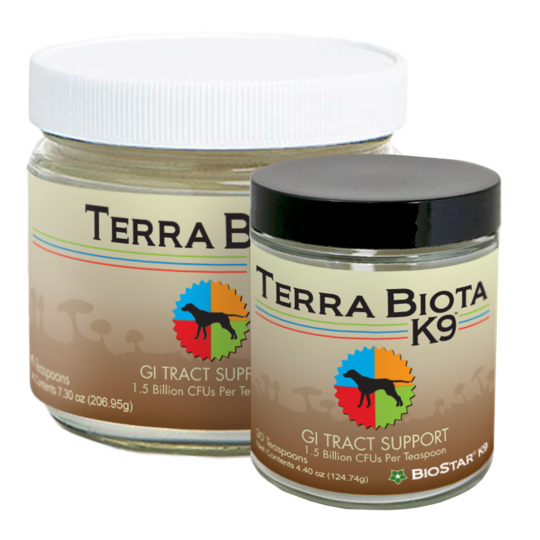 Product Ingredients and Analysis
Active Ingredients (per teaspoon - 4.16 g) :
Calcium Bentonite Clay - USA = 2329 mg
Proprietary Mushroom Blend - USA = 682 mg (Organic Shiitake Mushrooms, Organic Maitake Mushrooms, Organic Cordyceps militaris Mushrooms, Organic Turkey Tail Mushrooms, Organic Agaricus Mushrooms, Organic Lion's Mane Mushrooms, Organic King Trumpet Mushrooms)
Proprietary Probiotic Blend - Canada = 682 mg (E.thermophilus, B.bifidum, L.salivarius, B.lactis, L.acidophilus, B.breve, L.plantarum, B.longum, L.reuteri, L.rhamnosus, L.paracasei, B.infantis, E.faecium, Manno Oligosaccharides, Fructooligosaccarides, Soil Based Organisms - USA, [B.subtilis, L.brevis, L.bulgaricus, S.thermophilies])
Kaolin Clay - USA = 466 mg
No Preservatives
No Fillers or Binders
No Added Flavorings (artificial or "natural")
Product Analysis (per teaspoon) :
Crude Protein (min) = 48.0%
Crude Fat (min) = 0.38%
Crude Fibre (max) = 3.61%
Moisture (max) = 6.0%
Ash (max) = 2.5mg/g
Product Ingredient Summary
Proprietary Mushroom Blend - Mushrooms are high in nutrition and have amazing versatile healing abilities that serve four major functions, namely intervention, regeneration, prevention and protection. They contain antibacterial and proteolytic enzymes, triterpenes essential oils, a range of lipids like free fatty acids, mono-, di- and triglycerides, phospholipids, sterols and sterol esters; minerals like geranium, phosphorus, potassium, selenium, sodium, sulphur and zinc, polysacchardes like beta D glucans, chitin, and glycogen, protein, galactose, glucose, mannitol, mannose, and xylose sugars, and folic acid, pro vitamin D, and vitamin B complex.
Product Usage Directions
One teaspoon daily (scoop included)
or as directed by the veterinarian
JJ E-Homez Return Policy
Generally, all our products are strictly non-refundable nor exchangeable.
However, in the event you received an incorrect or defective item, or any other valid reason that you can't enjoy your purchase, we will provide a refund or an exchange, case by case basis.
All we ask is that when the item is returned, it should meet the following requirements:
Reach out to us to arrange an appointment to drop off your item at 216A Boon Lay Ave.
Item returned should be in their original & sealed packaging. Broken seals will not be accepted, unless there's a valid reason, based on case by case basis.
Please ensure at least 6 months of shelf life if it's a perishable item.
Send us your order confirmation email for refund verification.
Items not eligible for returns:
Food related, wearables, beds and carriers due to food safety & hygiene reasons.
Items that are purchased from promotional pricing from all of our sales channels.
Customers who had a history of returning more than 3 items.
When we receive the refunded/exchange item, we will review the condition of the item, and reach out to you to confirm and issue a refund/exchange within 7 working days. We regret that customers who decline to respect our policy will be ineligible for exchange, returns and refunds.
Do also note that if we find that a product has been intentionally damaged or tampered with, refunds will not be offered.
As generally, returns are not allowed otherwise, please check your order (e.g. type, size, colour, quantity, etc) before checking out. If you need help with any product, chat with us or please send us an email to [email protected]
Pre-order Items T&C
Please note of the following terms & conditions on all our Pre-order items :
Full payment is required for all Pre-order items.
Expect Pre-order items to be delivered between 3 to 15 working days (depending on which item) starting from your order date.
We will connect via WhatsApp or Email should there be any updates or concerns regarding your order.
Promotions
Website promotion for year 2021
Free Delivery for : orders above $38
*Terms & Conditions:
Website promotion is only applicable for orders/payments made via our website.
Promotions at other shopping platforms (Carousell, Lazada, Shopee, Amazon or Qoo10) is only applicable for orders/payments made via our shops within those shopping platforms.