Product Summary
BioStar Us Sym-Biota K9™ is a unique liquid blend GI Tract support for canine, providing beneficial soil organisms, probiotics, and chaga mushrooms for your dog. Many dogs no longer get the health benefits of spending time in forests and fields where they come in contact with rich humic soils brimming with beneficial bacteria and fungi.
The liquid form allows for fast delivery to your dog's gut. It is also beneficial to give it direction in the mouth if your dog is ill or loses his appetite. Sym-Biota K9™ features a blend of active Bacillus strains, with fulvic and humic acids from Reed Sedge Peat, and Chaga mushrooms. This combination mimics the matrix of healthy soils. The active living organisms may create a bubbling effect, which is normal. Reed Sedge Peat creates an earthy odor, which is also normal.
Key benefits of Sym-Biota K9™ :
Provides 25 billion CFUs of active probiotics per 2 ml.
Known as SBO's (Soil-Based Organisms), Bacillus strains are hearty and are able to withstand the acidic environment of the stomach without the need for microencapsulation.
Reed Sedge Peat provides humic and fulvic acids to support efficient digestion and homeostasis of the microbiome in the GI tract.
In Traditional Chinese Medicine, Chaga mushrooms help the body return to homeostasis by supporting Qi, the vital energy force for the body. Chaga is considered a Shen Tonic, nourishing the spiritual radiance within.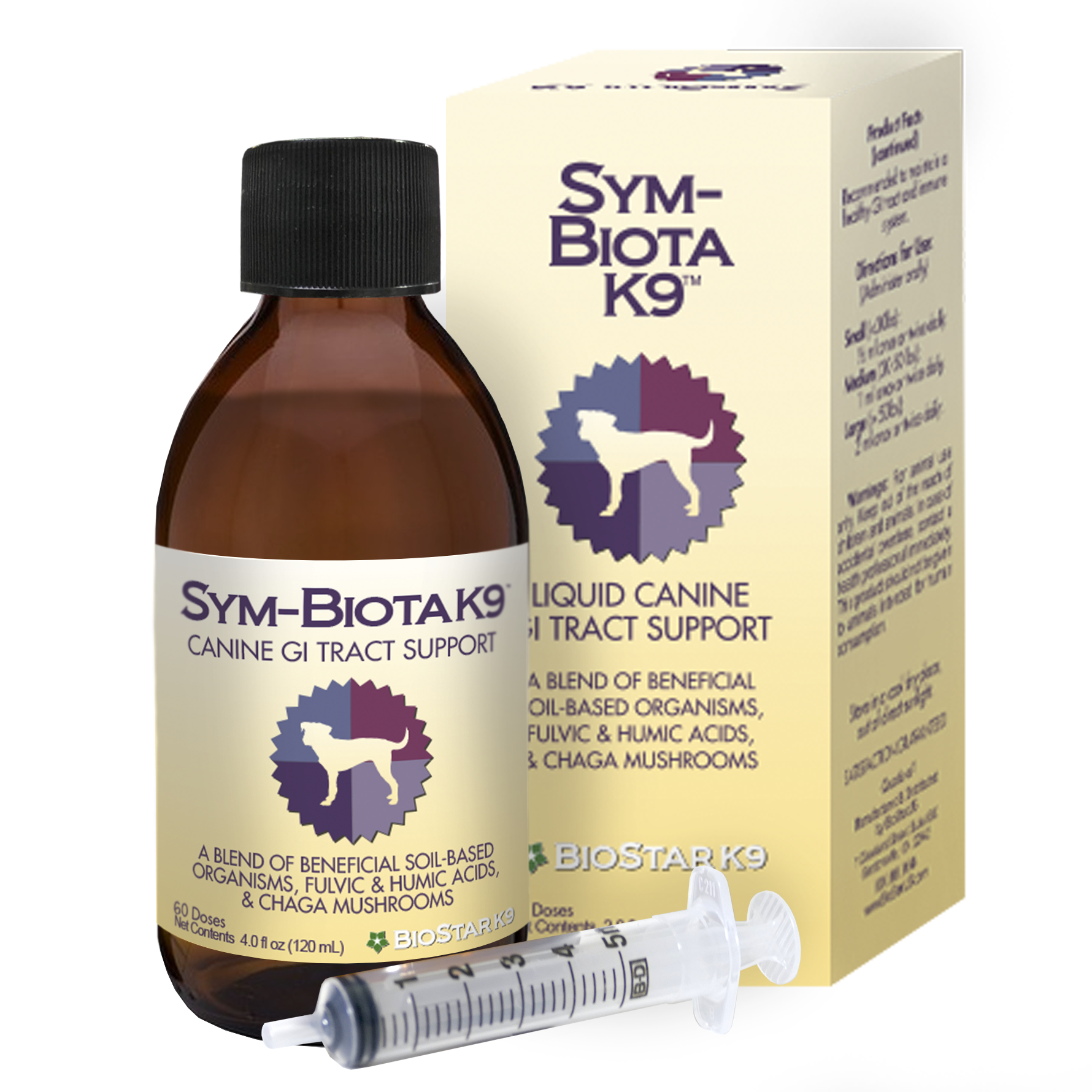 Product Ingredients and Analysis
Active Ingredients (per 2 ml) :
Reed Sedge Peat - USA and Canada = 925 mg
Fulvic Acid = 600 mg
Humic Acid = 325 mg
Organic Chaga Mushrooms (Inonotus Obliquus) - China = 150 mg
Proprietary Probiotic Blend (Bacillus coagulans, Bacillus subtilis, Bacillus licheniformis) 25 Billion CFU's - Canada = 125 mg
Inactive Ingredients :
Filtered water
Vitamin C
No Preservatives
No Fillers or Binders
No Added Flavorings
Wheat Free
Soy Free
Raw
Product Analysis (per 2ml) :
Crude Protein (min) = 0.35%
Crude Fat (min) = 0%
Crude Fiber (max) = 0%
Moisture = 98.89%
Calcium (min) = 0.01%
Calcium (max) = 0.90%
Phosphorus (min) = 0.04%
Sodium (max) = 2.70%
Sulfur (min) = 0.0%
Calories = 0 kcal/g
Product Ingredient Summary
Chaga mushrooms - Chaga mushrooms is power packed with antioxidants that have been proven to fight cancer and the deadly intruder cells it produces. Aside from being a cancer fighting mushroom, chaga also boosts the immunity system, helps with strength, energy and endurance, and has antiviral and anti inflammatory properties. In fact, it scores among the highest food for Oxygen Radical Absorbent Capacity, scientifically scoring as one of the five best antioxidants on earth.
Fulvic acid - Fulvic acid is a group of chemicals formed from plant and animal break down. It is found in the humus part of soil and peat, and can be found in streams or lakes. Fulvic acid has been said to block allergic reactions, and could be said to possibly disrupt the worsening of brain disorders. Additionally, fulvic acid may reduce swelling and prevent or slow cancer growth.
Humic acid - LIke fulvic acid, humic acid comes from the earth, rich in minerals and trace minerals. Humic acid helps protect cells from viruses and removes pesticides from the body; essentially providing detoxification support to the body. In traditional medicine, it has been used to treat wounds, relieve join disease, aid digestion and gut health, while also providing energy and stamina. The antioxidants in humic acid aid cell damage repair from toxins.
One of the most important toxins humic acid removes is glyphosate, which kills about everything, from insects, bacteria, fungi to weeds by stopping a specific enzyme pathway known as the shikimate pathway. Humic acid is vital in binding to glyphosate for its removal to aid gut health.
vitamin C - Vitamin C is an important antioxidant that scavenges potentially harmful free radicals in the body, helps reduce inflammation and cognitive aging. Vitamin C could also support the immune system and improve energy, even going as far as to function as a stress relief.
Product Usage Directions
Administer directly in dog's mouth, or add on top of meal. One bottle will last 30 days for a large dog given twice per day.
Small Dogs < 20 lbs : 1/2 ml once or twice daily.
Medium Dogs 20-50 lbs : 1 ml once or twice daily.
Large Dogs > 50 lbs : 2 ml once or twice daily
JJ E-Homez Return Policy
Generally, all our products are strictly non-refundable nor exchangeable.
However, in the event you received an incorrect or defective item, or any other valid reason that you can't enjoy your purchase, we will provide a refund or an exchange, case by case basis.
All we ask is that when the item is returned, it should meet the following requirements:
Reach out to us to arrange an appointment to drop off your item at 216A Boon Lay Ave.
Item returned should be in their original & sealed packaging. Broken seals will not be accepted, unless there's a valid reason, based on case by case basis.
Please ensure at least 6 months of shelf life if it's a perishable item.
Send us your order confirmation email for refund verification.
Items not eligible for returns:
Food related, wearables, beds and carriers due to food safety & hygiene reasons.
Items that are purchased from promotional pricing from all of our sales channels.
Customers who had a history of returning more than 3 items.
When we receive the refunded/exchange item, we will review the condition of the item, and reach out to you to confirm and issue a refund/exchange within 7 working days. We regret that customers who decline to respect our policy will be ineligible for exchange, returns and refunds.
Do also note that if we find that a product has been intentionally damaged or tampered with, refunds will not be offered.
As generally, returns are not allowed otherwise, please check your order (e.g. type, size, colour, quantity, etc) before checking out. If you need help with any product, chat with us or please send us an email to [email protected]
Pre-order Items T&C
Please note of the following terms & conditions on all our Pre-order items :
Full payment is required for all Pre-order items.
Expect Pre-order items to be delivered between 3 to 15 working days (depending on which item) starting from your order date.
We will connect via WhatsApp or Email should there be any updates or concerns regarding your order.
Promotions
Website promotion for year 2021
Free Delivery for : orders above $38
*Terms & Conditions:
Website promotion is only applicable for orders/payments made via our website.
Promotions at other shopping platforms (Carousell, Lazada, Shopee, Amazon or Qoo10) is only applicable for orders/payments made via our shops within those shopping platforms.