Product Summary
BioStar US Flex-Well is a canine joint health supplement. Our canine joint support supplements provide specific whole foods that supply what a dog's body needs to support and repair its own bone and connective tissue. With 100% bioavailable whole foods, Flex-Well K9™ supports your dog's ability to produce their own glucosamine, an amino sugar vital for forming and repairing body tissues.
Flex-Well K9™ supports the entire joint structure.
No fillers, binders, or excipients.
Free of sodium chloride, potassium chloride, petroleum esters, petroleum byproducts or methane gas.
Pesticide- and herbicide-free.
Non-GMO verified.
No meat-packing industry byproducts or ingredients imported from China.
Available in 60 serving pack (1 teaspoon scoop included)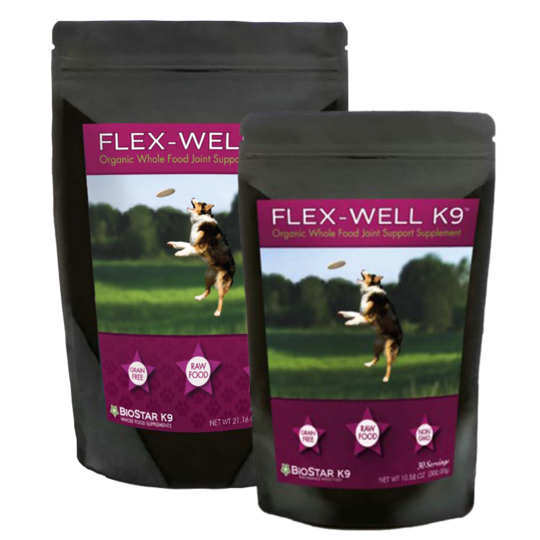 Product Ingredient and Analysis
Ingredient :
Dehydrated Cabbage - Germany
Chia Seeds - USA / Ecuador
Organic Kale Powder - USA
Organic Pomegranate Powder - USA
Organic Blueberry Powder - Canada
No Preservatives
No Fillers or Binders
No Added Flavorings (artificial or "natural")
Guaranteed Analysis (Per 6 tsp - 30g / 1oz) :
Crude Protein (min) = 5.169%
Crude Fat (min) = 3.504%
Crude Fiber (max) = 7.290%
Moisture (max) = 2.031%
Ash (max) = 2.031%
Calories = 4600 kcal/kg (40.0 kcal/Tbsp)
Blueberry Powder
Blueberries contain antioxidants, fibre, vitamins C and K, which support the immune system and contribute to overall health. There are also high amounts of anthocyanins, which protect the body from bad oxygen molecules, also known as reactive oxygen species (ROS) that create oxidative stress conditions. When chronic, it could cause a series of health issues such as cancer, autoimmune diseases, pancreatitis, arthritis, cardiovascular damages and so on. Vitamin C also aids in a similar function, while fibre aids with digestive health.
Kale Powder
Kale is part of the cabbage family, and is a cruciferous, nutrient dense vegetable. It has very little fat, but a large portion of the fat in it is an omega-3 fatty acid called alpha linolenic-acid. It is loaded with antioxidants like beta-carotene and vitamin C, as well as various flavonoids and polyphenols that help counteract oxidative damage by free radicals in the body to slow down aging, and fight against diseases like cancer. Antioxidants like flavonoids quercetin and kaempferol, which are in relatively large amounts in kale, also have other important functions like protecting the heart, lowering blood pressure, and having anti inflammatory, anti viral, and anti depressant effects. Carotenoid antioxidants lutein and zeaxanthin are also found in large amounts in kale, which help improve eye health.
Kale is an excellent source of vitamin C, an important water-soluble antioxidant that serves many vital functions in the body's cells, like collagen synthesis, the most abundant structural protein in the body. It also contains bile acid sequestrants, which can lower cholesterol levels, leading to reduced risk heart disease over time. Kale also contains vitamin K, an important nutrient that is absolutely critical for blood clotting, and does this by "activating" certain proteins that bind calcium.
Aside from the antioxidants, kale also has sulforaphane, and indole-3-carbinol, which is said to be cancer preventive. The body's vitamin A level could also be increased thanks to the beta carotene present, since this antioxidant could be turned into vitamin A.
Kale not only has important minerals like calcium, magnesium and potassium, but it also contains a low level of oxalate, which is a substance that prevents mineral absorption.
Dehydrated Cabbage
Cabbage is a rich source of important vitamins, such as vitamins K, C, B6, B1. It is also a high in fibre and essential minerals including manganese, copper, potassium. The high fibre content promotes a healthy gut and feeds the good bacteria in the digestive system. Folate in cabbage helps to promote normal metabolic functions like blood cell production, and amino acid production to make proteins.
Cabbage has high levels of powerful antioxidant compounds called phytonutrients. Its polyphenols also make it the vegetable with the most antioxidants, which helps reduce free radicals in the blood, and aids in cancer prevention. This naturally boost the immunity system, and reduces the risk of health conditions like heart disease. Cabbage even keeps the skin free from irritation, promoting healthier skin from inside out.
Chia Seeds
Chia seeds contain large amounts of fibre and omega 3 fatty acids, protein and several essential minerals like iron and calcium, and antioxidants. The antioxidants not only reduce the risk of cancer, it helps with younger looking skin, healthier hair, and slows down aging.
Chia seeds is able to improve digestive health, the heart's blood levels, reduce risk factors for heart disease and diabetes by raising the HDL cholesterol, the "good" cholesterol.
Pomegranate Powder
Pomegranates are rich in antioxidants, fibre and vitamins, such as vitamin C. Aside from that, it is also high in potassium and folic acid. The antioxidants help to neutralize free radicals that are known for progressing disease in the body, which in turn promote heart health and help prevent heart disease. Thanks to the antioxidant punicalagin, pomegranate also has anti inflammatory properties. Vitamin C also contributes to reducing inflammation or irritation with allergies, while boosting the immune system by fighting viral infections. With its presence, collagen production is supported, which helps maintain healthy joint and bone health.
Product Usage Directions
Scoop Included = 1 teaspoon (5cc)
Small Dogs under 20 pounds : 1 scoop 1-2 times per day
Medium Dogs under 50 pounds : 2 scoops 1-2 times per day
Large Dogs over 50 pounds : 3 scoops (1 tbsp) 1-2 times per day
Recommended Supply (30 Serving Pack) serves :
A small dog for 90 days
A medium dog for 60 days
A large dog for 30 days.
JJ E-Homez Holistic Pet Return Policy
Generally, all our products are strictly non-refundable nor exchangeable.
However, in the event you received an incorrect or defective item, or any other valid reason that you can't enjoy your purchase, we will provide a refund or an exchange, case by case basis.
All we ask is that when the item is returned, it should meet the following requirements:
Reach out to us to arrange an appointment to drop off your item at 216A Boon Lay Ave.
Item returned should be in their original & sealed packaging. Broken seals will not be accepted, unless there's a valid reason, based on case by case basis.
Please ensure at least 6 months of shelf life if it's a perishable item.
Send us your order confirmation email for refund verification.
Items not eligible for returns:
Food related, wearables, beds and carriers due to food safety & hygiene reasons.
Items that are purchased from promotional pricing from all of our sales channels.
Customers who had a history of returning more than 3 items.
When we receive the refunded/exchange item, we will review the condition of the item, and reach out to you to confirm and issue a refund/exchange within 7 working days. We regret that customers who decline to respect our policy will be ineligible for exchange, returns and refunds.
Do also note that if we find that a product has been intentionally damaged or tampered with, refunds will not be offered.
As generally, returns are not allowed otherwise, please check your order (e.g. type, size, colour, quantity, etc) before checking out. If you need help with any product, chat with us or please send us an email to jjehomez@gmail.com
Pre-order Items T&C
Please note of the following terms & conditions on all our Pre-order items :
Full payment is required for all Pre-order items.
Expect Pre-order items to be delivered between 3 to 15 working days (depending on which item) starting from your order date.
We will connect via WhatsApp or Email should there be any updates or concerns regarding your order.
Promotions
Website promotion for year 2022
Free Delivery for : orders above $38
*Terms & Conditions:
Website promotion is only applicable for orders/payments made via our website.
Promotions at other shopping platforms (Carousell, Lazada, Shopee, Amazon or Qoo10) is only applicable for orders/payments made via our shops within those shopping platforms.