Product Summary
BioStar Colostrum-38 for canine is an immune support. The use of bovine colostrum as a supplement goes back thousands of years to Ayurvedic medicine. Colostrum contains over 90 immune factors, including the naturally occurring immunoglobulins IgG and IgA. It provides over 70 different growth factors for cellular support. Bovine colostrum powder provides bioactive proteins, peptides, and probiotics. Our colostrum provides 38% IgG.
Colostrum-38 K9™ is responsibly collected only after the first 12 hours of birth and within a 36 hour time frame, when the colostrum is at its peak. Calves alone receive it during the first 12 hours; after that, it is shared.
Country of Origin : Canada.
Sourced from grass-fed rBGH-free cows.
Provides 38% IgG
Available in 30 or 120 scoops. (One scoop = 1 large dog per day)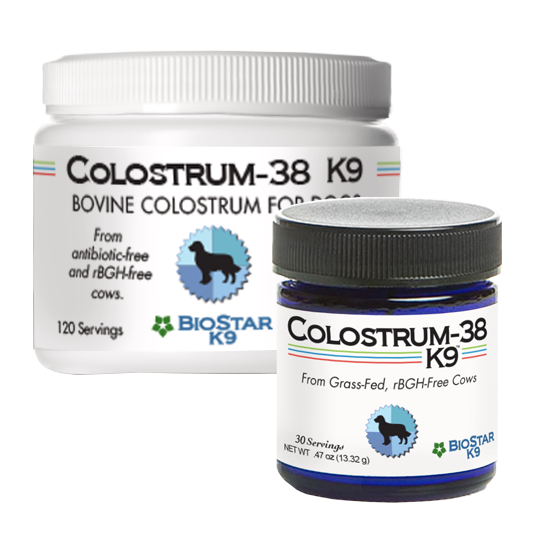 Product Video
Product Ingredient and Analysis
Active Ingredient (per 472mg) :
rBGH-free Bovine Colostrum 472 mg
No Preservatives
No Fillers or Binders
No Added Flavorings (artificial or "natural")
Product Analysis (per 1/2 teaspoon - 800mg) :
Crude Protein (min) = 50.0%
Crude Fat (min) = 23.0%
Crude Fibre (max) = 1.0%
Moisture (max) = 4.0%
Ash (max) = 4.0-5.0%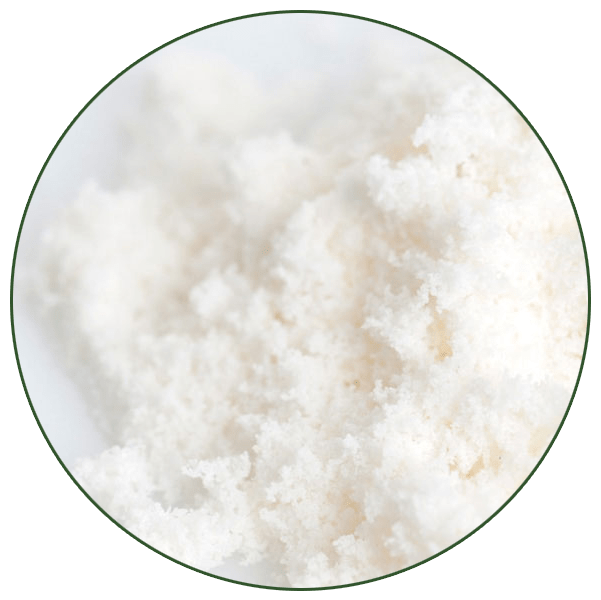 Bovine Colostrum
Colostrum contains the hormone Proline-Rich-Polypeptide (PRP), which could either stimulate an underactive immune system, or down regulate an overactive immune system. The down regulation is important in autoimmue diseases, including arthritis and allergies as the overly active immune system could either fail to recognize its own cells from foreign molecules, attacking its own tissues (autoimmunity), or show an exaggerated response to a normally harmless molecule. Bovine colostrum is essential colostrum that comes from the cows.
PRP regulates the activity of the immune system, reducing the allergic symptoms by inhibiting lymphocyte (white blood cell~and T cell overproduction that overreact in an allergic reaction. PRP seemingly helps to create special helper T cells and suppressor T cells that suppress and switch off the immune responses that trigger allergies.
PRP is also highly anti inflammatory, helping not just with allergies but other inflammatory conditions like arthritis.
Colostrum has the ability to control the health of the gastrointestinal (GI) tract by helping to seal the lining so undigested food is unable to pass through to cause inflammation and allergy symptoms. It could also help reverse gut irritation and chronic health issues, incuding Candida albicans, or yeast. As colostrum contains probiotics and has antibiotic activity, it is able to help restore a healthy gut flora, which is crucial to healing leaky gut.
Cytokines in colostrum (Interleukins, Interferon, and Lymphokines) also have a role in treating cancer. Interferons and Interleukins enhance the body's response to cancer by activating special white blood cells that find and destroy cancer cells. They are also thought to inhibit cancer cell growth, even killing them (apoptosis).
Colostrum also contains a special protein called Lactalbumin, which apparently causes apoptosis of cancer cells while leaving the healthy ones to thrives. On top of that, colostrum supports the immune system by helping to fight viruses and infections.
Colostrum contains a large amount of Immunoglobin A, D, E, G and M. There are also called IgA, IgD, IgE, IgG and IgM. IgG fights against bacteria and toxin buildup, while IgM destroys bacteria and IgE and IgD fight viruses.
Colostrum also contains Lactoferrin, another substance that fights viruses and bacteria, is anti-inflammatory and has a role in treating and preventing cancer. The antioxidant phytic acid found in colostrum prevents iron from reaching and feeding cancer cells.
In fact, the same immune-boosting properties that help prevent and treat cancer and allergies could also protect yyour pet from viruses such as bordetella (kennel cough), parvovirus, Leptospirosis, Lyme disease and more.
Colostrum contains growth factors, which help the newborn grow and development. These very same growth factors stimulate wound healing. When used in an external application, aside from wound healing, skin growth and cellular repair is promoted. Thanks to its antibacterial properties, it helps prevent and heal infections.
Topically, colostrum could be used for dermatitis, skin infections, gingivitis, oral infections, ear infections, abscesses, cysts, insect bites, even surgical wounds.
Product Usage Directions
Scoop Included (1/4 teaspoon - 472 mg)
Dogs under 10 lbs : 1/16 teaspoon (one pinch) once daily
Small Dogs 11-25 lbs : 1/8 teaspoon once daily
Medium or Large Dogs 26-99 lbs : 1/4 teaspoon once daily
Extra Large Dogs 100 lbs or more : 1/2 teaspoon once daily
JJ E-Homez Holistic Pet Return Policy
Generally, all our products are strictly non-refundable nor exchangeable.
However, in the event you received an incorrect or defective item, or any other valid reason that you can't enjoy your purchase, we will provide a refund or an exchange, case by case basis.
All we ask is that when the item is returned, it should meet the following requirements:
Reach out to us to arrange an appointment to drop off your item at 216A Boon Lay Ave.
Item returned should be in their original & sealed packaging. Broken seals will not be accepted, unless there's a valid reason, based on case by case basis.
Please ensure at least 6 months of shelf life if it's a perishable item.
Send us your order confirmation email for refund verification.
Items not eligible for returns:
Food related, wearables, beds and carriers due to food safety & hygiene reasons.
Items that are purchased from promotional pricing from all of our sales channels.
Customers who had a history of returning more than 3 items.
When we receive the refunded/exchange item, we will review the condition of the item, and reach out to you to confirm and issue a refund/exchange within 7 working days. We regret that customers who decline to respect our policy will be ineligible for exchange, returns and refunds.
Do also note that if we find that a product has been intentionally damaged or tampered with, refunds will not be offered.
As generally, returns are not allowed otherwise, please check your order (e.g. type, size, colour, quantity, etc) before checking out. If you need help with any product, chat with us or please send us an email to jjehomez@gmail.com
Pre-order Items T&C
Please note of the following terms & conditions on all our Pre-order items :
Full payment is required for all Pre-order items.
Expect Pre-order items to be delivered between 3 to 15 working days (depending on which item) starting from your order date.
We will connect via WhatsApp or Email should there be any updates or concerns regarding your order.
Promotions
Website promotion for year 2023
Free Delivery for : orders above $38
*Terms & Conditions:
Website promotion is only applicable for orders/payments made via our website.
Promotions at other shopping platforms (Carousell, Lazada, Shopee, Amazon) is only applicable for orders/payments made via our shops within those shopping platforms.