Product Summary
Augustine's SuperBoost is the world's first 100% certified organic supplement made entirely from wholefoods and specially formulated for canines. It is based on the formula found in our flagship fresh food product, Augustine's SuperFood.
This nutritional powerhouse is suitable for ALL dogs and can be added to dry, canned, raw & homemade meals. You can even use the free recipes on the Augustine Approved website to make Augustine's SuperFood at home!
Augustine's SuperBoost contains ingredients used by top performing athletes. It is packed with so much goodness that not only is it safe for human consumption, we actually encourage you to add it to your own food. It is an excellent addition to smoothies.
Key benefits :
Made under & governed by human food standards
Produced entirely from wholefoods (no synthetics)
Provides vital nutrients that processing can destroy
Assists in the maintenance of healthy joints
Promotes normal, healthy growth and development
Promotes healthy skin, shiny coat & strong nails
Promotes digestion and absorption of nutrients
Promotes healthy organ function
Helps maintain a healthy gut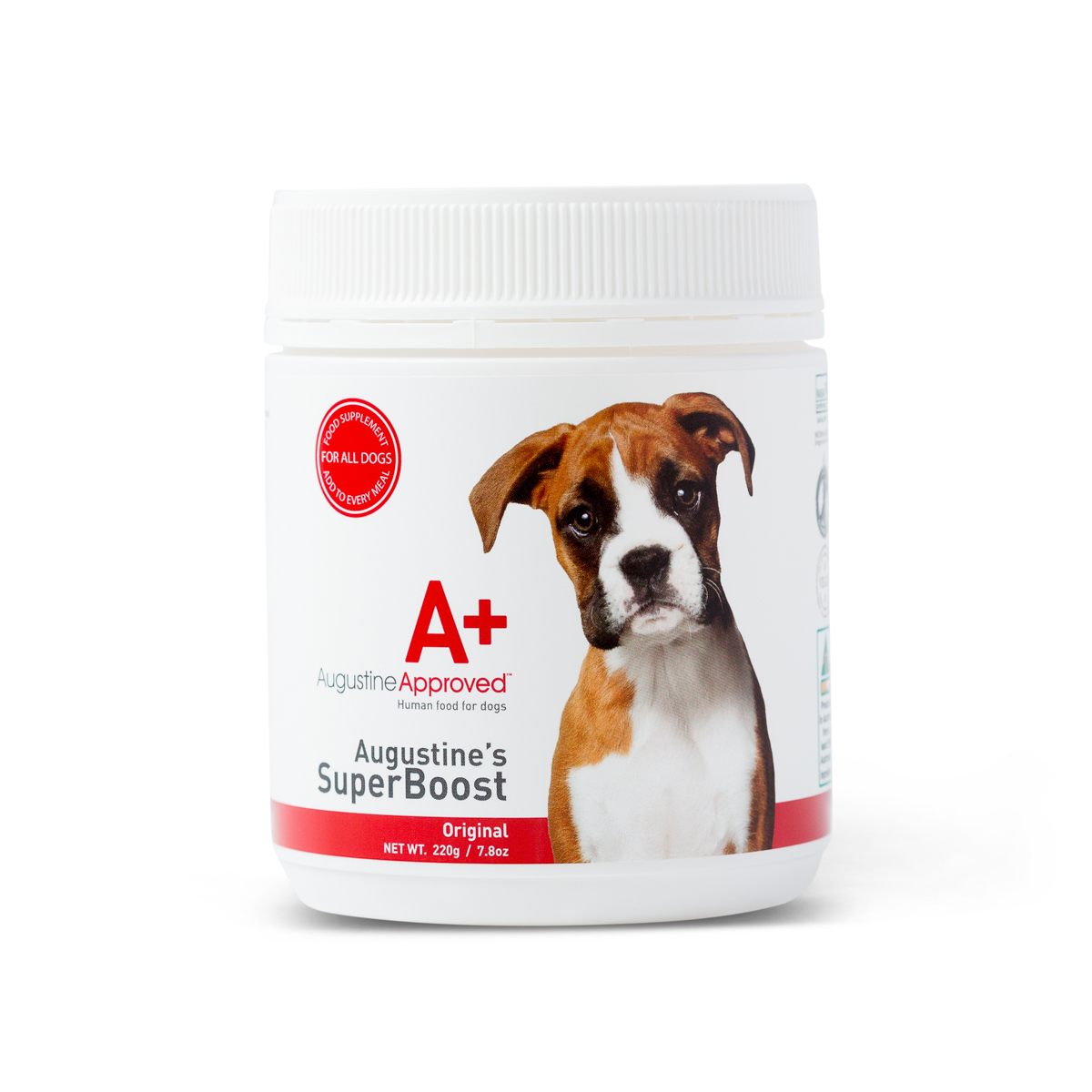 Product Video
Product Ingredients And Nutritional Breakdown
Ingredients :
Golden Flaxseed Meal
Barley Grass Powder
Arrowroot Powder
Sesame Seeds (Ground)
Chia Seeds (Ground)
Lecithin Powder
Turmeric Powder
Wakame Powder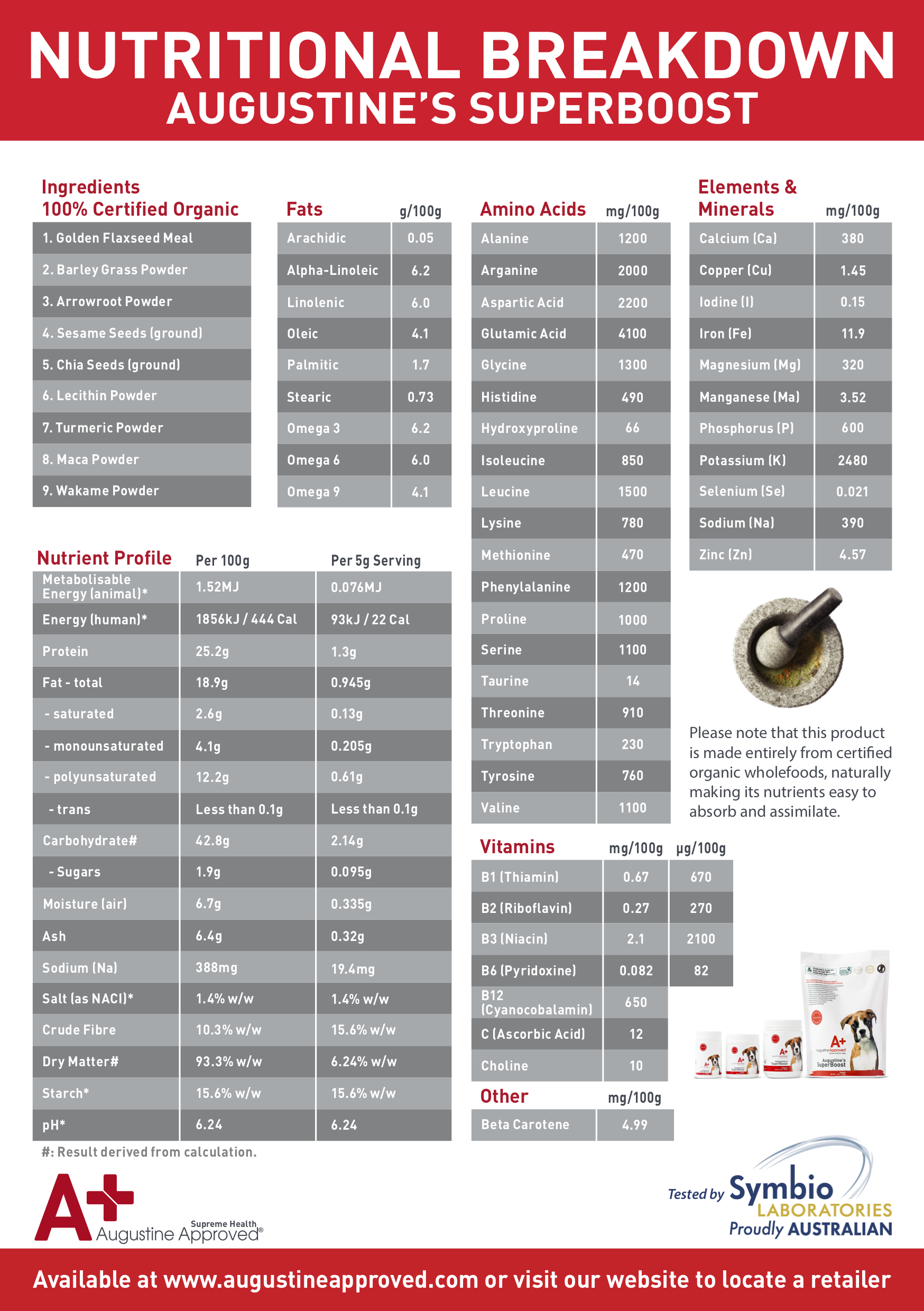 Product Usage Directions
ASB is recommend for use in every meal, but you can use it as often as you like.
ALWAYS ADD RAW COCONUT OIL or water and mix well into food using a spoon. Please DO NOT sprinkle on top of food. ASB can be fed together with Faith's Cleanse & Detox and Dynacol Zeolite. For fussy eaters, please commence with only Augustine's SuperBoost and Dynacol Zeolite, and then introduce Faith's Cleanse & Detox 2-3 days later. Please also consider the Fussy Eaters Guide on the Faith's Cleanse & Detox label.
For Optimum Results feed your dog a daily minimum of:
Miniature 1/4 - 1/2 tsp.
Small 1/2 - 1 tsp.
Medium 1 - 2 tsp.
Large - 1 - 1.5 tbsp.
Giant - 1.5 - 2.5 tbsp.
Halve the amount for puppies.
Augustine's SuperBoost is also healthy for cats:
Kitten 1/4 - 1/2 tsp. daily
Adult 1/2 - 1 tsp. daily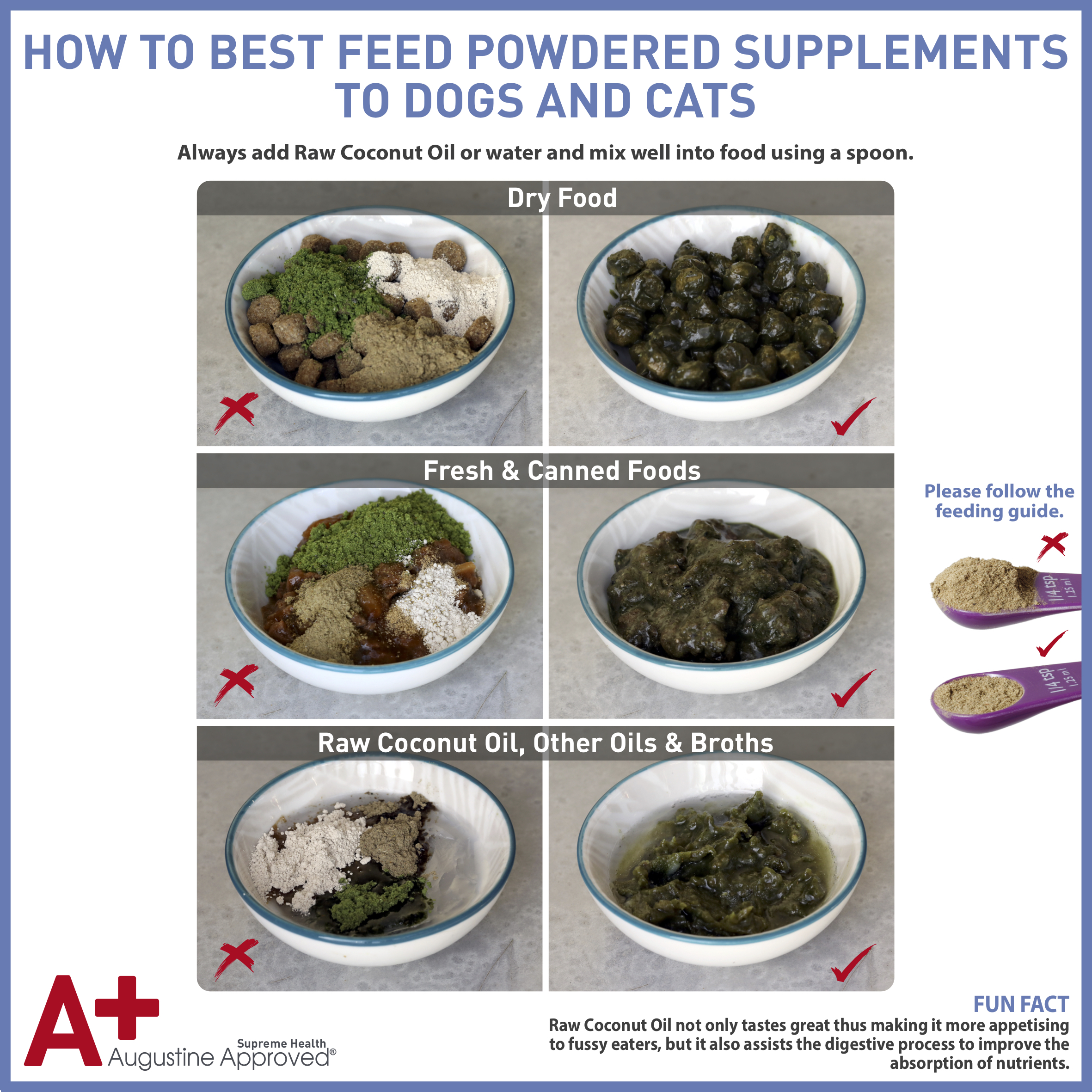 Product FAQ
Q : Why should I add Augustine's SuperBoost to my dog's diet?
A : Simply put, Augustine's SuperBoost is just that - a boost. It helps maintain a higher quality of life. It contains a range of high quality nutrients not found anywhere else. No matter how well you currently feed your dog, Augustine's SuperBoost is a great addition to any canine diet.
Suitable for : Dry, canned & raw commercial foods
The majority of pet food companies rely on synthetic supplementation to compensate
for the natural nutrients destroyed during cooking (irrespective of price or quality of the ingredients). Synthetic supplements are also used to help products meet standards that will allow companies to label their products as balanced. Whilst on paper these products appear to be nutritionally balanced, it is no secret that many synthetic vitamins lack the important nutritional co-factors needed to assist the body in absorbing and assimilating nutrients.
Unlike synthetic vitamins which contain no trace minerals and must utilise the body's own mineral reserves, wholefood complexes are recognised as real food. The body can digest and assimilate wholefood nutrients without having to rob itself of the trace minerals
and other co-factors necessary to complete the vitamins synergistic operation. Research indicates that over time synthetic vitamins may actually cause nutritional deficiencies.
Augustine's SuperBoost is made entirely from highly digestible plant ingredients. You could say that it helps put the goodness back that processing takes out.
Suitable for : Raw & homemade meals
Augustine's SuperBoost is a great addition to homemade meals (including raw). It helps improve stools and aids with digestion by promoting healthy organ function.
Many dog guardians would love to prepare fresh food for their dogs however they are reluctant to do so because of the fear of producing unbalanced meals. Our recipes have not only been verified by a leading canine nutritionist as balanced, they far exceed AAFCO standards. Why not give our recipes a try?
Q : What is the difference between the orange Vegan version and the red label?
A : Same ingredients. Same goodness. Both are suitable for ALL dogs. However, the vegan orange label has been specially formulated for dogs living solely on a vegan diet - whether it be short-term or long-term. The balance of each ingredient is different to that of the red label. If you would like optimum benefit for a vegan dog then we suggest you select the Vegan orange label. If there is meat in the diet, feed the original red label. If there is no meat in the diet, feed the orange vegan label. Given that cats primarily consume meat as part of their diet, it is advised to use the Original red label for cats.
Q : How do I know if the food I am feeding my dog has synthetic supplements?
A : If the ingredients list on the packaging seems as if it is in another language, then have a look for the english version. No, seriously... all those long and strange scientific sounding ingredients are usually synthetic supplements. If the label says the product includes, "vitamins" or "minerals" then you guessed it... synthetic. Google is your friend!
Q : How long will it last?
A :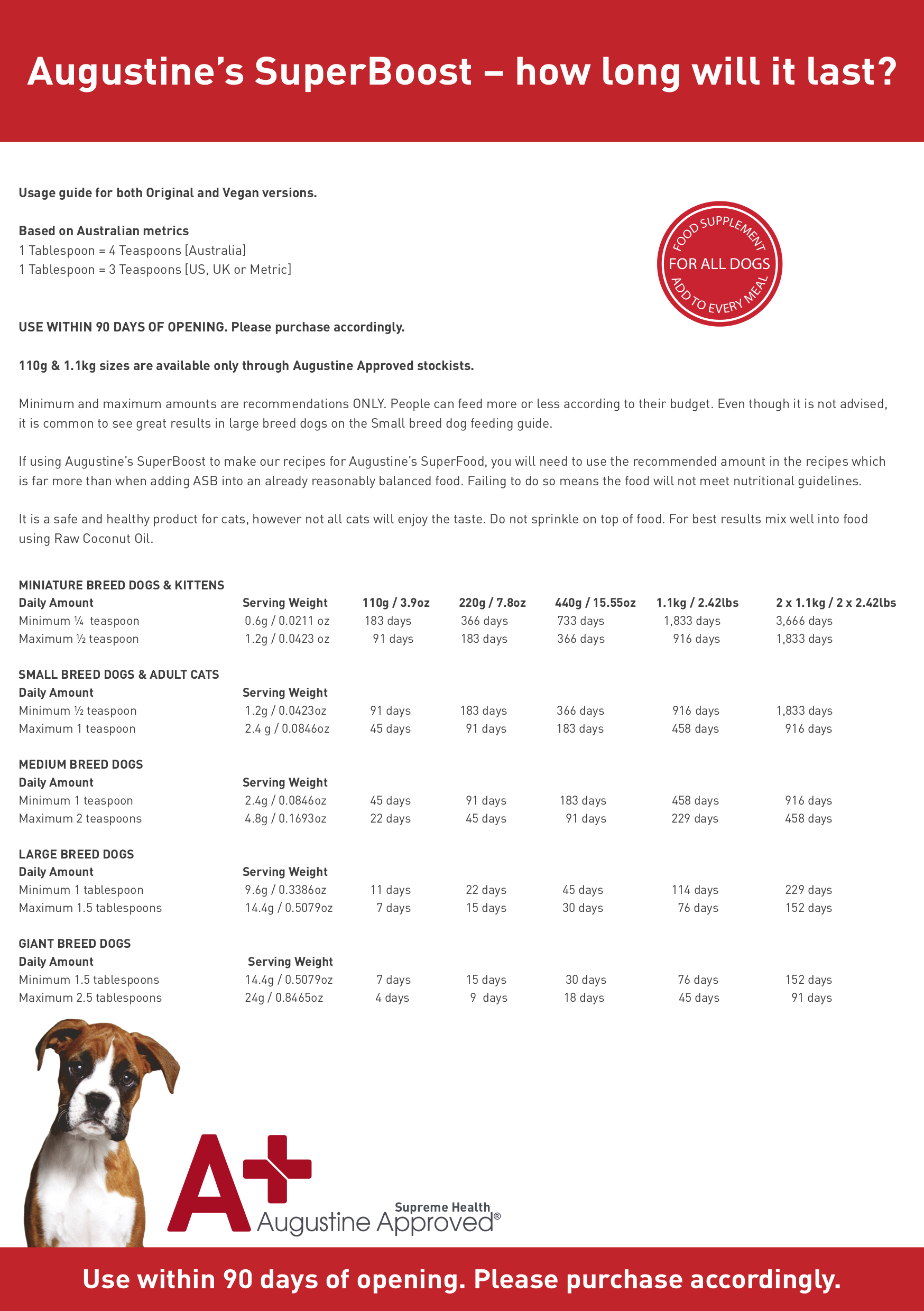 Q : So what DOESN'T Augustine approve?
A : Additives, chemicals, colourings, dairy, fillers, flavourings, grains, gluten, irradiation, meat or meat by-products, MSG, palm oil, preservatives, salts, sweeteners, synthetics, and GMOs.
Just like all our products, Augustine's SuperBoost carries the following symbols:

Original


Vegan

JJ E-Homez Return Policy
Generally, all our products are strictly non-refundable nor exchangeable.
However, in the event you received an incorrect or defective item, or any other valid reason that you can't enjoy your purchase, we will provide a refund or an exchange, case by case basis.
All we ask is that when the item is returned, it should meet the following requirements:
Reach out to us to arrange an appointment to drop off your item at 216A Boon Lay Ave.
Item returned should be in their original & sealed packaging. Broken seals will not be accepted, unless there's a valid reason, based on case by case basis.
Please ensure at least 6 months of shelf life if it's a perishable item.
Send us your order confirmation email for refund verification.
Items not eligible for returns:
Food related, wearables, beds and carriers due to food safety & hygiene reasons.
Items that are purchased from promotional pricing from all of our sales channels.
Customers who had a history of returning more than 3 items.
When we receive the refunded/exchange item, we will review the condition of the item, and reach out to you to confirm and issue a refund/exchange within 7 working days. We regret that customers who decline to respect our policy will be ineligible for exchange, returns and refunds.
Do also note that if we find that a product has been intentionally damaged or tampered with, refunds will not be offered.
As generally, returns are not allowed otherwise, please check your order (e.g. type, size, colour, quantity, etc) before checking out. If you need help with any product, chat with us or please send us an email to jjehomez@gmail.com
Pre-order Items T&C
Please note of the following terms & conditions on all our Pre-order items :
Full payment is required for all Pre-order items.
Expect Pre-order items to be delivered between 3 to 15 working days (depending on which item) starting from your order date.
We will connect via WhatsApp or Email should there be any updates or concerns regarding your order.
Promotions
Website promotion for year 2021
Free Delivery for : orders above $38
*Terms & Conditions:
Website promotion is only applicable for orders/payments made via our website.
Promotions at other shopping platforms (Carousell, Lazada, Shopee, Amazon or Qoo10) is only applicable for orders/payments made via our shops within those shopping platforms.