Product Summary
Augustine's SuperBath has a role in :
Soothing Skin Conditions
Promoting A Healthy Skin & Coat
Moisturising & hydrating dry skin
Cleansing & conditioning the skin & coat
Revitalising coat appearance
Fighting bad odour
*Flower Infusion Bath Bag & measuring spoon included.
Makes up to 40 baths!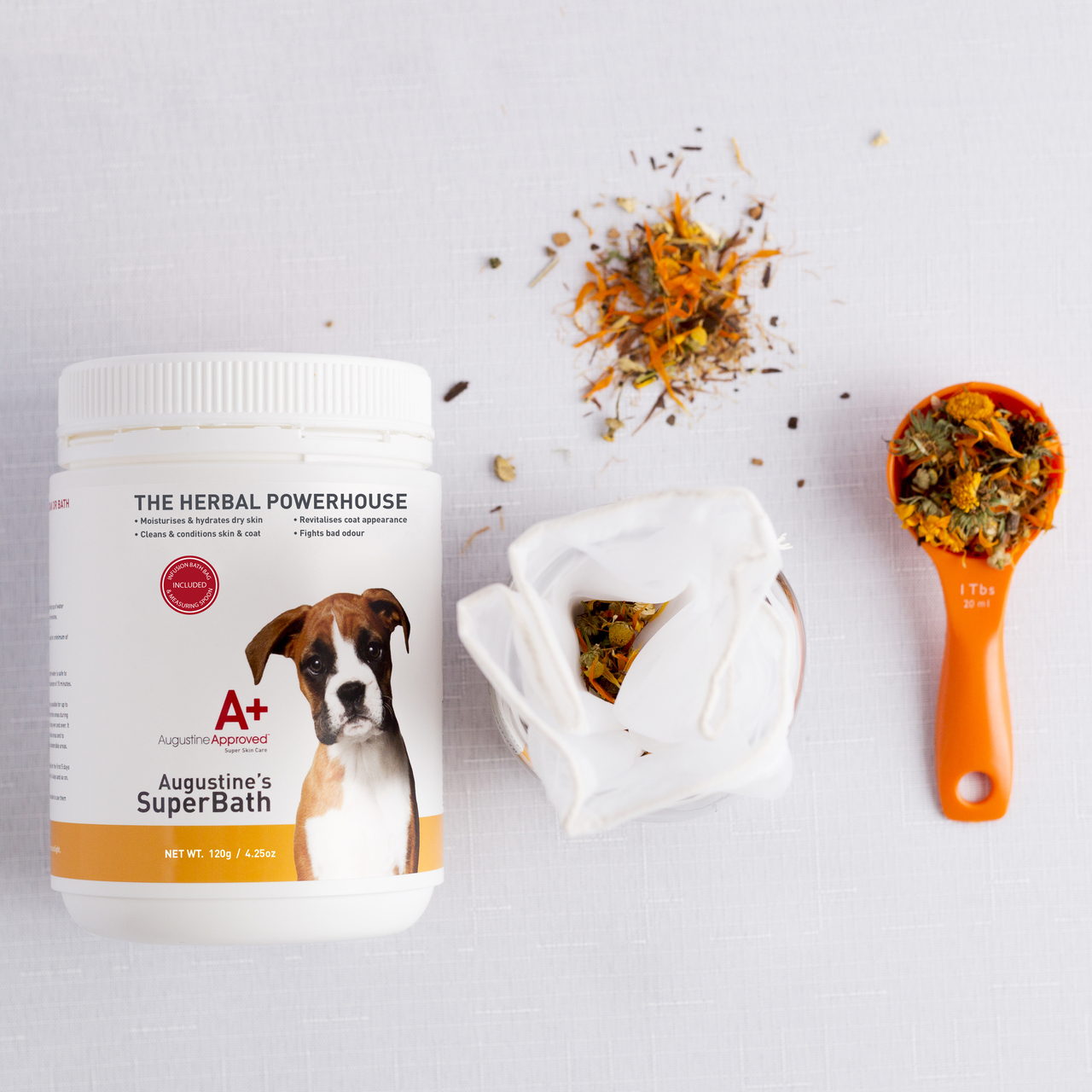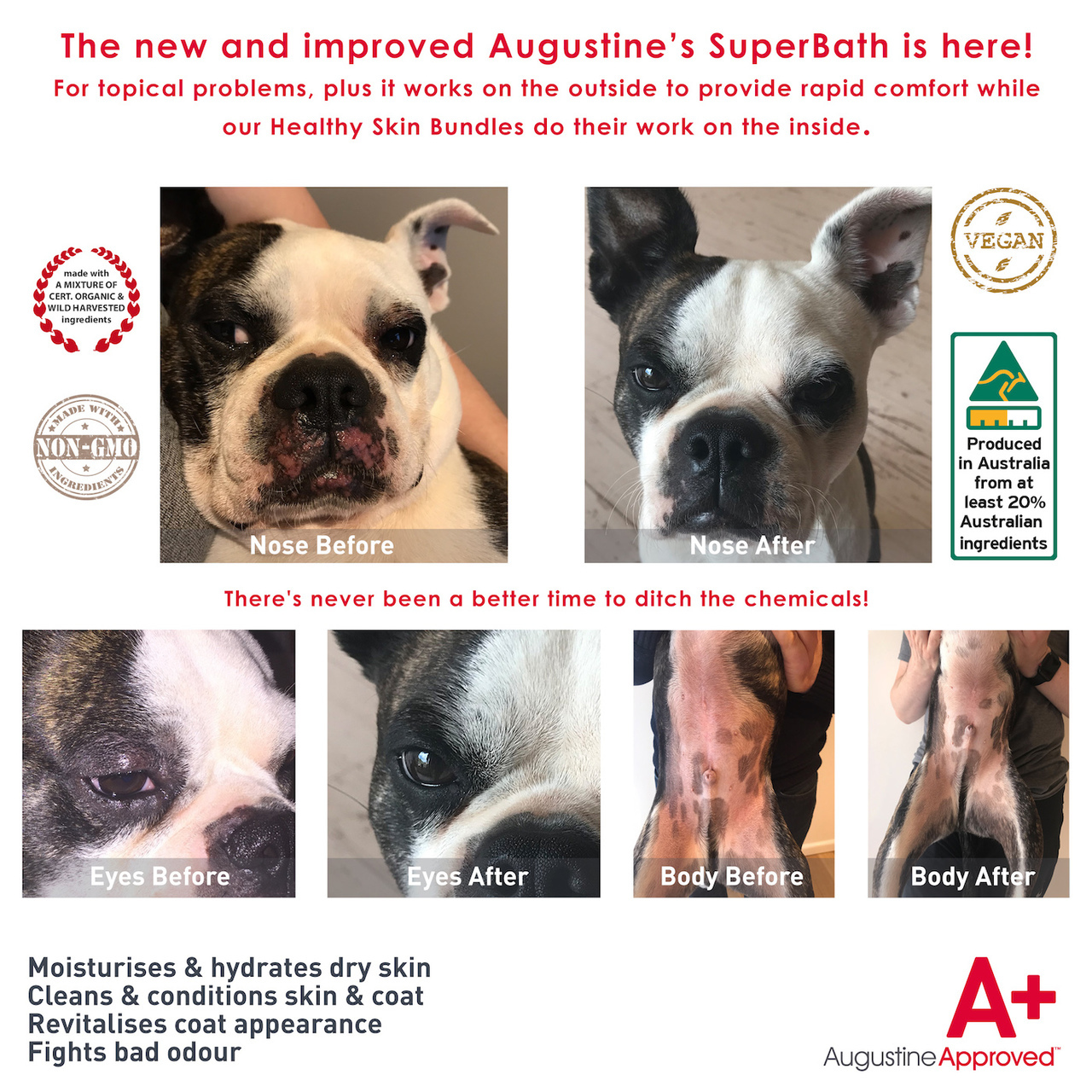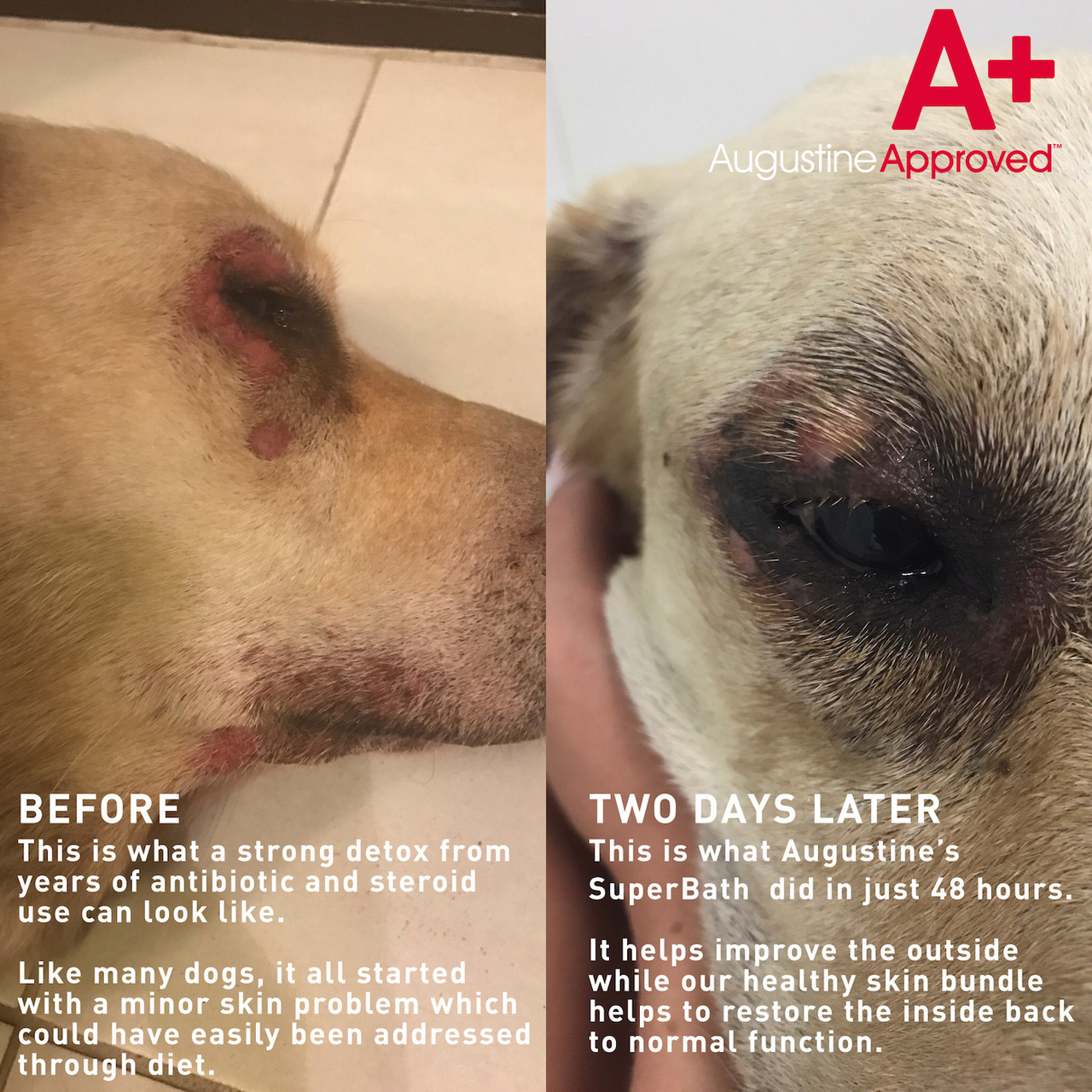 Product Ingredients
Ingredients :
Licorice Root
Pau d'Arco
Cat's Claw
Cinnamon Bark
Burdock Root
Devil's Claw
Chamomile Flowers
Calendula Flowers
Burdock Root
Burdock is a powerhouse of antioxidants, including quercetin, luteolin and phenolic acids. Antioxidants help protect the cells from damage by free radicals, and help treat and prevent various health conditions. Not only does it aid in reducing inflammation, it also removes toxins from the blood, and increased blood circulation. Aside from purifying the blood, burdock helps inhibit certain cancer types by interfering in the cancer cell growth.
Burdock root has anti inflammatory and antibacterial properties to help resolve skin issues when applied topically, even helping with topical burns.
Calendula Flowers
Calendula is known for its medicinal properties and can be used as a topical application of oils, creams, and lotions. The medicinal properties of calendula include triterpene saponins, flavonoids, carotenoids, and volatile oils., which make calendula an excellent healing aid as anti-inflammatory, antiviral, antifungal, and antimicrobial medicine. Calendula could be used for stomach ulcers and, externally, as pain relievers, though it has been found most useful for healing wounds and skin conditions as it promotes the formation of granulation tissue while also preventing bacterial infections.
As an anti-inflammatory, calendula has been proven useful for urinary tract infections or an inflamed digestive system and could also be used as an eyewash for eye infections or injuries.
Calendula contains many essential oils, saponins, triterpene alcohols, flavonoids, and carotenes. These medicinal properties may quicken the cell reproduction and prevent bacterial or fungal infections.
Cat's Claw
Cat's claw is a plant where its primary interest of use is as medicine. Made from the root and bark, cat's claw is most commonly used for improving symptoms of osteoarthritis and rheumatoid arthritis. It is also used for various digestive system disorders including swelling and pain (inflammation) of the large intestine (diverticulitis), inflammation of the lower bowel (colitis), inflammation of the lining of the stomach (gastritis), stomach ulcers, hemorrhoids, and leaky bowel syndrome.
Cat's claw could be used for viral infections and is also used for chronic fatigue syndrome (CFS), wound healing, parasites, Alzheimer's disease, asthma, hay fever, cancer (especially urinary tract cancer), a particular type of brain cancer called glioblastoma, dysentery, bone pains, and "cleansing" the kidneys.
Chamomile Flowers
Chamomile is a herbal supplement used as a sedative, an anti inflammatory, and a muscle relaxant. As a mild sedative, it helps to soothe symptoms of anxiety, stress, and insomnia, and has also been used as a treatment for many other ailments of hay fever, muscle spasms gastrointestinal disorders, inflammation and pain.
Chamomile's effects are believed to come from natural plant compounds called terpenoids and flavonoids which fight inflammation and harmful free radicals that cause cell damage that effect illness and aging. As an anti inflammatory agent, it is able to help calm down inflamed and irritated skin.
Cinnamon Bark
Cinnamon bark has anti inflammatory properties to slow bacterial growth, and even help with blood sugar regulation and raising insulin resistance to counter a diabetic condition. The anti inflammatory properties also help manage joint pain and reduce swelling to give arthritis relief.
Devil's Claw
Devil's claw helps reduce stiffness, improves mobility and maintains healthy joints without debilitating side effects. Its uses even goes beyond to include various muscle pains, digestive upsets though it should not be used with ulcers. It is able to help dyspepsia and inappetance related to gastrointestinal upset or chronic pain.
Aside from being a natural anti inflammatory that is used for pain and skin problem treatment, devil's claw root could be used to treat appetite loss, rheumatism, arthritis, fever, myalgia, tendonitis, gastrointestinal problems, liver and gallbladder problems.
It is also effective for degenerative musculoskeletal conditions, or used as an analgesic, sedative and diuretic. Its active compound, harpagoside, is what is changed into another substance, harpagogenic, which may be the active ingredient that actually decreases the inflammation associated with arthritis.
Licorice Root
Licorice G, lycyrrhiza glabra, is primarily useful because of its anti-inflammatory, anti-microbial, and anti-arthritic properties. The licorice root herb has been used for centuries to treat a wide array of conditions due to its medicinal properties that come from the flavonoids, saponins and glycosides. Aside from the ability to act as a fast acting and highly effective anti inflammatory agent when used topically and orally, it also has adaptogenic properties to help combat stress and fatigue.
Licorice root contains glycyrrhizin, a glycoside that acts as a natural corticosteroid, but without the adverse effects of weakening the immune system. Licorice enhances the body's anti-inflammatory processes, helping with the conditions of itching and burning from allergies, eczema atopic dermatitis, gastrointestinal and digestive issues, respiratory problems with mucous membrane concerns (such as bronchitis and asthma), liver toxicity and liver disease, and urinary tract infections.
Pau D'Arco
Pau d'Arco is a dietary supplement made from the inner bark of several species of Tabebuia trees that grow in Central and South America. Also known as taheebo or lapacho, pau d'arco has long been used to treat a range of ailments. It is used primarily as a supplement to reduce inflammation and promote weight loss. Several compounds called naphthoquinones, mainly lapachol and beta-lapachone, are thought responsible for its purported benefit.
Pau d'Arco is thought to have antifungal properties through the inhibition of the processes that bacteria and fungi need to produce oxygen and energy. It also has antibacterial and anti inflammatory properties by inhibiting the release of specific chemicals that trigger an inflammatory response. It also helps treat inflammatory conditions such as osteoarthritis.
Pau d'arco also inhibits pancreatic lipase, the enzymes that helps the body digest and absorb dietary fat, aiding weight loss.
Product Usage Directions
PREPARATION
Place mixture inside the supplied bath bag, tie a loose knot at the end to prevent the mixture from spilling out and infuse in a large cup of boiling water for five minutes.
FOOT SOAK
Use the smallest bowl possible and mix with cold water to make touch safe.
Soak feet for a minimum of 5 minutes and a maximum of 15 minutes.
Gently scrub the paws with the bath bag.
BATH
Place bath bag and cup water into bath (ensuring the water is safe to touch), and soak the dog for a minimum of 5 minutes and a maximum of 15 minutes. *It is important to keep trouble areas submerged for as long as possible for up to 15 minutes.
If you are not able to submerge certain areas during a bath, use a large plastic cup to poor the bath water over the dog repeatedly.
It is recommended to use the bath bag as a sponge to scrub trouble areas and to continually squeeze and dab the bath bag over sensitive and non-submersible areas.
For best results with trouble areas, use as often 1-2 times daily for the first 5 days and then reduce frequency to once every two days, then every 3-4 days and so on.
Whilst no other shampoos or conditioners are needed, if you decide to use them we recommend always finishing the bath with Augustine's SuperBath.
Product FAQ
Q : How long will it last?
A : Makes up to 40 baths!

Q : So what DOESN'T Augustine approve?
A : Additives, chemicals, colourings, dairy, fillers, flavourings, grains, gluten, GMOs, irradiation, meat or animal by-products, MSG, preservatives, synthetics, salts & sweeteners.
Just like all our products, our Calendula Flowers carries the following symbols:

Disclaimer
We make no claims that this will cure you or your animals in any way shape or form. Do not take remedially. This product is not intended to diagnose, treat, cure, or prevent any disease.
JJ E-Homez Return Policy
Generally, all our products are strictly non-refundable nor exchangeable.
However, in the event you received an incorrect or defective item, or any other valid reason that you can't enjoy your purchase, we will provide a refund or an exchange, case by case basis.
All we ask is that when the item is returned, it should meet the following requirements:
Reach out to us to arrange an appointment to drop off your item at 216A Boon Lay Ave.
Item returned should be in their original & sealed packaging. Broken seals will not be accepted, unless there's a valid reason, based on case by case basis.
Please ensure at least 6 months of shelf life if it's a perishable item.
Send us your order confirmation email for refund verification.
Items not eligible for returns:
Food related, wearables, beds and carriers due to food safety & hygiene reasons.
Items that are purchased from promotional pricing from all of our sales channels.
Customers who had a history of returning more than 3 items.
When we receive the refunded/exchange item, we will review the condition of the item, and reach out to you to confirm and issue a refund/exchange within 7 working days. We regret that customers who decline to respect our policy will be ineligible for exchange, returns and refunds.
Do also note that if we find that a product has been intentionally damaged or tampered with, refunds will not be offered.
As generally, returns are not allowed otherwise, please check your order (e.g. type, size, colour, quantity, etc) before checking out. If you need help with any product, chat with us or please send us an email to [email protected]
Pre-order Items T&C
Please note of the following terms & conditions on all our Pre-order items :
Full payment is required for all Pre-order items.
Expect Pre-order items to be delivered between 3 to 15 working days (depending on which item) starting from your order date.
We will connect via WhatsApp or Email should there be any updates or concerns regarding your order.
Promotions
Website promotion for year 2021
Free Delivery for : orders above $38
*Terms & Conditions:
Website promotion is only applicable for orders/payments made via our website.
Promotions at other shopping platforms (Carousell, Lazada, Shopee, Amazon or Qoo10) is only applicable for orders/payments made via our shops within those shopping platforms.