Product Summary
Augustine's SuperBath has a role in :
Soothing Skin Conditions
Promoting A Healthy Skin & Coat
Moisturising & hydrating dry skin
Cleansing & conditioning the skin & coat
Revitalising coat appearance
Fighting bad odour
*Flower Infusion Bath Bag & measuring spoon included.
Makes up to 40 baths!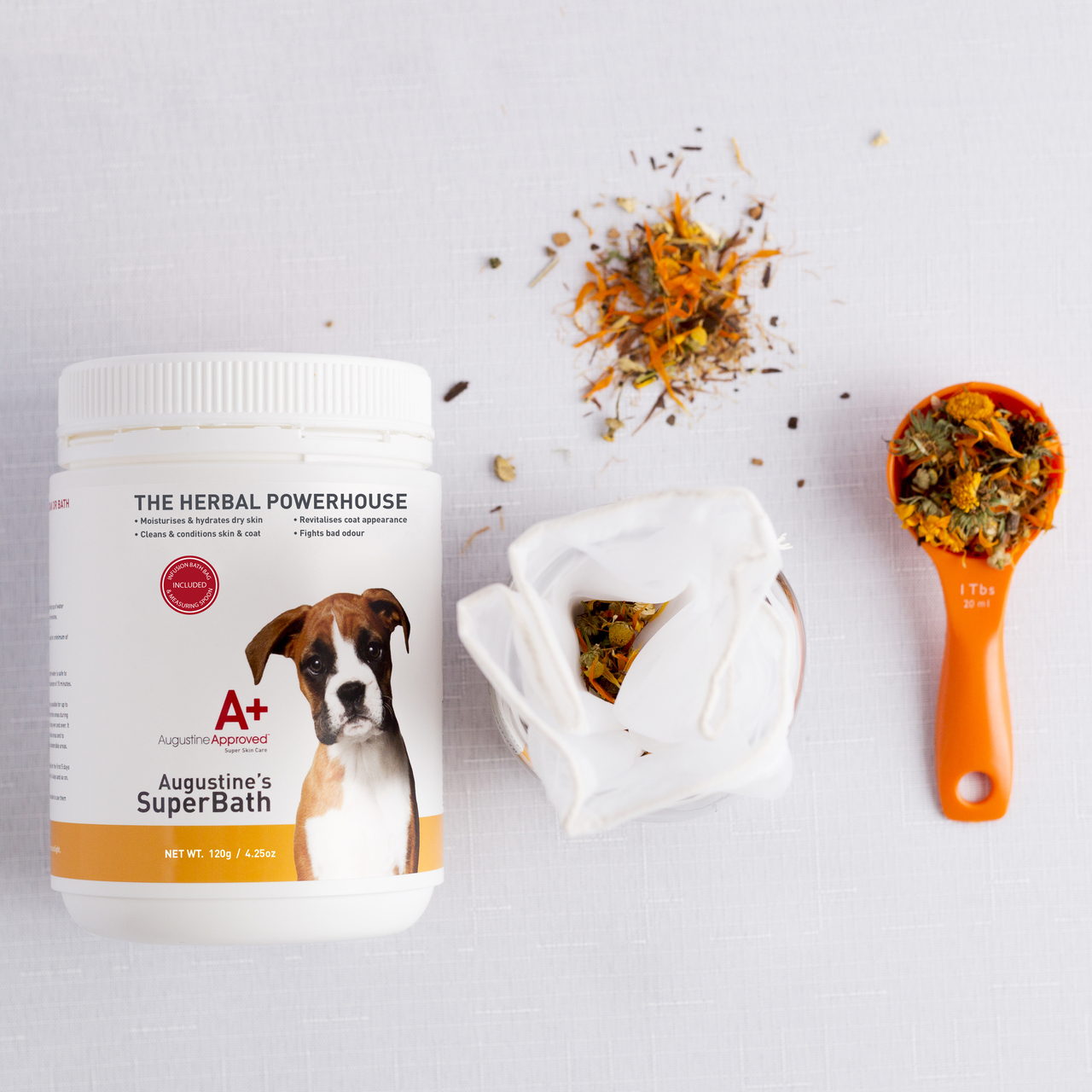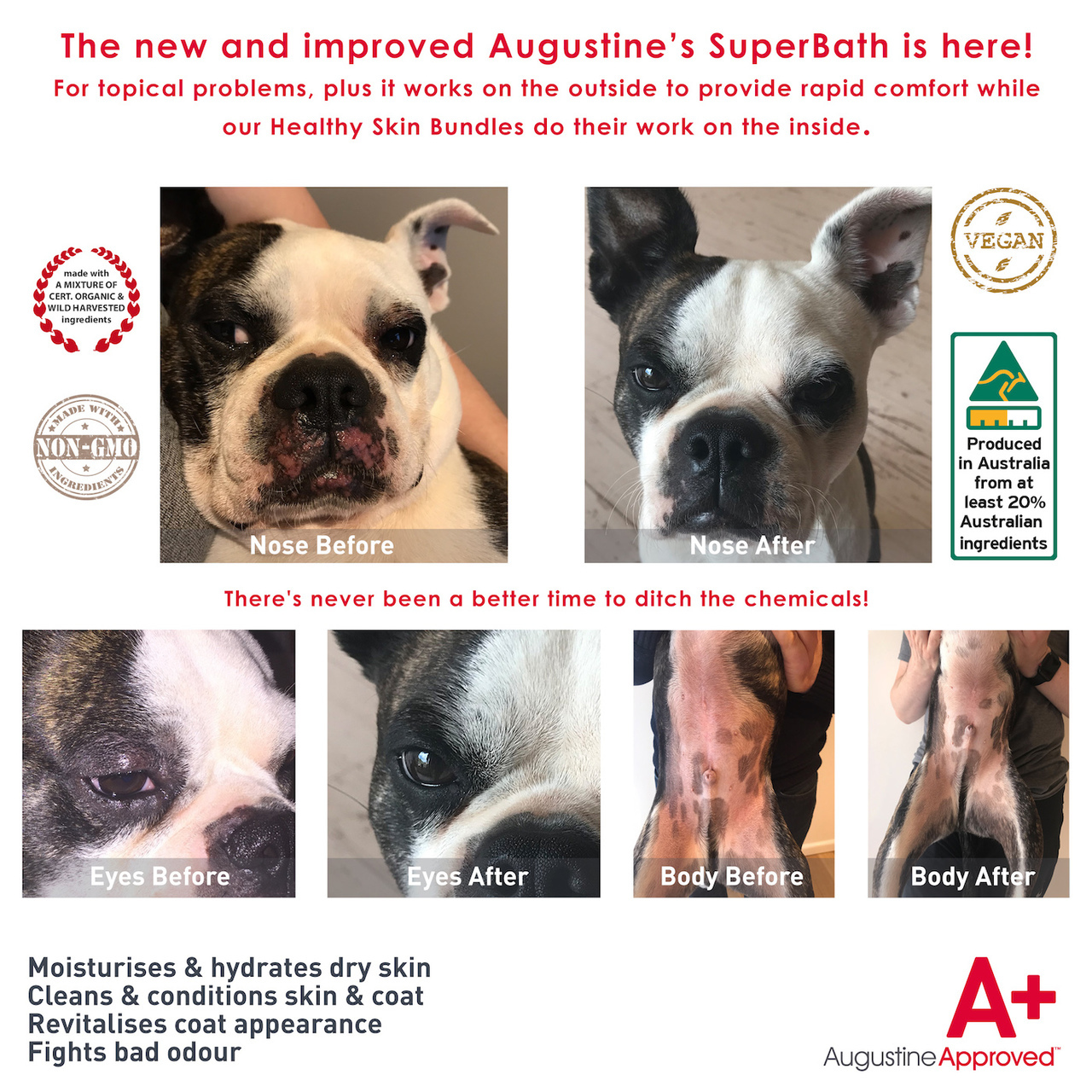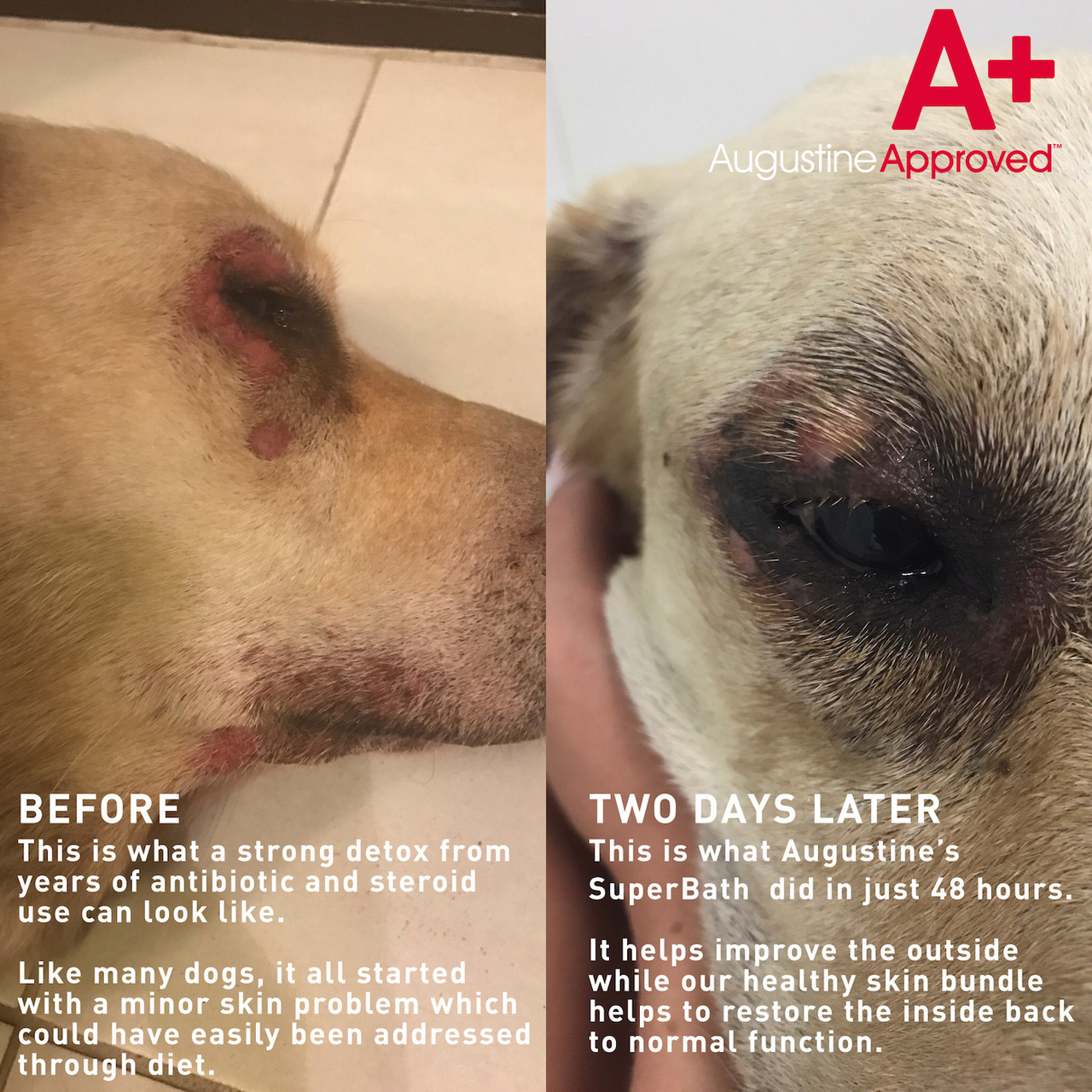 Product Ingredients
Ingredients :
Licorice Root
Pau d'Arco
Cat's Claw
Cinnamon Bark
Burdock Root
Devil's Claw
Chamomile Flowers
Calendula Flowers
Product Usage Directions
PREPARATION
Place mixture inside the supplied bath bag, tie a loose knot at the end to prevent the mixture from spilling out and infuse in a large cup of boiling water for five minutes.
FOOT SOAK
Use the smallest bowl possible and mix with cold water to make touch safe.
Soak feet for a minimum of 5 minutes and a maximum of 15 minutes.
Gently scrub the paws with the bath bag.
BATH
Place bath bag and cup water into bath (ensuring the water is safe to touch), and soak the dog for a minimum of 5 minutes and a maximum of 15 minutes. *It is important to keep trouble areas submerged for as long as possible for up to 15 minutes.
If you are not able to submerge certain areas during a bath, use a large plastic cup to poor the bath water over the dog repeatedly.
It is recommended to use the bath bag as a sponge to scrub trouble areas and to continually squeeze and dab the bath bag over sensitive and non-submersible areas.
For best results with trouble areas, use as often 1-2 times daily for the first 5 days and then reduce frequency to once every two days, then every 3-4 days and so on.
Whilst no other shampoos or conditioners are needed, if you decide to use them we recommend always finishing the bath with Augustine's SuperBath.
Product FAQ
Q : How long will it last?
A : Makes up to 40 baths!

Q : So what DOESN'T Augustine approve?
A : Additives, chemicals, colourings, dairy, fillers, flavourings, grains, gluten, GMOs, irradiation, meat or animal by-products, MSG, preservatives, synthetics, salts & sweeteners.
Just like all our products, our Calendula Flowers carries the following symbols:

Disclaimer
We make no claims that this will cure you or your animals in any way shape or form. Do not take remedially. This product is not intended to diagnose, treat, cure, or prevent any disease.
JJ E-Homez Return Policy
Generally, all our products are strictly non-refundable nor exchangeable.
However, in the event you received an incorrect or defective item, or any other valid reason that you can't enjoy your purchase, we will provide a refund or an exchange, case by case basis.
All we ask is that when the item is returned, it should meet the following requirements:
Reach out to us to arrange an appointment to drop off your item at 216A Boon Lay Ave.
Item returned should be in their original & sealed packaging. Broken seals will not be accepted, unless there's a valid reason, based on case by case basis.
Please ensure at least 6 months of shelf life if it's a perishable item.
Send us your order confirmation email for refund verification.
Items not eligible for returns:
Food related, wearables, beds and carriers due to food safety & hygiene reasons.
Items that are purchased from promotional pricing from all of our sales channels.
Customers who had a history of returning more than 3 items.
When we receive the refunded/exchange item, we will review the condition of the item, and reach out to you to confirm and issue a refund/exchange within 7 working days. We regret that customers who decline to respect our policy will be ineligible for exchange, returns and refunds.
Do also note that if we find that a product has been intentionally damaged or tampered with, refunds will not be offered.
As generally, returns are not allowed otherwise, please check your order (e.g. type, size, colour, quantity, etc) before checking out. If you need help with any product, chat with us or please send us an email to jjehomez@gmail.com
Pre-order Items T&C
Please note of the following terms & conditions on all our Pre-order items :
Full payment is required for all Pre-order items.
Expect Pre-order items to be delivered between 3 to 15 working days (depending on which item) starting from your order date.
We will connect via WhatsApp or Email should there be any updates or concerns regarding your order.
Promotions
Website promotion for year 2021
Free Delivery for : orders above $38
*Terms & Conditions:
Website promotion is only applicable for orders/payments made via our website.
Promotions at other shopping platforms (Carousell, Lazada, Shopee, Amazon or Qoo10) is only applicable for orders/payments made via our shops within those shopping platforms.