Product Summary
Zeolite is a naturally formed mineral, created when volcanic rock and ash meet alkaline water. Zeolite has a unique microporous 'honeycomb' atomic structure with a strong negative charge.
During its formation the zeolite traps valuable trace minerals such as calcium, magnesium and potassium within its framework. The zeolite's porous 'honeycomb' structure, stability and strong negative charge allow it to electro-magnetically trap and hold positively-charged particles, such as heavy metals and other toxins. In order to take on positively-charged ions and toxins, it discharges its beneficial trace minerals through the process that is known as cation exchange.
Dynacol™ stands for Dynamic Collision - the world's most advanced world-wide patented micronisation and activation method used to process zeolite (processed in Australia).
Ball-milling and jet-milling are the conventional methods of micronising and activating zeolite, however they produce a far less efficient product. Dynacol™ is also a vast improvement on TMAZ technology and has taken zeolite benefits once again, to the next level.
The benefits of Dynacol™ technology include producing zeolite that is more reactive, has an increased surface area, and a more efficient particle shape and size. Taking the best zeolite we could source and processing it using Dynacol™ technology ensures that our customers receive the best zeolite products in the world.
Although there is no current option to certify rock minerals as organic, Dynacol™ Zeolite is accepted for input into organic production.
Dynacol™ Zeolite powder :
Premium New Zealand certified Dynacol™ Zeolite
Processed in Australia using the world's most advanced micronisation & activation process
Food & Dietary mineral supplement
Promoting healthy skin, vibrant coat & strong nails
Aiding the immune system to function efficiently
The trapping and removal of heavy metals
Improving the absorption of nutrients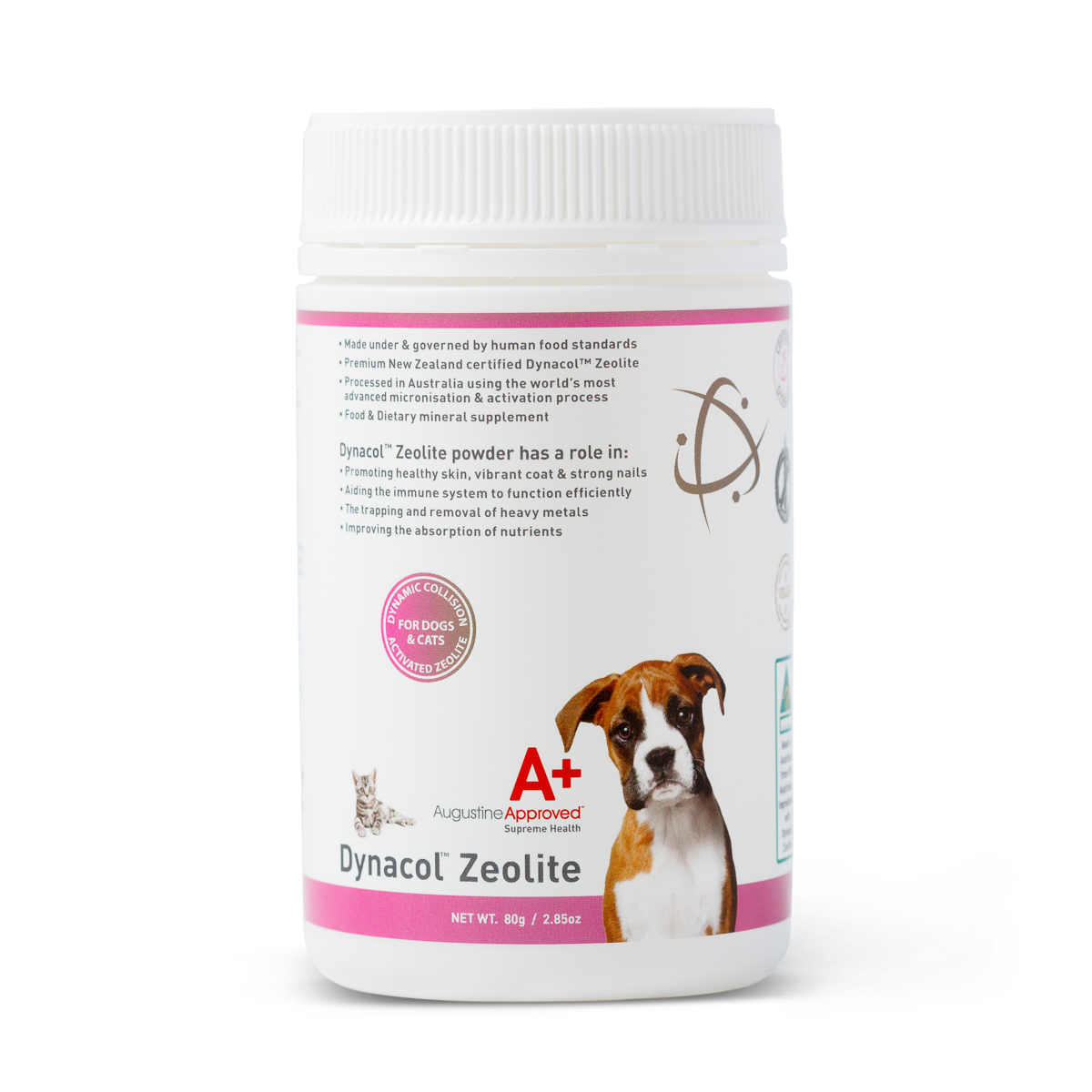 Product Ingredients
Ingredients : Premium New Zealand certified Dynacol™ zeolite.
Product Usage Directions
Feeding Guide :
Miniature / Small Breed Dogs & Cats - 1/4-1/2 tsp.
Medium / Large Breed - 1/2-3/4 tsp.
Giant Breed - 1-1.5 tsp.
*We recommend mixing with Raw Coconut Oil.
ALWAYS ADD RAW COCONUT OIL or water and mix well into food using a spoon. Please DO NOT sprinkle on top of food. Dynacol Zeolite can be fed together with Augustine's SuperBoost and Faith's Cleanse & Detox. For fussy eaters, please commence with only Augustine's SuperBoost and Dynacol Zeolite, and then introduce Faith's Cleanse & Detox 2-3 days later. Please also consider the Fussy Eaters Guide on the Faith's Cleanse & Detox label.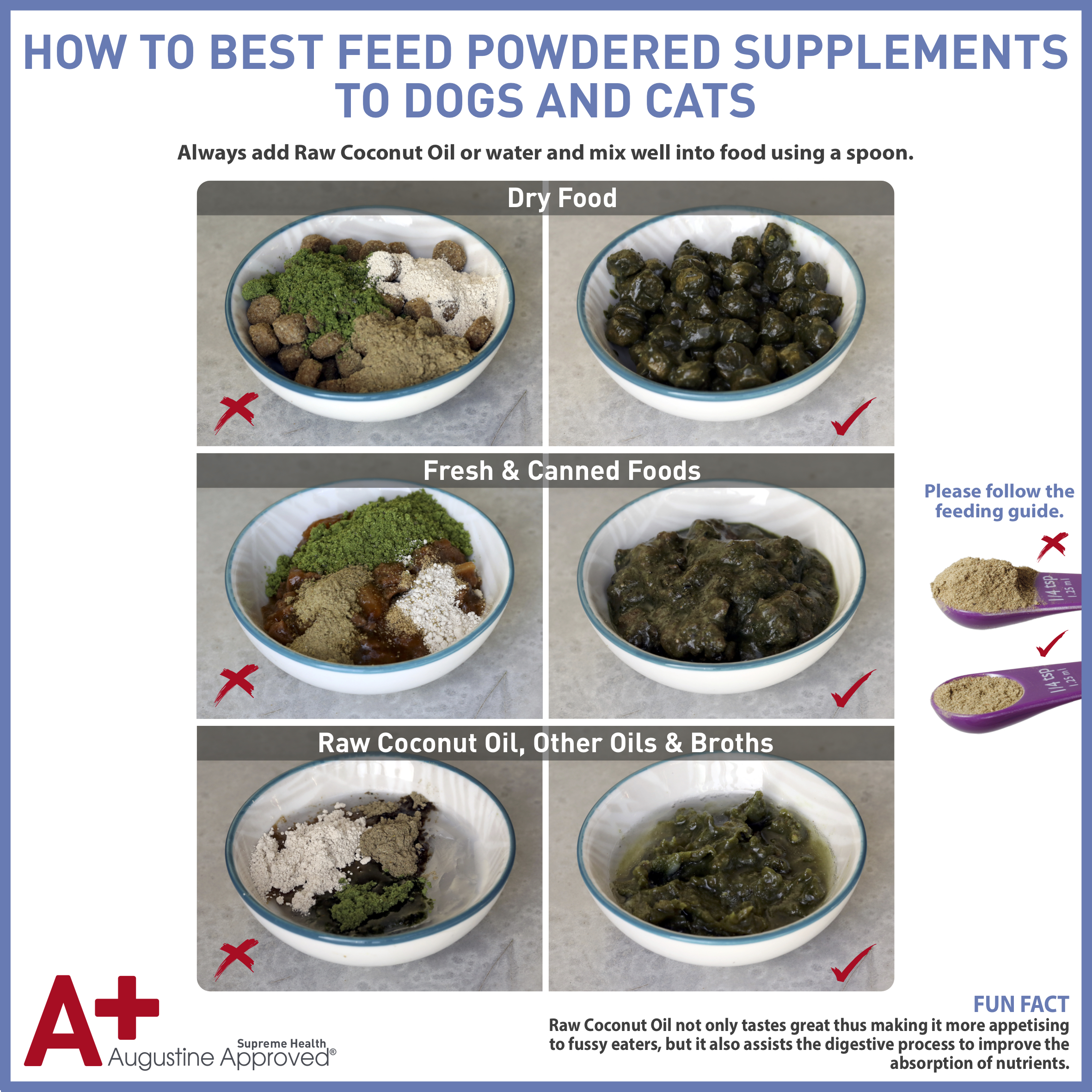 JJ E-Homez Return Policy
Generally, all our products are strictly non-refundable nor exchangeable.
However, in the event you received an incorrect or defective item, or any other valid reason that you can't enjoy your purchase, we will provide a refund or an exchange, case by case basis.
All we ask is that when the item is returned, it should meet the following requirements:
Reach out to us to arrange an appointment to drop off your item at 216A Boon Lay Ave.
Item returned should be in their original & sealed packaging. Broken seals will not be accepted, unless there's a valid reason, based on case by case basis.
Please ensure at least 6 months of shelf life if it's a perishable item.
Send us your order confirmation email for refund verification.
Items not eligible for returns:
Food related, wearables, beds and carriers due to food safety & hygiene reasons.
Items that are purchased from promotional pricing from all of our sales channels.
Customers who had a history of returning more than 3 items.
When we receive the refunded/exchange item, we will review the condition of the item, and reach out to you to confirm and issue a refund/exchange within 7 working days. We regret that customers who decline to respect our policy will be ineligible for exchange, returns and refunds.
Do also note that if we find that a product has been intentionally damaged or tampered with, refunds will not be offered.
As generally, returns are not allowed otherwise, please check your order (e.g. type, size, colour, quantity, etc) before checking out. If you need help with any product, chat with us or please send us an email to [email protected]
Pre-order Items T&C
Please note of the following terms & conditions on all our Pre-order items :
Full payment is required for all Pre-order items.
Expect Pre-order items to be delivered between 3 to 15 working days (depending on which item) starting from your order date.
We will connect via WhatsApp or Email should there be any updates or concerns regarding your order.
Promotions
Website promotion for year 2021
Free Delivery for : orders above $38
*Terms & Conditions:
Website promotion is only applicable for orders/payments made via our website.
Promotions at other shopping platforms (Carousell, Lazada, Shopee, Amazon or Qoo10) is only applicable for orders/payments made via our shops within those shopping platforms.